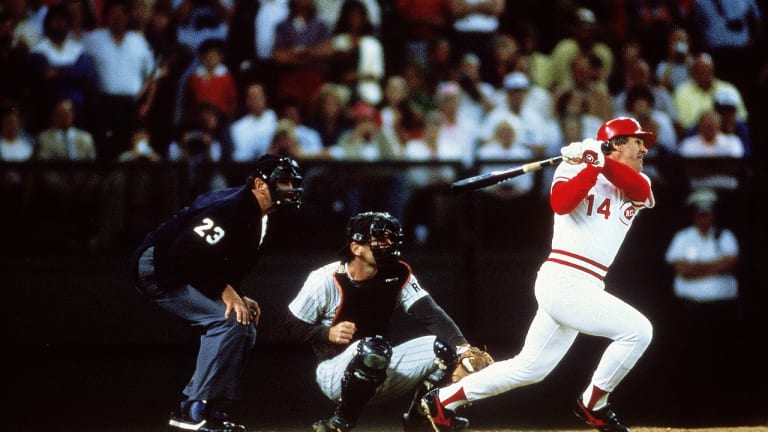 The Tying hit came on a wacky day, off a substitute pitcher who threw—what else?—a screwball. Pete Rose lined it hard and clean Sunday afternoon in Chicago, and the ball dropped 30 feet in front of Cub rightfielder Keith Moreland, who scooped up the nugget of baseball history, tossed it in and immediately began to applaud. With his opponents, his Reds teammates and 28,269 Wrigley Field fans all on their feet clapping and cheering madly, Rose took his usual wide turn at first and flashed a grin. That's 4,191 down, Mr. Cobb, and one to go.
After a 23-year chase and a five-month nationwide hit watch, Rose finally caught up to Ty Cobb's major league record of 4,191 base hits, and to the delight of all he injected his unflagging enthusiasm into the proceedings. While dragging around a media entourage of more than 100, Rose showed off his remarkable recall of baseball facts and figures, roused fans at an on-field press conference like a veteran whistle-stop campaigner and even claimed he had spent so much time in his hotel that he had set a National League record for room service. He also kept one eye on his carbon-copy son, Petey, 15, who accompanied the Reds on the road trip to St. Louis and Chicago. But not in order to see the record. "Naw, he's gonna break it in Cincinnati," Petey insisted. "I came here so's I could get out of school."
Pete Sr. also took some good-natured pokes at Reds owner Marge Schott and her St. Bernard, Schottzie, the team mascot, neither of whom wanted Rose to even tie the record until he got back home to Cincinnati on Monday night. Rose has a hefty attendance clause in his contract, but Schott has a vastly greater financial stake. As it turned out, Rose returned to Cincinnati tied with Cobb. And on Monday night, 29,289 people showed up in Riverfront Stadium just to see if Rose might pinch-hit in a game they knew he wouldn't start because San Diego was starting a lefthander, Dave Dravecky. They chanted, "We want Pete" repeatedly. Although they saw the Reds win 2-1, they saw Rose only when he came out to argue a call at first in the 6th inning. But the next night righthander LaMarr Hoyt would be pitching for the Padres, and Rose would be in the lineup.
Certainly, nothing short of a major injury was going to stop the 44-year-old Rose from overtaking Cobb. When asked by an official scorekeeper in Chicago if he wanted to be credited only for clean hits, Rose shot back, "Hell no. If I hit a ball off the shortstop's glove in the hole, I want a base hit."
As it happened, nine of the final 10 hits that brought him even with Cobb were singles—Rose now has a staggering 3,161 of them—and all were legitimate knocks. Hit No. 4,188, a two-run homer off Cub starter Derek Botelho on Friday afternoon, was considerably wind-aided, but Rose was the first to admit that. He was also startled when he was called out of the dugout afterward by exuberant Cub fans, who had previously scorned Rose for accidentally stepping on Ernie Banks's foot back in 1969. "You see those goat walks?" said Rose, pointing to the gutter-like fence atop Wrigley Field's outfield walls. "They put those in because of all the garbage the fans used to throw at me." Rose said he had never been summoned by an opposing crowd.
Sunday's unlikely events suggested that anything might happen. The temperature, for instance, a humid 88° at game time, plunged more than 20° not long after Rose's record-equaling hit. Black clouds rolled across the sky, bringing lightning, thunder and strong winds. Some wondered if Cobb's spirit had somehow been disturbed. After all, an enterprising newspaper columnist, Tim Sullivan of The Cincinnati Enquirer, had actually arranged a séance with a St. Louis-area medium named Carol Broderick on Wednesday with the hope of talking to the Georgia Peach.
Cobb, speaking through Broderick, had noted that Rose is "great, but he's not that great" and said that Rose's hit totals will be surpassed by a player now in the minors. Asked the player's name, Cobb/Broderick replied, "Bob...I think the Giants might get him."
On Sunday the big news was Rose's decision to play. Two hits shy of Cobb, the Cincinnati player-manager had planned to yield his first base duties to the younger (43) Tony Perez for the day because Chicago was starting lefthander Steve Trout.
But late Sunday morning the Cubs announced that Trout had skidded on a patch of gravel while riding his bicycle the previous evening and had fallen onto his left shoulder. Reggie Patterson, a young junk-balling righthander called up from the minor leagues just five days earlier, would start in his place. Faster than you could say deus ex machina, Rose was back in the Reds lineup.
For the first time, there seemed a real tension in the air. Rose had gone 0 for 4 on Saturday, but he said he felt ready to bust loose. He had faced Patterson on Friday and drilled a single to right field off him. Here, on the first pitch of his first at bat, Rose poked a single to left center.
Reds rightfielder Dave Parker, like Rose a native Cincinnatian, sensed what might be coming. "Don't do it," he kept telling his manager. Rose himself admitted feeling torn in several directions. He truly wanted to break the record in Cincinnati, before friends and family. His wife, Carol, and 11-month-old son Ty, as well as his attorney and close friend Reuven Katz, were not expecting Rose to play. This was no time for him to pass Cobb—except that he wanted to win the game. And that would take hits.
"I had 30,000 people yelling here," Rose said later, "and one lady sitting back in Cincinnati kicking her dog every time I got a hit."
The 4,191st hit came on his third at bat, in the fifth inning, and may have sent Schottzie howling, but Rose had to savor the moment. He stood on first base, letting the cheers wash over him. "Don't move," said Cubs' first baseman Leon Durham, patting Rose on the butt. "I want to get some TV exposure." Rose glanced over to the Cubs' dugout and saw Trout sitting at one end, ostentatiously pointing to himself with both hands so that Rose might recognize the true hero of the day. Rose smiled again.
Durham walked over to Patterson, who didn't seem to know what to do amid all the chaos. "Pete'll probably buy you a steak dinner now," Durham told him. Patterson, who would leave the game after five innings with Chicago leading 5-4, considered it "an honor" of sorts to have given up three hits in three days to the great Pete Rose. After all, Patterson is lucky to be even pitching—he was shot in the back by muggers last November in Venezuela. He said he wouldn't ask for the steak.
Finally the skies burst with rain and delayed the game for more than two hours. Rose eventually batted against Lee Smith with two men on in the ninth, but he struck out. "Is it tough to see?" Petey asked him as he returned to the dugout.
"I don't know," answered his dad. "It sounded like a strike so I swung at it." The game was suspended after nine innings with the score 5-5. The statistics count, but the game will likely not be completed. Thus, in yet another of Sunday's odd twists, Rose had tied Cobb's record in a game that will never show up in the standings.
TWO PHOTOS
PHOTO
RONALD C. MODRA
PHOTO
JOHN IACONO
After his record-tying hit off Reggie Patterson of the Cubs, Rose had one to go—in Cincinnati.
PHOTO
JOHN IACONO
Naturally, Pete's homer trot was more of a Charlie Hustle gallop.
PHOTO
RONALD C. MODRA
Hit No. 4,188 was only home run No. 160 of Rose's career.
TWO PHOTOS
JOHN IACONO
Carol, above, holds up the family Ty; oh, say, can you see the likeness as Pete and Petey await the anthem?