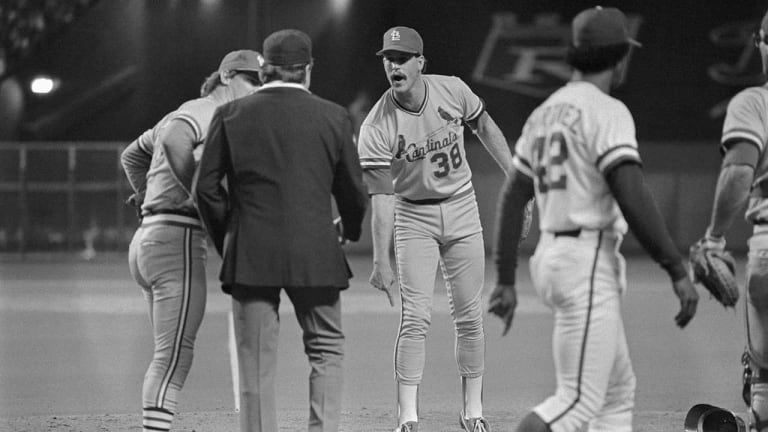 Don Denkinger (the name sound familiar?) is, by any accounting, a pillar of Waterloo, Iowa—a native of adjacent Cedar Falls where he was a star athlete in the '50s, a lifelong resident of the area, a popular restaurateur in town and a member of the Shrine, Rotary, Elks Club and Zion Lutheran Church. His wife of 23 years, Gayle, taught at the local high school, was an active Junior Leaguer and worked in the local Red Cross chapter. The Denkingers have three bright and attractive daughters, Darcy, 20, Denise, 18, and Dana, 17, and a perky little schnauzer named Schatzie as well. They live in a fine house. They're a very sociable family, and Don, with his roots so deeply embedded in the community, is a soft touch for any civic endeavor. The Denkingers are well-known, well-liked and definitely respected. But you would never know any of this from the letters and phone calls they've been receiving lately.
The phone calls, though always unnerving, are relatively easy to deal with. After the first burst of profanity, one simply hangs up. Don't even consider collect calls. The mail is a little trickier. One letter, addressed to Gayle, begins, flatteringly enough, "I have always had the greatest respect for your advice and I was wondering if you could help me with this problem." What follows is a recounting of the letter writer's family history, a history so repellent as to make the Snopeses seem wholesome by comparison. And then the kicker: Should the correspondent inform his fiancée, herself a convicted felon, "that my brother is an American League umpire?" This one, though steeped in vulgarity, at least represents some conscious effort at composition. Most of the 200 or more letters the Denkingers have received over the past two months are simple explosions of bile. Most suggest that Denkinger, if not legally blind, should at least seek treatment for advanced myopia. One communication proposes that Don use makeup in all future television appearances because, "You're an ugly bleep [not true]." Another, after a full page of billingsgate, closes chummily with, "Give my best to your wife and kids."
There is irony: "Congratulations on changing history." Pathos: "I just wish you could see my tears." Venom: "I wish you the worst." And malapropism: "The mistake you made will go down in the annuals of baseball." They are variously signed, "A. Fan," "Louie St. Louis," "Fellow Admirer," "Whitey," "Joaquin" and even "Whitey and Joaquin." Some of the most vicious are, predictably, unsigned. You get the point: Opening the mail has not become a highlight of the Denkingers' day. Even when his equipment bag arrived by air freight from Kansas City, Denkinger found taped to it the unsigned message YOU BLEW THE CALL.
Denkinger—wearing spectacles, his antagonists will be pleased to learn—reads this scabrous prose in the cozy den of his house in Waterloo with the weary resignation of one long accustomed to abusive language. "I think I've always realized there were those kinds of people out there," he says sadly. Denkinger is, after all, an umpire. More specifically, he is the umpire who, in the irrational view of St. Louis baseball fans everywhere (and their number is obviously legion), cost the Cardinals the 1985 World Series. Denkinger's call is, if not yet actually in the "annuals," quickly becoming part of Series lore. As you may remember:
It is the last half of the ninth inning of the sixth game, and the Cardinals, needing only one more win to take the championship, are leading 1-0. The leadoff batter for Kansas City is Jorge Orta, a lefthanded hitter. He is facing Todd Worrell, a 6'5" righthanded reliever. Worrell gets two strikes on Orta right off. His fourth pitch is nubbed softly to the first-base side of the mound. First baseman Jack Clark charges over to field it, and Worrell, who thought about going for it himself, runs to cover first. Clark lobs the ball to him high but on target as Orta rushes down the line. Denkinger is in position to make the call. He is in foul territory about eight feet from the bag. Runner and ball arrive almost, but not quite, at the same time. Denkinger calls the runner safe. Cardinal manager Whitey Herzog explodes from the dugout. There is an argument, but the decision holds. "We can't seem to draw a break," Herzog angrily tells the umpire. He's right. Video replays clearly show that Orta was out. All hell breaks loose after this call: a misjudged pop-up, a hit, a passed ball, a walk and, finally, a bases-loaded single by pinch hitter Dane Iorg that wins the game for the Royals 2-1. The Series is tied. Herzog is fit to be tied. "We're going to win the World Series and that bleeper [Denkinger] blows the call," he says. "Now we've got the bleeper behind the plate tomorrow. We've got about as much chance as the man in the moon." He's right again.
The Cardinals lose the seventh game 11-0 and the Series and their senses. In the fifth inning, with the score 10-0, St. Louis pitcher Joaquin Andujar complains to Denkinger, the plate umpire, about a ball three call on Jim Sundberg. Herzog rushes out, allegedly to calm his pitcher but really to berate Denkinger again for the Orta call. Denkinger ejects him. When Denkinger calls Andujar's next pitch a ball, the pitcher storms off the mound in a terrible rage. Denkinger ejects him. It is the first time in 50 years both a manager and a player have been kicked out of a World Series game. The Cardinals behave afterward like petulant schoolboys. Their fans are inflamed.
Gayle is in Kansas City for the game while Denkinger's daughters and his mother-in-law, Margaret Price, watch this ugly spectacle on TV in the family home back in Waterloo. Seeing their father assaulted from all sides is such an unsettling experience for the girls that they begin to cry. Denkinger's fellow American League umpires Dave Phillips and Rich Garcia, themselves disturbed by the Game 7 tumult, call the house to offer counsel to the family. Friends in Waterloo and elsewhere call. It's only a game, after all, the girls are told. It will soon be forgotten. And then the other calls start. "A St. Louis disc jockey gave out my address and phone number on the radio," says Denkinger. The girls, still up-set by the nasty scene on television, are now exposed to a succession of obscene calls that lasts through the night. And the next night. And the next. Their father's life is threatened. Price calls a friend, who then telephones the local police to ask for protection. The Waterloo police call their counterparts in St. Louis, asking that the inflammatory deejay be ordered to desist.
Denkinger and Gayle drove home from Kansas City on Monday. He had a "sinking feeling" that there might be further trouble. "I could sense there was some frustration." But he thought any trouble resulting from the Series would quickly dissipate. In 26 years as an umpire, 17 in the American League, nine as a crew chief, he had been exposed to any number of cruel stunts. The air had been let out of his car tires. Somebody had put Limburger cheese in the manifold. Young toughs had tailgated him out of town in the minor leagues. Penny-ante stuff. But when he got home to Waterloo, he found his house under the watchful eye of the police and his daughters in a troubled state. "And then," he says, "two or three days later the mail started coming in," so much of it, in fact, that the post office didn't even bother to deliver it all. "Sometimes," he says, "you can't really know what you're dealing with out there."
Denkinger, who is 49, had never planned to be an umpire. He had been a track man, a wrestler (137 to 157 pounds) and a football player at Cedar Falls High and at Wartburg College in Waverly, Iowa. He was drafted into the Army after 2½ years of college and sent, finally, to a missile base in New Mexico. It was his first prolonged stay away from home. He had planned to return to college after his discharge, but an Army buddy. Master Sergeant Bob Henrion, persuaded him to join him at the Al Somers School for Umpires in Daytona Beach, Fla. Denkinger went on a lark—"I couldn't even fathom what it was an umpire was supposed to do"—but he finished as most likely to succeed among 85 students. He was hooked. "I'm in a unique profession," he says, "one that people don't know a lot about. Oh, yes, I know we have this hateful image, but it's totally untrue that we lead a miserable, lonely life. Why, I've got friends in every city we go to."
Denkinger didn't see the tapes of his historic mistake in the sixth game until the Tuesday following the Series. He had purposely avoided reading the papers, watching television or listening to the radio between games, so as to preserve his objectivity. If he heard actual replays of Herzog's angry denunciations of him, he had feared, his judgment might be colored in some subtle way. Denkinger had already worked two World Series, in 1974 and '80, but the thrill of calling an important game meant fully as much to him as playing in one did to the ballplayers. But with it all over and the dust cleared, he felt it was time to reflect. He was sitting alone in his family room composing his report on the seventh-game mess to commissioner Peter Ueberroth when, to his ultimate dismay, he saw out of the corner of his eye the Orta play being rerun on his television set. He paused in his writing to watch.
"They were calling it the biggest bonehead play of the year," Denkinger recalls. "They must've shown it six times, from every angle. Well, it soon became obvious to me that, let's say, there was a very great possibility the ball beat the runner to the bag. In fact, I was astute enough to recognize that the man was clearly out. The call was wrong. I was in good position, but Worrell is a tall man, the throw was high and I couldn't watch both his glove and his feet at the same time. There was so much crowd noise I couldn't hear the ball hit the glove. Besides, it was a soft throw. My first responsibility is to make sure the ball is caught. Had I been maybe 15 feet back, instead of eight, I might have made the right call.
"I didn't like what I saw. No one wants to be embarrassed like that. My job is predicated on being right all the time, and I like to be right all the time. But [melancholy laughter] we're only human, and now it's history. I can't change anything. Even admitting I was wrong doesn't change anything. But I do know that I didn't cost the Cardinals the World Series, not with all that happened afterward. There were too many 'what ifs' in the game. I think what worries all umpires is the violent reaction to things now. In Yankee Stadium, God save us, there was even a shooting. Please tell me what a man is doing with a gun in the ball park? We have to be concerned about these things, because it's obvious the situation is getting worse. I love baseball and I'm not all that disillusioned by what's happened to me. I'll continue to do what I've always done, which is to take every game very seriously and do my best."
The calls and the letters keep coming in, but there has been no violence to his person, his family or his home. Denkinger is a man with a keenly honed sense of irony, and that has helped him ride over the rough spots. He observes, laughing, that his newfound notoriety has at least given him a certain cachet on the banquet circuit. And he takes special pleasure in one of the neon signs that flash behind the bar of his Silver Fox restaurant in downtown Waterloo. It's the first thing he'll show visitors to the place. "Gussie Busch's company [the Braumeister also owns the Cardinals] gave one of these to all the umpires," he says, standing beneath the glittering prize. The sign reads: THIS BUD'S FOR YOU.
PHOTO
CARL IWASAKI
Peekaboo: If only Denkinger had said the words above the knothole, he would be safe from the crank phone calls and poison-pen letters.
PHOTO
RONALD C. MODRA
Because Denkinger was so close and the crowd so noisy, he could neither see nor hear the throw beating Orta to the bag.
PHOTO
CARL IWASAKI
A gift from Budweiser hangs in his bar, but Don is hardly the toast of St. Louis.
PHOTO
CARL IWASAKI
This is Don's family life: daughters Denise and Dana and wife Gayle outside home.
ILLUSTRATION
[See caption above.]
PHOTO
Denkinger (top left) led his 1960 ump school class.
TWO ILLUSTRATIONS