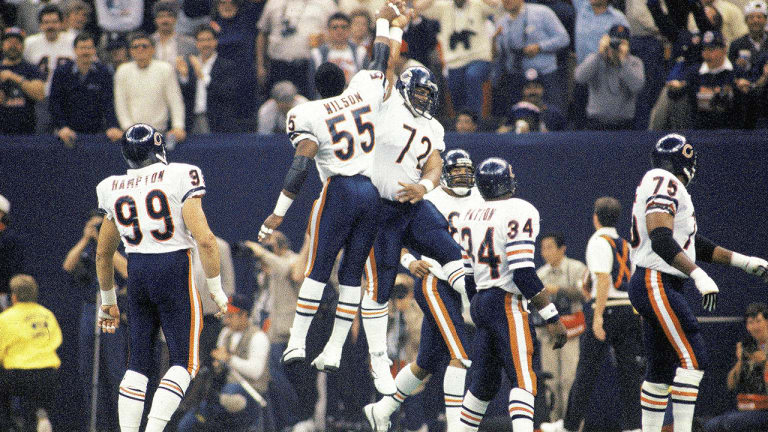 A Brilliant Case For The Defense
Playing the most devastating D in Super Bowl history, the Chicago Bears routed the Patriots for the NFL title
It will be many years before we see anything approaching the vision of hell that Chicago inflicted on the poor New England Patriots Sunday in Super Bowl XX. It was near perfect, an exquisite mesh of talent and system, defensive football carried to its highest degree. It was a great roaring wave that swept through the playoffs, gathering force and momentum, until it finally crashed home in New Orleans' Superdome in pro football's showcase game.
The game wasn't exciting. So what? Go down to Bourbon Street if you want excitement. It wasn't competitive. The verdict on Chicago's 46-10 victory was in after two Patriot series. Don't feel cheated. Louis-Schmeling II wasn't very competitive, either. Nor was the British cavalry charge at Balaklava, but Tennyson wrote a poem about it. This game transcended the ordinary standards we use in judging football. It was historic.
The events of the next few weeks and months will determine if this is the beginning of a mighty defensive dynasty (only one of the 11 Bear defenders who started Sunday's game is older than 28) or a culmination. The forces of erosion already were at work. Buddy Ryan, the assistant coach who crafted this defense, was close to the Philadelphia head coaching job when his work was done in New Orleans. With two minutes to go, the defensive players gathered around Mike McCaskey, the Bears' president, and practically begged him to do everything he could to keep Ryan. "Dan Hampton was our spokesman," strong safety Dave Duerson said. "He told Mr. McCaskey that if we lose Buddy Ryan we'll be a good defensive unit, but if we keep him we'll be in the Super Bowl the next five years."
Such is the hold that Ryan has on his players; his is a driving spirit that causes hard-eyed veterans like middle linebacker Mike Singletary to say, "Without him we don't have much. I feel honored to have been coached by him."
Money problems could inflict further damage. Right end Richard Dent, the Super Bowl MVP, is in a sticky salary situation. He could be gone, as Todd Bell and Al Harris were from last season's team. Others could follow. Win a title and the price of poker goes up.
O.K., let's not look for trouble. Mike Ditka's Bears have given Chicago its first title in any major professional sport since 1963, when Ditka himself played tight end for the champion Bears. And Ryan's defense, which virtually eliminates traditional positions, put together an astonishing string of conquests, a three-game playoff series that has never been duplicated.
Bears 21—Giants 0. Bears 24—Rams 0. Bears 46—Patriots 10. Total yards given up in the three games: 434. Average per game: 144.7. Average gain by opponent per play: 2.6. Third downs converted: 3 for 36. The Bears set a Super Bowl record by allowing the Patriots only seven rushing yards. They would have broken the Steelers' 11-year-old record of total yardage allowed (119), too, if Ryan hadn't pulled all but one starter with 9:43 left. The Patriots had gained 81 yards at that point. They picked up 42 more, but during that span the second-string Chicago defense outscored New England 2-0.
The Patriots had one moment of elation. On the game's second play, Walter Payton fumbled and New England recovered on the Chicago 19. "My fault," quarterback Jim McMahon said. "I called the wrong play. It was supposed to be a slant to the other side." New England quarterback Tony Eason threw three incomplete passes, and suddenly the Bear defenders were feeling very good about things. "We knew that if we got them in a passing situation we'd have things wrapped up," Singletary said.
Tony Franklin kicked a 36-yard field goal and New England led 3-0 with 1:19 gone, the earliest score in Super Bowl history. "I looked up at the message board," Singletary said, "and it said that 15 of the 19 teams that scored first won the game. I thought, yeah, but none of those 15 had ever played the Bears."
Chicago started the next drive on its 31, and seven plays, including a 43-yard pass to Willie Gault, got the Bears down to the Patriot 10, where Kevin Butler kicked the tying 28-yard field goal. It was a strange kind of drive. Fullback Matt Suhey, not Walter Payton, got the yardage on the ground. "I was a decoy, a rabbit," said Payton, who carried 22 times for 61 yards on the day. "They were putting two guys on me."
Eason began the next Patriot series with two incompletes, followed by a 10-yard sack. Dent and right linebacker Wilber Marshall shared it, and left linebacker Otis Wilson was closing hard. Eason's pocket had collapsed. New England had called six straight pass plays. Net result: five incompletes and a 10-yard loss. The Patriots had given up on the running game that got them into the Super Bowl, and the Bears were slapping high fives because they had taken New England out of its offense before the first quarter was half over. "They tried to lull us to sleep by saying they were going to run, run, run," defensive tackle Steve McMichael said. "Then they come out throwing."
Purists might give Patriot coach Raymond Berry some heat over that decision, but it made sense. Nobody beats the Bears running. You're a 10½-point underdog, so give it a shot. Take a chance. The problem is that if you can't get people blocked, nothing will work, or as McMichael said. "It really didn't matter what they did."
In the first six plays Chicago had given Eason six different defensive fronts. The second pass he threw was a crossing pattern to wide receiver Stanley Morgan underneath. Singletary bothered Morgan enough to force a dropped pass. Middle linebackers aren't supposed to cover wideouts. Next play the Bears showed Eason their 59 blitz. It was their most effective weapon of the day, an all-out rush by the three linebackers. Two of them generally were blocked, but Wilson usually came free, and on that play he hurried Eason into an incomplete. On Eason's fifth incomplete Marshall had coverage on Morgan; next play Marshall shared the sack with Dent.
Eason had seen this stuff on film, but you don't get bruises from a projector. He came to the bench a shaken young quarterback. The teams traded punts. The Patriots have a proud and talented defense, and they were fighting to protect the 3-3 score, hoping that somehow the offense could get itself together.
On Tuesday someone had asked Patriot vice-president Bucko Kilroy, who has been around pro football for 43 seasons, to predict the first three series of the game. "Punt, punt, punt." Bucko said. If only.
New England finally tried a run on its third series. Singletary smacked Craig James for no gain. Eason tried to pass. The middle of his line caved in, and Dent and McMichael caught him in a sandwich. The ball came loose. Hampton recovered on the New England 13, setting up another chippie field goal, this one 24 yards. On the next possession James tried a sweep left. Dent stripped the ball, and Singletary recovered on the Patriots' 13. New England's defense keyed on Payton so Suhey socked it to them twice, getting a touchdown on an 11-yard carry.
The quarter ended 13-3 Bears, and it was all over. It had been a landmark for defensive domination in a Super Bowl. New England had run 10 plays. Only the 10th produced plus yardage, a three-yard gain by James. Overall the Patriots had lost 19.
The misery continued. The next Patriot series ended with Hampton nailing Greg Hawthorne for a four-yard loss on a flanker reverse. The next ended with an 11-yard sack by Wilson, who collected Eason when he tried to duck Marshall. Tony had completed no passes in six attempts; he couldn't get out of the way of the rush. His scrambling instincts had vanished. All he could do was duck and wait.
With 5:08 left in the half, Berry sent in Sieve Grogan, who had spent the week wondering if he would play at all in the ultimate game. "I probably won't get a chance." said Grogan, who had gone down with knee ligament damage and a broken left tibia in the 12th game of the season and was on the slow mend. "I just hope I can figure out some way to get on the field. I could come in on the punt-block team and stand behind the line and wave my arms, or something."
For the rest of the agonizingly long game (three hours, 42 minutes), Grogan ran the show. He completed 17 of 30 passes for 177 yards and suffered four of the seven New England sacks. He took the Patriots on their one TD drive, 76 yards in 12 plays, throwing off a three-step drop, finally hitting Irving Fryar for the eight-yard score in the fourth quarter. "We started our celebration a little early," said Ryan, who begrudged the Patriots even that one small bit of sunlight.
After Berry had pulled Eason he went over to the bench and sat with him for a while. Tony is the Patriots' future. A game like this one could destroy a young quarterback. "Yeah, I guess I was a little surprised that he replaced me when he did but I don't want to talk about it," Eason said. He comported himself with great class in the Patriot locker room, great dignity. He had missed the final two days of practice with a virus, but he didn't use it as an excuse.
According to McMichael, Eason had looked confused at times. "He was never really set; he was throwing off the back foot," McMichael said, but Eason maintained that confusion wasn't the problem. "It was just a matter of executing," he said. "Our problem was getting manhandled, outplayed. I tried to scramble but there was no place to go. They played an almost perfect game."
Right guard Ron Wooten said the major problem was the seven-man Bear rush. "It wasn't compatible with our passing game," he said. "We just floundered around. The pressure just got to us. If I could do one thing differently, I'd like to go out and challenge the Bears with what got us there, running the ball, but we didn't. Probably we shouldn't have. The Bears are just better than we are right now. I'm not embarrassed, I'm humiliated.
"When we couldn't move the ball on our first run I thought, 'Where do we go from here? We can't pass, we can't run.' It was like trying to beat back the tide with a broom. But down the stretch they had their second-team defense in there—in a 3-4—and we couldn't execute. It showed how completely demoralized we were."
The first half ended with a defensive record—minus 19 yards for New England. The second half was mop-up. McMahon got his passes working, and he hit Gault for a 60-yarder on the Bears' first play. He didn't throw for any touchdowns but he carried for a pair of shorties, and his final numbers read 12 of 20 for 256 yards.
The Fridge, 308-pound William Perry, also did an offensive number. The only thing Perry hadn't attempted this season was a goal-line pass. So he tried one on a rollout and got sacked. He decoyed a couple of other times, and he scored on a one-yard plunge, knocking linebacker Larry McGrew sideways. Everybody was having fun. It was a show, but less than 24 hours earlier the mood had been a lot different.
In Chicago's defensive meeting Saturday night, Ryan, who has been approached about the Philadelphia head coaching job by Eagles' owner Norman Braman, gave his players what almost amounted to a farewell speech. "He told us," Singletary said, " 'Whatever happens tomorrow, I want you to know you're my heroes.' The tears were streaming down his face. There were a lot of wet eyes in the room, including my own. I couldn't sleep that night, thinking about it. It was like your father telling you, 'I've got to go somewhere else, but you're still my son.' It was like watching your family break up.
"When Buddy left the room there was silence, then McMichael threw a chair at the blackboard. Dale Haupt, our defensive line coach, turned to me and said 'Mike, call out the fronts.' I couldn't. I was too emotional. I was trying to keep the lid on it. We started watching some film. Hampton said, 'We don't need any of that,' and he hit the projector and knocked a reel loose. Then the meeting broke up."
In the locker room McCaskey accepted the Super Bowl trophy, and afterward someone mentioned the unusual sideline scene, with the defensive players pleading with him to hold on to their coach. "I'm not going to give him up without a fight," McCaskey said. "I want to make him the best offer any assistant coach has ever had. He's already got the kind of situation here that any other coach would love. He's got complete autonomy; he's got total respect; he's got a say in the kind of players we draft. I'll try to do anything to keep him here."
There's a downside to all of this. There are a lot more contracts to worry about, player contracts. Nine of them are up this year, 12 more a year later. That's almost half the team. McCaskey came to the job dedicated to making the Bears a solvent enterprise, which he has done. He is against rewriting contracts. He won't give guaranteed packages. He is against loan arrangements. When the Bears allowed Bell and Harris to hold out, the message was clear: No man is above the system.
Ditka vows that he will go to the mat with the boss to keep his championship team together. "He's never worked with anybody like me," the coach said a couple of days before the game. "I'm not going to stand still for anything. I'm not going to lose my team. We need players to win. If I'm fired, I'm fired. If I have to, I'll drive a cab."
Whoa, hold on there. The Bears are Super Bowl champs, remember. Policies can change. Maybe when the magnitude of the achievement sinks in, McCaskey will get together with Jerry Vainisi, the general manager, and plot a course that will keep his players together and at the same time make him a popular figure at the league meetings, where financial extravagance is sneered at.
If Bell and Harris, another pair of young players just reaching the full flower of their meanness, return, the Bears will be so formidable that the league will have to change the rules again. As it is, Chicago ranks with the legendary defensive teams of history.
The Bears are the best of the modern era, which commenced with new rules that encouraged passing in 1978. The Steelers of '74-'76 ranked slightly higher in a few statistical departments, but they were playing under the old rules. The Steelers will probably send more of their defensive people to the Hall of Fame—Jack Lambert, Jack Ham, Joe Greene, perhaps L.C. Greenwood or Mel Blount. Eight Steeler defenders made the Pro Bowl on two separate occasions. Five Bear defensive men made the Pro Bowl this year. But the greatness of these Bears is that the perfect scheme is blended with the perfect collection of talent to make it work.
The concept is brilliant and daring, and the steady drumbeat that makes it all work is pressure, the constant pressure that can unhinge a young quarterback like Tony Eason.
Don't laugh at the Patriots for their day of futility. You would have to laugh at too many other good teams, the Giants and Rams and Cowboys, who went down 44-0. The Bears rise to the heights against the best competition. It's teams like Tampa Bay and Indianapolis that give them trouble, when their attention wanders.
So, let's give credit to greatness, to a perfect mesh of force and intellect, and isn't that what football, or any sport, is really all about?