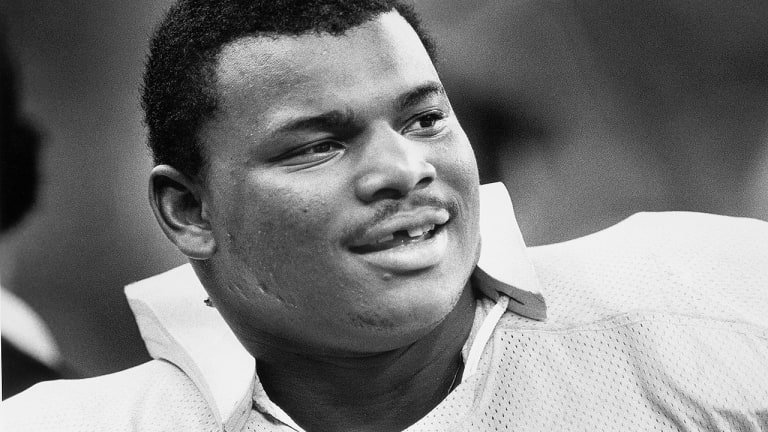 Stocking Up The Fridge
The Bears' William Perry, a giant success in the advertising world, is turning his poundage to profit
What is he doing in there?" whispers the photographer, and the people who have been lounging around this Chicago studio squirm a little more.
The star disappeared into the dressing room 25 minutes ago, and now—nothing. An account exec clears her throat. The creative guys nibble at food. The two photo assistants pace. The makeup man flips nervously through a magazine. Everybody is thinking the same thing—$2,500 a day for this studio and the photographer. Time. Money. The campaign. Careers. Sometimes stars become snobs. Sometimes they lose it completely. Sometimes they just stay in their dressing rooms and do weird things....
Abruptly the door flies open and out steps William Perry, clad in a football uniform. All eyes turn to this familiar shape, the most recognizable 300-pound man in the United States.
There is tense silence as the Refrigerator surveys the scene. His appearance fee, says agent Jim Steiner, is "10 and 15, in and out of town, cut and dried." That is, $10,000 in Chicago, $15,000 anywhere else, plus three first-class airline tickets to the job, one for the Fridge, one for personal manager Conrad Ford and one for Perry's wife, Sherry, who goes everywhere the Fridge goes. Appearances last an hour or so. Anything more means lots more money.
"I guess he's had about 35 to 45 appearances all told since November," says Ford, who courted the Fridge for Bry & Associates, Ltd. (for whom Steiner also works) when Perry was at Clemson. "General Foods called and wants a video with him and his mom, cooking. Let's see—auto shows, print ads, TV...uh, he'll be busy the rest of 1986."
For this deal with Rath Black Hawk, a Chicago-based packaged-meat company—still shots with bacon and ham today, a 30-second film spot with bacon yesterday—Fridge is earning well into six figures. And he could ask for more—tons more—and get it.
"The requests for William are overwhelming," says Steiner. "Occasionally there's a lull—35 to 40 requests a day instead of 50 to 75—but recently it's been busier than ever. People said this thing would stop. They were 100 percent wrong."
How is the Fridge holding up? Nobody breathes. A man who is more than six feet around at the shoulders should look either ferocious or gentle, but the Fridge shows nothing at first.
Then it comes. The twinkle, the smile, the big hole in the grin where a cousin shot out a tooth with a pellet gun back when the Fridge was just a little icebox in Aiken, S.C. Warmth, good humor.
"Hi," says the 10th of Inez and Hollie Perry's 12 children, the chairman of the board of William Perry Inc., and the whole room sighs.
The Refrigerator phenomenon is so off the wall, so unexpected, so unbelievable in its transformation of a basically average pro football player into an icon, that those who deal with it up close—the advertisers and promoters and even agent Steiner himself—can't begin to explain it. "Twenty years from now we'll all look back and go, 'Huh?" says Steiner.
John Bello, the executive vice-president-marketing of NFL Properties, which licenses Fridge paraphernalia like T shirts, posters, coffee mugs and sweat shirts ($1 million to $2 million in retail sales so far) in a split deal with William Perry Inc., says, "This is the first time in my career here that there's been a player who has transcended football to become a folk hero."
But really, it all adds up. The Fridge was delivered to us via TV, just like all our other pop-culture heroes. Bello recalls watching the Chicago Bears-Green Bay Packers Monday night game last fall in which Perry scored his first NFL touchdown. "I was thinking, 'This is gonna blow up,' " he says. "This was something extraordinary for the NFL. The next day I gathered my people around and said, 'All right, let's get ready.' We can control image to a small degree. And my thought was, 'Do we make him a buffoon, an athlete, a what?' "
Steve Goldstein, the San Francisco-based director of consumer marketing for Levi's Menswear, was wondering the same thing when he went out and signed the Fridge to promote the company's line of big and tall men's clothing. "Here was this person who burst on the national scene, and he happened to be both big and tall," says Goldstein. "So he was a natural for us. We could have gotten somebody like Lyle Alzado, a mean, tough guy. But William's image was more what we wanted."
Aha, the key to all promotion—image. To understand the development of the Fridge's image, take a look at the main events in his brief pro career.
1) April 30, 1985—Bears draft Fridge out of Clemson in first round.
2) Aug. 5—Fridge weighs in at 330 pounds.
3) Aug. 7—defensive coordinator Buddy Ryan calls him "wasted draft choice."
4) Sept. 8, season opener vs. Tampa Bay—Fridge rides pine.
5) Sept. 29, fourth game—Fridge runs downfield on kickoff coverage, demolishes ballcarrier.
6) Oct. 21, first Green Bay game—Fridge lines up in offensive backfield, twice obliterates LB George Cumby on blocks, scores rushing TD.
7) Nov. 3, second Green Bay game—Fridge catches pass for TD.
8) Nov. 3, ninth game—Fridge finally becomes starter at defensive tackle.
9) Nov. 17, 11th game—Fridge penalized for attempting to throw Walter Payton over goal line.
10) Dec. 22—Fridge runs 59 yards with fumble recovery against Detroit.
11) Jan. 26, 1986, Super Bowl—Fridge rolls out to pass near goal line. Later scores rushing touchdown.
And here is what it all meant. Numbers 1 and 2 stirred up public curiosity. No. 3 made the Fridge a sympathetic figure, not only because he was getting chastised, but also because we found out he was on a diet, something many Americans know about and loathe.
No. 4 made us start to forget about him, an essential precedent to heroic rebirth. It also showed us that the Fridge is not a complainer. Indeed, stoicism is important to Fridgemania. The Fridge shuts up and plays, or doesn't play, as the case may be. In his entire life he has never missed a football game because of injury. From preschool through high school he missed only one day of class. And that was because of an ice storm. "I don't tell nobody how I feel, less'n they come up to me and ask," says Fridge. "And then I tell 'em, 'Fine.' "
No. 5 tantalized us with Fridge's potential. No. 6 made history. The Fridge became the heaviest man in NFL annals to score a touchdown off a set play. His joyous post-touchdown spike made everybody howl. Chicago sportswriter Brian Hewitt declared Fridge the Falstaff of the Bears, the man who "entertained teammates, fans and the critics, all of whom might otherwise have been dwelling on the pressures of being unbeaten if Perry wasn't around to unburden their minds."
No. 7 showed everyone what an exceptional athlete the Fridge is. It was about this time, also, that the people from Coca-Cola came knocking. "We saw him drinking Coke on the sideline and found out that both he and Jim McMahon are lifelong Coke devotees," says Rudy Bechtel, Senior V.P. at the SSC&B advertising agency, which represents Coke. Voilà, the Fridge and McMahon made a Coke ad. Why did Coke go after Fridge? "Because he's such a likable guy, because he looks like he's having a good time, which is the essence of drinking a soft drink," says Bechtel. "Plus, 'Keep plenty of Coke in the Refrigerator,' was too good a slogan to pass up."
No. 8 and, later, No. 10 proved conclusively that Perry belongs in the NFL. They helped remove him from "freak" status. They also kept him in the public eye, "positioning" him, as the ad world likes to put it.
No. 9 enhanced his innocent, good-guy image. (What, you mean I can't toss a man in for six? Not even my best buddy, Sweetness?) When the two recently did their rock video, "Togetherness," they exuded the me-and-you charm of a Robin Hood and a Little John strolling merrily through Sherwood Forest. And Perry's Kraft macaroni ad, in which he plays impishly with a group of little children, puts the Fridge into the same safe, color-free realm as superdad Bill Cosby.
"The thing about William is that he's a very disarming character," says Bears free safety Gary Fencik. "If he had a different personality, all this would be intolerable."
No. 11 would have been intolerable to Payton if anybody but the Fridge had been scoring. Payton desperately wanted a TD in the Super Bowl, but Perry got it instead, and, as Steiner says, "Interest in William just exploded again." Just as important in that game was the fact that the Fridge was supposed to pass, even though he didn't (nobody was open, and he wisely, though thankfully not literally, ate the ball). Head coach Mike Ditka, the cheerless grump himself, was pulling the strings and going for some laughs. "I wanted Perry to be the only lineman ever to run for a touchdown, catch a touchdown pass and throw for a touchdown," Ditka says. Why? "Because everybody roots for the underdog. Everybody can identify with a common overweight guy."
Sandra Philpott, the account supervisor for Rath Black Hawk, watches as the Fridge stands under the studio lights, smiles on command and balances a ham tin on his finger, acting like a veteran model. For Rath Black Hawk, hiring the Fridge was a very big deal, Philpott explains. The company doesn't have a lot of ad money to toss around, but it felt this was a wise investment. It likes the fact that the Fridge is a family man, a recognizable face, an innocent.
"He doesn't seem tainted by the pro life we saw in North Dallas Forty" she says. "It all started with his size, and now it seems to have moved to, 'What a nice young man.' "
Indeed, the Fridge is already in his third incarnation. He went from human being to novelty to good guy faster than you can say The Super Bowl Shuffle. Hey, we aren't too desperate for good guys, are we?
"He seems to be having so much fun," says Philpott, which is what everyone seems to say about the Fridge.
But is he?
Right now he sure is. He is standing in the dark on a piece of land off Route 19 in Aiken, Sherry at his side. The smell of pine is in the air and a half-moon illuminates this spot where Fridge says he's going to build his family's dream house. There are three in the Fridge family, with a tiny new appliance due in May.
"Oh, yes, I'm having fun," he says. "There ain't nothing that goes to my head. I just try to be myself. If you know where you stand, there's no need to worry." And Fridge knows where he stands.
For example, he got a replacement for the missing tooth a couple of months ago—in case an advertiser wanted the full pearly look (not a chance)—but he has lost the bridge and doesn't care if he finds it. He drove straight through from Chicago recently, just to get away from commitments and appearances and everything. Not that he's burned out. Just a little weary. "Hey, nobody knew this was gonna happen," he says. "Not me. Not you. Not anybody."
Even as he stands here, his image is at work across the land. For McDonald's. For Alberto-Culver hair products. For Kangaroos shoes. For Mr Big paper products. For Duke thermal underwear. For more stuff than he can think of. It all adds up to a possible off-the-field take of a million dollars or more. What's more, Wrestle-Mania II beckons, and the Fridge is scheduled to appear April 7.
"I met Big John Studd," he says, shaking his head. "He surprised me. He's about 6'10" and 360 pounds. What would my nickname be if I wrestled? Well, I guess, 'The Refrigerator.' "
Of course. And believe it, he'd be the good guy.
PHOTO
ROYAL
TEXTILE MILLS/L.G. ANDREWS, INC.
The Fridge hawks everything from underwear to bacon to paper towels, not too bad for a big-waisted, "wasted" draft choice.
PHOTO
BILL BALLENBERG
[See caption above.]
PHOTO
COURTESY
LEVI STRAUSS & CO.
[See caption above.]
PHOTO
JEAN
MOSS PHOTOGRAPHY
[See caption above.]
PHOTO
COURTESY
COCA-COLA USA
[See caption above.]
PHOTO
COURTESY
MCDONALD'S CORPORATION
[See caption above.]
PHOTO
COURTESY
GEORGIA-PACIFIC CORP.
[See caption above.]
PHOTO
COURTESY
KRAFT INC.
[See caption above.]
PHOTO
BILL
BALLENBERG
When Pontiac brought Perry to an auto show, fans lined up at the Fridge to stock up on autographs.
PHOTO
BILL
BALLENBERGPHOTOBILLBALLENBERGSherry, Latavia and one large jockey at Aiken.