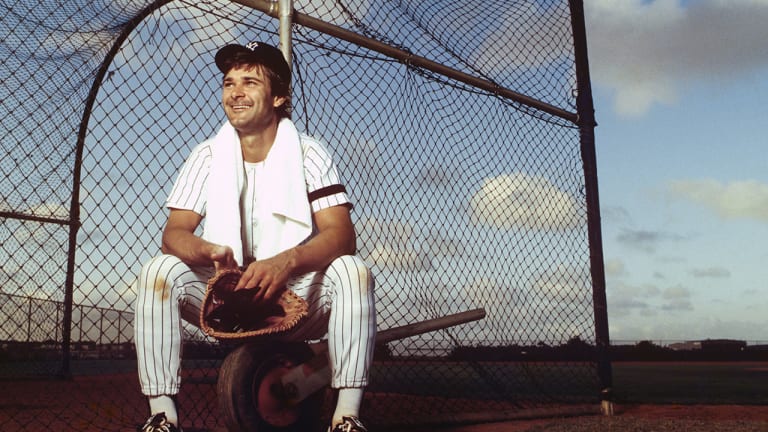 The Banger in the Bronx
In Only His Third Season, Don Mattingly Invites Comparison with Gehrig, DiMaggio and Other Yankee Stars of Yore
Don Mattingly is prowling the kitchen like a caged cat, looking for something, anything, that remotely resembles a baseball bat. A jammed thumb has forced the American League's MVP to miss batting practice the past four days, and there is a bridled restlessness about him, like that of a heavy smoker in his third day of trying to kick the nic. Mattingly wants to play. He wants to play so badly that, jammed thumb or no, he was diving for ground balls on this, the seventh day of spring training, saying to himself, "Seventh game of the World Series ... two out ... two on..." like some 9-year-old with a new glove.
The handle of a vacuum cleaner finds its way into Mattingly's hands, and he checks his stance. It is not exactly textbook stuff, hunched over as he is with his bat an inch off his shoulder and his right leg open and his left foot pointing backward "almost like a duck's," as he describes it. But textbook or no, this stance is one of the keys to Mattingly's success.
"I never thought I'd drive in 145 runs," says the 24-year-old Mattingly, taking a practice cut in the direction of his 1-year-old son, Taylor, who looks up from his animal crackers and giggles. Taylor was last publicly seen on the pages of the New York Post wearing Jim McMahon-style sunglasses and a headband bearing the name STEINBRENNER. This was a gentle dig at the Yankee owner, who, after signing Mattingly to a $1,375 million, one-year contract the day before arbitration proceedings were to begin in February, is considerably more popular in the Mattingly household now than he was a year ago. "I thought I might hit 35 homers," Mattingly adds, "but I didn't think it'd be last year."
He sure didn't after reaching the midpoint of the 1985 campaign with only nine round-trippers in 337 at bats. Then it was instant Popeye. Unexpectedly, Mattingly, who before making the big leagues had never had more than 10 home runs in a season, slammed 26 homers in the second half of the year, batting .340 over the same span to finish the season at .324. He also scored 107 runs to go with his 145 ribbies and 35 homers. All this from a 19th-round draft choice, for heaven's sake, who was thought to be too slow ever to make it as a singles hitter and too punchless ever to make it at first base. Mattingly's 217 runs produced (runs scored plus runs batted in, less homers) were the most by a Yankee since—no, not Reg-gie, not even Mantle or Maris, but—Joe DiMaggio, who drove in 155 runs, scored 110 and hit 39 homers in 1948.
"He had as good a year as anyone I've ever played with—or against," says rookie Yankee manager Lou Piniella, who has been Mattingly's batting instructor the past three years. "You knew the numbers were going to be good, but he put them up so easily that until you took a step back at the end of the year, you didn't realize how good."
Numbers are just, well, numbers. But consider these comparisons with Mattingly's 1985 totals. He had 48 doubles, second on the alltime Yankee list to the 52 by Lou Gehrig in 1927. Mattingly also became the first American League player to lead the majors in doubles two years in a row since Tris Speaker did so from 1920 to '23. He rapped 211 hits, the most by a Yankee since Red Rolfe had 213 in 1939. His back-to-back 200-plus-hit seasons were the first by a Yank since DiMaggio did it in 1936 and '37.
Yankee co-captain Ron Guidry thinks it's no mere coincidence that Mattingly's stats invoke such hallowed names. "By the time his career is over," says Guidry, "he could be one of the best who ever played this game. He may not turn out to be quite what Lou Gehrig was, but he'll be closer than anybody else."
Here are some more Mattingly figures: He had 370 total bases, four more than Roger Maris had when he walloped 61 in '61. And with only 41 strikeouts in 652 at bats, Mattingly became the first major league player since Ted Williams (1957) to homer 30 times or more while fanning 50 times or less. "I used to think of Donnie as a line-drive hitter with home run power," says Piniella. "Now I'm starting to think of him as a home run hitter who can hit .300."
Can hit .300? In 1984, his first full season in the majors, Mattingly won the AL batting title at .343—the first Yank to win that crown since Mantle (1956). That .343 was the highest average by a Yankee lefty in almost 50 years, since Gehrig's .351 in 1937. In four years of minor league ball Mattingly's average was .332, and before that, at Reitz Memorial High in his hometown of Evansville, Ind., he hit .500 and .575 his last two years. "If he hit less than .300, I'd be ashamed, and he'd be sleeping in the living room," says his wife of six years, the former Kim Sexton. She's a lady who understands motivation because she's the daughter of Mattingly's high school football coach. "But those homers seem kind of weird to me," she admits. "I'm afraid they'll go away."
No one expected them. Not Piniella, not Mattingly, certainly not the Yankees, who were trying just about anyone at first base who could swing a bat and chew gum back in 1983, when Mattingly was first given a shot at the job over the likes of Bobby Murcer, John Mayberry, Butch Hobson, Roy Smalley, Ken Griffey and Steve Balboni. It was, like so many others in the Yankees organization, a temporary appointment. "I started the first game at home and had three tough plays at first that didn't go my way," Mattingly, a Gold Glover last year, recalls. None of the plays was scored an error, but Mattingly, who had gone 1 for 3, was promptly benched by manager Billy Martin. The day he and Kim moved into their 18th-floor apartment in Hackensack, N.J. he was returned to the minors. "It was kind of sad," Kim recalls.
"It wasn't that sad," says Mattingly. "Every minor leaguer has stories like that. It's good that it didn't all come so easy. One thing I can say about the Yankees: They've never given me a thing."
Kim digests this for a moment and shrugs. "Well I was sad," she says.
It's not so much that nothing bothers Mattingly. Things bother him all right: losing, Yankee politics and, to a degree, celebrity—to name three. It's more that nothing distracts him from the business at hand, which for the past couple of years has been learning to hit the bejesus out of a baseball. At the time Mattingly was returned to Columbus, Ohio, he was primarily a leftfield hitter with an inside-out swing. "I never used to pull the ball," Mattingly says. "I imitated [Rod] Carew a lot. Mickey Vernon, who was my minor league hitting coach, used to tell me, 'You don't have to change to hit in the big leagues. Just put the barrel of the bat on the ball.' "
Late in '82 and early '83, Piniella began talking to Mattingly about some of the theories of Charlie Lau. He experimented with Piniella's ideas throughout the rest of '83, and then while playing winter ball in Puerto Rico, where he led the league with a .368 average. When Mattingly showed up for spring training in 1984, Yankee manager Yogi Berra told him that he would be his swing man, alternating among first base, leftfield and rightfield to give Yankee regulars a rest. No problem, said Mattingly. Then he added, "But once you get me into the lineup, you're going to have trouble getting me out."
Cocky? Well, of course. When every baseball looks to you not like an aspirin tablet but like a cantaloupe, who wouldn't be cocky? "When I'm seeing the ball good, I'm seeing it early," Mattingly says. When I'm seeing the ball good. It's a phrase Mattingly uses a lot, an effort to demystify what, to him, seems the most natural, least explicable of tasks. "I see it right out of the pitcher's hands, seams and all. I'm not looking for any particular pitch, just hard stuff. Then it's pure reaction." Mattingly makes it sound as if every pitch—slider, curve, fastball, forkball, change—looks so big floating down the pipe that the suspense lies not in whether he will hammer the baseball but in whether he will hammer it where they ain't.
Whether there's a game, a pennant race, a batting title or his financial security on the line, Mattingly has positively raked the opposition. He went 4 for 5 on the last day of the 1984 season to edge teammate Dave Winfield for the AL batting crown. In 10 straight games last year between Sept. 20 and Sept. 30, Mattingly drove in at least one run as the Yanks battled to gain ground on the Toronto Blue Jays. For the season he led the league with 21 game-winning RBIs, and over the past two years Mattingly has batted an astounding .393 with runners in scoring position. Increasingly, it is Mattingly—not Winfield—to whom the Yankees have turned for leadership, both on and off the field.
"If he made one dollar a year or two million a year, he'd have the same intensity," says former teammate Don Baylor. "I love to watch him practice," says Angel manager Gene Mauch. "He's very serious during infield, never wastes a swing in the batting cage. From there on I don't want to look at him."
"He's the best in the league," sums up the White Sox' Carlton Fisk. "He hits for average, he hits for power, he plays defense. The best."
Such compliments run off Mattingly's back like Ohio River water off an Evansville duck. Evansville is the Hoosier city where he and Kim still live in the off-season, and it was there that he learned early on to keep his athletic achievements in perspective. A three-sport star at Memorial High, Mattingly was the youngest of four athletic brothers. The eldest, Jerry, died at 23 in a construction accident. Don was eight at the time. Another brother, Randy, kicked around the Canadian Football League for five years as a quarterback and punter. Being a high school hotshot didn't seem terribly significant in the Mattingly family. "I didn't expect any special treatment at school for being an athlete," Mattingly says. "I never wore my letter sweater or anything like that. I'm not shy—just not a ham. My personality doesn't need that sort of adulation. I'm not flashy. I still don't think of myself as a great player. I think of myself as an everyday player. A worker type. Consistent. On time. You have to see my game over a long time to appreciate it."
"At first," says the Royals' George Brett, with whom Mattingly is often compared, "he was one of those guys who seemed to hit a lot of lazy fly balls against lefthanders. But then late in the '84 season he was hanging in better, and last year it didn't seem to matter who was pitching, left-or righthanded. He was going to hurt them."
Indeed, 18 of Mattingly's 35 homers in 1985 came against southpaws. When I'm seeing the ball good ... no one sees it better.
One thing about playing on the Yankees, you also get a pretty good look at the cowhide of life—seams and all. When something does get under his skin—as was the case last June when, in the midst of a home stand against the Blue Jays and the Tigers, Steinbrenner suggested that the Yanks hold yet another in a succession of off-day workouts—Mattingly speaks out once and that's the end of it. Tied for the league lead in RBIs at the time, Mattingly remarked to a couple of reporters, "Guys need a day off sometimes. We don't get any. Having a break, getting a chance to get your head together, could be more helpful than a workout."
When that hit the newsstands, it unleashed this Steinbrenner tirade: "If he's tired of working out, that's too damned bad. He ought to get a real job, be a taxi driver or steelworker and find out what life and hard work are all about. I'm getting fed up with his attitude. Last year I thought he was the all-American boy, but now I'm not so sure."
One can only wonder what Steinbrenner's perception of the all-American boy may be. "When I spoke out about practices, it was something that had to be said," Mattingly says now. "George wants to win. But I want to win as much as he does, and I was always taught that we're all in this together, that the team was more important than any one player. There's not a franchise player in baseball. So when he goes off and says stuff about Dave Winfield being Mr. May, like he did last September when we were playing Toronto, or starts firing back at me about steelworkers and farmers just because I'm from Indiana, I don't agree with it. So I'll say something to get it off my chest. Then in two or three days it all passes over. I don't mind George. Sometimes I kind of like his little mind games."
That's spring-training talk. Steinbrenner has twice refused to sign Mattingly to a long-term contract, and don't be stunned if Mattingly flees to saner pastures when he becomes eligible for free agency in 1989. After Mattingly won the batting title in 1984 on a $130,000 salary, the Yankees broke off negotiations for the '85 season and simply renewed his contract for $325,000, take it or leave it; Mattingly wound up also receiving $130,000 in incentive bonuses. "It wasn't the money that upset me," Mattingly said later. "It was the way things were handled. I said I wouldn't forget it, and I won't. Baseball is all business to the owners. At least our owner. That's the lesson. I'm a piece of property, a tool. I'm not a family member or anything like that. But to me, baseball's still a game. I don't want it to be work. I want it to be play.
"I'll tell you, the athlete I admire as much as anyone is Julius Erving. That's who I want to be like. I remember a few years ago watching a playoff game between Philadelphia and Portland, and there was a fight or something between Maurice Lucas and Darryl Dawkins and things were getting crazy on the court. Everybody's pushing and jumping around. Then the camera pans over and shows a picture of Dr. J. He was watching from the bench, totally composed and within himself. That picture goes through my mind whenever I feel myself losing control."
Composure. That's what Mattingly has. It is what any young player needs in order to thrive on Steinbrenner's Yankees, or to win a batting title or to drive in runs during a pennant race. In Mattingly's rookie year, in man-on-base situations, he used to think, "I'm going to show them I can drive in runs." And he would tighten up. Now, he just looks out at the pitcher and relaxes. Maybe he conjures up a picture of Erving. "The pitcher's the guy in trouble, not me," Mattingly thinks.
Then the pitcher starts his windup. When I'm seeing the ball good.... Yes, the pitcher is in trouble.