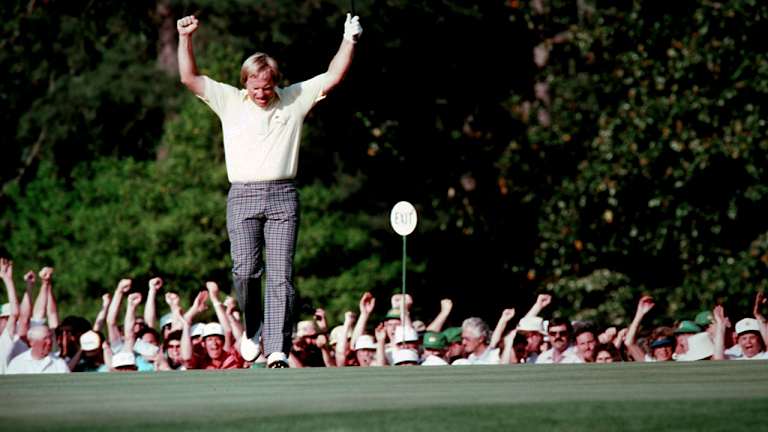 Day Of Glory For A Golden Oldie
At 46, Jack Nicklaus won his sixth and most dramatic Masters with a final-round 65 that had all of America cheering for him
That arm. Who could forget that arm? In the roar of roars at the 18th green, from behind a Masters scoreboard glittering with the names of golf's power brokers—BALLESTEROS and WATSON and LANGER and KITE—under the sign that said No. 18, beside the huge black letters that read NICKLAUS, next to a red 9, came the arm that had put that number there, the arm that seconds before had placed a red 8 next to NORMAN, and that arm was pumping furiously.
No head, no body, no shoulder, just an arm belonging to the leader-board man, pumping and pumping for pure, wallowing joy. To hell with employee objectivity. Jack Nicklaus had just won the Masters, once again, and that arm just couldn't help itself. If it was Old St. Nick who had delivered the goodies; if it was the Ancient One who had posted that birdie at 17, then parred 18, while Greg Norman had taken out his Fore!-iron and mailed the gallery a souvenir on the same hole; if it was the Olden Bear who had mystically come from five shots and a couple of decades back to hijack the Masters golf tournament, then it was that arm behind the scoreboard that was telling us what it meant.
Can't you see? That red 9 set off an avalanche of history. Jack Nicklaus, a 46-year-old antique, had won his 20th major golf championship, his first green jacket in 11 years, his sixth over three decades and all in this, the 50th, and arguably the best, Masters.
How complete, how whole this was for Nicklaus. Hadn't he been duped out of that 20th long ago? Hadn't Tom Watson's chip taken the U.S. Open from him at Pebble Beach in 1982 and broken his spirit? How many times had he led a major only to have his pocket picked at the end? Now the spikes were on the other foot. Here was Nicklaus, in one swell swoop, reaching down from another era and snatching a major championship from the reigning czars of this one. It is a trick no other golf god has pulled, not Palmer or Hogan or Snead or Sarazen. Nicklaus had beaten young men at a young man's game on young men's greens and beaten them when they were at their youthful best. As Tom Kite, destiny's orphan, put it, "I hit nearly every shot the way I dreamed about today. But that's the strange thing about golf. You don't have any control about what your opponent does."
And just in the Nicklaus of time, too. Who else but Jack could save us from the woeful, doleful bowl full of American Express (do-you-know-me?) golf winners of late? And who else could play John Wayne, riding in to rescue the Yanks from golf's rampaging foreign legion: the dashingly handsome Seve Ballesteros of Spain; the stone-faced Bernhard Langer of West Germany; Australia's Norman, he of the colossal swing and larger-still reputation, more unfulfilled now than ever; and Zimbabwean-South African-Floridian Nick Price, who on Saturday broke the course record that had gone unsurpassed for 46 years, then on Sunday recoiled in the giant shadow of what he had done.
Here had come Nicklaus, an American legend still under warranty, armed with a putter the size of a Hoover attachment, denting the back of Augusta's holes with 25-foot putts at an age when most guys are afraid to take the putter back. Here had come Nicklaus, sending such a deluge of decibels into the Georgia air that lakes rippled and azaleas blushed; starting such a ruckus that grown men climbed trees, children rode on shoulders, concession-stand operators abandoned their posts, all just to tear off a swatch of history. Was that Jack in the checked pants and yellow shirt? Hmmmm. Yellow goes nice with green, doesn't it, Jack? You devil.
Maybe that was it. Maybe Nicklaus had drawn up a contract with Lucifer for one last major, for that slippery 20th that had eluded him since 1980, for a sixth green blazer. In exchange, Nicklaus would do pro-ams in Hades the rest of his days.
What else could explain it? How else to explain the guy in 160th place on the money list, just one spot behind Don Halldorson, winning the Masters? How else to explain a man who hadn't won in two years charging back the last day, going seven under for the final 10 holes, sculpting a 30 that tied the Masters record for the back nine—winding up with a sporty 65 as he roared past eight players and won? This is a guy who missed the cut at the Honda, for the love of Hogan. In fact, Nicklaus missed the cut in three of seven tournaments this year and withdrew from a fourth. Of the ones he finished, his most impressive showing was a tie for 39th at the Hawaiian Open, which didn't exactly throw a scare into Corey Pavin, who won. The $144,000 for winning the Masters means he's up to $148,404 for the year. Nicklaus goes through more than that in limo tips.
The man is older than Pete Rose, for crying out loud. He has played in more Masters (28) than Pavin has lived years (26). When Nicklaus won his first Masters, in 1963, Norman was eight years old, Ballesteros and Langer five. Nicklaus either signed his soul away or is angling for an endorsement contract with Efferdent.
"I read in the Atlanta paper this week that 46-year-olds don't win Masters," said Nicklaus. "I kind of agreed. I got to thinking. Hmmm. Done, through, washed up. And I sizzled for a while. But I said to myself, I'm not going to quit now, playing the way I'm playing. I've played too well, too long to let a shorter period of bad golf be my last."
More remarkable in all this comeback talk was the fact that rumors were flying that Nicklaus had been missing some serious greens, and not just the kind you take a Toro to. "My company was a mess," Nicklaus says.
In an effort to improve the fortunes of his own company, Golden Bear International, Nicklaus let the contract of his chief executive officer, Chuck Perry, lapse seven months ago and assumed day-to-day control of the business himself. "Chuck worked very hard for me," says Nicklaus, "but he wanted to build an empire. He was sending out p.r. releases talking about a $300 million empire and all that stuff. But I don't want an empire. What am I going to do with an empire? I've got five kids, a beautiful wife and I'm hoping on some grandkids. That's what I care about."
Nicklaus admits that he has been distracted by business worries, in particular about a couple of his many golf-course and real-estate deals. But he says he is not in a financial crunch, which makes it just a coincidence that he recently signed as a spokesman for Nabisco Brands and is in negotiation with ABC-TV to appear on golf specials for five years. "The ABC contract is with the lawyers right now," Nicklaus says.
With his business dealings weighing heavily on his shoulders, to say nothing of his checkbook, it was no wonder he was floundering on the golf course. His irons and woods were still Jack Be Nimble, but his putter had been pure Tip O'Neill. Take Thursday's opening round, for instance. He had 11 putts inside 15 feet and made one. On Sunday's front nine he missed two four-footers. "If I could just putt," he said Friday, "I might just scare somebody. Maybe me."
But that seemed fanciful, and it wasn't just newspaper writers typing him off. CBS analyst Ken Venturi told USA Today, "Jack's got to start thinking about when it is time to retire."
After all, who could take Nicklaus seriously after his opening rounds of 74 and 71? Besides, by Saturday, the leader board was doubly stocked with people you had actually heard of. One was a certain swashbuckling Spaniard who has been out of work much of this year, what with his father's recent death and his sword-fighting with PGA Tour commissioner Deane Beman. Coming into the Masters, Ballesteros had played only nine competitive rounds in all and had made precious little money. "Ninety dollars," he joked. "All on practice-round bets with [Ben] Crenshaw and [Gary] Player."
Still, Ballesteros's rapier hardly looked rusty, and when he opened with a convincing 71-68 and a one-shot lead, nobody could make him less than the favorite for his third coat. "They ought to name this place after him," said Price. "He hits it so long and so high and draws it so well and is so imaginative around the greens that I don't think he'll ever finish out of the top five here."
Price's game isn't all that ill-fitting, either. On a windless Saturday that Watson said left the course as "defenseless as I've ever seen it," Price's 63 was a course record, a Jackson Pollock splash of birdies—nine in a series of 12 holes—that broke the course record of 64, set in 1940 by Lloyd Mangrum and equaled by Nicklaus and four others. That left him at five under, and when Seve got heavy on Saturday, turning a one-shot lead at 17 into a one-shot deficit by the time he hit the clubhouse, Price found himself tied with Ballesteros, Langer and Donnie Hammond, one shot behind Norman.
Everybody genuflect. It's Sunday morning in the cathedral of golf, and the high priests are all here. Norman leading, with Price, Langer, Ballesteros, Watson, Tommy Nakajima of Japan and Kite all within two shots, not to mention an altar boy, Hammond. Nicklaus, with a Saturday 69 ("The first time I've broken 70 since I can't remember when," he said), was looking surprised but quite harmless at four back.
"My son Steve called me at the house we're renting this morning," Nicklaus said, "and he asked me, 'Well, Pop, what's it going to take?' And I said, 'Sixty-six will tie and 65 will win.' And he said, 'Well, go ahead and do it.' "
But as Sunday's round began, Nicklaus looked as if he was going to keep on doing what he had been doing, which was knocking the ball tight and putting loose. He missed four-footers at the 4th and the 6th, and when he got to the 9th tee, he was right where he started—two under. He was also five shots behind Norman.
Then, suddenly, all heaven broke loose.
Playing two groups ahead of Ballesteros and Kite, four ahead of Price and Norman, Nicklaus finally got a birdie putt to drop, an 11-footer. Four shots back.
At the 10th, he birdied from 25 feet, which should have put him three back, except for an odd set of goings-on at No. 8, where both Kite and Ballesteros had left the hole without ever pulling their putters. Kite had holed a wedge from 81 yards for an eagle, followed by Ballesteros from 40 for another eagle. Not only did that speed up play considerably, but it also kept Nicklaus four back of the leader, now Ballesteros.
But when Ballesteros bogeyed No. 9 and Nicklaus answered with a birdie at the portal to Amen Corner, No. 11, Augusta National began to overheat like a $99 Impala. Two back.
Then Nicklaus did something that got him cooking. He made a bogey 4 at the 12th hole. Three back.
"I don't know why, but it really got me going," he said. "I knew I couldn't play defensive with the rest of the course. I knew I needed to be aggressive coming in."
On to the par-5 13th, the Curtis Strange Memorial Hole, where the Masters is often lost and rarely won and where Nicklaus bent a three-wood so precariously close to the woods that his part-time caddie and full-time son, Jackie, thought he had put it in the creek on the left-hand side. "Shots like that are a little too much for a 24-year-old heart, Dad," he told him. Dad hit a 210-yard three-iron over Rae's Creek and to within 30 feet, then two-putted for birdie. Two back.
Now it was Ballesteros's turn at 13, only he did it better, letting a six-iron drift lazily in left to right and sinking an eight-footer, his second eagle of the day and third of the tournament. At this rate, with the par-5 15th still to come, the Spaniard looked as if he could radio ahead with his sleeve length. Nicklaus now was four behind him, two back of Kite. See you at the awards stand, Seve.
Desperate, at the 15th, Nicklaus let loose a mammoth drive, 298 yards, so big it surprised even him. He had changed his swing (less hands) and his diet (more food). He had gone on the Eat to Win Diet and lost. "I was down to 170 pounds and I realized I couldn't play golf at 170," he said. He's up to 190 and hitting it farther than ever. Fat Jack is truly back.
With 202 yards to go at 15 and the tournament in the balance, Nicklaus turned to Jackie and said, "You think a three would go very far here?" To which Jackie said, "Let's see it."
Obligingly, Nicklaus hit his four-iron to 12 feet and made the eagle putt for exactly that—a three. The crowd's yelp was downright frightening. Two back.
As Nicklaus walked from the 15th green to the 16th tee, one had the odd feeling of being indoors at, say, an overtime Kentucky basketball game, yet all the while being outdoors. That's loud.
And wild. Six-figure executives were slapping high fives. Women in $400 dresses were sprinting ahead to get a vantage point. "He's hot! He's hot! He's hot!" one man kept shrieking, perhaps about to ignite himself.
"The noise was deafening," said Nicklaus. "I couldn't hear anything. I mean, nothing! I wasn't trying to think about the leader board. All I knew was that I was putting the ball on the green and making birdies and I was going to keep on doing it."
As Ballesteros was walking up the 15th fairway after a King Kong-like drive, Nicklaus was pulling out a five-iron at the par-3 16th. "I nailed it," he said. But he couldn't see it. "I could hear the gallery at the green starting to rumble and I said, 'Oops, I've hit it close.' "
Oops, he had come within inches of a hole in one, the ball skittering three feet by the pin. The eruption from the gallery may have been the most resounding in Masters history, next to, of course, the one that greeted the putt that came next. One back.
What does one feel like when all around you, a golf course, a state, a country, are coming un-glued and you are the only person keeping them from imploding entirely? Ballesteros surely found out as he stood over his four-iron, 200 yards from the 15th green, his ears ringing. What he felt like when he hit it is unknown since he was off the Augusta property within minutes of the finish of his round. But to watch your Masters chances go kerplunk in green-dyed water as his did cannot be good for your est training.
"He had an awkward lie up on a knob, but he hit his last few iron shots heavy," Kite said. "It was a tough situation: the lie, the circumstances, what Nicklaus was doing, the noise. It was so noisy you couldn't even hear each other."
"I wasn't under pressure," Ballesteros said on Monday. "It's just that I hit too easy a swing with a four-iron. I should have hit a hard five. I played very good. Just one bad shot, that's all."
Now Nicklaus had reeled in Ballesteros but not Kite, who would birdie 15. That made it a three-way tie at eight under par. Meanwhile, Norman had quickly recovered from a double bogey at 10 and was sitting two back.
Nicklaus tried to get ready to drive at the par-4 17th but had a small problem. "I kept getting tears in my eyes," he said. "It happened to me once at Baltusrol. But here, it happened four or five times. I had to say to myself, Hey, you've got some golf left to play."
After driving into the left rough he hit a 125-yard pitching wedge to 11 feet. He drained the putt. "Dead center." Nicklaus leads. One up over Ballesteros and Kite.
Moments later, Ballesteros, shaken, three-putted at 17 for bogey, but Kite made par from the back of the green and Norman was stormin', too, making birdies at 15 and 16. Still one up, now over Kite and Norman.
Eighteen surrendered without incident for Nicklaus. He hit onto the front of the tiered green, almost precisely where the pin traditionally has been set for the final round. This year, the green had been redesigned, and the pin was now set on the back level. He nearly holed out from 40 feet, dropped it in for the par, then hugged Jackie.
"I was getting choked up with all the people cheering on every hole. I was so proud of him," Jackie said. "Finally, when he putted out on 18 I told him, 'Dad, I loved seeing you play today. It was the thrill of my lifetime. I mean, that was awesome.' "
Father and son walked arm in arm to the scorer's tent and then to the Bob Jones cabin to wait and see.
What they saw first was Kite at 18 lining up a 12-foot putt for birdie and a tie. Would Kite, so long denied, finally have a chance at a major?
"I made that putt," said Kite. "It just didn't go in. Honest to God...I made it so many times in the practice rounds—seven or eight times—and it never broke left once." It broke left. Still one up.
Now the only obstacle between Nicklaus and perhaps his most remarkable major of all was Norman.
"We heard the roar [for Nicklaus] on 15 and then another roar and another," Norman recalled. "By that time, Nicky [Price] and I were back there with about 50 people following us. So I said to Nicky, 'Let's do something to wake these people up.' "
Out of an impossible divot lie on 17, Norman somehow made a pitch-and-run shot over a hill that stopped 12 feet from the hole, then sank the putt. Tie. Nine under par.
With pandemonium all around him, Norman chose to hit a three-wood from the 18th tee. The shot was fine and straight, except that it left him holding his four-iron, which in Norman's hands lately works about like a waffle iron. It was the four-iron he had hit into the gallery at 10 to set up the double bogey.
He sliced it this time into the gallery ringing the 18th green, and couldn't get up and down for par, his 16-footer missing left. "I just basically spun out and pushed it to the right," Norman explained. "I was trying to hit it too hard and too high.... I was going for the flag. I was going for the birdie and the win. It was the first time all week I let my ego get the best of me."
Your usual, Jack, 42 regular?
"This," said Nicklaus in triumph, "was maybe as fine a round of golf as I've ever played."
He drove down Magnolia Lane and out the iron gates in green for a preposterous sixth time. He had won at Augusta in 1963, when Sam Snead finished two strokes back, and '65, '66, '72, '75 and now, '86. That's a 23-year span between his first and last fitting. His original jacket was a 44 long. "It fits me like a tent," he said. "I wore [New York Governor] Tom Dewey's jacket for years, and finally I had my own jacket made."
His record of longevity and dominance is un-equaled. And that includes his victories in five PGA Championships (1963, '71, '73, '75, '80), four U.S. Opens ('62, '67, '72, '80), three British Opens ('66, '70, '78) and two U.S. Amateurs ('59 and '61). He has now won three majors in his 40s, which is another first.
All of which says, truly, once and for all, that if there ever was a better golfer than Jack William Nicklaus, then Woody Allen can dunk.
"I finally found that guy I used to know on the golf course," Nicklaus told his wife, Barbara. "It was me."
So welcome back.