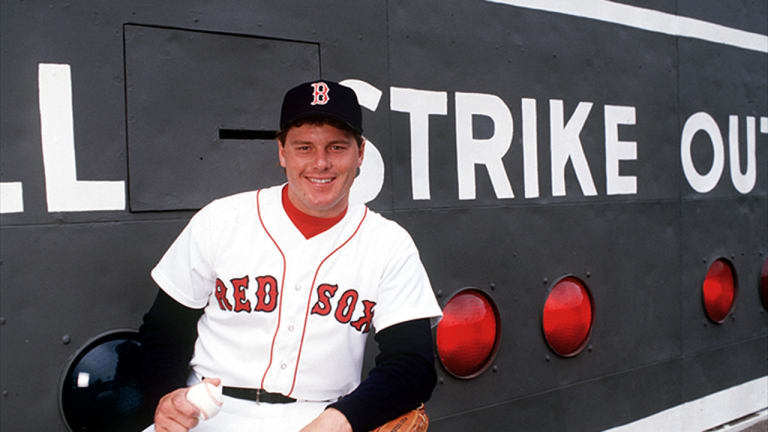 Publish date:
Striking Out Toward Cooperstown
In One of Baseball's Great Pitching Feats, Boston's Roger Clemens Fanned 20 Seattle Batters to Set a Major League Record
At a few minutes after 10 p.m. on Tuesday of last week, Roger Clemens was sitting in front of his locker in the Boston clubhouse, as he had each time his teammates were at bat. It was the bottom of the eighth, the Red Sox were leading Seattle 3–1, and Clemens already had struck out 18 batters. "Rocket, do you realize that you're one away from tying the strikeout record?" his teammate Al Nipper said. Clemens stared ahead, distracted, his legs cramping from exhaustion.
As Clemens walked out to the Fenway Park mound for the ninth inning, Nipper followed him and told trainer Charlie Moss, "He's not the type to be affected by knowing. Watch."
Which they did, intently, as the 23-year-old righthander began "throwing on adrenaline." He blew a fastball past Mariner shortstop Spike Owen, then a second and a third. The 19th K was posted by a fan on the back bleacher wall as Clemens joined Steve Carlton, Nolan Ryan and Tom Seaver as the only pitchers ever to strike out 19 batters in a nine-inning game. Only Tom Cheney of the old Washington Senators had struck out more, 21, and that was in a 16-inning game.
Now all of the Mariner and Red Sox players were standing on their dugout steps. The crowd of 13,414, sparse because of the Celtics playoff game three miles away, was also on its feet. Mariner leftfielder Phil Bradley walked to the plate like a man approaching his execution. It didn't take long. With one, two and, inevitably, three fastballs, Clemens had set a record, 20 batters struck out in a nine-inning game. Only Ken Phelps was left to ground out, and the 3–1, three-hit part of Clemens's night flight to Cooperstown was complete.
"I watched perfect games by Catfish Hunter and Mike Witt, but this was the most awesome pitching performance I've ever seen," said Boston manager John McNamara. Even Seattle pitching coach Phil Regan, who was Sandy Koufax's Dodger teammate, called it "the best game I've ever seen."
"It's not just the strikeouts that make it great," said Gorman Thomas, whose seventh-inning homer had spoiled Clemens's shutout. "It's the zero next to the 20." Years from now, when someone studies the box score and sees CLEMENS (W, 4–0) 9 3 1 1 0 20, he may think it impossible that a pitcher could strike out 20 batters without giving up a walk. And this while throwing at 97 mph, eight months after a shoulder operation that threatened to end his career.
In 1969, when Carlton struck out 19 for the Cardinals, he lost 4–3 to the Mets. Seaver struck out the last 10 Padres to reach 19 in 1970, but he did not have the designated hitter to contend with. When Clemens's hero, Ryan, did it for the Angels against the Red Sox in 1974, he walked two and had to pitch out of a ninth-inning jam for the 4–2 victory.
Clemens threw 97 strikes and 41 balls, and only 29 of the strikes were even touched—10 put in play and 19 fouled off. He failed to get two strikes on only five batters, but hanging an 0–2 curveball that Owen slapped for a fourth-inning single cost him $10 in Don Baylor's kangaroo court. "Two things make Clemens unusual among power pitchers," said Mariner manager Chuck Cottier. "First, his fastball explodes down in the strike zone and, second, the only others with his control were Koufax—at the end—and Bob Gibson." Added Boston catcher Rich Gedman, "Roger works in and out like a 40-year-old, knocks hitters off the plate and paints like an artist."
"Control has never been a problem because mechanics have never been a problem," Clemens says. There was, however, one real trouble area—his right shoulder. He had come out of the minors in May 1984, less than a year after pitching the University of Texas to the College World Series championship. He won nine games for the Red Sox in 3 1/2 months and was being compared with Dwight Gooden when he pulled a muscle in his right forearm and was out for the year. A year ago, with a 4–2 record for May, he was rolling again, but he started to experience weakness in his shoulder. Doctors couldn't find the precise problem, and Clemens continued to pitch, saying, "I can finesse hitters and get by even without the good fastball."
"There was no way he should have been pitching," says Nipper now, "but he's so damned tough he tried to ignore the pain." Finally, on July 7 in Anaheim, Clemens tried to warm up and had to stop. He sat down in the hallway outside the clubhouse, tears in his eyes. "I couldn't stand being one of those could-have-beens," Clemens remembers. "I was really hurting, and I didn't know why. Or why me."
He went to the Hughston Clinic in Columbus, Ga. to see Dr. James Andrews. "I was scared until I had the operation," says Clemens. "All I had was a fragment of cartilage around the rotator cuff removed, and he cleaned out around the cuff area. I'd already started my rehab exercises before the operation, so I was strong, and I was doing weight exercises the day after the operation."
By early September Clemens was back home in Houston, faithfully following his program. However, in spring training this year he was hit hard in his first three outings. After the third shelling, Red Sox pitching coach Bill Fischer sat him down. "You're throwing all breaking stuff," Fischer barked. "How hard do you think you're throwing your fastball?"
"Eighty-four," Clemens responded. Fischer handed him the radar gun readings. "Ninety-three. Constant."
Clemens began the season with two moderately successful starts, striking out two and seven batters, respectively. He was pitching against the Tigers on April 22 when he told himself, "Now's the time to air it out." He struck out 10 in 6 2/3 innings. "I knew then," says Clemens, "that I was back where I thought I was headed two years ago. I also think I'm throwing better now than I ever did.
"A lot of my control goes back to Randy always putting me on Little League teams with older kids," Clemens says of his older brother. The family lived in Dayton, where young Roger was your basic six-inning, 17-strikeout 9-year-old phenom. "I knew that I wanted to be a pitcher because he's the guy whose name is on the line for the win—or loss. I was always obsessed with my motion, my mechanics. I simulated my delivery in front of the mirror every day."
A few years after Roger's father died, the family moved to Houston. Roger was big (6'3 1/2", 210 pounds) but in high school threw only in the low 80s. "I always loved hard throwers and strikeouts," he says. "After Nolan Ryan signed with the Astros, I'd try to go to the Dome every time he pitched. I'd sit down by the bullpen when he'd warm up. There was never anyone there, and I loved the sound his fastball made in the glove. It sounded like a gun."
The Twins drafted Clemens in the 22nd round as a 17-year-old senior, but he wasn't ready for pro ball. "The scout told me no one else would ever give me a chance, and I almost cried," he says. He got a scholarship to San Jacinto J.C. because coach Wayne Graham liked his "genius-level control. He could have won throwing 84 with his control." By the end of the year he was being offered $40,000 by the Mets and a scholarship by Texas. Clemens suited up and threw for the Mets but didn't sufficiently impress pitching coach Bob Gibson, so he left for Austin, thus preventing the Mets from signing Clemens and Gooden in consecutive Junes. Even though he was leading Texas to the college title, he was only the 19th pick in the '83 draft. "The word was that he lacked the heart to finish games," says one scouting director. "What scouts forgot was that he was starting games on Friday nights and relieving on Saturday afternoons. That's too many innings. After Boston got him, I saw him strike out the last six batters to win the College World Series, and I knew people had listened to some bad rumors."
That was obvious as soon as he arrived in Winter Haven, Fla. for his pro debut. He needed only four starts on the A level, striking out 36 and walking none. He also left the mark of his toughness. Winter Haven was losing badly to Lakeland one night when a burly DH from the Tigers threw a block on shortstop Mike Brumley, who had been a Longhorn teammate of Clemens's, and injured him. "They were laughing and yelling and giving the Hook 'em, Horns sign," Clemens recalls. The next night he struck out the first six batters. Leading off the third was the player who injured Brumley. Clemens hit him in the head. "I finished the game with 15 strikeouts, no walks and a shutout, and the next day I was on a plane for Double A. But I wrote their manager a letter telling him I didn't mean to hit the guy in the head." He breezed through Double A and won the deciding games in both of New Britain's Eastern League playoff series. In his first pro season, he was 9–2, 1.19 with 14 walks and 108 strikeouts in 98 innings.
After he had taken his place in history last Tuesday, Clemens was suddenly the center of attention, and loving it. "I see retired or injured players come back, and they miss the spotlight, no matter what they claim," he says. "So I'm going to savor every moment, sign every autograph. Pressure? From the time I was in Little League I always wanted to be where it was all on the line. I'd like it said that championships followed me around from Little League through the minors, not that I followed anything." Says Fischer, "Healthy, Roger is a franchise pitcher. He makes us automatic contenders."
Indeed, the Red Sox went through the weekend leading the American League in earned run average, and opponents were batting just .224 against their four-man rotation of Clemens, Nipper, Bruce Hurst and Oil Can Boyd. Not only that, but Clemens turned a region's thoughts back to a team that has taken a public flogging in this decade. His next start was on Sunday against Oakland, and this time he struck out 10 in eight innings, gave up only three hits and won easily, 4–1. The crowd of 25,190 reflected warm appreciation of what he had done five days earlier, something no other pitcher had been able to do in 111 seasons and 147,000 major league games.