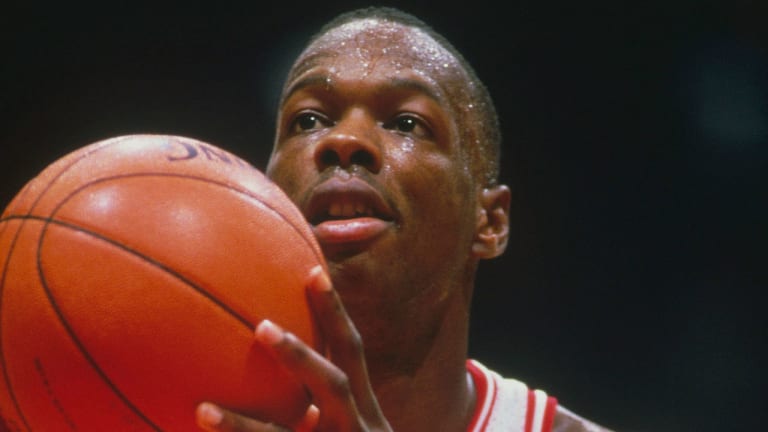 'The Cruelest Thing Ever'
Such was the reaction to the death of Len Bias, a Maryland All-America and Celtic-to-be. An autopsy showed that cocaine was involved in the tragedy
There wasn't a happier young athlete in America than Len Bias on the afternoon of June 17. The NBA draft in New York City's Felt Forum was only 10 minutes old when NBA commissioner David Stern called Bias's name. As expected, the University of Maryland All-America, a prototype NBA small forward who played with both power and finesse, had been summoned by the world champion Boston Celtics as the second pick in the draft.
As Bias walked to the podium, someone handed him a green Celtics cap. He put it on and smiled shyly. For months Bias had been confiding to those close to him his dream of playing for the Celtics, and during a visit to Boston Garden for Game 1 of the NBA finals on May 26 he seemed almost transfixed as he sat at courtside. Well-muscled and 6'8", Bias had the talent and even the temperament—he was unfailingly irritating to opponents—to become the perfect Celtic. "Lenny had fallen in love with the idea of being a Celtic," Boston coach K.C. Jones would say later. The champions were no less enamored of Bias. Red Auerbach, at whose camp Bias had worked the previous summer, advised him to stay in school and not enter the NBA draft early; Larry Bird so looked forward to playing with him that he promised to show up at rookie camp if Bias were chosen.
"It feels good to be a Celtic," Bias said as the cameras clicked and the people applauded and the future spread out before him like a long, smooth, golden expressway. What's wrong with this picture? Nothing that anybody could see.
About 40 hours later, Bias, 22, was dead of cardiorespiratory arrest brought on by the use of cocaine, according to information related by the state medical examiner to SI on Monday. The heart of the man described by former Duke forward Mark Alarie as "the best athlete I've ever seen, and that includes Michael Jordan," had failed him. So, evidently, had Bias's good judgment, for he had been known as someone who avoided drugs. How to explain the unspeakable irony of a young man dying with his greatest dreams freshly tucked away in his pocket? "It's the cruelest thing I've ever heard," said Bird from his home in French Lick, Ind.
Police labeled Bias's death "suspicious" and assigned the case to a homicide unit. Prince George's County State's Attorney Arthur Marshall Jr., expressing dissatisfaction with the cooperation he was getting from Bias's teammates and school officials, said he would ask a grand jury to investigate drug abuse by students. "I don't think the University of Maryland can handle their problems themselves," he said.
Marshall responded to reports that Maryland basketball coach Lefty Driesell may have instructed some of his players in how to react to questions from reporters and police. "I don't think the role of a basketball coach is to tell student athletes not to talk to police," he said. "If these rumors [about Driesell's instructions] are wrong, we'll give him a chance to talk about it." Driesell could not be reached for comment.
Cocaine became a factor in the Bias case soon after the investigation began. Late last Friday afternoon, police found beneath the dashboard of Bias's leased steel-gray Datsun 300ZX a clear bag containing white granules caked together in a chunk about the size of a bar of soap. A Prince George's County police source told SI that preliminary tests showed the bag contained cocaine, without specifying whether it was crack, the powerful form of cooked cocaine that is smoked. It was still unclear on Monday how, or in what form, or under what circumstances, Bias took the cocaine that evidently contributed to his death.
Marshall said on Sunday that if Bias was shown to have used cocaine during his last hours, criminal charges could be brought against those who supplied the drug. "Remember John Belushi," Marshall said, alluding to charges that were brought after the comedian's death.
Bias had passed physicals given by three NBA teams (Boston, New York and Golden State), at least one of which included a drug test. He had never failed any of the routine, athletic department-administered tests at Maryland. "I swear on my life, I hope to die if this kid ever used drugs before," Driesell told Auerbach after the death.
Over the years Bias had talked with Bob Wagner, his coach at Northwestern High School in Hyattsville, Md., about drugs. "He had a reputation for not being a drug user," Wagner said. "But I have talked to him about guilt by association. Lenny did associate with some people like that [drug users]. He always said, 'People know I'm not using, so what's the problem?' " Wagner shook his head. "I guess the main lesson is that it only takes once. When it comes time for right or wrong, there's no timeout. It's not a basketball game."
Brian Waller is Bias's oldest friend, a former high school teammate and forward at Providence who had also discussed drugs with him. "I remember we used to tell each other that we'd be in situations when we might be forced into using drugs," Waller said. "We knew we had to be strong. You know, I'm convinced he'd still be here today if I was with him the night he died. I'll carry that with me always."
On June 15, two days before the draft, Bias visited Waller at his home in Landover, Md., just a few blocks from Bias's parents' home. Waller said his friend was "pumped, unbelievably excited about going to New York." That feeling of excitement continued. According to Lee Fentress, his agent, Bias tossed and turned in his room at the Grand Hyatt Hotel in New York City the night before the draft. He dreamed that he had overslept and kept running and running but couldn't get to the Felt Forum. Finally, he woke up—at 5:30 a.m.
Running and running. That's about all Bias had been doing for the last couple of weeks. Late on the afternoon of June 17, after completing a long round of interviews at the draft, the newest and proudest Celtic flew to Boston with his father, James. Again wearing the Celtics cap, he went through another blur of interviews with the Boston media. His best answer may have been "BLT and fries" when Celtic general manager Jan Volk asked him what he wanted to eat. "He was as happy as any player I've ever signed," Auerbach said later.
The next day, last Wednesday, Fentress and Bias visited the Boston offices of Reebok, the shoe company, where they came to a handshake endorsement agreement that Fentress said would provide Bias "financial security for life." Bias sounded tired but happy when he called Driesell at about 3 p.m. from the Reebok offices.
At about six that evening Bias went to the Hyatt in Cambridge for a Reebok reception. Celtic guard Danny Ainge was there with his kids and jokingly asked if Bias could baby-sit next season. They shared some laughs and sipped 7-UP. "The guy was just so excited that everything he had dreamed of had come true," says Ainge. Bias and his father flew back to Washington that evening and went immediately to the family's home in Landover. At about 11:30 p.m. Bias left the house, bound for the Maryland campus.
Events of the next seven hours—events that are crucial in determining how Bias died and whether or not any charges will be filed in connection with his death—vary from account to account. This rough chronology has emerged:
Around midnight, Bias, driving his leased Datsun, arrived at Washington Hall, the dormitory where he shared a suite with five teammates. Bias was living in the dorm while attending summer school. He had been saying that he was about nine credits short of graduation, but The Washington Post reported that he failed three of his five spring semester courses and withdrew from the other two, leaving him 21 credits short. Such a poor academic showing in the senior year is common for a big-time athlete who spends so much time away from campus.
All of his suitemates were on hand—Maryland basketball players Terry Long, Phil Nevin, Jeff Baxter, David Gregg and Keith Gatlin. So was Keeta Covington, the Terps' all-ACC defensive back. According to Covington, several of the group ate crabs and talked. If it was a party, it was a quiet one, because a student who lives next door said he didn't hear a sound. Covington said that questions flew fast and furious at Bias, until he finally said he wanted to get away. He left the dorm around 2 a.m.
Where he went is unclear. Some reports placed him with one Brian Tribble. The police said they were seeking Tribble, a former Maryland student who last attended classes in 1983, for questioning but had not talked to him as of Monday. Waller confirmed that Bias and Tribble were friends. Another report put Bias at a party near campus in an apartment rented by Tribble. Still another put him at a gathering attended by several football players at Allegany Hall, a Maryland dormitory. The most distressing report, given to District of Columbia police by an informant, placed Bias and another man around Montana and New York avenues in the Northeast section of the District, an area notorious for drug deals. When an SI writer and photographer went to the site last Friday evening, D.C. police were in the process of arresting a drug dealer.
It is possible that Bias visited all those places before returning to his suite around 5 a.m. Gatlin, Baxter and Nevin were reportedly asleep when he returned. Long and Gregg have made no public comment on the events of that morning. Meanwhile, most of the speculation about Bias's final hours has centered on Tribble.
At about 6:30 a.m. Bias had a seizure. He lost consciousness and ceased breathing, and his heart stopped beating. Long tried mouth-to-mouth resuscitation, and when it failed to revive him, someone on the scene phoned for emergency help. A six-person team from the College Park, Md., station of the county fire department arrived at 6:36 and took over the resuscitation efforts from Long. Two paramedics arrived at 6:42. By 6:54 Bias was in an ambulance on his way to Leland Memorial Hospital, 1½ miles away.
"The thing is, he had every reason to make it," said fire department major Thomas Brinkley. "The rescue was by the book. But it all wasn't enough." Bias never regained consciousness, or heart or respiratory function. At 8:50 a.m., even as grief-stricken family and friends assembled at the hospital, hoping for a miracle, Bias was pronounced dead. Several Maryland players, current and past, went to Driesell's house later that morning. "They prayed together and talked to the chaplain," said Driesell on Thursday.
Dr. John Smialek, chief medical examiner for the State of Maryland, said that in a case such as Bias's, cocaine would interrupt brain signals to the heart, causing it to beat irregularly and inducing arrest. A fuller explanation was expected in the final autopsy report, but even this preliminary finding belies the widespread notion that cocaine use cannot be fatal. Medical experts say that it does not necessarily take a massive amount of cocaine to contribute to death. In addition, impurities in cocaine sold on the street can make it lethal, and an individual may have a particularly low tolerance for the drug.
On Thursday evening, at a gymnasium about seven miles from the Maryland campus, Len's brother, Jay, laced up a new pair of black-and-white sneakers, preparing to play in a summer-league game. "Len would've wanted me to," said Jay, who would turn 16 the next day. A lanky 6'5" junior-to-be at Northwestern High, Jay played passionately and well, scoring 20 points (including two spectacular dunks) and getting whistled twice for goaltending, the supreme act of machismo for a young player. On that night Jay bore an eerie resemblance to his big brother, both facially and in the way he ran the court—proudly, confidently, with his arms pumping high. "Jay's a little further along at this stage than Len was," said Wagner.
Indeed, his latent grace and strength notwithstanding, basketball didn't come terribly easy for Len Bias. Waller remembers how Bias was cut from his junior high team and how passes were still bouncing off his stone hands in the 10th grade. Wagner recalls how Bias built up his body in the weight room above the Northwestern gym. Gatlin, a point guard, mentioned the way Bias sought him out two summers ago for help with his ball handling. Bias was gifted—the way he lifted straight off the floor on his jump shot was something to behold—but he worked hard, too. The result was a two-time ACC Player of the Year who finished as Maryland's alltime leading scorer with a total of 2,149 points and a 20.9-point average his last two seasons. "Lenny was almost the perfect basketball player," said North Carolina State coach Jim Valvano. "The body, the quickness, the jumping ability."
But Bias was much more, too—a complex man-child who struggled with his notoriety. When he was being recruited as a high school star, he once complained to Wagner: "No one says hello to me anymore. They just want to know where I'm going." At Maryland he was at first shy with the press, then charming, then reticent. He tried to deflect attention to his teammates because he was sincerely embarrassed by his fame. Some hours before he died, just before he left the dorm around 2 a.m., he had told Covington that he was tired of questions about himself.
On the court, though, he commanded the spotlight. He carried himself like a king, with a mixture of arrogance and pride. Driesell always called him by his full name, Leonard, and it fit. Last February, after a game against North Carolina State in Raleigh, Driesell caught Bias, Baxter and reserve guard John Johnson strolling into a hotel lobby after curfew and suspended them for one game. Lefty still called him Leonard.
If Bias's teammates revered him, his opponents sometimes loathed him and called him a crybaby, though none ever denied his talent. He had matured since high school, when he once threw a ball at a referee, but he was still temperamental. "He was a young 22," says Wagner. Bias threw elbows. He jawed at opponents, even taunting them sometimes, and complained to referees and the world in general that he was being roughed up, which was quite often the case.
Off the court, Bias liked to draw. He was interested in interior design and viewed it as a possible career after basketball. He took care of his body—"If he had even one beer, he was out that night or early the next morning running it off," Waller says—and he had an aura of indestructibility. In four years at Maryland he never missed a game because of injury.
Bias listened to jazz and gospel music. Though he didn't proselytize, friends and family described him as a born-again Christian. He loved sports cars and talked of buying a Mercedes with his Celtic money. Until he leased the Datsun recently, he drove an Oldsmobile Cutlass. One couldn't always figure Bias out, and he liked that. His life didn't end at the baseline. Before he left for the draft, he shared with Waller his dream of opening a nightclub. "He was really excited about it," says Waller.
Bias had a lot to be excited about, and people were excited for him. Now they are sad for him. On Sunday evening some 2,000 mourners waited as long as two hours to file past his open coffin in the small brick Pilgrim African Methodist Episcopal Church near Capitol Hill, of which Bias was a member.
Bias had been a symbol to many people, particularly young blacks, in the D.C. area. Some compared him to Sugar Ray Leonard, who's from nearby Palmer Park. "I'd say Len was even bigger," Wagner said last Friday in the North-western gym, "because in this area, basketball is the sport. Kids looked up to Len." A few minutes later a young boy appeared at the gym. He was wearing a Celtics T-shirt. Wagner smiled ruefully. "You know, the Celtics are hated down here, absolutely hated," he said. "Before Lenny got drafted, you wouldn't have seen that shirt."
And now, all his celebrity, all his hopes, all his potential wealth, all his dreams are gone. "Here was a kid who did what he was told and who did work hard," says Wagner, "and something bad still happened."
His friends and family will try to remember Len Bias as he looked on that Tuesday afternoon in New York City. He was a kid with a crooked smile on his face, a Celtics cap on his head and the world at his fingertips.
PHOTO
AP
Bias radiated Celtic pride moments after Boston made him the second pick in the NBA draft. Only two days later he was dead.
PHOTO
BILL
SNEAD/WASHINGTON
POST
Michael Dorsey, a friend, looked on as Bias's body was taken to the coroner.
PHOTO
MANNY
MILLAN
Long (No. 32, with Bias) and emergency room doctor Edward Wilson tried in vain to revive Len, who suffered a heart attack in his dorm (below).
PHOTO
PETER
HEIMSATH/PANS
[See caption above.]
PHOTO
LANE
STEWART
[See caption above.]
PHOTO
LANE
STEWART
Waller recalled how he and his pal Bias had discussed the perils that drugs presented.
PHOTO
LANE
STEWART
Wagner had warned his young star about dubious friends.
PHOTO
NANCY MORAN/
OUTLINE
Bias, who studied interior design, posed last fall before one of his favorite poster prints.