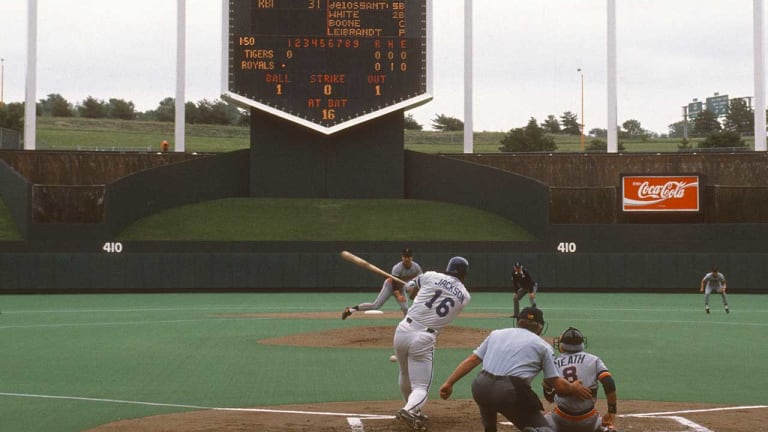 Publish date:
Bo's Not One To Go With The Flow
Bo Jackson, the Heisman winner, likes confounding folks, as he did by picking baseball over football
It seemed incongruous last Thursday evening in hot, steamy Memphis when he took up his position in rightfield, directly in front of the Auto Shack sign (HIT US FOR THE BEST PARTS) and started swatting at real and imaginary bugs.
Yet there he was, in the field for the first time as a pro baseball player, a starter for the Class AA Memphis team of the Southern League. It was the script across his chest that underscored the incongruity: CHICKS. That name can mean a lot of things; way short of macho is one. And this Chick's macho quotient is many times that of the average bird.
For he is Bo Jackson, a football player of inordinate skill who won the Heisman Trophy last year while at Auburn. Everyone knew Bo would play football, and the Tampa Bay Buccaneers were the lucky NFL team that had the first draft pick and thus would get him. The Bucs, at last, could guarantee success for their beleaguered franchise: Bo would lead Tampa Bay to the Super Bowl. No, no, not this season. Be serious. Next season.
Except, in a stunning decision announced on June 21, Bo chose baseball. "I'm lucky to have played football as long as I did," he says. "Now it's time for what I love to do." What he loves to do? How does he know? This is a 23-year-old football player who is considered to have more potential than Herschel Walker. Like Bo, Walker is one of four consecutive Heisman Trophy winners—Mike Rozier and Doug Flutie are the others—who have passed up the NFL out of college. But Jackson is the first Heisman winner to spurn football altogether since Army's Pete Dawkins in the late '50s.
At Auburn, Bo played in 89 baseball games. That's about half a pro season. It gets more, well, incongruous. He played in 26 games as a freshman, hit an undistinguished .279, striking out in his first 21 at bats. So as a sophomore, he decided to try track and played no baseball. As a junior, Bo returned to the diamond, hitting an impressive .401 while playing in 42 games. But keep in mind that a college player hitting .401 isn't so special that it gets on the evening news. And, in the spring of '86, he played in 21, hitting only .246, before losing his eligibility. Hmmm. Says Jackson of his choice, "In life you take chances."
But baseball, which loves numbers more than life, wants to ignore the stats. Ewing Kauffman, co-owner of the Kansas City Royals, the team that drafted Jackson, says: "He could be greater than George Brett. He has more speed and power. Why, he could easily be another Mickey Mantle or Willie Mays." Chicks manager Tommy Jones watched Bo power a batting practice homer that at last report was still traveling toward Tullahoma, and mumbled, "I swear I'm looking at Ted Williams. He's got Hall of Fame numbers on his scouting report."
If your hyperbole meter still hasn't peaked, consider this brief excerpt from Bo's private audience with Reggie Jackson, his longtime idol, a few weeks ago. During their hour-long conversation, Reggie said to Bo, "I understand people think you can hit .300, get 50 homers and have 50 to 75 stolen bases. That means you can be the best baseball player there has ever been. It's your choice. You can be the next Jim Brown in football or the next Reggie Jackson in baseball." Well, O.K., you know Reggie.
"He has an arm like Clemente," says Art Stewart, the Royals' director of scouting and player development. Adds Kansas City scout Ken Gonzales, "I get the feeling I am watching something that comes along once every 50 years or so. Bo is the best pure athlete in America."
But the best pure athlete in America was struggling in Memphis last week. After slapping an RBI single up the middle in his first professional at bat last Monday evening against Columbus—Bo refused to accept the ball when it was presented to him, explaining, "I have plenty of balls in my trophy case"—he went 0 for 10 as the designated hitter. And he looked pitiful doing it, striking out five times. Then, in his first night as a defensive starter, playing rightfield, he went 0 for 4, striking out twice and nearly dropping a routine line drive hit to him. Surliness and grumpiness set in. "Don't," complained Bo, "expect too much of Bo just because of the name."
On Friday night, against Huntsville, the bad got worse. He was hit by a pitched ball, then promptly got picked off first. He misplayed a routine single in rightfield, allowing two unearned runs to score as the Chicks lost to Greenville. By Sunday his batting average had sunk to .074. Only a generous scorer who gave Bo a double on a slightly windblown popup saved him from 1 for 27.
"It is true," says Royals manager Dick Howser, "that the only thing we're overlooking is he hasn't played a lot." But co-owner Avron Fogelman says hopefully, "He apparently likes baseball." Fogelman became so carried away when Bo hit a batting practice homer 470 feet in Royals Stadium that he asked for the ball.
Why, exactly, has baseball gone so nutty over Jackson?
Speed and power and natural ability. That's it. He does have world-class speed and arms stronger than most people's legs. Gonzales' scouting report ranked his potential at 71.0, on a system where anything over 70.0 is superstar. The Major League Scouting Bureau put him at an incredible 75.5. On a scale that ranks 8.0 as best, Bo received 8.0's from the conservative Gonzales on power, speed and fielding. And a 7.0 for the strength of his arm.
But can he hit? The scouting report says 6.0. Hitting is always the great imponderable. More precisely, can he hit a breaking ball? Many big leaguers can't and they muddle on, but Jackson must master the curve. "I will," he says simply. But what if baseball doesn't work out, Bo? "It will work out."
Still, baseball people are beside themselves at having signed a player seemingly sewn up by the NFL. And with the promise and natural athletic ability that Jackson oozes (like Herschel Walker, Bo has a body that never required any work with weights), they are certain he can pick up their game. Says Stewart, "Only the Lord knows how good he will be."
But there remains the question of why Jackson chose baseball. Is it really as simple as Bo says, that he has always loved the game? Not quite. While at McAdory High School in McCalla, Ala., he told football and track coach Dick Atchison that he loved track first, football second, baseball third. Not long ago he told his agent, Richard Woods, "What I really love the most is hunting and fishing." Any pro hunting or fishing franchises, please take note.
To understand Bo's surprising choice, it is necessary to understand his sometimes contrary nature. Jackson does enjoy moving counter to the herd, and this instinct has gone unbridled because few people exercise influence over him.
Jackson bristles at criticism. When the subject of his thin skin was brought up the other day, he snapped: "I can take criticism. I'm a tough guy."
On arriving in Memphis, Jackson said, "I'd rather be here than in Triple A. In Double A, there is more competition." Why would he say that, especially since he had asked to be sent to Triple A Omaha? Then he said, "Baseball is a mental game. All mental." If true, speed and power and natural ability don't really count, and the Royals would have signed A. Bartlett Giamatti.
That same contrary nature spills over when he talks about the highly plausible reason for turning down football: fear of injury. Jackson dismisses that, lest he confess to a chink in the macho armor, though it was the prime reason former Nebraska quarterback Turner Gill left football for baseball this year (see box). He may also be defensive about criticism that he wouldn't play with pain at Auburn. Yet he often returns to the theme of "not having been under the scalpel" and how his knees are "my bread and butter." In short he seems as confused as anyone over his choice.
Another factor in his decision was that people—including Reggie—kept telling him how good he was at baseball. Bo had grown bored with being told he was good in football, and repeatedly says, "I have my trophy for football." Truth is, there is plenty for him to accomplish in football, but his head got spun completely around by a new group of folks, baseball folks.
But then, top athletes often like to prove they can do something beyond what brought them stardom. Danny Ainge tried baseball for four years before scampering home to the Celtics where he belonged. Joe Namath kept trying to be an actor. It's not another notch on the gun they want, but a different kind of notch.
And keep in mind that Jackson simply did not like Tampa Bay and had no intention of playing for the Bucs. Privately, he ridiculed the Bucs' offensive line. He went so far in the last days before making his decision as to tell both Toronto and California that he wouldn't play for Tampa Bay. Those two clubs, and others, didn't buy the act. K.C. did, although by selecting Jackson 104th in the draft—in the fourth round—the Royals revealed they weren't sure.
According to Auburn baseball coach Hal Baird, Bo was especially miffed that he lost his remaining college baseball eligibility last season when Tampa Bay flew him to Florida on March 25 for a physical. The flight was in violation of SEC rules. Phil Krueger, a Bucs executive, insists that the team checked with the conference to make sure it was O.K. Further, he says it was Jackson who requested that a private plane be sent for him, and it was sent. Whatever the facts, Jackson has said he thinks the Bucs devised some convoluted scheme to drag him away from baseball.
There were considerable behind-the-scenes efforts to draw another NFL team into the picture, but Krueger claims that, while the Bucs were perfectly willing to trade their No. 1 pick, nobody offered much except players who, he says, have subsequently shown up on the waiver wire. That may be true, but it's difficult to imagine Jackson going begging around the league. Chiefs coach John Mackovic says, "If Bo wants to come back and play football in five years, I'd be thrilled to have him. And a lot of other coaches would be, too."
What ultimately undid the Bucs was that, lo and behold, money didn't really matter that much to Jackson. Incredible, but true. Auburn assistant baseball coach Ed Thayer says, "He just values being happy more than being rich." Bo's mom, Florence Bond, agrees: "I've raised 10 kids without any money. Why do I need any now?"
All sorts of crazy numbers have been bounced around in the media, but the facts are:
•Bo received a one-year deal from the Royals that will pay him a $100,000 salary and a $100,000 bonus. If Bo should return to football, he will give back the money. Jackson proposed the give-back provision to Kauffman, who was impressed. Bo gets nothing else, except that Kauffman told Jackson he would like to see him graduate from college and would be glad to pay for his remaining schooling. "Maybe $20,000," says Kauffman. "Peanuts."
•Next year Jackson will get $333,000, and in 1988, a salary of $383,000, if the Royals want him. Also, if he is in baseball in 1988, he gets a $150,000 bonus.
Conversely, Tampa Bay offered approximately $4.6 million over five years, an offer the Bucs say would have made him the richest rookie ever. But much of this money had to be earned via performance bonuses, such as being named Rookie of the Year. Says Kauffman, "Football guaranteed him $2 million; we guaranteed him $200,000. I think it shows his self-confidence and character. In the long run he'll make more money from us than football, and he'll be able to walk when he's 50."
His agent says that before the deal was signed, Jackson never even looked at the contract, telling Woods, who suggested he look it over, "Nope, it's good enough for me." There have been other first-rate college football players who chose baseball, notably Kirk Gibson, a wide receiver for Michigan State. But few football players of Jackson's stature have ever walked away from the sport in this manner. Others, including John Elway, tried professional baseball and quickly hustled home to buckle their chin straps. Says Stewart, "Jim Thorpe played with the New York Giants but never cut it big in the big leagues. He didn't have the power and arm that Bo does." There we go again. Now Bo is better than Jim Thorpe.
So how can Bo fail? A bad attitude is one possibility. At Auburn, Jackson was not always known as a team guy. It may simply be a quirk, but in 1984, Auburn's football team was 3-4 with Bo playing, and went 6-0 when he was sidelined with a separated shoulder. Baseball is a more individual sport than football, and thus may be Jackson's more natural environment. But Bo must learn to handle inside fastballs and not to muscle the bat.
What Jackson must learn is baseball. Kauffman, considering the question of possible failure, muses, "You can never tell what fame and money will do. I think he can overcome the temptations presented. Brett did." A note of caution comes from the Royals' Willie Wilson, who says, "He does have great power. But I would kind of like to see him do something first." Nicely said.
Back in Kansas City, general manager John Schuerholz, who briefly considered not sending Jackson down for any minor league seasoning—which might have been disastrous—says, "I believe Bo is as happy as he can be, with that spring in his step, that gleam in his eye and that smile on his face. And I think he'll be even happier." Agent Tom Zieman, Woods's partner and the man who handled the football negotiations, has an earthier view: "Bo is happy as a dead pig in the sunshine." Huh? "Yeah, a dead pig just bloats up and gets a permanent smile on his face." That, too, is worth pondering.
PHOTO
CHUCK SOLOMON
The speed and power that Jackson exhibited at Auburn (above, vs. Tennessee) are now at the disposal of the Memphis Chicks.
PHOTO
JERRY WACHTER
[See caption above.]
PHOTO
CHUCK SOLOMON
Chalk up Bo's travails to inexperience.
PHOTO
CHUCK SOLOMON
Bo is in the same league as Goodin—Rick Goodin, that is, who has an ERA of 5.54.
PHOTO
MANNY MILLAN
Bo practiced in K.C. after signing and hopes to return soon.