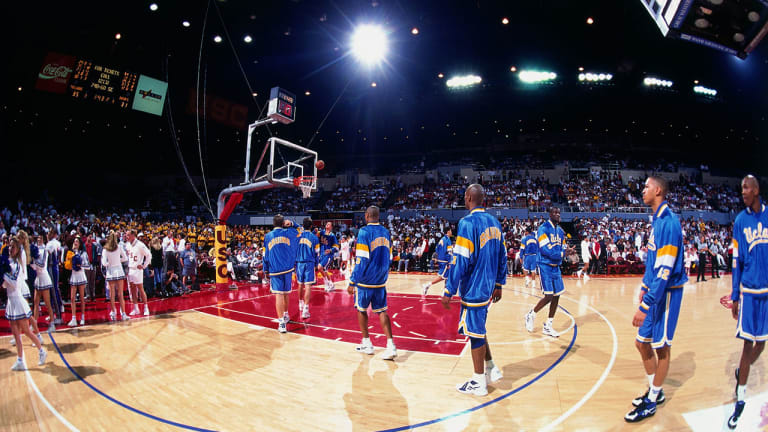 The Three-Point Uproar
Nineteen-nine is out of line, say most coaches of the new rule
Over the last month or so, a monster has been terrorizing college campuses throughout the land. Known as the Three-Pointer, it sounds like something out of a bad B movie. Not since Attack of the 50 ft. Woman have we been so certain of a monster's dimensions. This one measures 19 feet nine inches. It cannot be brought down by heavy artillery or by the love of a beautiful woman, but it is vulnerable to paint remover. It doesn't stalk cheerleaders or prey upon fraternity-row wiseacres. Rather, it blows its hot, lethal breath on basketball coaches, recognizing them, no doubt, by their agonized expressions.
Duke's Mike Krzyzewski considers the monster a threat to America's Puritan ethic. "You should have to work hard to get a basket," says Krzyzewski, who played under Bobby Knight at Army, where everything came hard. Dayton's Don Donoher views the three-point shot as symptomatic of America's declining moral climate. "To me, it's just like a game show," says a disgusted Donoher. "In this world we live in now, we're into wild thrills." Worst of all, the three-point monster has left TCU coach Jim Killingsworth staring into the abyss. "If you pick up a paper someday and read that they can't find me," said Killingsworth when asked about the terrible trey, "I'll be over on the Trinity University Bridge...with a rock tied around my neck."
He's kidding. We think.
The 19'9" three-point monster was legislated into existence last April by Dr. Edward S. Steitz and his NCAA rules committee. There are 12 seats on the committee, but right now its member coaches feel more like the judged than the jury. Hard statistical data won't be available until midseason, but as of now the three-pointer has been the most maligned campus development since the SDS camped out in the chancellor's office. True, basketball purists suffered through the "experimental" 1982-83 season when each conference could choose its own three-point line and shot clock. But this is different. This is a mandate. The three-point shot is in the books, baby.
The rule does have its supporters among coaches—one is named Dean, in fact—but the majority don't like it. A rough estimate would be 35% in favor, 65% opposed. At least that was the breakdown when the National Association of Basketball Coaches was polled in the preseason. Steitz's committee took the poll, only to ignore it when it passed the controversial legislation. Perhaps that's why La Salle coach Speedy Morris says, "I think idiots put in the rule."
Villanova coach Rollie Massimino is spearheading a drive to have the monster repealed at next week's NCAA convention in San Diego. Memphis State coach Larry Finch hates the rule, though he admits he would have loved it as a player. Deadpans UT-Chattanooga coach Mack McCarthy, "Before the season I didn't like the rule, but I've changed my mind. Now I hate it."
Steitz is standing bravely against the wind. "There's nothing wrong with the three-pointer that good defense couldn't cure," he says. Steitz is convinced that the three-pointer is here to stay but admits that the 19'9" distance "is not hi concrete." Meaning? "If it needs to be moved back a half foot or a foot," he says, "then that's what we'll do." However, current insurrections like Massimino's appear to be a waste of time. The rule will not be changed before the end of the season, says Steitz, if at all.
Meanwhile, we are left to ponder: How easy is a 19'9" jump shot? Well, back in November Ron Higgins, a reporter for The Memphis Commercial Appeal, rounded up the first three players he saw in a Memphis community center and asked them to launch 10 shots each from the 19'9" range. According to Higgins, two of them made seven and the other made six. Higgins thanked them with soft drinks. Dale Brown might have offered scholarships.
Adoption of the three-point rule sent the Purdue sports information department back to the shot chart of Rick Mount's 61-point game against Iowa on Feb. 28,1970. The SIDs determined that Mount would have scored 74 points had the three-point rule been in effect. (A whole new cottage industry, something like Ted Turner's colorization, is now available for revisionist-minded statisticians.) An intrigued Mount drove to Purdue's Mackey Arena and made 22 of 25 from three-point land. But could he do it with a hand in his face? Probably. Says Grambling coach Bob Hopkins, "I've been washed up for years, but I can make 'em from that distance."
So, obviously, can a whole new ruling class of major college H-O-R-S-E players. Like Maine's Jeff Holmes, who scored 21 points, all on three-pointers, in an 84-81 upset of Michigan State. Or Vanderbilt freshman Scott Draud, who is averaging a point per minute thanks mainly to 22-of-38 three-point shooting. Or Southern Illinois's Doug Novsek, who has thrown up 78 three-point attempts, 43 of which he has made. Or Florida's standstill string bean, Joe Lawrence, who converted 9 of 10 three-point tries in an 83-80 loss to Cal on Saturday. On the season he has made 22 of 40. Asked for his opinion of the rule, Auburn coach Sonny Smith drawled contemptuously, "What's it do? It makes Joe Lawrence a star."
The same could be said for Western Michigan guard Steve Amundson. Over the summer his father painted a three-point practice line on his driveway. It paid off on Dec. 4, when Amundson's three-pointer beat Michigan with four seconds remaining.
Speaking of paint, Mack McCarter of the Chattanooga News-Free Press figures college basketball could rid itself of the three-point rule for a mere $73,665. How? McCarter says it would take 2½ gallons of paint remover to eradicate one three-point arch. That's five gallons per gym to rub out both of them. A gallon of Heavy Bodied Klean Strip remover costs $16.37, which comes to $81.85 per gym. Multiply that by 900, the approximate number of gyms the 840 NCAA teams use, and you get $73,665—"less than what some colleges pay for a 7-footer." concludes McCarter.
Steitz's group might wish that the new rule had tiptoed in and taken a seat in the back row, but that didn't happen. Instead, it draped itself in a bunting of controversy in the very first game of the season, the Nov. 22 Tipoff Classic at Springfield, Mass. With Steitz at courtside. North Carolina State nipped Navy 86-84 with the help of a Kenny Drummond three-pointer that should have counted for only two. As Drummond shot, one referee extended his hand and held out two fingers, the old sign for a field goal. However, another referee interpreted the two fingers as the first-stage signal—good if it goes—for the three-pointer. And it went.
Shortly thereafter, Nevada-Las Vegas staged a sizzling three-point floor show at the preseason NIT. Over four tournament games, the Rebels made 35 of them, including one binge that overcame a 21-point deficit in the final against Western Kentucky, which hadn't grasped the mathematical ramifications of the new rule. Vegas was 10 of 27 on three-pointers in the final, the Hilltoppers 1 of 4. Final score: UNLV 96, Western 95.
Imagine that. Coaches who were certain that the three-point shot would bring on Armageddon saw it happen in the first week of the season. "I just hope the rules committee comes to its senses and allows college basketball to return to sanity," said Western Kentucky coach Murray Arnold. Responded UNLV's Jerry Tarkanian, "If he gets beat by it, the coach ought to shut up."
Heck, Tark, nobody else has. "We were beaten by the rules committee and a man with a paintbrush," said Baylor coach Gene Iba after a key three-point shot by Oklahoma State's Nolan Richardson helped beat the Bears on Dec. 1. After Eastern Kentucky converted 12 three-pointers to defeat Miami of Ohio (which was 0 for 2 from three-point range) on Dec. 13, losing coach Jerry Peirson huffed, "From now on I'm going to put them on the foul line in that situation." Even Eastern Kentucky coach Max Good hates the rule. "It takes no timing, no execution, no team play to make a three-pointer." says Good.
Some players who are benefiting from the shot don't really respect it. "You start getting taught 19-footers in junior high." says UCLA's Reggie Miller, whose 21 of 55 three-point figures are more modest than anticipated. Adds Drummond. "Nineteen feet, that's nowhere." What we have here, obviously, is the Rodney Dangerfield of rules.
But there's another side to the controversy, one taken by such respected three-point advocates as North Carolina's Dean Smith. Kentucky's Eddie Sutton. UCLA's Walt Hazzard and Miami's Bill Foster. "Years from now." says Smith, "we'll look back and wonder what all the controversy was about. It'll be like the center jump being done away with after each goal."
Although almost everyone agrees that the college game has never been healthier—the recent $159 million TV contract attests to that—Steitz's committee was concerned with two growing problems: 1) congestion and physical play in the lane, and 2) a trend toward decreased scoring. Has the three-pointer helped?
Yes, says Miller: "There are more lanes because defenses are covering the outside on us." No, says Jacksonville coach Bobby Wenzel: "Everybody said it would clean up the middle, but it's still rough in there." Seconds Louisville's Denny Crum: "I don't see any difference." Conclusion: too early to tell. But it seems doubtful that a three-pointer, even at 19'9", will alter the game's pound-it-into-the-paint evolution.
As for lower scoring, Steitz's stats show that going into this season total game scoring had dropped from 149 to 139 over the last eight years. But that figure is suspect because it includes the era in which ACC-style stallball was popular. The mandatory 45-second clock, which was instituted last season, should take care of that trend. What is relevant is the Dean Smith Corollary: If you have the clock, you must also have the three-point shot. "If you have just a time clock without the three-point play," says Smith, "teams will pack their defenses back in, and poor rebounding teams will have no chance."
The best argument for the three-point shot is plain and simple: It adds juice to the game. Fans like it and so do most players. Coaches will probably have to find a way to live with it, just as they found a way to live with the shot clock, TV timeouts and NCAA Bylaw 5-1-(j). "Why should coaches control the game when they might be gone the following year?" says UC Irvine's Bill Mulligan, who is, of all things, a coach.
But, Dr. Steitz, lend an ear to some of these terror-stricken devils. Your committee acted rashly and unwisely. Instituting a rule with the cavalier premise that it can be adjusted if it doesn't work erodes the integrity of the game. You should have realized that a stab from 19'9" is too short—if not, as Miller says, a junior high shot, then at least a routine jumper off a pick. It's so short that players are taking it without the proper element of risk and suspense, without that gunslinger look in their eyes. Move the line back next season. Even Tarkanian, who is counting on his bombardier backcourt of Freddie Banks and Gerald Paddio to three-point him into the Final Four, agrees with that.
To where? Well, the 23'9" (22 feet in the corners) NBA shot is too long, too much of a heave. Leave that to Larry Bird. On the other hand, the international three-point line of 20'6" is too close. How about 21 feet? Twenty-one is a good number, long considered the American age of maturity.
From that estimable yet not impossible distance, a player could shoot without parental permission. But he had better check with his coach first.
PHOTO
JOHN
D.
HANLON
Maine's Holmes showed how three-point shooting could do in a stronger opponent.
PHOTO
RICK STEWART/FOCUS
WEST
The "terrible trey": An Ohio U. sharpshooter launches a bonus baby against UNLV.
PHOTO
JOHN
D.
HANLON
Between the NBA and college lines, Providence guard Delray Brooks puts one up.
DIAGRAM
JOE LERTOLA
[See caption above.]
19 ft. 9 in.
20 ft. 6 in.
21 ft.
23 ft. 9 in.
[Green Line]NCAA
[Violet Line]International
[Red Hyphens]SI's proposal
[Blue Line]NBA