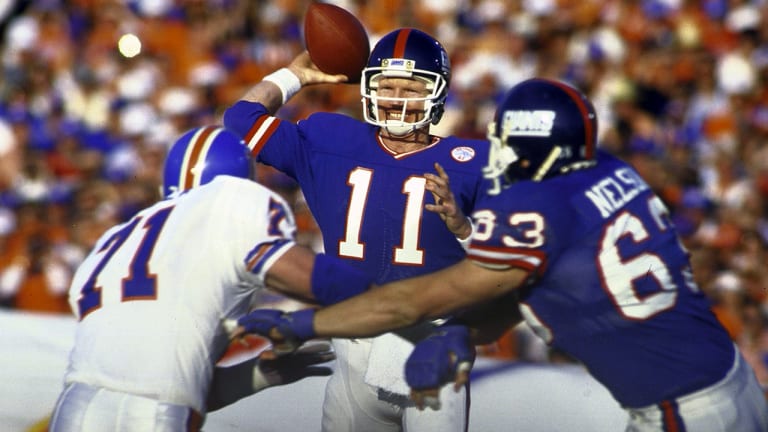 Publish date:
Killer Giants
Behind pinpoint passing by Phil Simms, the Giants routed Denver in Super Bowl XXI
Somewhere inside the mind of every quarterback there's a 22-for-25 day, a day when every pass has eyes and every decision is correct. And for a showcase there's a bright, sunlit stadium with more than a half-century of tradition, a place like, well, the Rose Bowl. There are 101,063 people in the stands to watch, and about 2,000 writers and broadcasters to tell people about it, and some 130 million Americans gathered around their TV sets to see what has been called the Ultimate Game.
That's where the fantasy usually stays, inside, because nobody ever goes 22 for 25 in a game like the Super Bowl, not in this high-powered era with sophisticated defenses featuring shifting zones and blitzes and mixed coverages.
But let's say there's a quarterback who deserves this mythical kind of day, a quarterback who has spent eight years in the NFL being hammered by adversity and injury, who has heard the boos of the New York fans for as long as he can remember, a quarterback like the Giants' Phil Simms.
On Sunday, Simms got even. The Giants crushed the Denver Broncos 39-20 in Super Bowl XXI, and Simms, the game's MVP, personally carved them up with the best percentage passing day in Super Bowl history—in any NFL championship game ever, for that matter.
You say someone must have gotten the name wrong, that Simms is a down-field passer, usually with a low percentage of completions. Well, you have a point. He was below .500 for the two postseason wins, and that's not easy when you're beating people by scores like 49-3 and 17-0. Fourteen of the ranking NFL passers had higher percentages than Simms this season. A day like 22 for 25 is for the dinkers, the dump-off artists, not the serious gunners like Simms. But there it was. The guy was simply amazing.
"He quarterbacked as good a game as ever has been played," said the Giants head coach, Bill Parcells.
"Technically as close to a perfect game as I've seen a quarterback have," said the Giants offensive coach, Ron Erhardt.
The guys on the same assembly line as Simms, the ones who work with him every day, said they had a hunch he might have a surprise like this cooked up for the Broncos. They said it started back at Giants Stadium more than a week before the Super Bowl. "We came back to practice on Thursday after the Redskins game." said Bart Oates, the center. "We had a lackluster, mediocre practice. The next day Coach Parcells kind of got on us. He said, I expected a low-key practice, but this won't do. You've got to pick it up.'
"Phil was phenomenal in that Friday practice. He hit everything he threw. The receivers were making some tough catches. Parcells said, 'Hey, this is too much. Save something for the game.' Phil had this strange sort of a glow. It was like he was in a perfect biorhythm stage or something."
So the Giants came out to Pasadena, where every writer's pregame angle was Bronco quarterback John Elway versus the ferocious New York defense. There was a solid week of that stuff, but the Giants smiled to themselves, because they knew that their own guy was getting himself ready for the game of his life.
Oh, they would drop hints, like "Don't overlook Phil Simms," but, really, what was there to get excited about? He had gone 9 for 19 in the blowout of the 49ers. He threw two passes in the second half of the Redskins shutout, both incomplete, on the way to an unimpressive 7-for-14 day. Then there was Simms himself. Super Bowl quarter-backs are expected to conduct themselves with a certain swagger, a kind of arrogance. Who can forget the Bears' Jim McMahon in Super Bowl XX? Simms was, well, just a nice guy.
In his first official Super Bowl interview session, last Monday night, Simms sat on a little platform and talked for 20 minutes. Friendly, chatty, a good fellow. A TV journalist wanted him for a private spot a half hour later. "Meet you in the lobby at 7 p.m., O.K., Phil?"
"Yeah, sure, O.K."
"Could you give me 10 minutes right before that, as long as you'll be there anyway?" a radio reporter asked.
"Right," said Simms. He stiffs no one.
He watched the group thin out. "You know," he said, "a lot of guys are gonna owe me favors when this is over."
That's Simms, a nice guy, even though he doesn't complete all his passes. Too bad the fans have been so rough on him.
"Right from the first day of practice I felt that I was going to have a good game," Simms said after the Broncos had been dispatched. "I felt good about throwing the ball. Conditions were just perfect for passing. I could see that the ball was carrying better. The weather was great. I was used to throwing in the cold, but now I could grip the ball any way I wanted to. I could make it do anything I wanted.
"I felt that way when I was warming up before the game. I coasted. I went at half speed. I wasn't even dropping back. I felt that I had good rhythm, and I didn't want to mess with it."
Five hours before kickoff, Simms, left tackle Brad Benson and right guard Chris Godfrey took a cab to the stadium, a road-game ritual they have followed for two years.
"I was nervous," Benson said. "I had been nervous all week, even though I had done a good job of trying to hide it. I asked Phil if he was nervous too. 'Not nervous,' he said. 'Excited.' Then he said, 'I'm telling you guys, I feel great. I'm gonna be throwing some fast balls today. Give me time and I'll rip 'em.' "
But Elway did some ripping of his own in the first quarter. On a third-and-seven from his own 37, he hit Mark Jackson on a 24-yard pass that set up a 48-yard field goal by Rich Karlis. Then, after the Giants took the lead on a 78-yard touchdown drive that ended with a 6-yard pass from Simms to tight end Zeke Mowatt, Elway put the Broncos back on top 10-7, using short passes and, for the final four yards, a quarterback draw. For a while there, Super Bowl XXI looked like it would be the best one ever.
Simms and the Giants soon changed that notion, however, with almost flawless execution of a perfect game plan. Simms's instructions were to throw play-action passes in the first half to temper the rush and hold in those very active, swarming Denver linebackers who were, as Parcells said, "all gassed up to get Joe Morris." And in the second half, when Denver people were starting to sag a little, the Giants would come back and pound them on the ground.
"I was surprised they changed their whole offensive attack," Bronco linebacker Karl Mecklenburg said. "Pass first, run second. It surprised us. We thought they would try to establish the running game, but they went against their tendencies, and they did a good job of it."
The Giants threw on nine first-down plays in the first half, running on only two, not counting a final quarterback kneel before the intermission. Simms completed all nine. The Broncos were rushing four men, three down linemen and an outside linebacker, either Jim Ryan or Tom Jackson, but the protection was near perfect. New York had one full possession in the first quarter, and the result was that 78-yard touchdown drive. On Simms's only third-and-long situation, he hit wideout Stacy Robinson on an 18-yard sideline pattern.
The Broncos made some changes in their normal long-yardage rush. Mecklenburg, who usually lines up outside Rulon Jones in a down-lineman position, was now paired with Simon Fletcher, while Jones worked inside Freddie Gilbert on the other side. The alignment posed no problem.
"They like to stunt off that," Benson said. "Jones slams you, and the end outside him loops around him to the inside. It's a kind of pick play, and they're real good at it. They got us on that a couple of times when we played them during the season. If you take a flat setup on your pass blocks, they've got you. You have to drop deeper."
"We practiced all week head up, butt down, keep your feet moving," Oates said. "Stay light on your feet and play patty-cake with them. No firing out. Passive-type blocking."
In the second quarter the Broncos stepped up the tempo of their rush, sending in strong safety Dennis Smith on third down and forcing two of the three incompletes Simms threw all day. And as technically proficient as Simms and the Giants offense had been in the first period. Elway and the Broncos were matching it. Neither quarterback threw an incompletion in that first quarter; collectively they were 13 for 13. They were like two guys holding their hands in a pail of hot water to see who would pull out first.
Simms was the first to throw an incompletion. The Giants were the first to punt. Elway was magnificent in the first half, dodging a defense that had been geared especially to contain him, going deep downfield off scrambles—54 yards to Vance Johnson, 31 yards to Steve Watson. In five possessions he brought his team into scoring position four times. But there was little to show on the scoreboard for his performance, and anyway the Giants weren't overly worried. "Everyone's pretty frisky there in the first quarter, including Elway," Parcells would later say. "I talked to our defensive guys before the game and told them not to worry about him getting completions early and making plays. Keep wearing them down. Just don't let the receivers turn into runners. After a while, we'll make some plays, or they'll run out of room."
The keynote series came early in the second quarter, with Denver leading 10-7. The Broncos had a first down on the Giants one-yard line. They brought in their goal-line offense, an extra tackle and a tight end. Elway tried a run-pass option, but Lawrence Taylor and backup nosetackle Erik Howard threw him for a yard loss. The Broncos tried a quick trap, but Harry Carson stuffed Gerald Willhite for no gain. At this point Bronco coach Dan Reeves could have sent in the wideouls to try to spread the defense, but he chose to leave the big guys on the field against a Giants team that was to hold Denver runners to 14 yards in the first half.
"In New York they had scored on a pitchout from four yards out," said left linebacker Carl Banks, who led the Giants defense with 10 unassisted tackles. "I expected that play again, and that's what they called.
"They didn't get away from their tendencies. I had studied a lot of film this week. I remember hearing Howie Long on HBO [Inside The NFL], and he said. 'A word of advice. Study film as much as you can.' So I studied."
The pitch went to Sammy Winder. Banks read it from the go and got in front of Winder, along with Carson and cornerback Perry Williams. The play lost four yards.
"They have a slashing type of running game," Banks said. "You have a split second to make your read and that's it. Give them two yards and they're gone. I didn't have time to square up and make a form tackle. I just got my head in there and made the hit. I had zigzags in my eyes for the rest of the half."
Karlis missed the 23-yard field-goal attempt. First and goal on the one and the Broncos came away with nothing. Later some people were to call the shortest misfire in Super Bowl history a turning point of the game, but that really came later.
After the Giants had to punt on their next possession, George Martin sacked Elway for a safety to make the score 10-9. Things were breaking down for the Broncos. By now they had given up on their running game, and after Winder's four-yard loss they would call 22 straight pass plays, a streak that would carry into the fourth period. They could have folded their tent right there, with time running out in the first half, but back they came, down to the Giants 16.
Now Karlis missed again, from 34 yards out. In the regular season he had been 11 for 12 from 39 yards or less, so the Giants were very happy to end the half trailing by only one point. Karlis, fighting back tears after the game, said, "Both times I didn't get my hips all the way through the kicks. I was steering the ball, and I know better than that. I felt the team unravel after that. I really hurt them. I'm sorry."
So the Broncos went into halftime ahead, but in a very shaky position. Reality arrived in the third quarter, when the Giants' rush pressured Elway into misfires and caused a pair of series best described as three-plays-and-a-punt. The Giants also set off the biggest one-half offensive explosion in Super Bowl history. Simms was literally perfect, going 10 for 10 in the second half. New York scored four touchdowns and a field goal on its first five possessions of the half. Simms was finding all his receivers—short, long, primary, secondary, it didn't matter.
The real turning point came with the Giants' opening drive in the third quarter, when backup quarterback Jeff Rut-ledge shifted out of punt formation to sneak two yards for a first down on a fourth-down play at the Giants 46. "They knew something was up," said Parcells, "but they just didn't know what we were going to do." Simms made the gamble pay off five plays later by hitting tight end Mark Bavaro for a 13-yard touchdown against double coverage. "I probably should not have thrown it, but I saw this little opening," Simms said.
He got his longest completion of the day, 44 yards to Phil McConkey, off a flea-flicker that set up the Giants' second touchdown of the second half. The Broncos had come into the game as the masters of trick plays—"gotchas," they call them—but they tried none, while the Giants connected on two of them, the flea-flicker and Rutledge's sneak. And the Broncos were wearing down in the 76° heat, while the Giants were getting stronger on both sides of the line.
Simms found Robinson for 36 yards, laying the ball perfectly in the hole in the double zone, on the way to the third touchdown of the half. He bootlegged for 22 yards to set up the last one. "Every time I hand the ball off," he said, "I look to see if the bootleg opportunity is there."
Nine of Simms's completions were to running backs, a high number for a quarterback who has always avoided the "dink" philosophy. "He's not a nickel-and-dime type of quarterback," Parcells had said before the game. "He's not going to dump the ball off. He can be whatever we want him to be, and I want those cornerbacks not sleeping too well the night before our game because they have nightmares of guys running by them." But in the Super Bowl, a game played under a magnifying glass that captures and enlarges every mistake, you take the safe road, which is what Simms did.
His three incompletions were on a hurried sideline pass to Robinson, a slight overthrow of Bavaro on a seam pattern straight downfield and a post pattern to McConkey on which the little receiver lost his footing downfield. McConkey more than made up for it, though, when he caught a touchdown off a rebound on a pass to Bavaro in the end zone. Said Simms, "I told Phil, 'You owed me that one after falling down.' "
The Broncos had put up a hell of a fight for two periods but were simply overcome. "We threw everything we had at them," Elway said. "I thought I did everything I could do. That's all one could ask. These playoff games helped make me a better quarterback ... this whole five-week period."
Karlis mercilessly blamed himself, saying, "I thought about all the people I let down, all the guys who had put their hearts and souls into this game, guys like Tom Jackson, who'll probably retire and will never have another chance at a Super Bowl." But as Mecklenburg said, "The way the Giants moved the ball in the second half, six points wouldn't have made a difference."
The Super Bowl also justified the Giants' decisions on draft day last April, when they shocked the NFL by fortifying an already powerful defense with six high defensive picks. On Sunday, New York had fresher legs than Denver. Pepper Johnson was a situation linebacker on passing downs. Mark Collins was the nickelback. Eric Dorsey, the No. 1 choice, relieved the 33-year-old Martin on the series before Martin sacked Elway for the safety. Howard, another rookie, was a key man in the goal-line stand. Greg Lasker, the dimeback when the Giants went to six defensive backs, threw the spring block on a 25-yard McConkey punt return that set up Raul Allegre's 21-yard field goal with 3:54 remaining in the third quarter.
"The real area where all those defensive rookies make themselves felt," general manager George Young said, "is special teams." The Giants are very sturdy in that department.
Parcells, who had never before tasted a Super Bowl, as an assistant or a head coach, gave his team a terrific two weeks of practice. In the first week he ran them hard, six 100-yard sprints one day, six 60s on another.
"We didn't complain," Carson said, "because we knew he was getting us ready for the heat in Pasadena."
"No, they didn't complain, not much they didn't," said Johnny Parker, the strength and conditioning coach. "Listen, these guys would complain if you made them run six five-yarders."
On Monday, six days before the Super Bowl, the Giants players were a bit stunned by the intensity and duration of a practice that ended with half a dozen 80-yard sprints. "One of the three or four toughest practices of the year," Oates said. On Wednesday the throttle was turned up even more.
"No brother-in-law stuff today," Benson said. "Look here at this bruise on my arm. That's from a guy falling on it. There was some real intensity out there. You had to watch yourself."
Benson was Parcells's particular target. The coach let him have it after one pass block he didn't especially like. "Benson," he yelled, "you're going to be famous on Sunday for all of the wrong reasons!"
"We all knew what Bill was doing, the way he was driving us," nosetackle Jim Burt said after the Super Bowl. "Hey, I thought he'd lost his mind when he had us in half pads ... shoulder pads and shorts ... and then ran a lot of interior line work. I wound up with bruises all over my legs. I almost got into a couple of fights out there. I mean I was that far away from going after Karl Nelson and even Leonard Marshall on my own unit. But it paid off, didn't it? We were in the right mood. All the running got us in shape. We finished the game strong."
Carson gave Parcells his usual Gatorade bath in the final minutes of the game, and it left a spreading orange stain over his nice gray Giants sweater. Even Simms got a drenching, ice water this time, with Benson and Oates doing the honors.
"I think it was very appropriate to cool the guy down," Oates said, "as hot as he was in the game."
Simms won the car, of course, for Super Bowl MVP. But if there had been an MVP award for the three-game playoff series, it would have gone to Banks, who had a magnificent postseason. He and Taylor will really be something as the future bookend linebackers.
The Giants are a young team. Only 7 players on the 45-man roster have reached their 30th birthday. If you're thinking dynasty, though, remember that the Bears were a young team when they won the Super Bowl last year. Strange things can happen to a club during a season.
But right now the Giants are on top for the first time since 1956. They have made all the stops—dismay and hope and glory ... you name it, they have been there. And so has Phil Simms.
PHOTO
WALTER
IOOSS JR.
Simms opened with seven straight completions, including this TD pass to Mowatt.
PHOTO
PETER READ
MILLER
Elway, an ex-baseball player, slid home on a quarterback draw to put Denver ahead 10-7.
PHOTO
JHON
BIEVER
The Broncos began to unravel after Karlis muffed a second field goal (above) and Elway was ceremoniously sacked in the end zone.
PHOTO
ANDY HAYT
[See caption above.]
PHOTO
JOHN
IACONO
Simms (above) was 22 for 25, with three TDs, including one to a thankful Bavaro.
PHOTO
WALTER IOOSS JR.
[See caption above.]
PHOTO
PETER
READ
MILLER
McConkey was McConked upside down after catching a 44-yard flea-flicker from Simms.
PHOTO
JOHN
BIEVER
Simms's pass bounced loose when Bavaro was sandwiched by Broncos, but McConkey dived for a TD grab and got a Bavaro boost.
PHOTO
JERRY WACHTER
[See caption above.]
PHOTO
JOHN
IACONO
[See caption above.]
PHOTO
JOHN
IACONO
Linebacker Banks, with 10 tackles, was the anchor of the Giants' ferocious defense.
PHOTO
RONALD C.
MODRA
Morris, following Maurice Carthon here, kept Denver honest with 67 yards rushing.
PHOTO
PETER READ
MILLER
To the victor go the spills: Carson delivered one more Gatorade drenching to Parcells.
PHOTO
JOHN
IACONO
Simms, once the target of Giant jeers, basked in the glory of his MVP award.