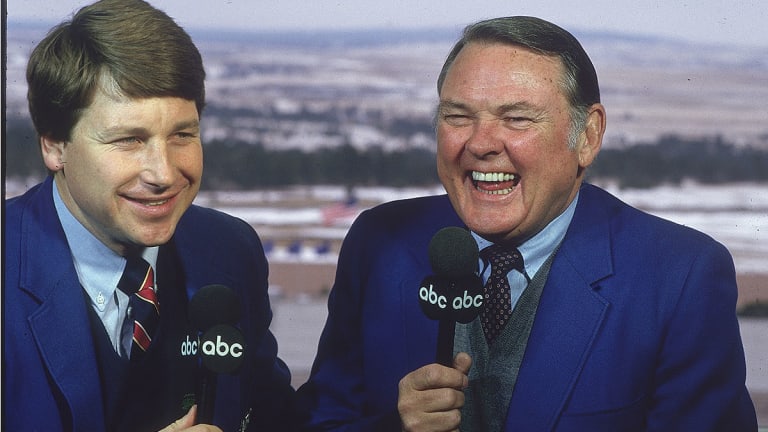 Publish date:
ABC'S Keith Jackson: A Hoss of a Broadcaster
ABC's Mr. College Football, Keith Jackson begs to imitated. Just ask any members of the tribe of KJ-ology.
During the telecast of the 1981 Gator Bowl between North Carolina and Arkansas something strange and wonderful happened. Play-by-play announcer Al Michaels pointedly referred to one player as "a hoss and a half." With those words, the School of KJ-ology was born. KJ-ologists devote themselves to the study and practice of speech patterns originated by Keith Jackson, and as anyone who has listened to the ABC announcer call a college football game or two surely knows, "hoss" is one of KJ's favorite expressions.
To be considered an official KJ-ologist, says ABC's Michaels, all one needs to do is drop a Keith Jacksonism into a broadcast. It doesn't have to be "hoss" or "hoss and a half." An announcer can use expressions such as "Merciful goodness, six points just went a-wastin'," or "They're rockin' and a-sockin' and a-whackin' and a-crackin'," or even the alltime Jackson favorite, "Fum-buuuullll!!!"
The School of KJ-ology has become one of the biggest inside jokes in sports TV. If imitation is the highest form of flattery, Jackson has some distinguished admirers, and they cut across network lines. Members of the tribe, active and inactive, include Michaels, Lee Grosscup, Jim Lampley, Howard Cosell, Don Meredith, Bob Costas, Brent Musburger and dean of admissions Roy Firestone, who hosts Sports Look on ESPN.
It's no coincidence that so many have caught KJ fever. As an original in a business overrun with carbon copies, Jackson begs to be imitated. Mr. College Football at ABC for 13 years and on his way to becoming the network's No. 1 college basketball announcer, he sounds almost as down-home and corn pone as he did when he first arrived at the network in 1964. Who else would open a prime-time telecast by saying, "There's a possum-huntin' moon in the sky"? Besides, Jackson's just a tad too serious, which makes imitating him fun.
If the School of KJ-ology says a lot about Jackson as a broadcaster, KJ's stoic reaction to his kidders, who must get under his skin at times, says a lot about him as a person. Asked what he thought about KJ-ology one August afternoon at his Sherman Oaks, Calif., home, the 58-year-old Jackson said, almost unbelievably, that he'd never heard of it. He may be freewheeling and gregarious at college football socials, but he's a solemn man at heart, and a loner in the world of TV. Bear Bryant was Jackson's kind of guy, not some network bigwig. Perhaps a tad too sensitive, Jackson left the TV business for three months in 1986, possibly because he felt ignored by ABC and bypassed by such younger stars as Michaels and Lampley, two of the ranking KJ-ologists.
Jackson could have publicly lashed out at the network and his rivals the way Cosell had—heaven knows, KJ has been kicked around enough in the past—but friends say he's too private and too loyal for that. Of his many imitators, Jackson says, "It seems to me a waste of time because, one, I don't think I'm very funny; two, I don't think I'm worth imitating; and three, if I were some of 'em, I'd be worried about trying to sound like myself, not somebody else." Says Turi, his wife of 34 years, "They can't sound like you, dear. They don't have the lung capacity."
The word that describes Jackson is roots. He came up out of the red clay of west Georgia and hasn't yet gotten it from under his fingernails. An only child (after the death of a baby sister) of a broken marriage, he was raised by a grandmother on a small farm outside Carrollton, 40 miles southwest of Atlanta. The family was dirt poor, and young Keith picked cotton, plowed fields, even studied by kerosene lamp through junior high school. Jackson got into broadcasting after enrolling, courtesy of the GI Bill, at Washington State in the police science and political science program. After graduation he hooked on with KOMO-TV in Seattle, where he broadcast the evening news and doubled as a sportscaster. It's hard to believe, considering how much he is identified with college football, but Jackson originally joined the ABC network as a newsman, working across a desk from Ted Koppel at ABC Radio in Los Angeles.
Jackson free-lanced for ABC Sports for several years, covering everything from AFL games to stock car races and log-rolling contests. He initially tried to remove that Georgia drawl from his voice, but fortunately for the future of KJ-ology, decided against it. "I came to the conclusion along the way that, hey, that's me. Take it or leave it, that's what I am, and I'm not going to run my backside all over the world trying to be somebody I'm not."
He was a hoss of a worker, and almost every week in the late '60s Jackson would greet TV viewers from someplace different. He was also big—6'3"—and his voice, as he would say, was "always turned up to holler." In fact, Jackson has always carefully varied his pitch. "The best way to get somebody's attention," he says, "is with a little quiet and then yell at 'em."
One of Jackson's often overlooked attributes is his consummate craftsmanship. He's knowledgeable and articulate on TV. "You're there to amplify, clarify, punctuate and then get out of the way," says Jackson, and he fills that bill a lot better than most of his colleagues. As Michaels says, "He puts words together like nobody in this business ever has." The one sport he is weak in is baseball, probably because he never broadcast regular-season major league games on a regular basis and thus lacked the stockpile of anecdotes and expertise necessary to carry him through the yawning innings of a slow game. And because his new contract calls for him to make fewer TV appearances, last October's National League playoffs were probably the last baseball games he will work.
It's difficult to believe that Jackson has been a fixture at ABC for 22 years, considering how many bumps have disrupted his ride. Take, for example, the rude and circuitous route he followed in becoming the voice of college sports.
Almost everyone except Jackson forgets that he was the first play-by-play man on Monday Night Football, sitting beside Cosell and Meredith when the show made its debut in 1970. He thought his career was riding high when in February '71, just after the end of the first MNF season, he checked into a hotel in Milwaukee and found a stack of 38 phone messages waiting at the desk. The calls were from sportswriters who had heard from ABC that Jackson had been sacked from the show and replaced by Frank Gifford. Roone Arledge, then president of ABC Sports, wanted Gifford's marquee value and grabbed him from CBS as soon as his contract expired.
The firing stung Jackson, but even worse was the atrocious way in which it was handled. "In those 38 messages," Jackson says, "there was not one call from Roone. He says he called, and who knows, maybe he did, but it hurt my feelings for a time."
The Monday Night Massacre turned out to be a blessing for Jackson. He went on to team with Bill Russell on ABC's critically acclaimed NBA telecasts for four years. And in 1974 he became Mr. College Football. For five years running, 1972-76, members of the print and broadcast media voted him National Sportscaster of the Year. The sound of Jackson's voice—energetic and crackling, always up and always on—was perfect for the rah-rah college game, and in a very short time, that sound became the sound of ABC Sports. During that time, of course, Jackson polished his KJ-isms.
Veteran KJ-ologists know that Jackson uses a superabundance of animal and landscape imagery. Punts are "tail draggers," interior linemen are "big uglies down in the trenches," and any rainstorm of consequence is a "gully washer." Running backs "canter" into the end zone. High scoring teams don't just "burn down the barn," they "take a couple of rows of the cornfield" with them. The star linebacker just "pinned his ears back" and "laid a few licks on folks." And as long as a team continues to "dodge the bullet," it figures to be "in the hunt." Some KJ-ologists insist that Jackson invented "in the hunt." The phrase is currently popular with political-campaign managers.
Says Lampley, "He communicates to Middle America in a way that can only be envied."
Over the years, KJ has become something of an evangelist for college football; the game has become part of his roots. Critics accuse him of sugarcoating the sport, but to Jackson, college football is family, tradition, everything that is safe and sacred. He speaks at school after school, telling how the mommies and the daddies and the grandpappies are brought closer together at the stadium. "He's a true believer," says Donn Bernstein, director of college sports for ABC. "He sees it in terms of growth, competitiveness, fair play and all that. He knows there are problems—he's not a naive man. But he prefers to believe in the good things."
With football so precious to Jackson, it's all the more remarkable that when his previous contract expired after the 1986 Sugar Bowl he said to ABC, "I'm a-goin'," and walked into the night. He says he had no idea what he would do, a prospect that rather pleased him, and was prepared to sit out the year, then figure out something. So final seemed his decision that Frank Broyles, his Sugar Bowl TV partner, says there were a few tears when Jackson and Turi bid adieu to Broyles and his wife, Barbara.
Jackson says now that he was fed up with the travel, but the truth is, he had been falling out of favor at ABC. In 1982 he was taken off baseball and put on the pitiful USFL, an assignment he says he wanted. He was relegated to near obscurity at the '84 Olympics in Los Angeles, covering only the snippets of basketball that ABC presented. Meanwhile, Michaels and Lampley were thriving. And finally, Arledge and other members of the ABC brass may have been too busy trying to save their own necks from the chopping block of ABC's new owners, Cap Cities Inc., to tell Jackson whether he was still on the hayride.
"When the money gets bigger and the stakes get higher, the sea gets wider and the sharks in the water grow sharper teeth," says Jackson of the corporate echelons of his chosen industry. His "retirement" ended in April when Dennis Swanson, Arledge's successor as president of ABC sports division, personally signed Jackson to a new three-year deal.
Jackson's career has been not only salvaged but also enhanced; last month he started covering college basketball. During ABC's series of Sunday afternoon games KJ will team with DV, Dick Vitale, who has made his name as a wild and crazy commentator on ESPN. What a quinella that should be. The prospect of working with Vitale, who calls basketball games the way Mario Andretti drives Indy, always on the edge of losing control, makes Jackson a little nervous. He has already cautioned Vitale to cool it. "It'll take two or three broadcasts for us to hit stride," Jackson says. "I think you'll see a more subdued Vitale."
If Jackson can come up with a few expressions from his great-granddaddy about hoops, KJ-ologists will be able to endow a few chairs for basketball announcers. But it is not likely he'll be able to top his country-boy style on football.
Listen carefully next time you watch a game—any kind of game—for an announcer sneaking the word "hoss" onto the air. Sometimes, though, only KJ-ologists are aware when it happens. Once, for example, ABC's Monday Night Baseball statistician, Steve Hirdt, gained a lifetime pass to the KJ-ology conventions when he came up with a graphic about "Sports' Famous Mooses." The graphic would never have made it onto the screen except for the last name on the list: Brewers pitcher Moose Haas—pronounced, of course, Hoss. Michaels, the announcer that night, almost died laughing.
Firestone, the ESPN talk-show host, who does the best KJ this side of Jackson himself, helps keep the KJ-ology flame alive. Last year, a guest along with Jon Miller on an Orioles radio broadcast, Firestone called an entire inning as Jackson might have.
Jackson keeps strict count of his friends and enemies. He still hasn't forgotten the banker in Pullman, Wash., who loaned him $100 interest free when he was broke in the '50s. He has donated $50,000 to the Washington State alumni center. But he has never returned to the National Sportscasters and Sportswriters dinner after a number of writers accused him, fairly or not, of covering up for Ohio State coach Woody Hayes when Hayes punched a Clemson player at the Dec. 29, 1978, Gator Bowl.
Now that Jackson feels wanted again he's most at home—when he's not with Turi at their house in California, that is—in college towns like Tuscaloosa or Norman or Lincoln, places where he could probably be elected mayor. Even players come over to him at the end of practice to try out their best KJ-isms. You can just hear one of them saying: Whoa, Nellie, I'm gonna tell ya'. When the feathers git to fly in' and they start a-knockin' heads and rubbin' the paint off their helmets, there ain't nobody more colorful in that big ol' TV booth.