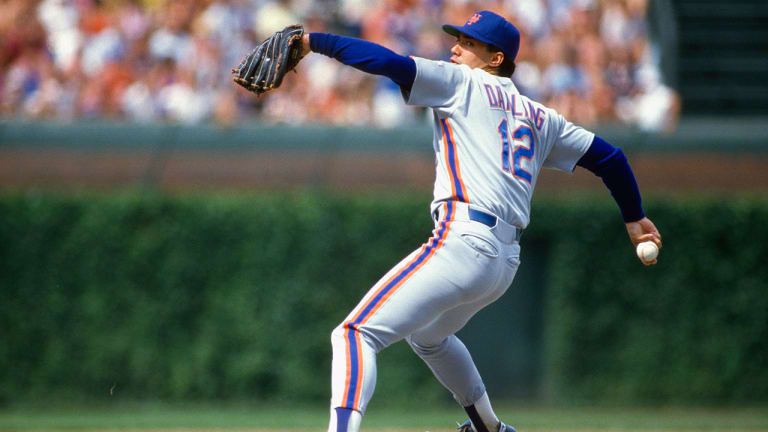 MORE THAN A MEDIA DARLING
That Yale stuff is just so much boola-boola. Ron Darling of the Mets is first and foremost an excellent pitcher
The subject was children, understandably. Ron Darling was driving his silver 1967 Mercedes back to St. Petersburg, Fla., to be with his wife, Toni, and three-day-old son, Tyler Christian, who had arrived one month prematurely. Darling had just pitched 3 1/3 innings in Tampa against the Reds, and now, weaving through cars driven by suntanned and senescent drivers, he excitedly bounded from thought to thought, from Bernie Carbo to Noël Coward. Darling's mother, Luciana, was right when she said, "Ronnie has never had a thought that didn't create a spark—and he has a lot of thoughts."
"The better the children we produce," says the 26-year-old pitcher for the New York Mets, "the better the chance we have in this crazy world. I hear people say, 'We've got to wait to have children until we have accumulated enough wealth to afford them.' What does money have to do with raising children? It's the time you spend with them that matters. I know because I have the best parents in the entire world, and they came from nothing. I understand what it really means to be a parent because of them. Everything I am is because I'm Ron and Luciana Darling's son."
What he is and what the media would have us believe he is are two very different people. Yes, he seems to have the world at his feet. He's a Yalie and a pitcher for the world champions. His wife, Toni O'Reilly, is a model. He has appeared on Good Morning America and Sesame Street, as well as on the cover of GQ. Husband and wife have been featured in People and USA Today. HIGH GLITZ read the headline on USA Today's front-page profile. SEXY, SMART, STYLISH—THE PERFECT COUPLE FOR THE WORLD'S BIGGEST STAGE.
"I get sick of myself," he says, "even though I know I'm not the person I'm portrayed as. People think I'm a curio because I have what is perceived as an interesting rèsumè: Yale, English/Chinese/Hawaiian background, supposed Renaissance man, lives in Manhattan, married to a model, makes a million dollars. But that USA Today story ran the morning before the third game of the playoffs and never mentioned that I was pitching the next night." It also didn't mention that one of Darling's favorite childhood memories is of being with his dad on the early morning run to drop off garbage at a pig farm. Not exactly "high glitz."
"If I win 20, maybe I'll lose the Yalie tag and just be a pitcher," says Darling. However, he has yet to figure out how to get rid of the nickname Mr. P. The name, which stands for Mr. Perfect and which he resents, was given to him by Gary Carter, of all people.
"My parents taught me to strive to be great at one thing and to keep my eyes, ears and mind open to everything else," says Darling. "Sure, I'm one of those people with a curiosity about everything. But I'm also driven to the point of ridiculousness, and that drive is channeled into baseball. It is in baseball that I hope to achieve greatness."
Darling's father, Ron Sr., was what he himself calls "a welfare brat." His parents abandoned him at age four in the Vermont town of Danville, and thereafter Ron Sr. bounced from farm to farm, from family to family, from Lyndonville, Vt., to St. Johnsbury, Vt., to Coventry, Conn. He thought of studying agriculture at the University of Vermont, but he decided to see the world instead. So he joined the Air Force. While stationed in Hawaii he met Luciana Mikini Aikali, who was 14½ and going to school at the time. Her Chinese mother had died giving birth to Luciana and her twin sister. After her Hawaiian-Chinese father left home, she was raised by her grandmother. "Stray dogs, perfect for one another," says Ron Jr.
In 1962 the Darlings moved from Honolulu to the central Massachusetts town of Sutton, near Worcester, where Ron Sr. had found a job in a machine shop. Two years later they moved to Millbury, Mass., where they have raised their four sons. After Ron Jr. came Eddie, now 25 and a former Yankee farmhand, then Brian, 20, a student at New York University, and Charlie, 18, a pitcher for St. John's, a parochial high school in nearby Shrewsbury.
"We knew what opportunities we didn't have," says Luciana, who once loaded UPS trucks to help support her sons' education. "So we wanted our children to have all of them."
Says Ron Jr., or R.J. as his father calls him, "Mine was a great upbringing. There was a time to work and a time to play. Certain things, especially homework and bedtime, were non-negotiable, yet it was an opinionated household that encouraged dissenting thought. When I was bored, my mom would leave me off at the library. My dad worked as many as three jobs. When I was five or six, I remember going with him to collect garbage. Every morning we'd get up at 5:30, dump pails of the garbage into a truck and take the load to the pig farm. Time with a brilliant man."
As soon as his eldest son was old enough for Little League, Ron Sr., now a supervisor in the machine shop, started coaching his baseball teams—and did so all the way through American Legion ball. Ron Sr. would give his namesake 100 ground balls and 100 swings every night. He was always there for his boys. He and Luciana never missed a practice, and even now they seldom miss one of Ron's starts at Shea Stadium or one of Charlie's at St. John's.
"Still," says Ron Jr., "the most important thing in my life, the thing that brought my family the most happiness, wasn't starting the first game of the World Series or winning the fourth game or being a first-round draft pick; it was the day that I was accepted at Yale."
It's hard to believe now, but Darling says of his undergraduate days, "I felt like a guy off the farm, without a social grace, who was always making a fool of himself. I was always one step behind in everything: Have you heard such and such a song? No. I was a year behind, unless they wanted to talk about Chuck Berry and The Coasters. How about this new film? I was a month behind. I was so shy, I didn't know how to ask a girl out on a date. I wanted to be a thespian, but I was too shy to go on stage. I'm still shy, only now people think that I'm snooty."
Darling had been a good quarterback, but at Yale they put him in the secondary. "I didn't want to be a defensive back, and my world was being opened to too many Other things. I didn't want to deny myself afternoon classes the entire year." He also began to grow physically with a little help from some weightlifting. "I went from 6 feet, 170, to 6'2½", 190, and when I went out for baseball that spring, I threw the hell out of the ball." Darling had mostly been a shortstop, but he became a pitcher as a sophomore and went 11-2 that year.
It was during his junior year at Yale that Darling lost an epic game to Frank Viola of St. John's University in the NCAA regionals, a game later immortalized by Roger Angell in The New Yorker. For 11 innings of the scoreless tie, Darling had a no-hitter, but he lost the game in the 12th on an error and a double steal. Darling probably would have been the very first pick in the 1981 amateur draft, but he wanted $150,000 to make it worth his while to leave Yale, which was too much for the pocketbook of the Seattle Mariners. The Rangers were willing, though, and took him as the No. 9 selection in the first round.
As a professional, Darling has had to cope with the Yalie label. "Immediately, there was the question of my dedication to baseball," he says. "People would say things like, 'Baseball isn't his priority.' Or 'He doesn't really like baseball.' That has always infuriated me. I love baseball. What was I taking those 100 ground balls and 100 swings for every night? Why was I in the bleachers, right where Carbo's homer went in that other sixth game? Why did I always stay up late when the Sox were on the Coast to watch Yaz bat against Nolan Ryan?"
That first professional summer, Darling made 13 appearances at Tulsa (4-2, 4.44 ERA). He went to the Rangers' camp the following spring. Manager Don Zimmer thought he needed only a couple of months of Triple A experience before he would be ready for the majors, but others in the organization ignored Zimmer. The Yalie was a disappointment to them. On April Fool's Day, 1982, in a trade the Rangers will long regret, Darling and pitcher Walt Terrell went to the Mets for Lee Mazzilli.
After two years at Tidewater, Darling made the club, and in 1984 he had a 12-9 record and a 3.81 ERA. But he was the other rookie on the club, because Dwight Gooden was 17-9 with a 2.60 ERA. In 1985 Darling went 16-6, and Gooden went 24-4 and won the Cy Young Award. Darling understood pitching in Gooden's shadow. What he didn't understand was that he was still the Yalie.
"What people didn't realize was that I had very little pitching experience. At first I thought I was a power pitcher, when I'm not at all. My biggest problem was throwing enough strikes. I was behind 2 and 0 too often. I walked too many and made the game too difficult. I didn't know how to pitch. I'm such a perfectionist that I let my temper get the best of me at times. It just took time."
Little doubt now remains about Darling's ability. Paparazzi flashbulbs and Gooden's presence can't obscure the fact that he is one of the premier pitchers in baseball. He has added a devastating split-finger to his moving 88-mph fastball, his curve and his slider. Not only was Darling picked to open the World Series for the Mets, but in Games 1 and 4 he did not allow an earned run. "We hadn't heard all that much about him," said Boston's Dwight Evans after Game 4, "but he's the Mets' best pitcher. A fearsome competitor."
What still dogs Darling is his inordinate number of no-decisions—39 over three seasons, 13 in 1986. But the Mets were 26-8 in his starts last season, the best such percentage in the National League. "That is one statistic that I'm really proud of," says Darling.
Off the field, Darling has a multitude of interests. "I love New York," he says. "It's the greatest city in the world, whether it's a walk in Central Park, an art exhibition, a Noël Coward play or just the people." He's involved in a new restaurant in downtown Manhattan. Darling enjoys working in New York Governor Mario Cuomo's drug program. He has already written two plays and numerous short stories, and now he's writing a book about baseball.
"I believe that this is going to be a great year for me," says Ron Darling Jr., "beginning with the birth of Tyler Christian. What's my definition of great? As a pitcher, great is going out every fifth day, not missing a start and being a consistently productive element—the wins and the honors will follow. As a person, great would be to give my children half of what my parents gave me. Children are what the world's all about."
PHOTO
WALTER IOOSS JR.
Darling, who is writing prose about baseball, is poetry in motion on the mound.
PHOTO
LANE STEWART
Ron Sr. and Luciana, with son Charlie, are special parents.
PHOTO
SAM PELLISSIER
Ron Jr. and wife Toni, a model, just had their first child.
PHOTO
COURTESY GQ
PHOTO
JERRY WACHTER
ILLUSTRATION