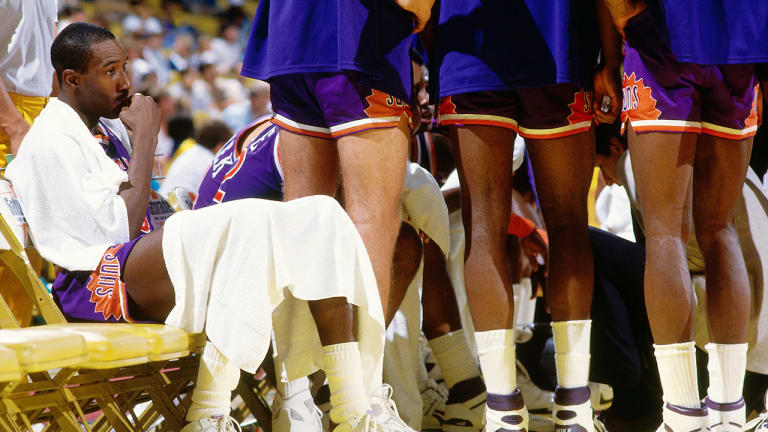 Dark Clouds Over Sun Country
The biggest drug bust ever in pro sports implicated 11 present or former members of the Phoenix Suns
It was the biggest single drug bust in the history of professional sports, and it was ugly to behold. For one thing, the case was apparently built largely on the word of players who may have turned on their teammates in order to save their own hides. For another, there was the possibility that gambling was part of the sordid mess. That this nightmare was afflicting the Phoenix Suns, for 19 years the adored hometown heroes in a city with no other major league franchise, made the situation all the sadder.
Last Friday Phoenix law-enforcement officials announced that five current or former Suns players had been indicted for drug-related offenses and that six other present or former Suns players were linked to the case. The indictments returned by a Maricopa County grand jury charged nine men with 21 felony counts of possessing or trafficking in cocaine or marijuana or conspiring to do so. A 10th man was charged with obstruction of justice.
Three of those indicted are current members of the Suns: James Edwards, 31, a 7'1", 10-year veteran center who has been on the injured list since last Nov. 28; Grant Gondrezick, 24, a rookie guard from Pepperdine; and Jay Humphries, 24, a third-year guard from Colorado who just set a Suns single-season assist record of 632. On Monday the NBA announced that all three had passed drug tests, but all of them face lifetime banishment from the league if they are found guilty of the charges. Two of those indicted are retired Suns: Mike Bratz, 31, a guard (1977-80) who still holds the team record for consecutive free throws (57) and was cut in the preseason by the Sacramento Kings; and Garfield Heard, 38, a forward (1975-80). Heard, a commercial real estate broker, is also a member of Phoenix Mayor Terry Goddard's task force on drug abuse.
The six other present and former Suns players linked to the case were described by the police as "being present or having knowledge of illegal drug transactions." The current team members named by police are Walter Davis, Phoenix's leading career scorer and a six-time NBA All-Star, and William Bedford, a 7'1" problem-child rookie who was the Suns' No. 1 draft choice in last year's college draft. The ex-Suns are Don Buse, a guard (1977-80) who is now an assistant coach with the Sacramento Kings; Johnny High, a guard (1979-84) who is a shoe salesman in Phoenix; Curtis Perry, a forward (1974-78) and onetime team captain and now a part-time coach at a Phoenix private school; and Alvin Scott, a forward (1977-85) who, until he was hustled off on an "administrative leave" last week, was an employee of the Suns' sales division.
The most celebrated figure in the case is Davis. Phoenix's first-round draft choice out of the University of North Carolina in 1977, Davis, 32, voluntarily entered a rehabilitation clinic in December 1985 to be treated for cocaine and alcohol abuse. He was released 30 days later, rejoined the team and played well the rest of that season, as he did this season, averaging 23.6 points per game. Then suddenly last week, at the very hour a Phoenix lawman was announcing details of the indictments, Davis declared that he was in trouble with drugs again and that he was volunteering to go back to a clinic for further treatment.
Davis could not be reached for comment. According to published reports, he appeared before the grand jury and was granted immunity for his testimony. Davis was widely assumed to be a key element to the prosecution's case. In the indictments, he is identified as having had various transactions involving cocaine or marijuana with eight of the nine defendants charged with drug offenses. Similarly, Bedford, 23, who majored in criminal justice at Memphis State, was cited in the indictments as having been offered drugs by Edwards and as having witnessed a drug transaction involving Gondrezick. One of Bedford's agents, William Merriweather, told SI that the player had been given immunity from prosecution, and there was speculation that he, and some of the former players mentioned but not charged in the indictments, had testified before the grand jury about their teammates' alleged involvement in drug dealings.
Davis's seemingly deep involvement in the case troubled some people. Larry Debus, an attorney who advised Gondrezick, said, "Davis is obviously the snitch, but why? From the indictment, he's most culpable. They gave away the shark to get the anchovies."
The Suns management said it had no knowledge of any activities alleged in the indictments. Dick Van Arsdale, who replaced the fired John MacLeod as the Suns coach on Feb. 26, said, "I'm disappointed and a little surprised at some of [those] named.... Walter's situation is totally surprising. After reports first came out that there was an investigation, I told someone that if he was involved in dope again, he must be a magician the way he was playing."
MacLeod said that he, too, was astounded by the scandal. "I had no inkling. The first I knew of the investigation was when I read it in the papers. It's upsetting. I wound up losing my job because there were guys who used drugs and did not play up to par. I know it was not a personal thing with me, but it upsets the living heck out of me."
As if the drug charges were not enough, rumors involving gambling are now swirling about the team. A law-enforcement source told SI's Martin F. Dardis that the drug case against the five current and former Suns actually grew out of an investigation into gambling in the Phoenix area. Late last year Phoenix police wiretapped local residences and Malarkey's, a bar frequented by Suns players. On March 3 a Maricopa County grand jury indicted five men on racketeering and bookmaking charges, including Charles Keenan, a bartender at Malarkey's. Among those indicted last week was Terrence Patrick Kelly, a waiter at Avantí, a Phoenix restaurant also favored by Suns players. He was accused of selling or transferring cocaine to Keenan, Davis, High and Scott. Last week Kelly told SI that he had often bet with Keenan on NFL games but not on basketball.
Last month Phoenix police requested a videotape of the Suns-Milwaukee game played on Feb. 21 in Phoenix. A Phoenix gambling source told SI that two days before the game, word circulated in the betting community that "something was up" concerning the over-under line for that game, which was 226 points. The source said he was told to take the "under." Last week The Arizona Republic reported that a Suns player had told several people at Malarkey's that the over-under total would be less than 226. The Suns lost 115-107. There were reports that thousands of dollars were won by "under" bettors who were in the know.
About six weeks ago, there was a secret meeting in Phoenix attended by officials of the NBA and the Suns, Phoenix police chief Ruben Ortega, Maricopa County Attorney Tom Collins and detectives involved in the gambling investigation. One of those present said that possible drug use among the Suns was discussed. NBA officials eventually decided that they wanted to test some players, but the Phoenix lawmen asked them not to, explaining that testing would interfere with their investigation.
The NBA, like other pro leagues, prohibits associations between players and gamblers and maintains a security department that supposedly monitors such matters. Asked last week about the Phoenix situation, NBA commissioner David Stern said, "We were assured by the county attorney two weeks ago that there was no gambling involvement by anyone on an NBA team." Stern said, however, that because of media reports concerning gambling, the league had decided to investigate.
How severely will all this affect the Phoenix franchise? "It will make them perhaps a little more like a family that doesn't realize it has a problem, then discovers it," Stern said. "Anyway, these are just allegations. Not every indictment results in a conviction."
Defense lawyers attacked the cases as being unusually thin. They argued that the prosecution could be on particularly shaky ground if it intended to rely heavily on Davis as a potential witness. His continuing personal problems with cocaine, they said, could seriously impair his credibility on the stand.
The case left the Suns in considerable disarray. They did not make the playoffs and on Saturday night ended the season with a 121-106 win over the Los Angeles Clippers in Phoenix. Humphries and Gondrezick played, but not Bedford, who was injured, or Davis. The next time those last two individuals see their teammates, it could be in a courtroom.
TWO
PHOTOS
ANDY
HAYT
Those charged with drug-related offenses included (from top to bottom) Edwards, Humphries, Bratz, Gondrezick and Heard.
PHOTO
FRANK STORK/THE SACRAMENTO BEE
[See caption above.]
PHOTO
GARY
O'BRIEN/MESA TRIBUNE
[See caption above.]
PHOTO
HANK
deLESPINASSE
[See caption above.]
PHOTO
RICHARD
MACKSON
As the news broke, Davis returned to rehab.
PHOTO
RICHARD
MACKSON
Bedford was said to have received immunity.