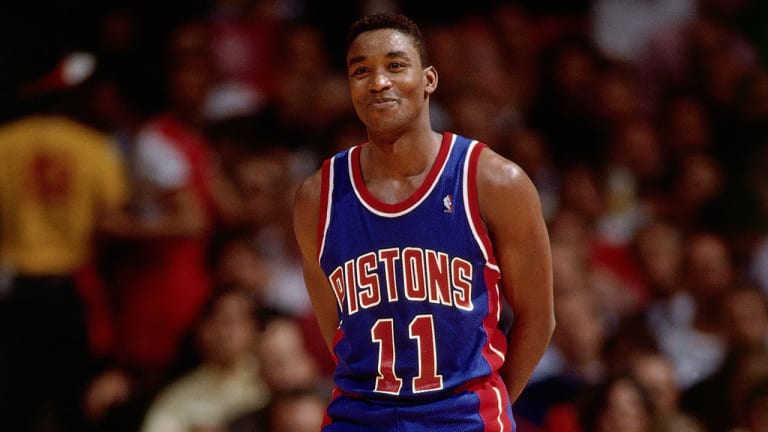 There's Just No Doubting Thomas
Isiah Thomas sparked the Pistons to a surprising 3-1 playoff lead over Atlanta
By the time Atlanta and Detroit finish banging bodies, flinging elbows and talking trash in their Round 2 playoff, the survivor's Eastern Conference final versus Boston or Milwaukee will seem like two weeks of R & R. So be afraid, Celtics or Bucks. Be very afraid.
Detroit's 89-88 victory at the Pontiac Silverdome on Sunday gave the Pistons a 3-1 lead in this, the best and brightest of the NBA's second-round series. To be sure, Boston and Milwaukee are not exactly coasting through their war, which Boston led 3-1 after a 138-137 double-overtime victory on Sunday. But the belief that the eventual Eastern champion will emerge from Detroit-Atlanta is not all that absurd. Or at least no more absurd than the selection of shots that were served up by one Isiah Thomas, who in the last two games has treated the Hawks like foreign invaders to his home playground.
"There aren't any great teams this year, only very, very good ones," said Thomas, before lighting up Atlanta in Game 4. "And right now, we are one of the very, very good ones."
Atlanta and Detroit are like two branches of an old family—their roots are all tangled up, but that doesn't mean they necessarily care for each other. The teams are linked, first of all, by a chain of frustration that finally ended this year when they finished one-two in the NBA Central, ahead of perennial champion Milwaukee. The Bucks are invariably characterized as well coached, disciplined and gutty, while the Hawks and Pistons have been considered erratic, undisciplined and lacking in heart.
On June 18, 1984, Atlanta and Detroit made a big trade—the Hawks got Antoine Carr and Cliff Levingston and gave up Dan Roundfield, who did nothing in Detroit and subsequently went to Washington, where he became a spent Bullet. Score one for the Hawks. Moreover, it was the Pistons who cut Spud Webb in the 1985 preseason, enabling Atlanta to pick him up and unleash him on an unsuspecting NBA.
The Pistons finally got something back this season when Ron Rothstein, an Atlanta scout and assistant for six years, became Detroit coach Chuck Daly's top assistant. Rothstein brought with him the intensity of his mentor, Hawk coach Mike Fratello, as well as Fratello's aggressive, double-teaming defensive concepts. Result? Detroit reduced its points-against average from 113 to 107.8 and its opponents' shooting percentage from 49.2 to 46.2.
The connections don't end there. The two head coaches are close friends, which makes Fratello's impersonation of Daly's hair-smoothing, cufflink-straightening ritual all the more deadly. Daly counters with an apt characterization of Fratello's curly perm: "the Roman Emperor look." The teams' point guards, Thomas and Atlanta's Glenn (Doc) Rivers, are also old friends, emerging from the same mean-street Chicago playgrounds. Thomas, in fact, was an usher at Rivers's wedding last spring.
So it was only fitting that, during an ignescent third period shuck-and-jive binge in Game 3 at the Silverdome, Thomas cut out his buddy's heart and diced it into 25 pieces, one for every point that gave him an alltime, single-quarter playoff-scoring record (a record Golden State's Eric "Sleepy" Floyd would break when he scored 29 points in one quarter on Sunday). That's the kind of series it has been.
Atlanta, which had the NBA's third-best record (57-25), seemed a clear favorite before the series, though the teams had split six regular-season games. The Hawks were much bigger—their starting five is a cumulative 14 inches taller than Detroit's—and supposedly much deeper. But there were indications the Pistons were not about to roll over. They had swept Washington 3-0 in the first round of the playoffs, and Isiah, his wide eyes burning with playoff hunger, had been spectacular.
The Hawks, meanwhile, had been less than spectacular in disposing of their first-round opponent, Indiana, in four games. Still, forward Dominique Wilkins had been so confident of a sweep that, after Atlanta's first two victories at home, he packed only one shirt for the trip to Indianapolis. When the Pacers won Game 3, 96-87, Wilkins had some shopping to do. Detroit was certainly more than a one-shirt opponent, but that didn't stop power forward Kevin Willis from predicting that the Pistons would fall in five, a pronouncement that revved engines all over Motor City.
Game 1: In the series opener at Atlanta, the Worm turned on the Hawks as Detroit won 112-111. The Worm is Dennis Rodman, the fanatically exuberant 6'8" Detroit rookie, whose cheer-leading style has been the comic relief of many Hawk film sessions this season and has earned him the sobriquet of "Rah Rah" Rodman. Future screenings of Rah Rah will be less humorous to the Hawks if they include the nine offensive rebounds he grabbed in Game 1. That was bad news for Atlanta, whose bench was supposed to get the better of guys like Rodman and John (Spider) Salley, Detroit's other cocky rookie.
But it was still Isiah (game-high 30 points, 10 assists) who hammered the Hawks' coffin nails—a 19-foot jumper that gave the Pistons a 111-108 lead and a free throw with 16 seconds left that gave them the win.
Game 2: Hours before tip-off, Rivers sat in Hawk director Bill Needle's office, opening a piece of fan mail. Three collector cards spilled out.
"Who did you get?" he was asked.
"Well, I got Doc Rivers," he said, "but I was hoping for Eric Davis."
There are few more self-effacing guys in the NBA than Rivers, whose playoff performance to that point had been an unremitting nightmare. Spraining an ankle in the first game against Indiana hurt his quickness, but nothing could explain his miserable foul shooting. In the first game of the Detroit series he had clanged five of eight free throws off the iron, bringing his postseason total to 19 of 40. This .475 percentage was more Kafkaesque than Chamberlainian, considering that Rivers was an 83% foul shooter during the regular season.
"I've got to play better tonight," he said, severely understating the case.
And he did. In the first five seconds of Game 2, Rivers stripped Thomas of the ball along the baseline, setting the tone for an evening that ended with a series-tying 115-102 Atlanta victory. Defensively, the Hawks controlled Thomas (20 points, including a l-for-6 first half) and forward Adrian Dantley (9 points), and offensively, they found the open man (Rivers had 14 assists) when Wilkins was double-teamed, which was most of the time. That open man was usually guard Randy Wittman, who drained 34 points.
The series took a distinct physical turn in this game, so agitating Hawk owner Ted Turner that he executed an out-of-rhythm boogie to Jumpin' Jack Flash during a timeout. To the Hawks, neither Bill Laimbeer nor his fellow muscleman, Rick Mahorn, was a gas, gas, gas. The teams' frontcourt players pushed and shoved one another all evening, and Laimbeer had words with four different Hawks (Levingston, Wilkins, Carr and Tree Rollins), believed to be a playoff record.
Laimbeer on Atlanta: "They pump iron, and they all want to show how strong they are."
Willis on the series: "It's going to get even tougher, I believe. I just hope no one throws any punches."
Game 3: The second quarter of Friday night's game at the Silverdome found Thomas riding on Willis's back after a squabble broke out between Mahorn and Wilkins. But it wasn't until the third period that Thomas really came down hard on the Hawks. "I could see it coming," said Laimbeer. "Isiah gets this gleam, this glow about him."
Thomas took a defensive struggle that was tied 41-41 at halftime and turned it into a public flogging. And it wasn't just the three Atlanta guards who played him man-to-man (Rivers, Webb and John Battle) who felt the lashes, either. As Thomas scored basket after basket, he strode from Hawk to Hawk, shouting, "You can't beat us here. This is our house!" And a very, very, very fine house it was for Thomas, whose 12-minute rampage included 25 points, 4 rebounds, 4 steals and 2 assists. (Final numbers: 35, 8, 5, 8.) At one point, he taunted Rivers with his "speed dribble," tapping the ball rapidly between his legs while laughing in Rivers's face. It's the basketball counterpart of the Ali shuffle—both are designed to irritate an opponent while getting you nowhere. When the show was finally over, Detroit led 85-75 and never looked back.
Thomas said later that he did his shtick because he was irritated at several "unkind comments they've made about our basketball team." He wouldn't get more specific, but one suspects he didn't really need much provocation. One hears a lot about Thomas's even disposition, his terrific personality, his cherubic smile, all of which he surely possesses. But out on a basketball court, Isiah Thomas is no cherub.
The Hawks controlled themselves after the game, but they were angry at the way Thomas had shown them up, angry at the way Rodman had incited the crowd in the fourth period. "He pointed up in the stands so much he could have given an attendance count," said Hawks sub Scott Hastings. Making it worse was the fact that Rodman and Salley had combined for 27 points and 15 rebounds—Atlanta did not expect to get humiliated by a Worm and a Spider.
The Hawks looked like a beaten team, too. Wittman walked stiffly with an ice pack strapped to his aching lower back, while Wilkins wore one on his badly bruised left calf. But what really needed to be iced down was Rivers's psyche. "My confidence is gone," admitted Rivers, who had been shown up again by his old friend from Chicago.
Game 4: Happy Mother's Day, Mary Thomas. Some day, eh? By the time your son, Isiah, got the ball on Sunday afternoon, top of the key, five seconds left, his team trailing 88-87, we all knew what was going to happen. We might not have known how, but we knew that Isiah Thomas—you can call him Zeke or you can call him Junior, as his teammates do, or you can just call him Wonderful—was going to win this game.
"You have to be mentally tough to take that last shot," Thomas said after his last-second driving jumper gave Detroit an 89-88 win and the 3-1 series lead, "so that if you miss it, you can bounce back and take it again the next night. A lot of players miss one of those and never recover."
It was Thomas's game to win or lose, no doubt about that. "Zeke was option 1, option 2 and option 3," said Laimbeer. The Pistons broke from their timeout huddle and lined up in a stack, Thomas occupying the second position behind the bulky Mahorn. Thomas received Dantley's inbounds pass easily and faced up on his defender, reserve guard John Battle (19 points in 17 minutes), who at times appeared to be the only Hawk with a pulse. "The idea is to push him where somebody is," said Battle. Battle pushed him right, or, perhaps, that's just where Isiah wanted to go. (Remember, it's his house.) Carr came out to help, but Thomas steamed toward the basket, both Hawks in pursuit. "He was smothered, and all of a sudden I just saw the ball coming over the top," said Laimbeer. Thomas's eight-footer could be described as a "runner," but that would demean Isiah's body control and soft touch—anything he throws up has a chance of going in. And this one did, swishing cleanly.
"It's one of those moments you dream about in your sleep," said Thomas. How long, he was asked, has he been taking that final, gut-churning shot with the game on the line? "As long as I can remember," he said.
A couple of hours before Sunday's tip-off at the Silverdome, Mary Thomas was in Bloomington, Ind., attending a ceremony that, for her, was more important than the game. This summer, Thomas intends to finish the course work he needs to graduate from Indiana University, and in such cases students are allowed to participate in spring commencement exercises. Mary was there in Isiah's place—his Mother's Day present to her.
They spoke by phone after the game. "She was excited, crying, happy, shocked, a lot of things," said Isiah. About the game? "No, we didn't even talk about that."
The Hawks, meanwhile, were a lot of things, too, though happy was not one of them. Thomas had beat them in Games 1, 3 and 4, with electric performances that included a 50-foot shot at the third-period buzzer on Sunday for three of his game-high 31 points. That stretched a three-point Piston lead to six. "If anything beat us, it was that," said Battle.
Do you make that shot with regularity, Isiah?
"Well, it depends," he said. "How much money do you want to put on it?"
At his house, none.
PHOTO
SCOTT
CUNNINGHAM
Laimbeer and Levingston tangled in Game 2, setting the tone for a roughhouse series.
PHOTO
PETER READ
MILLER
Neither Willis nor anyone else could stop Isiah, who poured in 35 points in Game 3.
PHOTO
PETER READ
MILLER
In the escalating combat under the boards in Game 4, Salley (22) battled Levingston, and Mahorn (below) went down hard in the paint.
PHOTO
JOHN BIEVER
[See caption above.]
TWO
PHOTOS
JOHN
BIEVER
In the first half of Game 4, Koncak stuffed a Rodman shot, but in the end Thomas snuffed the Hawks to earn a hug from Dantley (45).