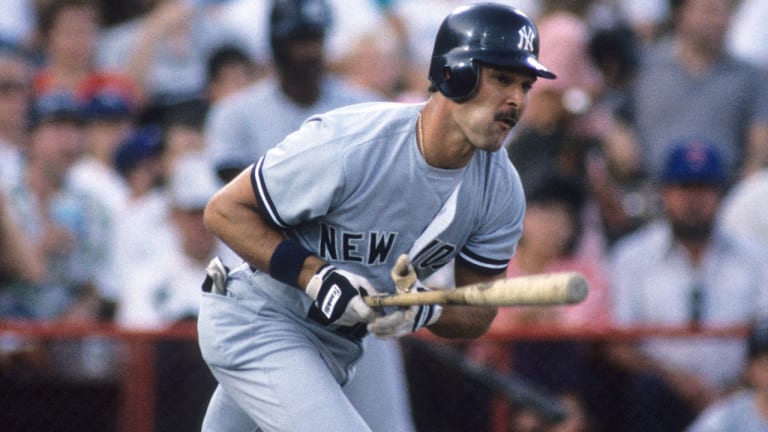 A Murderers' Row of One
Yankee Don Mattingly tied a doughty old record by homering in eight straight games
Day after day, the balls soared into the seats. Fastballs, knuckleballs, sliders, inside pitches, outside pitches—all stroked with precise power by Yankee first baseman Don Mattingly, the only man in baseball who wasn't admiring the performance with mouth agape. After Friday night's game Mattingly had homered in seven consecutive games, just one shy of Dale Long's 31-year-old major league record, yet he was paying the streak about as much attention as he does a curveball in the dirt. When a reporter asked him that evening how he felt about approaching Long's mark, the 26-year-old Mattingly replied blankly, "Who's Dale Long?"
Mattingly was so caught up in the American League East pennant race last week that he wasn't the least bit impressed to be challenging a record that had eluded sluggers from Ruth to Reggie. But, in fact, he was approaching one of the more daunting records in the books. Long, a journeyman player, stunned the baseball world as a Pirate in May 1956 by exploding for eight home runs over eight successive games, breaking the big league mark of six. The feat prompted Pittsburgh general manager Joe L. Brown to tear up the player's $13,500-a-year contract and give him a new one worth $15,700. Thereafter, Long faded into obscurity, ending his career in 1962—as a Yankee reserve first baseman.
Long's record, however, endured, surviving assaults by the likes of Roy Sievers (1957), Roger Maris (1961), Frank Howard (1968) and Reggie Jackson (1976), all of whom faltered after homering in six straight games. If Mattingly thought the Long record was nothing special, all he had to do was look up into the stands at Arlington Stadium on Saturday night, stands so jam-packed that fans were overflowing into the aisles. They had come out on that humid 94° night to get free Ranger T-shirts—and to watch Mattingly go for the record.
After missing 18 games early in the season with a bad back, Mattingly had hit only eight homers before the streak began. But he cut loose with a pair of two-run shots against the Twins on July 8 at Yankee Stadium, then added four more in four home games against the White Sox to run his string to five. After a pause for the All-Star Game (in which he walked twice), Mattingly arrived in Texas on Thursday more concerned about second-place Toronto than anything else. "I don't really care about any of that [record] stuff," he huffed. "We're in a dogfight here."
Mattingly hardly noticed when he tied the AL record of homering in six straight games with a pair of dingers on Thursday night. Despite belting his fourth grand slam of the season off Charlie Hough in the second inning and a two-run shot off lefty Mitch Williams in the eighth, Mattingly was almost downcast in the clubhouse afterward. "I made an error," said the Gold Glover, bemoaning his seventh-inning bobble of a grounder. "Tonight wasn't that good a night."
Friday was better. Mattingly homered once this time, hitting a tremendous blast to right off Texas lefthander Paul Kilgus that sparked an 8–4 Yankee win and gave Mattingly sole possession of the AL record. This shot prompted a locker room visit from Mike Wallace—the Arlington Stadium visitors' clubhouse man, not the 60 Minutes inquisitor—who left a bottle of Freixenet sparkling wine on ice in front of Mattingly's locker. There was no postgame head-drenching ceremony; Mattingly quietly offered the bottle around the clubhouse. And how did he feel on the historic occasion? "I just want to help the club," he said. "I haven't hit a home run trying to hit one. They just seem to be happening. I don't know why."
On Saturday night the crowd groaned as Mattingly grounded out in the first inning off Texas righthander Jose Guzman. The aisles in the bleachers were thoroughly—dangerously—clogged. Just before Mattingly came to bat in the fourth, police peeled back the black canvas that normally covers the first 10 rows of seats in centerfield and provides a hitting background. The fans poured in to fill them. Mattingly would have to bat staring into a sea of white T-shirts.
It didn't matter. With the count 2 and 0, Guzman tried to sneak a riding fastball past Mattingly on the outside corner. He reached out and stroked it to left center. Leftfielder Pete Incaviglia backed up to the wall and leapt ... but it was gone. Mattingly had tied Long's record of eight straight games. The crowd erupted. Mattingly reached the dugout and went to sit down. "Get out there!" shouted teammate Dave Winfield, and a gang of Yankees shoved Mattingly onto the field for a curtain call. Looking embarrassed, he tipped his cap sheepishly.
Within minutes the phone in the press box rang. It was Long, wanting to pass on his congratulations to Mattingly. Just as he had done the previous two nights, Long, who was on a business trip in upstate New York as a field representative for the National Association of Professional Baseball Leagues, watched the game on television in an Albany restaurant. "He has a pretty perfect stroke," said Long. "I'd pitch low and behind him."
This time a bottle of 1980 vintage Dom Perignon was awaiting Mattingly at his locker. Yankee clubhouse man Nick Priore got a call from the Hall of Fame asking for the bat and the ball. Mattingly had used the same 32-ounce Louisville Slugger throughout his streak, but when asked if he would send it to Cooperstown, he answered, "Not until I break it. The Hall of Fame ain't winning no games for us." For Mattingly, that ranks as an emotional outburst.
On a radio call-in show the next afternoon, Mattingly spoke to Long for the first time, and the two hit it off. "I'm proud to be next to him," Mattingly said later. The Ranger switchboard, meanwhile, lit up with calls from fans in New York who said they wanted to charge tickets to Sunday night's potentially historic game and have the tickets sent to them—as souvenirs.
In Mattingly's first three at bats on Sunday, he grounded out, singled to center and lined out to first. He was due up again in the eighth for what figured to be his last try at the record, prompting Ranger reliever Jeff Russell to approach Texas manager Bobby Valentine in the dugout before taking the mound. "How should I pitch to Mattingly this inning?" Russell asked.
"Give him your best stuff," answered Valentine. "Give him your 90-plus-an-hour fastball and see what he can do with it."
With the Yankees hopelessly behind in the game, 15–2, Mattingly took a couple of hellacious cuts, fouling one pitch back and missing another. Was he finally trying for a home run? "Sure I was," said Mattingly.
Instead, he lined a mere double into the leftfield corner. As the crowd stood and cheered, Mattingly tipped his cap twice, then looked to the Ranger dugout, where the entire team stood on the top step applauding. Mattingly pointed an appreciative finger at them and then at Russell, his honorable opponent.
Afterward Mattingly admitted he had actually enjoyed his eight-game, 10-home run spree. "I'd like to do it again," he said. "I like this. I like hitting balls in the seats."
"He's a helluva guy," Long said of the man who now shares his place in the record book. "The type of guy, if you had to have someone break your record, you'd pick him. How can you go wrong?"