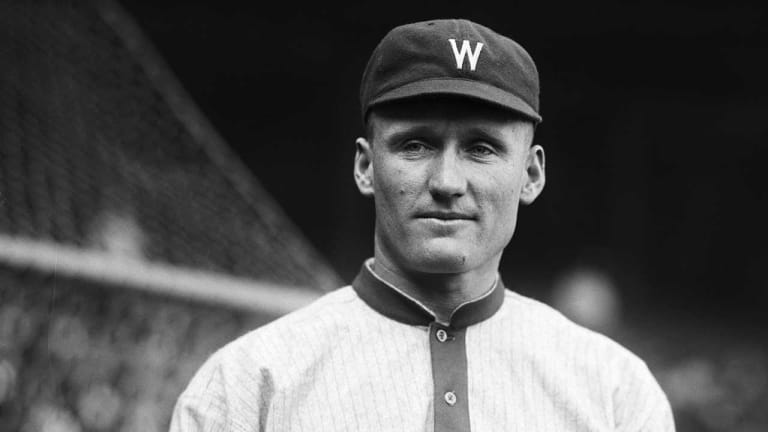 GONE...AND FORGOTTEN?
Sadly, memories of the fabulous Big Train have dimmed
Walter Johnson, the Big Train, would have been 100 years old on Nov. 6. Despite all his extraordinary accomplishments as a pitcher for the Washington Senators from 1907 to 1927, Johnson has become a half-forgotten figure, strangely uncelebrated on the centennial of his birth. One rare commemoration will be at Walter Johnson High School in Bethesda, Md., a suburb of Washington in which Johnson once lived. Some family members and aged friends of Johnson's will attend, a few Pathè newsreels will be shown, and that will be about it.
Outside the high school is a bronze and granite monument that stood in Griffith Stadium before the original Senators left in 1961 to become the Minnesota Twins. The monument was dedicated by President Truman on a cold April day in 1947, four months after Johnson died of a brain tumor. WALTER JOHNSON, the monument says, A CHAMPION ON AND OFF THE FIELD. Then comes a detailed list of his pitching achievements: Games won, 416. Shutouts, 110. Strikeouts, 3,508. Opening day shutouts, 7. Consecutive scoreless innings, 56.
Only one pitcher, Cy Young, won more games than Johnson did (Young won 511). No one has pitched more shutouts, on Opening Day or otherwise. His scoreless-inning streak stood for 55 years, and it wasn't until the 1980s that Nolan Ryan and others moved past his career total in strikeouts. In 1908 he pitched three shutouts in four days, and in 1918 he equaled the record for the longest shutout, beating the White Sox 1-0 in 18 innings.
He was a good hitter and an excellent fielder. He still holds the single-season batting record for pitchers, .433 (42 for 97) in 1925. His last appearance in a major league game—in Yankee Stadium on Sept. 30, 1927, in the same game in which Babe Ruth hit his 60th home run—was as a pinch hitter. In 1913, the year he went 36-7 (with winning streaks of 10, 11 and 14, an ERA of 1.09 and that 56-inning scoreless streak), he handled 103 fielding chances without an error, still the American League record for pitchers.
In 1936 he, Ruth, Ty Cobb, Honus Wagner and Christy Mathewson became the original members of the Hall of Fame. Yet Johnson never cared for the glory, which may help explain his relative obscurity today. "A more modest man never lived," says columnist Shirley Povich of The Washington Post, who knew him well. "Not only was he the greatest pitcher of his times and times before and maybe times since, he simply commanded love with his kindness and gentleness and honesty." If he had been alive when Ryan eclipsed his strikeout record, it's likely that he would have shrugged and gone coon hunting with his dogs. He was humble, shy and reticent. "When he did talk," his daughter Carolyn Thomas recalls, "you stopped and listened because you knew he had something to say."
I recently spent a day with Carolyn; her 41-year-old son, Henry (Tom) Thomas; and her brother, Eddie Johnson, Walter's only surviving son. (Bobby died in 1954 and Walter Jr. in 1961. Barbara, three years younger than Carolyn, lives in Michigan. Another daughter, Elinor, died at the age of three.) Carolyn, now 64, and Eddie, 70, put their father in bas-relief for me. Carolyn, a tall, graceful woman, and I drove out to the Comus, Md., farm that Eddie bought 32 years ago with the down payment coming from proceeds of his father's modest estate. Eddie, who has the long arms, huge hands and large square forehead of his father, invited me to sit at the kitchen table. A late-afternoon sun glinted through the window.
"Baseball was a living for Dad," Eddie said. "I always had the feeling that he would have been much happier if he had never gotten into baseball. He was the type of fellow who just couldn't wait to get into some old clothes and call a dog and go out in a field someplace."
The first part of Johnson's life, until 1929, was a glory ride. The second, until he died 17 years later, was filled with sadness, loneliness and a surprising amount of financial distress. He was born in Humboldt, Kans., on Nov. 6, 1887. At 13, before he began to play baseball seriously, he moved with his family to the oil fields in Olinda, Calif., near Los Angeles. As a high school pitcher in Southern California he was a local star, but it wasn't until he began playing semipro ball in Weiser, Idaho, that he was discovered and signed by the Senators, who brought him to the aging Washington through 1932 he took over the Indians in 1933. In Cleveland the newspapers began to get on him for the way he handled the pitching staff, and some of his players grumbled openly. In 1934 he suspended Willie Kamm, his third baseman, and Glenn Myatt, a catcher, for creating dissension on the team. Kamm reportedly went to Alva Bradley, owner of the Indians, and tried to get Johnson fired. Anti-Johnson feeling in Cleveland became so strong that Carolyn, who was about 11 at the time, remembers being summoned with her sister Barbara to Babe Ruth's room at the Hotel Cleveland. Carolyn and Barbara were living at the hotel with their father, and Ruth was in town with the Yankees. "I don't know if you girls ever read anything critical about your dad," Ruth said, "but if you do, don't you believe it. He's just a wonderful person."
Johnson was also a poor businessman. He avoided confrontations even when people took advantage of him, and he got into a few ventures that failed. He and his wife, Hazel Roberts, the daughter of a U.S. congressman from Nevada, had all those kids to support, and as a player Johnson never was able to command a salary that approached those paid to the glamorous Ruth and the flamboyant Cobb. Clark Griffith, the owner of the Senators, was not independently wealthy and barely made ends meet with his Washington club. Underpaid, Johnson held out for more money on at least two occasions, although his relationship with Griffith never turned rancorous. In 1914 Johnson had the opportunity to jump the Senators and sign a contract with the Chicago Whales of the "outlaw" Federal League for a $16,000 salary and a $10,000 bonus, extraordinary sums in those days. The cash-poor Griffith persuaded Chicago White Sox owner Charles Comiskey, who stood to be hurt at the box office by Johnson's presence on a rival team in Chicago, to put up money to match the bonus. Griffith matched the salary, and the Big Train remained in the station house. Griffith also gave Johnson $10,000, apparently as a gesture of appreciation for his effort, after the seventh game of the 1925 World Series against Pittsburgh. Johnson, who had won the first and fourth games of the Series, had a charley horse in his right leg but pitched with the leg tightly wrapped in bandages. He lost, 9-7, in a cold rain at Forbes Field.
The biggest loss of Johnson's life, though, was Hazel. In the hot summer of 1930, while her husband was busy managing the Senators, she drove from Washington with the children to visit his parents in Coffeyville, Kans. After making the long return trip over the arduous pre-interstate highways of the era, she fell ill and died two days later, at the age of 36, apparently the victim of heatstroke. Johnson couldn't be consoled. The service was held in the parlor of their house in Bethesda, not far from where Walter Johnson High was later built, and for two days Walter sat beside the coffin, a kind of silent sentry, speaking only to tell the children to go outside and play. "I think the light went out of his life after Mother died," Carolyn says. "He was devastated."
Johnson came home for good after managing in Cleveland, to a dairy farm he had bought in Germantown, Md. The homestead was tiny, Carolyn recalls, and several of the children slept in a bunkhouse that had so little heat that a glass of water left out on the table in the winter would be frozen solid in the morning. This was the Depression and milk prices were low, and old newsreels and newspaper features that cast Johnson as a contented gentleman farmer milking cows in retirement simply weren't true, according to his children. He was a working farmer, and Eddie says that the most money his father had in his bank account, right up to his death in 1946, was no more than $200.
You know what was totally out of character about Walter Johnson? Politics. He didn't have a political bone in his entire frame, and he hated to hobnob in public; yet from 1938 to 1940 and from 1942 until his death, he served as a commissioner in Montgomery County, Md. In 1936 he made appearances for fellow Kansan Alf Landon, the Republican presidential candidate, and in 1940 he did the same for that year's Republican nominee, Wendell Willkie. More amazing still, Republican party officials in Maryland dragooned Johnson into running for Congress in 1940. In one old newsreel he appears to be scowling as he throws his hat, a large fedora, into a ring for the photographers. In reporting his campaign expenses after the race, he listed only one item—50 cents for printed cards. Of course, he lost and almost major leagues in the summer of 1907.
He threw only fastballs, blazing fast-balls. His unique, fluid motion—a kind of casual sidearm, almost submarine delivery, in which his right arm whipped around and across his chest—became simultaneously the most recognizable but least imitated in all of baseball, although why legions of major leaguers don't throw the way he did is one of the game's enduring mysteries. Johnson complained only once of a sore arm, even though he pitched 5,924 innings, third on the alltime list. His pendulum delivery was a natural motion, unlike an overhander's. He had sinewy muscles and long arms. His motion looks peculiar today because he never seemed to snap his wrist or elbow. He gained his exceptional speed from the sweep of his broad back and shoulders and his right arm, which was an inch and a half longer than his left. Johnson would turn away from the batter as he began his motion and then pivot in a graceful burst of energy, the ball shooting out from his body toward the plate.
In 1924 Johnson finally made it to the World Series, after a 17-year novitiate in the majors. He lost his first two starts to John McGraw's New York Giants but pitched five innings of winning relief in the seventh game, beginning in the eighth inning. Carolyn has a baseball from that game with her father's signature on one side and an X on the other. The ball is said to be the one hit by the Senators' Earl McNeely in the bottom of the 12th, and the X supposedly marks the spot where it struck a pebble and bounded over the New York third baseman's head to drive in the run that won the game and the Series for the Senators and sent Washington into a tumult of celebration.
The melancholy years for Johnson began when he became the Senators' manager in 1929. Although his won-lost percentage as a manager was a commendable .551, he was too kindly to be a great one. He hated to have to bench Joe Judge, once his teammate on the Senators, and when he did, Judge resented it. He also was a terrible handler of pitchers. He never understood why they couldn't pitch their way through trouble as he did, and all too frequently he left them in the game too long. After man sprinted back to the farm. Why did he run for office? He never said. Eddie assumes that he simply needed the money he would have earned from a congressman's salary.
It was Eddie and his wife, Polly, who first noticed something wrong with Johnson early in 1945. More than a year before, he had told Eddie that a dentist thought he might have cancer, and he advised Eddie to sell the farm should anything happen to him. But Johnson did not see a doctor. Then Polly became aware that her father-in-law was having difficulty using a knife and fork. He finally went to a physician—the Senators' team doctor—who sent him to Georgetown Hospital, where it was discovered that he had an inoperable tumor.
He never left the hospital. Some days he would lapse into unconsciousness. Other times he would be alert. Sometimes, the mounting hospital bills worried him. One afternoon he beckoned Eddie to his side and told him that years earlier, he, Ty Cobb and George Weiss, who later became the general manager of the Yankees, had been partners in a deal to buy a minor league team. Johnson said he paid Weiss $4,000 as his part of the transaction, but the deal fell through and Weiss never returned the money. "Eddie," Johnson said, "I want you to call George Weiss. Don't tell him that you know about the money. Just tell him I'm not doing so well and that I told you to call."
Weiss didn't send back the $4,000, if Eddie remembers correctly, but he apparently got in touch with the American League office, and the league in turn alerted Clark Griffith in Washington. After that, all of Johnson's hospital and medical bills were paid by Griffith, with help from the league.
The end came on Dec. 10, 1946. Johnson's funeral was held at the Washington Cathedral, and crowds lined Wisconsin Avenue to watch the funeral procession. He was buried in a small cemetery in Rockville, Md. The brass grave marker shows only his name and the dates of his birth and death.
Johnson's old Washington uniform is on display at Cooperstown. His rickety old locker is there, along with his glove, a ball from the no-hit game he pitched in 1920 and one of his low-paying Washington contracts. But other things are missing, things Johnson kept in a burnished wooden box that held the Big Train's most treasured possessions from his baseball past.
The box originally contained a ball signed by President Taft after Taft had watched Johnson toss a one-hit shutout to beat the Athletics on Opening Day in 1910. The next day Taft wrote a brief message on the ball that had been used for the ceremonial first pitch: TO WALTER JOHNSON, WITH THE HOPE THAT HE MAY CONTINUE TO BE AS FORMIDABLE AS IN YES TERDAY'S GAME. Inside the box was a brass plate with an inscription that read: THIS BALL WAS THROWN BY PRESIDENT WILLIAM HOWARD TAFT TO WALTER JOHNSON...AND [MARKS] THE FIRST TIME ANY PRESIDENT OF THE U.S. HAS OFFICIATED ON AN OCCASION OF THIS KIND.
As the years went by, Johnson added other mementos of presidential openers to the contents of the box—baseballs signed by Presidents Wilson, Harding, Coolidge and Hoover. After he died, Eddie and his wife kept the box and, finally, in 1968, they gave it to the Hall of Fame. In 1977 Carolyn's son, Henry, visited the Hall, primarily to see his grandfather's presidential baseballs. He was shocked to find all but one of them gone. The box was there, inside a large glass case, and it was open, but the only ball in it was one signed by Theodore Roosevelt to Walter Jr. that was not one of Johnson's Opening Day baseballs. On display instead was an old Spalding Guide opened to a photograph of the original collection.
"I never did get a straight answer until a week later," Henry recalls. "They said the balls were in storage, or they were in the process of locating them, or they were arranging something. I said I wasn't going to leave until I saw the balls. Finally, I was called in to see Ed Stack [the president of the Hall of Fame]. He said he hated to tell me the news, but the balls had been stolen."
Stack said that during visiting hours someone apparently closed the door to the room in which the balls were displayed, unscrewed the hasps on the glass case and made off with the most valuable items ever stolen from the museum. The old baseballs are still missing; they're probably sitting on some villain's mantel or else are in the collection of someone who purchased them unknowingly. "I can't tell you how much this still bothers us," Stack says. "It's like a robbery at your house. You come home at night and find things of great sentimental value are gone."
Heartsick, the Johnson family urged the Hall to try to recover the balls, but until now the loss has been a virtual secret. The Gaithersburg (Md.) Gazette did an article on it at one point, but not many people took note. And the Hall has said nothing publicly.
"Over the years we've had our own people watch the collectors market for those balls," Stack says. "We may still get them back. We did weigh running ads, but our best advice was to treat it quietly, wait and watch. It's not the kind of thing we want to give publicity to. You don't want to give people ideas."
"I can understand their not wanting any publicity about it," Henry says, "but not notifying the family, I consider terribly bad form."
As upsetting as the theft of the balls is to the family, Johnson himself probably would have said nothing. I often wonder what made him so reserved and dignified and refined in his aw-shucks, country sort of way. He was truly an unusual man in a rough-and-tumble sport. He occasionally smoked cigars and, if coaxed into it, would play poker to all hours of the night with Walter Jr. and his friends. But he was never profane—the closest he came was to say "by jiminy!" He was not a philanderer; he never misbehaved. He kept his opinions to himself for the most part.
In return, he was greatly loved. One day in 1982, Carolyn received a handwritten letter from Dr. Thomas F. Keliher, who had been one of her father's physicians during his last illness and was now professor emeritus of medicine at Georgetown. "Your father was a very gentle man," Dr. Keliher wrote, "and had the finest natural good manners of any person I have ever taken care of. He was particularly kind and courteous to his nurses.... I am taking the liberty of adding the following in case you and the family did not know of it. As you probably know, Clark Griffith had the reputation of being an "old curmudgeon,' but every day brought in a rose for your dad and stayed with him awhile, even when he was comatose.
"One day I asked him about the roses," Dr. Keliher went on, "and he replied, 'I took the earth from the pitcher's box in which Walter Johnson worked so long and made a special rose garden of it. I felt that anything enriched by Walter Johnson's sweat was semisacred. He was the perfect gentleman. These roses are from that bed.' "
Dr. Keliher's letter meant so much to Carolyn that she keeps it between the pages of the family scrapbook.
PHOTO
CULVER PICTURES
Quiet and mild, Johnson depended on an overpowering fastball to do his talking.
PHOTO
HARRIS & EWING
Johnson's most treasured souvenirs were baseballs signed by six different presidents.