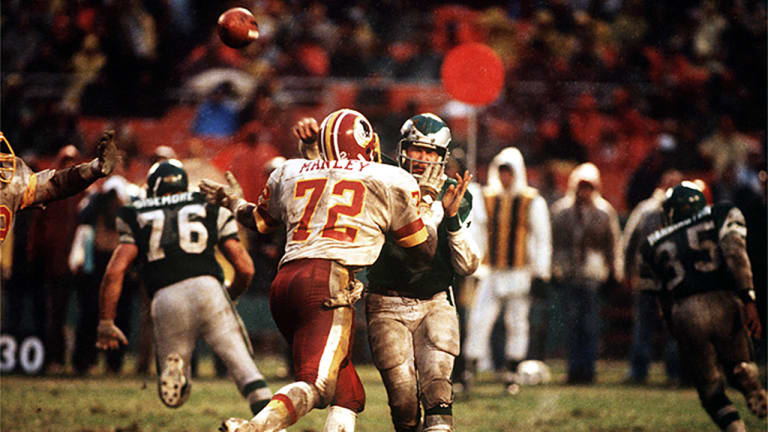 IN SEARCH OF TRUST
Dexter Manley of the Redskins thought the world had betrayed him—until he faced his daughter's illness and his own alcoholism.
He hated nothing more than college homecoming. Parties and punch and Polaroids. Everybody's father and mother and brothers and sisters barging in. Who ever came for him? His father had died two days after he got to school. Tidy way to wrap up a guy's adolescence, right? Two years later, his brother was shot to death. Eight months after that, at the end of his junior year, he would be divorced with one child.
His mother and sister never came to the games. His uncle called the streets and shelters of Houston home. He had next to no friends from high school and next to no friends on the football team. Didn't seem like anybody liked him, and he didn't like anybody. A five-inch scar on his face was an indelible reminder of the motto he lived his life by: Don't trust anybody. Anybody could be hiding something—like a razor blade.
He skirted around all those homecoming hugs, the way you do when you get off a plane and everybody except you is falling into someone's arms and you have to pretend it doesn't matter. So he pretended it didn't matter. He would slip away, sprint up to his dorm room and cry. He would cry hard because he knew it did matter. "I was a big man, you know?" he says. "But I was a kid, too. I felt alone."
He starts to cry now as he remembers that homecoming 10 years ago. He's in a Reston, Va., restaurant, with a BMW outside, some onion rings in front of him and 29 years of distrust, insecurity and misunderstanding inside him. Some guy comes over and asks him for his autograph. He turns his streaked face away.
"You Dexter Manley?" the guy says. "Boy, do I envy you."
Dexter Manley has the mike and Howard Cosell is on the spot: "Howard, I have to ask you. Have you ever committed adultery?"
Dexter Manley has the podium with Alexander Haig at the head table: "I have one thing to say, Mr. Haig. I'm in charge here."
Dexter Manley has the press corps in front of him and time to kill: "I'd like to ring his [Joe Montana's] clock... I'm going to hit him [Russ Francis] in the mouth with a baseball bat... "Obviously, we're going to have to knock Walter Payton out of the game."
Dexter Manley has blood in his eye, and he's screaming from the field at San Francisco 49ers coach Bill Walsh: "Run the ball at me! Run it at me!"
Dexter Manley has a tableful of Super Bowl XVII reporters in front of him, and he's doing his best Joe Namath: "I guarantee [we will win]."
Dexter Manley has pencils poised, tapes whirring. He's ready to dance: "I am from a different mold. Maybe the best way to say it is, 'Just think of Dexter as grandiose...'
"I'll maybe lead the league in sacks and definitely lead the ball club. No question I'll be All-Pro...
"The three most famous people in the country are Michael Jackson, Prince and me."
Dexter Manley has a live television camera in his face, and he is volunteering to take a urine test: "I'll leak in a cup right here if you want me to."
Dexter Manley has a plaque in his left hand and Caspar Weinberger's handshake in his right. The award, which Weinberger presented to him at the Pentagon, says Manley is the "Secretary of Defense" for 1986. He finished the season with 18 sacks and was named the NFC Defensive Lineman of the Year by the NFLPA. Since 1982, when the NFL began keeping track of sacks, Manley has had 67, more than anyone except New York Giants linebacker Lawrence Taylor. Of these achievements, Manley says: "I don't think there has ever been another defensive end with the combination of speed and strength that I have. That's not boasting. That's just the facts."
Dexter Manley has a phone in his hand. It's May 13, 1986, and the doctors are saying something about his baby girl: "Amputate? Seriously?"
Dexter Manley has 12 adults sitting around him at desks in an elementary school classroom. It's his turn to stand up and talk: "Hello, I'm Dexter. And I'm an alcoholic."
In the long-running case of Dexter Manley vs. the World, evidence is piling up for both sides. The world beat up on Manley early, but Manley has beaten up on it ever since. He approached life as though everybody he met was a serious threat to him. He broke friendships, broke laws, shut most everybody out and talked loud but never said what he really felt. "I'm a mystery man," says Manley. "I've been all around the world, but I haven't been in the world. I've walked on the water. Sometimes I think I'm a psycho. I see things funny, see things strange.... You're trying to find out about me? Trying to find friends of mine? You won't find anyone on my team [the Washington Redskins] that knows me, no one in this city, no one in the world. Nobody. I'm a mystery man. I'm different."
Different? Here is a brute who can bench-press 500 pounds, yet weeps at TV movies; a philanthropist who buys dinner for 500 homeless people, yet has few close friends; an extrovert who is hopelessly chatty, yet aside from agreeing to be interviewed for this story, has refused to talk to the press all season; an athlete who has probably been the NFL's premier defensive end over the last four seasons, yet has been voted to only one Pro Bowl; a former lawman who has faced several criminal charges, including impersonating an officer; an altruist who can't pass a bum on the street without giving him a dollar, yet has been sued by two of his agents, who claimed he owed them money; a loner who invited only 30 guests to his wedding, yet made room for a 12-year-old fan he'd met not long before at practice. Other than that, what's the mystery?
"Dexter was a guy you wanted to like," says Vic Vines, a former Redskin. "And sometimes it was so easy. Dexter can be so friendly and so great. Then sometimes you couldn't even talk to him."
"Dexter's not a bad person," Washington general manager Bobby Beathard has said. "Not even close."
"Dexter's a different type of dude," says teammate R.C. Thielemann. "I don't know if he's on anybody's Christmas card list."
"Dexter's a big teddy bear," says his wife, Glinda. "If you don't have a preconceived notion of Dexter, you can see Dexter."
Manley is an unignorable football presence. To opposing quarterbacks, the 6'3", 257-pound Manley is capital punishment. As a rookie in 1981, he ran the fastest 40-yard dash—4.55—of anyone in the Redskins' minicamp. "Amazing," said coach Joe Gibbs. Since then, Manley has broken Diron Talbert's club record for most career sacks, helped lead Washington to two Super Bowls, improved his sack total every season and, after missing most of the first five games of this year because of a knee injury and the strike, already leveled quarterbacks three times for losses. He is a major reason that Washington, with a 7–2 record, is a lock to make the playoffs.
"The Redskins need me and I need them," says Manley. "If they didn't need me, I'd have been gone a long time ago. I'm too much trouble."
Trouble? Nahhhhhh.
Manley, the youngest child of a chauffeur and a nurse's aide, was born in Houston's Third Ward on Feb. 2,1959. Or was it 1958? His driver's license says 1959; his birth certificate says 1958. Manley repeated the third grade, and he lied about his age when he went to Oklahoma State. "Who cares?" he says. "Nancy Reagan does it."
He loved his father, Carl, but his father never said that he loved him back. Carl favored another son, Reginald Carl. The similarity in looks between Manley and his father was striking, but Reginald Carl "had the name," says Manley. A standout basketball player in high school, Reggie, according to Manley, "got all the awards. I never did."
They say the unfavored child either becomes fixated on winning his father's approval or rebels against him. Manley spent his youth trying to win approval. He might have succeeded, too, if he hadn't gotten his girlfriend, Stephayne Baker, pregnant during his senior year in high school. Marry her, said her mother. Don't you dare, said his father. On March 15, 1977, three weeks before the baby was born, Manley came up with a solution. He would marry Stephayne to please her mother, but he would not tell his father.
For 2½ months the marriage was a heavy secret. To be with Stephayne, Manley would occasionally spend the night at the Bakers' house. In early June, when Carl found out what his son had done, he was furious. Dexter never had an opportunity to explain. "I wanted my kid to have a name," he says. "I thought that it was the right thing to do."
On top of that, Carl was sick, though Dexter didn't know how sick. He got a hint when he noticed that his father, a huge man, was suddenly too skinny to fit into his tailor-made chauffeur suits. Then came the day Manley rode home with his father and Reggie, and Carl said, "I won't be around next Christmas for y'all." That was the only clue he gave. Carl had kept his colon cancer secret, telling no one, not even his wife, Jewellean. When doctors informed him he had only a little while to live, he checked out of the hospital, where he had been for a few weeks, and returned home to spend his last days with his family.
Unaware of how close his father was to death, Manley departed for his first summer at Oklahoma State. On June 14, Carl began to barbecue for the family, despite being nearly bedridden. While he was cooking, he fainted. Dexter's sister, Cynthia, revived him. Carl continued barbecuing, cooking with one hand and holding an oxygen mask to his face with the other. On June 15 he was dead.
Cynthia called Dexter, who grieved terribly. He was consumed with guilt. "My father passed away knowing that I did something behind his back," Manley has said.
After his father's death, says Manley, the family "started deteriorating." The family fought over Carl's belongings, especially a new Toronado. Reggie got his father's gold ring, which was worth about $2,000. Before long, says Manley, Reggie "got to drinking and smoking pot," and he pawned the ring for $450. When Manley discovered what his brother had done, he drove back to Houston, located the pawnshop and bought back the ring. He wears it to this day, a glittering reminder of his father, a bitter one of his brother. Don't trust anybody.
The circle of friends Reggie hung around with grew more and more ominous, until Manley felt cold in his bones. Dag Hammarskjöld once wrote, "Do not seek death. Death will find you...." Now death was all over Manley. Just before he returned to college, he pleaded with Reggie. "Be very careful," said Manley. "I'm worried. I'm afraid something's going to happen to you. Just be very careful."
And Reggie said, "I'll be all right."
Not long after that, in September 1979, Reggie, 22, who was still living at home, said he was going to a friend's house a couple of blocks away. About half an hour later, Cynthia heard two gunshots. A short time later, there was a knock at the door. It was the police, saying Reggie had been shot. She walked to the scene of the shooting. He had been robbed and murdered.
Luckily, Manley still had football, though his career at Oklahoma State was less than outstanding. Playing as a linebacker—rather than as a pass-rushing down lineman—he was injured much of the time and never even made All-Big Eight. His teammates didn't talk him up to sports-writers. When Manley was a freshman, former Oklahoma State star running back Terry Miller told him, "Never make friends with teammates." Figuring that Miller "must know what he was talking about," Manley complied. Dexter was called Hollywood because he wore fine clothes and a nice ring and a watch. Drove a new Cougar, too.
That Cougar, and an argument with two guys who refused to let him back it out of a parking space one night during his freshman year, led to the half-moon scar Manley now wears on his left cheek. "They said I was too cocky," says Manley. "But they really weren't happy with themselves. I was driving a brand-new car, and they were driving some wreck."
Manley was in nice clothes, but he wanted to fight. "Where you going to be in 15 minutes?" he asked. They said they would be at a party at a black fraternity. "I'll be there," said Manley.
He ran home, changed into jeans and an old sweatshirt and headed for the frat. Manley found the guys and kicked their butts. As they were running off, he heard someone yell, "Hey! He had something!" Manley felt his cheek, and it was bleeding. One of the guys had hidden a razor blade in his hand. The gash required 18 stitches to close.
"There were times when I think Dexter wanted to back down, but couldn't," says L.P. Williams, one of his few college friends, who is now a minister. "He had to live up to the image people had of him."
That meant talking big and playing big to cover the loneliness. His grandiose demeanor irritated sportswriters, players and coaches—especially coaches. One day, according to Manley, some Oklahoma State coaches were watching game films. They saw Manley on the screen and summoned him into the room. Says Manley, "They said, 'Dex, you're never going to be——. You're never going to be nothing but a factory worker, digging ditches all your life.'
"I thank them for that day. It drove me to become the best."
"I don't know anything about this incident," says then head coach Jimmy Johnson, who is now at Miami. "It may have been a challenge to him. Everybody was trying to bring out the best in Dexter. It's not uncommon to bear down on a player who is not fulfilling his potential."
Pat Jones, who was Oklahoma State's defensive coordinator at the time and the coach who was closest to Manley, doesn't recall the film-room incident, either. "If anyone had gotten on him, it would have been me," says Jones. "I'm kind of proud of him for making something of himself."
Manley also says that he was told that State's coaches bad-mouthed him to pro scouts, causing him to drop from a first-round draft pick to a fifth-rounder. Johnson denies the charge. "You hear a lot of things like this from individuals hoping to be drafted higher," says Johnson. "I don't think he performed up to his potential. We were surprised by his success. If anything, the coaches were instrumental in getting him drafted as high as he was. We really talked Dexter up whenever the pros came in."
In any case, Manley's off-field behavior didn't enhance his lot with the pros. For instance, he illegally cashed $9,571 in Social Security survivor-benefit checks by claiming he was single rather than married. His explanation: "After my dad died, I felt like I wanted to be greedy." Manley was fined $5,000 and put on three years' probation under the Youth Corrections Act, which allowed him to clear his record if he made restitution. He says that he has paid back all the money.
In an attempt to keep a Basic Educational Opportunity Grant, Manley twice claimed that he had three children. He had one. Explanation: "Somebody told me to say that I had three kids. I won't say who."
If Manley was out for himself, he had good teachers, from Reggie to recruiters to his first agent, Dallas-based Joe Courrege. "Courrege would talk to me for hours on the phone, reading the Bible and getting spiritual," he says. "I thought that was great. Then the moment I signed, I never heard from him again."
Not true. In 1983, Courrege's firm sued Manley for unpaid fees and for nonpayment on a Mercedes that he had bought on a loan arranged by Courrege. Manley didn't like the car being in someone else's name and didn't like how much he owed on it. "I paid $17,500 for it," Manley later testified in an arbitration hearing involving a dispute with another agent, "...because it was in pretty bad shape.... I just said the heck with it, I'm not going to pay any more." Manley and Courrege's firm reached a settlement.
Manley was also sued for unpaid fees by Courrege's replacement, Washington lawyer Jim Kiles, who says Manley owes him "$30,000 to $40,000." The suit ended up in arbitration, and Kiles says he ultimately decided not to pursue the matter. Manley wasn't sued by Kiles's successor, Washington lawyer Richard Bennett, but Bennett didn't fare much better. Last year he told Manley what he thought was a "fair" fee for negotiating Manley's most recent contract—a beauty that paid Manley $350,000 in incentives alone last year—but Manley had a different idea of what constituted a fair fee. "If he really deserved more [than I paid him], how come he took the check I gave him?" says Manley.
Says Bennett, who is no longer Manley's agent, "Whatever Dexter says."
Manley's view of agents is that they're out to do him in. "Dexter always thinks people are out to get him," says one Redskins executive. After the '82 season, according to Kiles, Manley ran into Kiles's office and showed him three checks—one for making the playoffs, one for the Super Bowl and one for bonus incentives. "What do I do with these?" he asked.
"I'll open a special account for them," said Kiles. A week later, Manley closed the account. He feared Kiles would take the money because the statements were being mailed to Kiles's office rather than to himself. Kiles says the idea that he would have ripped off Manley is preposterous. Don 't trust anybody.
That was an appropriate ending for a relationship that began in November 1982, when Manley called on Kiles's partner, John McDermott, to help him out of a jam. Manley was charged with impersonating an officer and with altering the temporary plates on his Mercedes. He had been a deputy sheriff for the Fairfax County, Va., detention center in the off-season, and when a policeman pulled him over, he noticed a badge in Manley's wallet identifying him as such. The cop then let him go. Upon returning to the station, the officer discovered Manley had resigned as a deputy five months earlier. The charge for impersonating an officer was later dropped. For tampering with his tags he was fined $100. Manley's explanation: "Courrege told me to alter the plates until he could get me the title. So I did."
Says Courrege, "I never told him to alter the plates. That's ridiculous. I told him to pay the money on his car so he could get his plates."
Manley has also been pursued by Texaco to pay $4,480 in credit-card debt, sued by a landlord for unpaid property damage, and ordered to pay $10,400 in back child support, plus $800 a month, to Stephayne for their son, Derrick, now 10. "Dexter Manley's idea of obligation and the rest of the world's idea of obligation are two different things," says Kiles.
"I've seen too many people turn on me," says Manley. How could he have known that the next person to turn on him would be himself?
When you're famous the way Manley is famous, the valet always brings your car first, you never wait for a table and you never, ever buy a drink. As your star shines brighter and brighter, the drinks come more and more frequently. Gentleman at the bar says he's a big fan. Manley didn't become an every-nighter as much as a binger. He binged once or twice a month, tops, but when he binged, he binged hard.
One morning in October 1985, he reportedly came to practice late after having drunk too much the night before, realized he shouldn't be there and floored his way out of the driveway at Redskin Park and into a tractor-trailer. "I could've killed him," said the stunned truck driver. Manley, unharmed, passed a blood-alcohol test and then walked into Gibbs's office and convinced him that emotion, not liquor, had caused the accident. Gibbs told reporters that Manley was under a lot of stress due to the poor health of his mother.
Why alcohol now? Was ego Manley's problem? He had gotten a Mohawk cut in 1983, called himself Mr. D and lapped up the publicity. Later, however, he admitted, "All the attention may have gone to my head."
Was it loneliness? "I've always been an outsider," he says. Now his mother was in bad shape. She had a brain tumor, she was a diabetic, and she had undergone a mastectomy. Following neurosurgery, Jewel lean had to learn how to walk, talk and eat again. "It's not the Mom I knew," he says. "I miss that relationship."
Was it burdens? Manley was helping support his mother and Cynthia, now 32, who was taking care of her. He had married Glinda in 1984 and had two more children, Dexter II ("Not Junior," he has said, "Dexter II. Sounds classier"), now 2½, and Dalis, now 18 months. Doctors told Manley that his daughter was born with fibrous dysplasia, a rare disease that prevents bones from forming properly. They thought Dalis's right leg might have to be amputated.
"I was just...angry," recalls Manley. "I didn't trust the doctors." More trouble. More responsibility. They were strapped to his back like a refrigerator. "Think about what he went through," says Glinda. "All this responsibility thrown on him. His dad dies and his brother is killed, and all of a sudden he's the man of the house. A girl gets pregnant and he marries her. He never asked for any of it."
One good thing about gin and tonics—they never ask for anything. Manley drank them as if they were a cure. "My self-esteem was low," he says. "Sometimes I think it was from not enough attention. Sometimes I think it was from too much."
Last Dec. 26 he missed a practice two days before Washington was to play the Los Angeles Rams in the NFC wild-card game. He was asleep in his town house. When he woke up, he was ashamed and scared. He had never missed a practice. In fact, Manley normally gets to practice before anybody else. On his off-day, he runs hills backward, forward and stutter-step and then works out with a track coach. One year he showed up at Redskin Park to lift weights two days after the season ended. Now he was sleeping through practice? "Something was wrong," he says. The Redskins reportedly fined Manley $1,000.
On March 10, 1987, Manley was out for a serious relationship with 10 or 12 gin and tonics. When he awoke the next morning, Glinda glanced at him and realized that he didn't look right. She called an ambulance. Two days later he checked into the Hazelden Foundation, a drug-and-alcohol-rehabilitation center in Center City, Minn.
Says Manley, "I looked at the people in there, people in real bad shape, and I said, 'This isn't for me.' But after a while I realized I needed to listen and shut up." After two days, he continues, "I realized we were all the same. We were all uncontrollable with liquor." Manley was at Hazelden for a month.
Since then, he has been obsessed with beating the booze. He stopped talking to the press, he says, to stay humble. Hazelden gave him a book of daily meditations, and when he looked up June 15, the date of his dad's death, he found: "A father is a thousand schoolmasters—Louis Nizer." Now there was something he could trust. "I've always wished my father had been around more to teach me, to give me advice," says Manley. "Instead, I always had to be out beating people down on my own."
That meditation book looks as if it has been through the spin cycle six times. The corners are bent, the binding broken. Manley pulls it out a dozen times a day, and takes it with him to meetings of his alcoholism-recovery group, meetings he attends seven days a week, snow or sleet, sacks or no sacks. "People in there tell me they love me," he says. "No Washington Redskin is going to say to me, 'I love you, Dexter.' "
Two hours after the Redkins had defeated the New York Jets last month, Manley was at a meeting across town—"dead tired," he says. Still, an hour after that, he was giving his phone number to an alcoholic-drug addict who seemed to need a friend in the worst way. "You call me anytime, got it?" Manley said.
"It's a disease," he says. "I've got a disease. But I'd rather have this disease than any other. At least I can live with this disease."
His mentor in all of this is Pham Chopra, a successful defense contractor based in Falls Church, Va., who emigrated from India. A sober alcoholic for the last 12 years, Chopra couldn't give a farthing about which move Manley puts on Mark Tuinei to get to Danny White. "Only true friend I have in the world," says Manley, who calls him three and four times a day.
"He's my baby," says Chopra.
What Chopra really is, in effect, is Manley's father, gone slightly Eastern. Chopra stresses humility. "Dexter," he tells Manley, "when this chess game is over, the king and the pawn go back in the same box." Chopra is trying to teach Manley what Carl might have taught the boy years ago. "That you have to reach out to people," says Glinda. "You can't five your life never trusting anyone."
Manley agrees. "I have to depend on other people now to keep me sober," he says. "One more drink and I could die."
Says Chopra, "It will not be easy. Dexter doesn't yet have faith in himself." But here's the funny part. A 30-pound girl is helping him find some.
They say that adults don't produce children as much as children produce adults. Dalis was one day old when the doctors said that her leg might have to come off. Dexter and Glinda agonized over what to do. They finally decided, says Glinda, that "this was a job for the Man upstairs."
Dexter admits he wasn't so sure. "I had my doubts," he says. "I'm glad one of us had great faith. Glinda believed 100 percent."
Their plan was to pray Dalis a new leg. In August 1986 they took Dalis to the Washington Convention Center to let the Rev. Fredrick Price, a Los Angeles television evangelist, lay his hands on her. "Satan!" Price yelled. "You will not claim any parts of this child's body!"
He then looked at Glinda and said, "Through your faith will she be healed!"
Dexter and Glinda took Dalis back to the hospital, where tests revealed that, within a few weeks, the bone had begun to develop normally. It is still weak—Dexter II crashed into her this summer and broke it—but the doctors believe it will be normal.
For Manley, Dalis's recovery was a breakthrough. For once, something that couldn't be beaten by strength and speed had been beaten just the same. He had Chopra and Glinda and his children, and now he had somebody he might try trusting even more. "The Big Man," he says.
"I think Dexter is giving back now to the people he once hurt," says Manley's newest friend, Reggie White, the Philadelphia Eagles' star defensive end, whom Manley met at the Pro Bowl. "He's reaching out."
Manley isn't ready for beatification, but he's growing up. He's committed to helping inner-city D.C. youth find food, clothes and jobs. He subsidized a picnic for 500 homeless adults and made sure nobody alerted the media. He has a new agent, Boston-based Bob (Larry Bird, Doug Flutie) Woolf, whom he doesn't plan on meeting in court. He's working on getting his mother fully recovered, taking her to new doctors. He's working hard on life after football—"Don't want to end up a nobody," he says. He has a daily radio show on Washington's WWDC—Scoop Manley has bagged interviews with Howard Cosell, Sugar Ray Leonard and Pete Rozelle—as well as a weekly cable-TV program, on which the most damaging thing he has said so far is, "Detroit couldn't beat a high school team."
He's even settling up with his dad. He wrote him a letter. "I told him I was mad at him that he never told me he loved me," says Manley. "We got it worked out."
In the case of Dexter Manley vs. the World, Manley seems to have decided to call a truce. Is it too late for homecoming?
"Look," he says, pulling out the tattered book. "Check out Sept. 28."
The entry is a quote from, of all people, Julia Child. It reads: "Life itself is the proper binge." Manley flashes a gorgeous, gigantic smile, as if to say, "So here's to it!"
Waiter, Perriers all around!