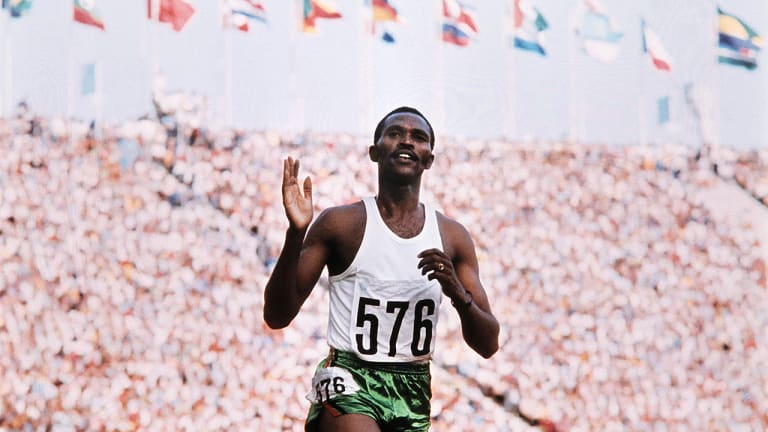 'They're All My Children:' KIP KEINO
Kip Keino still has the long, lean look that made him an unmistakable presence on the track. The two-time Olympic gold medalist wears a blue blazer now, and there is a hint of gray in his hair, but he looks fit standing at the door of the main house on his Kazi Mingi Farm in Kenya's western highlands. He moves with the familiar ease and grace and contained power that you can see in films of his classic 1,500-meter run at the 1968 Mexico City Games. He still races, sometimes against old rivals, but these days he concentrates on Masters events.
Keino's hand is firm when he puts it in yours to welcome you to Kazi Mingi. When he and his wife, Phyllis, bought it, the farm was 190 acres of bleak, mountainous scrubland. Twelve years of their hard work has turned it green and prosperous. Kip also operates a sporting goods store in nearby Eldoret, a town of some 55,000 people.
Keino, 47, is a mild, decent man, with eyes that don't flinch at life. He and Phyllis have been taking in orphans for all 23 years of their married life. They have provided a home for more than 100 children. Twenty-nine girls and six boys, aged one to 22, now live at Kazi Mingi. They come from all over Kenya and Uganda, representing at least, half a dozen tribes, including the Boran, Kikuyu, Luo, Marakwet and Meru.
Kip and Phyllis take in every child sent to them: the malnourished, the malformed, the maltreated. An infant girl was once found nearby during the rainy season, wrapped in a towel. "It's amazing to see a human being throwing away a child," Kip says. "How could anyone be so negligent?" He brought the girl to a hospital and paid for her care. It was too late. She died of pneumonia.
The Keinos treat all the youngsters just as they treat their own five boys and two girls. The children share clothing and quarters. "They're all my children," he says. "I don't know any different."
In the house where the older boys stay, the rooms have been outfitted with bunk beds. The walls are plastered with posters of cars, Tina Turner and Madonna. Bunnies and kittens decorate the girls' quarters in the 12-room main house. Two infants sleep in cribs in the master bedroom. "If anything happens, we are there," says Phyllis.
Each child has been given a name in English and Nandi, Kip's native tongue. They include Claire/Cherop ("born when it's raining"), Angela/Chepngetrik ("born when the cows go grazing") and Susan/Chepchirchir ("born in a big hurry"). Kip is short for Kipchoge, which means "born near the store for maize."
The store that Kip was born near was 40 miles away in the Nandi Hills. His mother died when he was two. His father, who owned a small farm, couldn't afford to raise Kip and his older sister, Bodkawa. So Kip and Bodkawa grew up in the mud hut of his maternal grandmother. He remembers a cruel uncle who beat him with a stick or a cane whenever he felt like it. "I suppose my upbringing contributed a bit to my outlook," he says. "Don't make others suffer. Try to assist them if you can."
Kip married Phyllis, a nurse, in 1964, while he was enrolled at a police academy on Kenya's northern frontier. While on patrol during the mid-1960s conflict between the government and dissident ethnic Somali, he found three children wandering without parents. They were the first he took in. At the time, he and Phyllis were living at the police college. "The children were starving," he recalls. "They were eating soil." Kip and Phyllis fed them, clothed them and sent them to school. Of those three, the two girls are married with children of their own, and the boy is a policeman in Karisa.
Laundry hangs from a clothesline on Keino's farm. His charges are stacking firewood, reading Mother Goose stories, romping on the dry grass. They kick around a soccer ball fashioned of hemp and a crumpled plastic bag. They stick twigs through chunks of bark and make them into pinwheels.
All the children are barefoot except one boy in Nikes. But it is not for lack of footwear. There are plenty of shoes for them stuffed into a rack just inside the door. The Keinos used to get bales of old clothes from missionaries, but that stopped a few years ago when the government started confiscating imported secondhand clothing. Now Kip and Phyllis have to buy cloth and employ someone to make clothes for the children.
Phyllis stands in the doorway, arms folded. She listens to the children's chatter with an expression of inexhaustible patience. She offers tea and apologizes because she has no biscuits. "Not every day we have money." she says. "We must plan priorities for the most essential commodities: soap, sugar, clothes, medicine, books. We make use of what we have."
The Keinos don't get any steady financial help, though they do receive some donations. The shop in Eldoret is their main source of income, and Kazi Mingi is a very self-contained operation. Fruit trees provide bananas, oranges, lemons, apples and tangerines. A large garden produces vegetables. Cow dung and goat droppings are shoveled into the drum of a bio-gas system, which produces energy to light the house. "Our sole purpose is to get the children to grow and go to school." says Phyllis. "Their one hope is to get an education."
Kip drives some of the children to school every day in an old green pickup. The Keinos have taken in so many younger ones that they have started their own kindergarten at the farm. At age eight, the children are sent off to boarding school, at a cost of $300 per child, plus clothing and transportation, all of which the Keinos pay. "It just pushes us to work harder." says Kip.
Four employees milk the farm's 30 cows. "Every month the milk pays to send three kids to school," Kip says. But in hard times the Keinos have had to sell off some of the livestock.
The Keinos are running out of space at the farm. They would like to build their own school, but Phyllis says, "It's so much money, we can't even think of it."
Yet they have never asked for handouts and don't plan to. "We don't like to beg, beg, beg," says Phyllis. "If people donate, we don't object. But let them give when they are willing. We're just as grateful if they simply come to see the children or say hello or give advice. It's not necessary that we have a lot of money to be happy. When the children are happy, we are happy, too."
PHOTO
NEIL
LEIFERPHOTOWILLIAMCAMPBELLKip and Phyllis (holding baby) now have 29 orphans living with them.