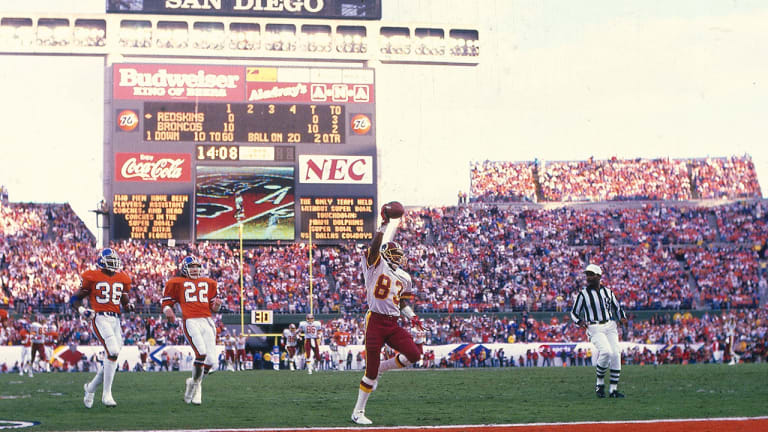 ONE SUPER SHOW!
Nattiel's 56-yard TD catch put Washington in a 7–0 hole ... now down 10–0, the Skins nearly fumbled away a kick ... and soon after, Williams went down—and out ... but then Sanders broke the big play ... and the rout was on!
For two weeks leading up to the Washington Redskins' 42–10 victory over the Denver Broncos in Super Bowl XXII, Doug Williams was asked the same question. Often it was disguised by another question, or buried in a mass of them, like a tin whistle in a Cracker Jack box. But it was always there.
At one interview session it wasn't even put as a question. A newsman merely said, "Black, Doug." Williams smiled and said what he had been saying all along: "[Coach] Joe Gibbs and [general manager] Bobby Beathard didn't bring me in to be the first black quarterback in the Super Bowl. They brought me in to be the quarterback of the Washington Redskins."
The 32-year-old Williams had put up with much adversity in his nine years in professional football, but all week his press conferences in San Diego were filled with friendly faces. Indeed, how could you not like Williams, who treated every person with a microphone or a notepad, as well as every fan, with kindness and consideration?
He chose his words carefully. He said that both on and off the field he thought he was a role model for young players, white and black alike. "I'm glad if I've opened doors for young [black] quarterbacks like Rodney Peete [of Southern Call and Don McPherson [of Syracuse]," he said. He also said that he didn't feel he had to have a spectacular game. "I don't have to play well for us to win," said Williams. "What I have to do is not beat the Redskins by throwing interceptions or turning the ball over."
But on Sunday he did play exceptionally well. He was especially impressive in one furious quarter of football, a quarter in which records toppled so fast the statisticians could barely keep track of them, a quarter that earned Williams MVP honors and Washington its second Super Bowl win in three tries. (The Skins won in 1983 and lost in '84.) So breathtaking was his team's second-quarter outburst and the blowout it led to that even Williams was a bit stunned. "Can you express the joy you feel now?" he was asked after the game.
"Not yet," he said. "Catch me next week in Zachary, Louisiana."
First the numbers. In five possessions the Redskins established a postseason record for one quarter of 35 points on five touchdowns. They turned a 10–0 deficit into a 35–10 lead, thereby ending the show before the Rockettes could even get warmed up for their halftime number. Williams had nine completions in 11 attempts for 228 yards and four touchdowns. His scoring passes covered, in order, 80, 27, 50 and 8 yards. In that quarter Washington racked up a playoff-record 356 yards of offense. That may be a regular-season record as well. The statistical people weren't sure.
"We don't keep one-quarter records," said Seymour Siwoff, head of the Elias Sports Bureau, which handles NFL stats, "but geez, 356 yards. Who could have gained more than that?"
Gone were the painstaking, clock-killing drives that have become a Washington trademark under Gibbs. The most plays consumed on one drive—a 79-yarder—were seven. Another, covering 80 yards, required only one play. The other drives covered 64 yards in five plays, 74 in two and 60 in three. Total plays, including a quarterback kneel to close the half: 19. Total time of possession: 5:54.
The best thing about it, if you are a Washington fan, was that it was far from a one-man show. It was simply a team reaching perfection on all levels: Williams's passing; the running game, featuring a little-known rookie named Timmy Smith, who added slash and dash to the Skins' old five-and six-yard standby, the Counter Gap play; a defense that clogged Bronco quarterback John Elway's passing lanes, kept the pressure on him and gave him little room to maneuver outside the pocket; a brilliant little receiver named Ricky Sanders, who had made his reputation catching Jim Kelly passes in the USFL; and a line that blocked the way you draw it on the play charts.
Smith, Sanders and Williams all set Super Bowl records. Smith, a fifth-round draft pick out of Texas Tech, got his by rushing for 204 yards (on 22 carries). Sanders, who made nine catches starting in place of the injured Art Monk, broke the mark for receiving yardage with 193, and Williams, who finished with 18 completions in 29 attempts, threw for a record 340 yards. As a team, Washington went into the books with 602 total yards and 280 on the ground. But the game was won in that wild second quarter. What made the Skins' performance so remarkable was that there was nothing to indicate it was coming.
The first time Elway touched the ball, he launched a 56-yard rocket to rookie Ricky Nattiel, who streaked down the right side past Washington cornerback Barry Wilburn. The next time the Broncos took possession they moved smartly from their 32 to the Skins' seven. Rich Karlis then kicked a 24-yard field goal to make the score 10–0. The big play was a 32-yard pass from Elway to Mark Jackson. The Washington corners were obviously having trouble keeping up. The Three Amigos—wideouts Jackson, Nattiel and Vance Johnson—were going to have a day. During the warm-ups the threesome had tested the turf, discovered that it was loose and changed to longer, three-quarter-inch cleats. When the score reached 10-0 a press box announcement mentioned that the Washington defenders were changing to longer cleats, which prompted some snickers.
Williams hadn't changed out of his half-inch cleats, and that slippery pair may well have saved him from disaster. Late in the first quarter he set up to pass and his right leg slid out from under him. As he went down, he twisted his left knee. He tried to walk back to the huddle and collapsed.
"When I saw him go down again I thought, Uh-oh, something's wrong," said Bubba Tyer, the Washington trainer. "He has a lot of scar tissue in his left knee, and he really can't flex it. I tested the knee for stability and it was O.K. It was stretched—hyperflexed, we call it. I taped it and put a brace over it. If he'd been wearing longer cleats and they caught in the turf, well, anything could have happened."
Jay Schroeder replaced Williams. He took a sack and threw an incompletion, and the Skins were forced to punt. Nothing was going right for them. Sanders had even fumbled the kickoff following the Denver field goal, but, fortunately for Washington, after a frantic scramble for the ball, the officials ruled that Redskins linebacker Ravin Caldwell had dug it out of the mob.
Some people point to this play as a mini-turning point, but it wasn't. Washington didn't get past midfield on that possession or the next either, and the Broncos were beginning to stall. Denver had a first down on the Skins' 30, but Alvin Walton's safety blitz on Elway, which cost Denver 18 yards, killed the drive. On the Broncos' first possession of the second quarter they had third-and-five on the Washington 36, but running back Tony Boddie dropped Elway's pass. Then all hell broke loose.
From his own 20, Williams hooked up with Sanders for the 80-yard touchdown. Denver cornerback Mark Haynes was covering. "The play went on a quick count," said Sanders, who caught 101 passes for the USFL Houston Gamblers in 1984. "I don't think Haynes was ready. I ran a five-yard hitch, he came up tight, and I took off."
The Broncos' next series was three and out, as Elway threw his fifth and sixth straight incompletions. Some were misfires, and some were caused by defensive pressure. "We could tell something was in the works, something was happening," said Washington defensive tackle Dave Butz. "Some of the guys had already changed to longer cleats and were getting more traction. I'd changed before the game."
Now Washington came up with the five-play, 64-yarder, and its running game was starting to get cranked up. Smith broke through the left side for 19 yards. "The play was 50-lead," said left guard Raleigh McKenzie. "[Center] Jeff [Bostic], [left tackle] Joe [Jacoby] and I all blocked down. Jeff influenced the noseman, and Clint Didier [the motion tight end] trapped him. You don't expect to hit a play like that for that kind of yardage."
Three plays later the Skins had their second score, a 27-yard pass to wideout Gary Clark, who fed cornerback Steve Wilson an inside juke and then broke for the corner. "I sold the post move," Clark said, "and then I was alone."
The Broncos drove to the Washington 26, but Karlis then missed a 43-yard field goal attempt. Two plays earlier, left tackle Dave Studdard, who had been matched up against Redskins defensive end Dexter Manley, was helped off the field with a sprained left knee. To control Manley, who was now working against Keith Kartz, a strike-replacement player, the Broncos had to leave in a back, usually 210-pound Steve Sewell, to block. That took a valuable receiver out of their passing attack. Things were falling apart for Denver. On the Redskins' sideline Gibbs was huddling with offensive line coach Joe Bugel and back-field coach Don Breaux.
"Joe asked me, 'What do you think, Buges?' " said Bugel after the game. "Breaux and I both said, 'Don't give up on the Counter Gap.' They'd been playing a stunting type of defense, a guessing defense, and they'd guessed right in the first quarter and given us a couple of minuses on that play. Against stunting defenses like the Broncos use you have to pull your guard and the tackle to the opposite side. It's a precision play, and when the timing's a little off, well, it can look ugly. Maybe in the first quarter we were a little overanxious, and the timing wasn't right. But Breaux and I both felt it would come."
Washington started its third drive of the quarter on its own 26. On first down Clark curled inside for a 16-yard reception. "It was a cover-three zone," he said. "They were laying back. There was a big hole. Maybe it was because they'd been burned already."
The next play was Smith's biggie, 58 yards for a touchdown on the Counter Gap over the right side, with Jacoby and McKenzie pulling and tight ends Didier and Don Warren cutting off the pursuit. "It seemed like it was going to be a tight squeeze," said Smith. "I had to take it inside. I don't know, it just popped."
Smith had run for only 126 yards during the regular season but had gained 66 and 72 yards, respectively, in Washington's two previous postseason games. He was a surprise starter, at least to the 73,302 fans in the stands and to the 45 Broncos on the sideline who saw George Rogers introduced with the Redskins' offense. Gibbs said he had decided to start Smith on Saturday night. He thought the Broncos would be pinching inside and he wanted someone speedier than Rogers in the lineup.
"We told Smith he was starting right before the kickoff," said Bugel. "He took it very calmly. We told him we were going to run outside at the beginning and we wanted him in there for five or six plays. We didn't tell him earlier because we didn't want to make him nervous. We didn't want the guy vomiting in the locker room, like we'd have to throw a smoke bomb to get him out on the field."
Smith's 58-yard TD put Washington ahead 21-10, and the Broncos were in shock. On the sideline the Redskins linemen were telling Bugel to keep calling the Counter Gap. "The Broncos were playing a variety of Buddy Ryan's Bear defense, where they line up men over both guards and the center," said Bugel. "So we went to a counterattack. If you hit it right against that defense, you can break something big."
The Denver defense had sagged noticeably late in the season. The Cleveland Browns came back strong against the Broncos in the AFC Championship. So did the Kansas City Chiefs on the penultimate weekend of the regular season. Many observers think that Denver's small defensive linemen wear down against constant pounding. "I don't think they wear down—I think it is simply mistakes," said Bronco coach Dan Reeves a week before the Super Bowl. "Whatever it is, it worries me. We blew two 17-point leads. With a defense as strong as Washington's we don't want to get in a scoring match with them."
The Skins began their fourth series of the quarter on their own 40. They moved primarily through the air. After Williams found Sanders on a 10-yard slant, he lofted the 50-yarder to Sanders, who had gone in motion and run a post pattern to beat free safety Tony Lilly, who was limping with a bruised hip. "We'd set 'em up with the run," said Sanders. "The pass was a sucker play, off a good run fake. When the free safety came up, I knew I had him."
The Broncos needed a long drive to give their defense some rest, but on second-and-two on their own 41, El-way tried throwing a bomb to Nattiel. This time Wilburn stayed with Nattiel and intercepted the pass on the Washington 21. Back to the run went the Skins, this time breaking Smith for 43 yards on the Counter Gap off the left side, with guard RC Thielemann getting the key trap block on Karl Mecklenburg. "They were in shock," said Thielemann. "They couldn't believe we were running for this kind of yardage on them."
"They cut off our pursuit," added Mecklenburg. "Instead of getting seven or eight yards when they broke a run, they were getting 20 or 30 or 40. I'm hurt and embarrassed. I certainly don't want to ever go through that again."
Washington's final TD of the second quarter came five plays later, on an eight-yard catch by Didier. The Skins' second-half score, a four-yard run by Smith, was frosting. A game that had been billed as potentially the first down-to-the-wire Super Bowl since the Baltimore Colts' 16-13 win over the Dallas Cowboys in '71 was a rout.
Elway had taken a beating. He threw for 257 yards but completed only 14 of 38 throws. Johnson, who was coming off a severe groin pull, played but didn't catch a pass. Denver's whole offensive operation seemed to be overmatched by the coverages and pass-rush schemes devised by Washington defensive coordinator Richie Petitbon. "We've got to be a better football team—I don't think we're good enough to win the Super Bowl," said a disconsolate Elway.
On his way to a victory celebration and rehab on his sore knee, Williams was asked one final question. "What was your lowest moment as a pro?"
"I'll tell you one thing I'll always remember," he said. "When I was with Tampa Bay and we lost to Dallas in the [1981] playoffs and I got sacked four times, I got this beautifully wrapped package with a nice bow on top. When I opened it, there was a rotten watermelon inside. The note said, 'If it wasn't for your black ass, Tampa Bay would have won.' You don't forget things like that."
Super Sunday will be a far better memory, for sure.
PHOTO
PETER
READ
MILLER
NATTIEL'S 56-YARD TD CATCH PUT WASHINGTON IN A 7-0 HOLE...
PHOTO
BILL SMITH
...NOW DOWN 10-0, THE SKINS NEARLY FUMBLED AWAY A KICK...
PHOTO
JOHN BIEVER
...AND SOON AFTER, WILLIAMS WENT DOWN—AND OUT...
PHOTO
WALTER IOOSS JR.
...BUT THEN SANDERS BROKE THE BIG PLAY...
PHOTO
HEINZ
KLUETMEIER
Clark got the next of the Skins' second-quarter TDs on this diving reception: 14-10.
PHOTO
WALTER
IOOSS JR.
A 58-yard scamper by Smith stunned the Broncos: 21-10.
PHOTO
JOHN
BIEVER
As one Redskins touchdown followed another, Reeves could contrive no antidote.
PHOTO
WALTER
IOOSS JR.
Sanders sped to another unanswered TD, this one on a 50-yard post route: 28-10.
PHOTO
BILL
SMITH
Same quarter, same story. Didier scored on an eight-yard pitch from Williams: 35-10.
PHOTO
JOHN IACONO
As intermission approached, the scoreboard bespoke a startling reversal of fortunes.
PHOTO
RICHARD MACKSON
Smith, who rushed for a record 204 yards, got the final TD on a four-yard run: 42-10.
PHOTO
ANDY
HAYT
Williams acknowledged the crowd's cheers on what was, for him, truly a Super Sunday.
"We don't keep one-quarter records, but, geez, 356 yards. Who could've had more?"