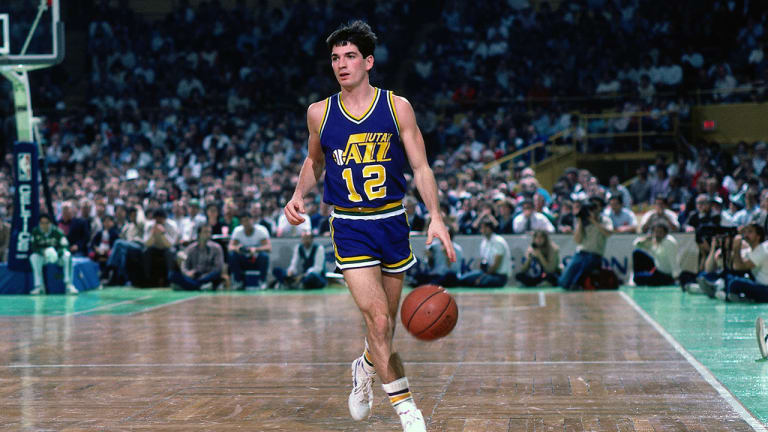 Publish date:
Not a Passing Fancy
Utah's surprising John Stockton is the NBA assist leader, and he can score and play plenty of solid defense, too
For the first 22 years of his life, John Stockton's movements could be plotted on a small section of a Spokane, Wash., city map. He walked the five blocks from his house on North Superior Street to his parochial grammar school, St. Aloysius, on East Mission Avenue. After school he would stop in at Jack & Dan's, a tavern on North Hamilton Street, to visit his father, co-owner Jack Stockton, and cadge a quarter to buy french fries across the street at the Dairy Freeze. It was a one-mile drive from his home to high school at Gonzaga Prep and just a four-block walk to Gonzaga University, where he would sneak into the gymnasium for pickup basketball games. In 1980 Stockton completed the cradle-to-free-throw-line journey by accepting a basketball scholarship to his neighborhood university.
"I never consciously thought about going all the way through the 'Gonzaga farm system,' but that's the way it happened," says Stockton today. Needless to say, no incoming freshman had less trouble with the pronunciation of the school's name. "The second syllable is like the 'zag' in 'zigzag,' " says Stockton. You get the feeling that he has been through the drill before.
In fact, an understanding of John Stockton has required a lot of orientation since he first attracted national attention after his senior year of 1983-84. Where is Gonzaga? (You know that now—it's three blocks from Jack & Dan's.) Who or what is a Gonzaga? (St. Aloysius Gonzaga is the patron saint of youth.) How did someone from Gonzaga nearly make Bob Knight's Olympic team? (By outplaying, according to many observers, every point guard at the trials, including the two who did make the team, Indiana's Steve Alford and Cal State-Fullerton's Leon Wood.) And how did somebody who stood only 6'1" and looked like an altar boy wind up as a first-round draft pick of the Utah Jazz in 1984? ("Because he has all the right qualities," said Jazz coach Frank Layden at the time. "And he's Irish.")
Stockton, 26, is still only 6'1" and still looks like an altar boy, but as Houston Rockets coach Bill Fitch says, "He's answered all the questions." In this, his fourth NBA season, Stockton has established himself as one of the league's top point guards. He also is the best-known Gonzagian since Bing Crosby, the former Bulldog second baseman who never graduated but whose statue, complete with pipe, stands on campus in front of the Crosby Library.
"Stock," as in rising, is compared most often with Philadelphia's Maurice Cheeks. Both are excellent dribblers with either hand—"John's dribbling skills make us practically press-proof," says Layden—but rarely do anything fancy. Both slither through small openings to create scoring opportunities near the basket, hit the open jump shot and, on defense, make life miserable for opponents with their quick hands and passing-lane anticipation.
Stockton, like Cheeks, does not have a discernible weakness, unless you're counting inches. "Every year he's just gotten better," says Gonzaga coach Dan Fitzgerald. "It's like he's on a ladder, going one step at a time."
Which makes one wonder what rung Stockton is on now. Through Sunday, with four regular-season games to go, he had locked up the NBA assist title with an average of 13.5 per game; the Lakers' Magic Johnson had 11.8.
For Stockton, last week was one to savor and remember. He had 16 assists against Golden State on April 11 and 20 against the Clippers the following night, to go over 1,000 for the season. Only two other players in NBA history, Isiah Thomas of Detroit in 1984-85 with 1,123 and Kevin Porter of the Pistons in 1978-79 with 1,099, had done it. Then last Thursday in a game against Portland, Stockton had 26, the league high—and franchise record—for the season. On Saturday, he added 16 more against San Antonio, giving him 1,056 for the season and increasing his chances to break Thomas's record.
Stockton was also third in steals and fourth in field goal percentage (.576). In fact, Stockton's shooting percentage is likely to be the second highest ever by a guard, behind Mike McGee's aberrational .594 for the Lakers in 1983-84. During a 24-game span that began on Feb. 17, Stockton averaged .663 (161 of 243) from the floor and shot better than .500 in every game, a staggering achievement for a point man.
Now, numbers need some interpretation. Stockton gets a lot of assists because the point guard in the Layden system has the ball most of the time. "Stockton controls it as much as any point guard in the league," says Houston's Sleepy Floyd, whose defense was primarily responsible for breaking Stockton's plus-.500 shooting streak during a 113-107 Rocket victory on April 7. And there are two other major reasons why Stockton gets a lot of assists—Karl Malone posting up on the blocks and Karl Malone steaming downcourt on the fast break. An assist man needs a "finisher"—Magic had Kareem Abdul-Jabbar and now he has both James Worthy and Byron Scott—and it's no secret that Stockton is looking for the "Mailman" most of the time, both in the half-court offense and in transition. As veteran point guard Rickey Green, now Stockton's backup, puts it, "People tend to get out of Karl's way, unless they want their careers to be over."
Stockton had to earn his teammates' confidence to get the ball as often as he does. Green ran the Layden-style break and had postup master Adrian Dantley on the blocks, yet averaged only 9.2 assists in his most productive passing year ('83-84). "You hear about shot selection all the time," says Layden, "but players like Magic and Stock have good pass selection." Stockton happens to have good shot selection, too. "It's not so much how well John is shooting it as when he's shooting it," says Green. "He's really making good decisions."
Stockton's superb play this season has defused a potentially sticky situation involving Green, the 10-year veteran who split playing time with Stockton in the previous two seasons. Green, says Stockton, has always been helpful and accommodating (they have lockered next to each other at the Salt Palace since Stockton's rookie season), but that does not mean Green is happy that he has gotten limited minutes (about 14 per game) since Layden made Stockton the starter in the fourth game of this season. In order to make Green more comfortable in a strictly reserve role, Jazz management extended his contract through next year, but it is by no means certain that Green will be wearing a Utah uniform in 1988-89.
"It's obvious that the tide has turned here and John has emerged," says Green. "But I can't hardly complain with the way John has played. He's done the job." Says Layden: "The change is so justifiable, there's nothing anybody can say."
The superlatives apply to Stockton's defense as well. Take steals. Some players get a lot of them but still hurt their defense by gambling and missing steals in the open court, which leads to easy scores. "John used to be out there chasing guys around, but he's learned that players like Cheeks rarely pick off someone in the open court," says Jazz assistant Jerry Sloan, considered one of the NBA's best alltime backcourt defenders. "They get their steals by using their hands when they're in traffic, by doubling down on big men, or by playing the passing lanes."
Articulate and open on most subjects, Stockton can only stammer and shake his head when he's asked about his gaudy stats. He expected to have a good season—after all, he finished tied for seventh in assists and eighth in steals in 1986-87 even though he came off the bench for Green—but no one anticipated that he would beat out Magic, the NBA's assist leader in four of the last five seasons, or better his career field-goal percentage of .488 by almost 100 points.
Says Stockton: "I didn't want to get caught up in the mind-set that 'Wait a minute, I'm ahead of Magic. I better slow down.' " So, quite simply, he never did, and because of that, at week's end the Jazz were 43-35 and headed for the playoffs.
Except for the telecasts of Utah Jazz games pulled in by a satellite dish, and the Jazz mugs that materialize during those telecasts, there is nothing to indicate a blood connection between pro basketball and Jack & Dan's, a friendly place where the neighborhood clientele can drink a beer, shoot pool and sample Jack Stockton's homemade chili or clam chowder. No plaques, no trophies, no ribbons, no pennants, no jerseys, no action photos of John Stockton adorn the walls. Paneling adorns the walls.
"Every year I grab one of those posters of John and tack it up, and every year Jack takes it right down," says Dan Crowley, Jack Stockton's partner for 26 years. Says Jack: "It's an unspoken agreement between us. John would be terribly embarrassed about it, and so would I."
If a Hollywood studio needed a location for a film about a close-knit Irish family—Moonstruck with shamrocks and green beer, perhaps—it could do worse than to choose the neighborhood where Jack and Clemy (short for Clementine) Stockton settled down 26 years ago. The neighborhood is known locally as the "Little Vatican," both for its preponderance of Roman Catholics and for the unusually high number of its young boys who have become priests. Crosby grew up in the neighborhood—his boyhood home is now the Gonzaga alumni house—and Jack Stockton says there's little doubt that Bing drew the inspiration for the priests he portrayed in Going My Way and The Bells of St. Mary's from the neighborhood Jesuits.
The Stocktons were loyal churchgoers, but the priesthood was never in the cards for the two sons, who were otherwise engaged, knocking over fences in the front yard during ferociously contested sibling showdowns. Steve, four years older than John, is only 5'9", but he was a fine basketball player and an outstanding high school baseball pitcher. In his senior year at Gonzaga Prep, he struck out a North Central High School sophomore named Ryne Sandberg three times in one game. John credits his competitiveness to his adolescent, and postadolescent, battles with Steve. Over at Gonzaga, the Stocktons have been known as Cain and Abel since they squared off a few years ago during a pickup game.
John was blessed with more size than Steve, but it took him a while to grow into his body. As a high school freshman he stood only 5'5" and weighed 90 pounds, yet he had the same size-11½ feet and huge hands (set palm against palm, they are nearly as big as 6'10" teammate Marc Iavaroni's) he has today. By the time he graduated from Gonzaga Prep, he was 6 feet, but he still looked as if he were 14 years old.
"Don't think that didn't scare some recruiters away," says Fitzgerald. "George Raveling [then the coach at Washington State] didn't come after John and later admitted it was the biggest recruiting mistake he ever made." Fitzgerald had an advantage—he saw Stockton's fire and competitiveness up close.
Each season at Gonzaga, Stockton got a little better, climbing another rung on the ladder, and as a senior he led the West Coast Athletic Conference in scoring, assists and steals. Stockton fared well in the postseason meat markets held for the benefit of the pro scouts, too, and by the time Knight's '84 Olympic squad was pared to 20, nobody was surprised that the Gonzo point guard from Gonzaga was still around, explaining to reporters from all over the country how the second syllable is pronounced. He, Charles Barkley and Terry Porter were among the late cuts, but it didn't matter as far as many of the pro scouts were concerned—John Stockton was a genuine first-rounder. Immediately after Utah made him the 16th pick, Jazz broadcaster Hot Rod Hundley got him on a conference call at the Salt Palace.
"Is everyone booing?" Stockton asked Hundley.
"No, they're not saying, 'Boo,' " said Hundley. "They're saying, 'Who?' "
Stockton always had considerable athletic talent, coming as he does from a good gene pool. Before Gonzaga abandoned football, John's paternal grandfather, Houston Stockton, played football there under Gus Dorais, the former Notre Dame quarterback who popularized the forward pass; Houston is still recognized as Gonzaga's best player. John has tremendous quickness, a quality without which he simply would not have made it as a pro, as well as superb natural endurance—he once ran an eight-mile race in about 42 minutes without training. His peripheral vision and his hands—"Cousy-sized hands," says Hundley—are ideal for a point guard.
Finally, and not insignificantly, he has the temperament of a world-class athlete. "He may look like an altar boy, but there's a lot of street in that kid," says his father. Stockton's control of the Jazz offense is every bit as absolute as Magic's control of the Laker offense, though not as outwardly emotive. Stockton doesn't hesitate to wave Malone away when the Mailman doesn't have a secure enough postup position, and Stockton's Irish eyes are not smiling when, say, an overweight Mel Turpin fails to move his considerable bulk to a more advantageous scoring position.
"John is very, very competitive," says Dallas's Derek Harper. "From the first moment he came into the league, he wanted to belong, and he thought he did belong. With that kind of attitude, I'm not surprised he's done what he's done."
It's not surprising that he does what he does in the summer, either. He and his wife, Nada, also a Gonzaga grad (and, incidentally, the daughter of Mike Stepovich, the last territorial governor of Alaska), return to Spokane. Three years ago they bought the property on North Superior right next door to his parents, and Stockton spends much of his free time fixing up the house. Fitzgerald remembers driving by one day last summer and seeing Stockton hanging from the roof, applying siding. "Bet the Jazz would love that," he thought.
When he is not up on the roof or grabbing a beer and sandwich at Jack & Dan's, Stockton can probably be found at the Gonzaga gym, working on his game. And one has to wonder: To what end? Isn't it possible that he reached his limit this season? After all, even allowing for Isiah Thomas's occasional flights of brilliant fancy, the only NBA point guard who truly controls a game is Magic, who is a full eight inches taller than Stockton.
"The key word is 'control,' " says Stockton. "I have to get to the point where I can do it like Magic does. That means penetrating, scoring more, taking over on offense once in a while, increasing my range on the outside shot to open things up for the drive. I'm considering this season a beginning. There are a number of things I'm going to work on this summer."
If those workouts pay off he could find himself becoming a Western Conference All-Star next season. Lord knows, that's a lot more likely than making the wall at Jack & Dan's.
PHOTO
DAMIAN
STROHMEYER
Malone offered best wishes when Stockton got his 1,000th assist.
PHOTO
JOHN McDONOUGH
The Jazz's dazzling point guard has made some very special deliveries to the Mailman.
PHOTO
DAMIAN STROHMEYER
His team is in secure hands with Stockton, and so is his six-month-old son, Houston.
PHOTO
DAMIAN STROHMEYER
Back home in Spokane, Jack Stockton (left) and his loyal customers cheer son John on.
PHOTO
DAMIAN STROHMEYER
Center Mark Eaton and Stockton are a study in contrasts.