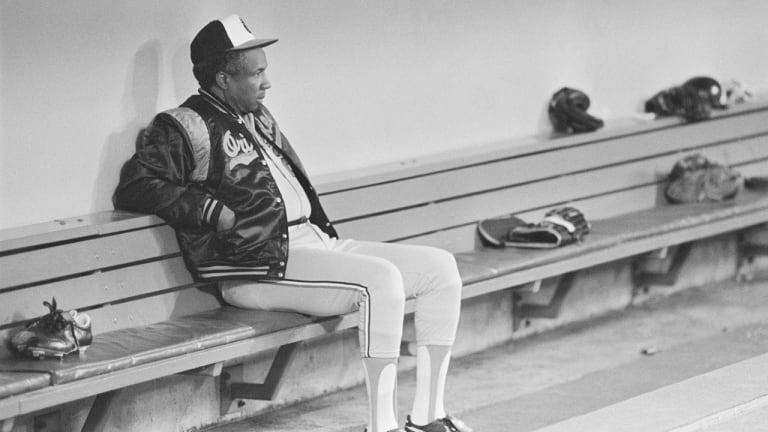 Publish date:
For the Birds
Frank Robinson, the manager, watched the Royals tee off on his pitchers as Baltimore lost its 18th straight
Day after day the losses piled up for the Baltimore Orioles. Early last week they suffered their 13th, which tied the record for the worst start in baseball history, and then they blundered to their 14th, 15th, 16th, 17th and 18th. At week's end they were near the bottom of the American League in pitching, fielding and hitting. They had a collective batting average of .198; with runners in scoring position, it was a pathetic .116. Their best offensive players, Eddie Murray and Cal Ripken Jr., were hitting .183 and .177, respectively, with a combined three homers and seven RBIs.
The team that has come to be known as the Zer-O's is a sad shadow of the franchise that made six World Series appearances between 1966 and '83 and which for two decades was the closest thing baseball had to a dynasty. Since Aug. 5, 1986, when Baltimore was 2½ games behind the first-place Boston Red Sox in the American League East, the Orioles have won 81 games and lost 155. After the Kansas City Royals beat them 3-1 on Sunday, the 0-18 Birds were just two losses shy of the American League record for consecutive losses—a mark shared by the '06 Red Sox and the '16 and '43 Philadelphia Athletics—and five short of the major league record of 23, which the Philadelphia Phillies set in '61 (see box, page 30). Here are some snippets from early in the campaign along with game-by-game reports beginning with loss No. 13:
GAME 1: BALTIMORE 0, MILWAUKEE 12. After dropping their final five spring training games, the Orioles open before their largest regular-season home crowd ever. Said to be among the 52,395 fans is Wild Bill Hagy, the hairy, beer-belching cabbie who long reigned as the Birds' designated cheerleader. In his heyday, Hagy had Baltimore in his ample hip pocket. He would incite hometown crowds by contorting his frame into letters, physically spelling out O-R-I-O-L-E-S.
Hagy resigned his command at Memorial Stadium midway through the 1985 season, after the Orioles enforced a ban on bringing beer into the park. Hagy protested the policy by pitching his celebrated cooler off the upper deck. "I shall not return," he vowed. But return Hagy has, though he hasn't had occasion to lead one of his opponent-rattling spelling bees in a while and certainly won't today. The 12-run shellacking matches the worst Opening Day loss in league history, and there are rumors that Baltimore manager Cal Ripken is about to be canned. "You know," says the Birds' general manager, Roland Hemond, "some of your best streaks start after games like this."
GAME 4: BALTIMORE 1, CLEVELAND 12. "I don't know which was worse," says Orioles catcher Terry Kennedy, "playing in this game or watching it." Playing in it, says starting pitcher Mike Boddicker, who balked home two runs. Watching it, counters reliever Mark Williamson, who blames "brain lock" brought on by observing this massacre for causing him to try to pick a runner off first by firing the ball to the centerfielder. Ripken the manager says, "I know we'll hit, I know we'll hit," over and over. The Birds' late-inning battery of Kennedy and rookie righthander Jose Bautista recalls another great debacle, the Bay of Pigs.
GAME 7: BALTIMORE 1, KANSAS CITY 6. A few hours after pleading guilty to a Feb. 3 drunk-driving charge, the senior Ripken is fired and replaced with Frank Robinson, apparently the first black man with "the necessities" to manage in the post-Al Campanis age. "It's only six games, but there's a lot at stake," says Hemond. "I wasn't seeing signs of positive progress."
Robinson's debut isn't auspicious as Royals pitchers Mark Gubicza and Dan Quisenberry combine on a two-hitter. The two hits never make it out of the infield, and Baltimore's run is unearned.
GAME 13: BALTIMORE 5, MILWAUKEE 9. Oriole fans are trying everything. Motorists drive all day with their lights on. Baltimore deejay Bob Rivers promises to stay on the radio until the O's win. All over town listeners call to pledge their support. Some girls vow not to wear panties. Some guys offer to wear the girls' panties. A bunch of housewives pledge to "withhold marital favors," which prompts another female caller to say, "Me and Ed aren't going to stop until they win."
For a manager whose record for the season now equals that of his fired predecessor, Robinson has a fairly jolly disposition. He predicts Baltimore will score lots of runs tonight. "Fifty, to be exact," he says. "We'll win 50-49."
The Birds get three in the first. But their starter, Mark Thurmond, who hasn't won since 1986, is cuffed for five runs in 1⅖ innings. The 0-12 Orioles are inviting comparison with the 1920 Detroit Tigers, who hold the major league record for consecutive defeats at the start of a season with 13. Ty Cobb played on that team, and though he endured an 0-for-17 slump during the streak, that's small consolation for Cal Ripken Jr., who's hitless in his last 29 at bats. Ripken slams a third-inning homer, but his teammates compensate by making four errors, three of them in a row during Milwaukee's three-run fifth.
With Baltimore outfielder Wade Rowdon up in the fourth and the ponderous DH Larry Sheets on first, Robinson calls for a hit-and-run. Rowdon swings and misses, but Sheets ignores the sign and stays put. On the next pitch, Robinson flashes the sign again. This time Rowdon takes the pitch, and Sheets is caught stealing.
The strain begins to show in the Orioles clubhouse. Surveying the postgame media swarm, Billy Ripken shouts, "Anyone got a no-pest strip?"
GAME 14: BALTIMORE 6, MILWAUKEE 8. "We're going to win one for the Gipper," Robinson tells his players but then reconsiders. "To hell with the Gipper. Let's win one for me." Milwaukee's Jim Gantner, who had been batting .147 with no RBIs, hits the game-winning two-run single in the fifth. Boddicker, a 20-game winner four years ago, sets a club record by losing his ninth straight decision.
A banner in centerfield taunts: 0-162...THAT'S WHY THEY CALL 'EM THE O'S. "That's impossible!" says the Orioles' Hall of Fame third baseman, Brooks Robinson, who's now a Baltimore broadcaster. "We've got to win at least one."
GAME 15: BALTIMORE 1, MILWAUKEE 7. Deejay Rivers is reeling from fatigue, and now another Baltimore radio personality, Stan the Fan, shows up for his own show wearing hair curlers and a red and black muu-muu. "I want to show what a drag losing is," says Stan.
Ah, the magic of radio.
Baltimore has now failed to take a series from an AL East club in 27 tries, losing 99 of its last 128 intradivisional games. In Milwaukee, Scott McGregor, who has won more games in the 1980s than all but three pitchers in the majors, is rocked for six runs in 2⅖ innings in his third defeat of the season. He has not won a game since May 16, 1987.
Meanwhile, at the Stadium Lounge back in Baltimore, a fan who has just watched the Birds go down on the big-screen TV says, "If this goes on much longer, everyone will be rooting for the O's to lose. After all, they got every other record, don't they?"
GAME 16: BALTIMORE 1, KANSAS CITY 13. Rivers enlists the Amazing Kreskin to break the spell by having radio listeners join in a "mass telepathic" experiment. They will attempt to project winning thoughts to the Oriole players just before game time in Kansas City. Apparently the fans' brain waves reach the wrong clubhouse. The Royals, who are out to break their own five-game losing streak, get a leadoff single. They follow with another. And another. And another. And another. And another. And another. It looks like singles night at Royals Stadium. Baltimore starter Mike Morgan leaves without retiring a single batter. Dave Schmidt relieves—and surrenders three more hits. At the end of the inning, K.C. leads 9-0. The O's amass all of three hits. "If you throw out that first inning," says Baltimore outfielder Jeff Stone afterward, "we would've been in that game."
In the visitors' clubhouse, Robinson launches into a 15-minute tirade, screaming, "You're beaten!" Later he says, squeezing the words through clenched teeth, "This was one of the worst games of my life. Tonight we played like losers. It was the first time since I've been here that we were actually looking to lose. Tonight was not a professional effort in any phases of the game. None."
For outfielder Fred Lynn, the pressure has become so intense during the skid that he feels as if he's in the middle of a pennant race. "You say, 'You're in last place, how can there be pressure?' There's tremendous pressure," he says. "It's not a monkey on our backs anymore. It's Godzilla."
Robert Harris certainly is feeling the strain. He's serving as the Orioles' batboy in Kansas City. When Billy Ripken asks him to stuff some hits into Ripken's Louisville Slugger, Harris smiles nervously. "I don't want to promise anything I have no control over," he says. "If you don't get a hit, will it be my fault or not?"
Even the opposition is feeling the heat. "If they were eight and eight, it would just be another game," says the Royals' George Brett. "But they're oh and 15. I sure don't want to be the first to lose to them."
GAME 17: BALTIMORE 3, KANSAS CITY 4. Bo Jackson's lazy fly to right in the bottom of the ninth gets caught in the wind and bounds high off the fence behind Lynn, who's in as a defensive replacement. The catchable ball is ruled a triple. Jackson scores the winning run on Kurt Stillwell's single. "You get a routine fly ball and it becomes a triple," says Lynn. "Ninety-nine times out of 100 it's an out. We're inventing ways to lose. It looks as if we're going to have to play a perfect game to win. A victory now would be like putting on a World Series ring. When you get down to it, it means a lot."
GAME 18: BALTIMORE 1, KANSAS CITY 3. The Birds get shut down on six hits by the Royals' Bret Saberhagen, who had won only four games since the 1987 All-Star break. It's the 10th time in their 18 games that the O's have failed to score more than one run.
The tedium is broken only by the adventurous play of Baltimore's Jim Traber—a leftfielder with the girth and mobility of Baltimore's Bromo-Seltzer tower—who misplayed a broken-bat fly ball into a ground-rule double and turned a hit by Frank White into a double by trying to field it with his tummy. Still, Robinson finds an encouraging sign. "We have an off-day tomorrow," he says. "We won't lose one."
Stone, who pinch-hit and struck out looking, believes the time has come to take action. "We've got to pull ourselves out of this deep, deep funk," he says.
When it comes to funk, nobody in baseball knows more about it than the Royals' pitching coach. "It has to be tough for the Orioles just to come to the ballpark every day," says Frank Funk. "We were in our dugout knowing we were going to win, while they were in theirs, planning to lose. They just have to endure, I guess. Everybody expects them to break out any game now. Then again, people have been expecting that since Opening Day."