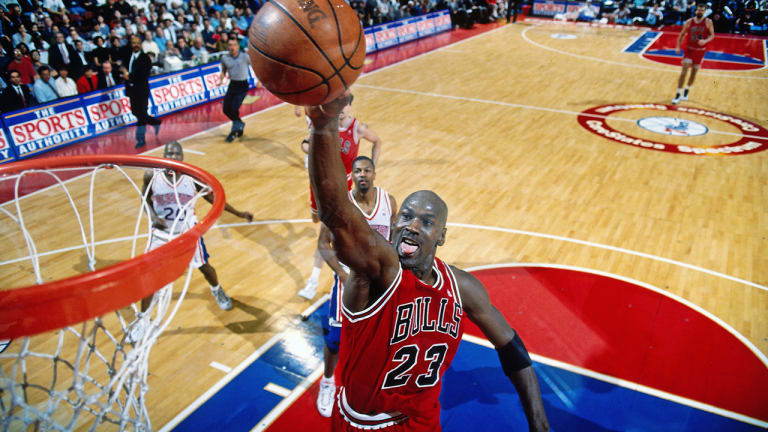 Air Jordan, Air Bulls
Michael Jordan soared, and some of his teammates even went aloft, too, as Chicago grounded Cleveland in the playoffs
On Sunday the Chicago bulls advanced to the second round of the NB A's Eastern Conference playoffs for the first time in seven years, lugging with them an intriguing and still unresolved question: Are they a one-man band?
Chicago answered ambivalently in going the best-of-five distance with the Cleveland Cavaliers. In the first two games, the Bulls were successful only when they went to Michael Jordan, who scored 50 and 55 points in 104-93 and 106-101 victories at Chicago Stadium. In the next two games, on the Cavaliers' home floor in suburban Richfield, the Bulls looked like lost sheep whenever Jordan was not out front with his staff. Sure, he scored 38 and 44 points, but he was playing with a sore back and a sore right knee and with several of the calls against him. Cleveland won 110-102 and 97-91.
But in the fifth and deciding game, in Chicago, the Bulls performed like a many-man band. While Jordan "struggled" for 39 points, several of his teammates finally stood strong and tall in a 107-101 victory. "Today," said coach Doug Collins, "the Chicago Bulls showed up in unison."
So did Cleveland, which for the first 1½ quarters of the game threatened to close down the Jordan Jamboree for the season. The Lakers' Magic Johnson has already proclaimed the Cavaliers "the team of the '90s," and there's no reason Cleveland can't leapfrog past Chicago, the Detroit Pistons and the Atlanta Hawks to the top of the Central Division next season. Yes, the Cavs finally came apart on Sunday in the din of hostile Chicago Stadium, but not until late in the game and not until the Bulls, who had been behind by 18 points late in the first quarter, had mounted an exquisite clutch performance. In 1988-89, Cleveland's young guards, Mark Price and Ron Harper, will be a bit wiser, veteran forward Larry Nance will be hungrier for recognition, and center Brad Daugherty will be a year closer to becoming the savviest (not the best, mind you, but the savviest) center in the NBA. Beware the Cavs.
Chicago also may have seen its own future flash before it in Game 5 with the play of rookie Scottie Pippen, who had 24 points, six rebounds and five assists. Pippen has had an up-and-down season, as many first-year players do, but he performed well in the Bulls' stretch drive, during which they won 13 of their final 17 games to overtake Atlanta for second place in the Central Division and third in the Eastern Conference. Still, Pippen—and everyone else, for that matter—was surprised when Collins casually mentioned, minutes before Game 5, that Pippen would be starting at small forward for the first time this season. The move was not only an expression of Collins's confidence in the multitalented Pippen, but also an indication that the regular starter, Brad Sellers, is back in what Sellers has jokingly referred to as "the Doug house." A 7-footer who ventures into the paint so rarely he must believe it is mined, Sellers played only five minutes on Sunday, and while it would be premature to say that his days are numbered in Chicago, it's a virtual certainty that Pippen's day has arrived.
Pippen was in the middle of all that went right for Chicago on Sunday. With 27 seconds left in the third period and Jordan on the bench taking his customary end-of-the-quarter rest, Pippen stole an ill-advised crosscourt pass by Harper and took it in for a layup that gave Chicago its first lead of the game, 78-77. Twenty-two seconds later he dunked the rebound of Sam Vincent's missed layup, which had been set up by another Cav turnover, and the Bulls led 80-77. And in a key six-point run late in the fourth period that gave the Bulls a 100-92 lead with 2:58 left, Pippen hit a jumper and a basket underneath sandwiched around a jumper by Dave Corzine. That, in effect, was the ball game.
"It's one of the biggest games I've ever seen a rookie play in the playoffs," said Chicago backup guard Rory Sparrow, who at 29 is one of the few Bulls old enough to have a sense of history.
The 6'7" Pippen's eye-popping versatility will help him overcome the damned-if-you-do, damned-if-you-don't dilemma of being on the same team as Jordan. If you take a shot or make a move to the basket that isn't successful, then you should have passed off to Jordan. But if you constantly ignore your own shot in an all-out effort to set up Jordan, then you are not providing him with substantial support. It's a problem the Bulls have struggled with all year, and the fact that Pippen was a pip in a playoff game or that Corzine came through in the clutch (7 for 12 from the field) after a horrendous start that included three first-half air balls doesn't mean it's behind them. One must engage in statistical hairsplitting to argue that the Bulls are significantly improved over last year in spreading the offensive wealth: Jordan scored 35.4% of Chicago's points in 1986-87, a figure that dropped slightly, to 33.3%, during the recently concluded regular season and then soared to 44.3% in the series against Cleveland.
Nevertheless, the ears of the Bulls' management positively burn when the phrase "one-man team" is uttered anywhere in the vicinity. Which is why Chicago general manager Jerry Krause could be found in the deliriously happy Bulls locker room after Sunday's triumph, buttonholing everyone in sight and saying, "One-man team, huh? No way! No way this is a one-man team!"
However, in the rush to praise the undeniable contributions of others, Jordan's fine performance in Game 5 was almost obscured. Yes, after going dunk-less in Games 3 and 4, he had only one slam on Sunday—attribute that to fatigue and the outstanding defense of Harper and Craig Ehlo. And, yes, his ball handling was atrocious at times. He had seven turnovers, and during one bizarre four-possession sequence in the third period, he threw the ball away three straight times and then shot an air ball. But, as usual, the Bulls wouldn't have been in the game without him. The Cavs had bottled up Chicago's offense and led 39-29 three minutes into the second period, when Jordan decided he had seen enough. He drove to the basket, got fouled and made one of two free throws. The next time downcourt, he drove to the basket, got fouled and made one of two. Next time down: drive, foul, made both. Same thing 19 seconds later. Then he dunked off an alley-oop pass from Pippen. Suddenly, Cleveland's lead was only 41-37.
No, the Bulls never went exclusively to their Archangel Offense—"That's where we give the ball to Jordan and say, 'Save us, Michael,' " explains Chicago assistant coach John Bach, coiner of the term—but Jordan was still the answer to the Bulls' prayers more often than not. And, oh yes, his 226 points were the most ever in a five-game series.
In fact, it's remarkable that Jordan's luminous presence hasn't upset the Bulls more than it has this season. There have been only minor eruptions, most of them from Mount Oakley. For example, after scoring just five points in a 97-91 loss in Game 4, Bulls power forward Charles Oakley had this to say: "I work hard and don't get any plays called for me. I'm the best rebounder in the league [he finished second statistically to the Los Angeles Clippers' Michael Cage this season, but his claim is probably accurate], and I'm getting pounded and pounded under the boards every night. I'll do anything for the team. But they should give me something back."
To his credit, Oakley stayed within himself on Sunday, taking only five shots and acting like a human earthmover under the basket as he grabbed 20 rebounds.
Jordan, for his part, takes a sympathetic view of Oakley's complaints. "It's not really Doug's play-calling so much as how we execute the play," Jordan said Saturday. "Doug is trying, and has been trying, to get us out of just relying on me. Everybody has an equal opportunity to score in this offense, but sometimes the other guys aren't used to taking charge. We need more of that. That's what we worked on in practice today." Evidently it had some effect.
Jordan made these comments as he tooled away from the Bulls' practice facility at the Multiplex in suburban Deerfield in his white Porsche 911 turbo. Behind him he had left a dozen or so interview seekers, something he doesn't like to do. But his back was aching, the result of a muscle pull suffered in Game 3, and he needed rest. As Jordan cruised slowly behind a mall near the Multiplex, two cars suddenly caught him and literally cut him off from both sides. Jordan looked resigned as he coasted to a stop. Two autograph seekers jumped from the car on his right while a young man begging for a moment of Jordan's time emerged from the one on his left.
"Michael, please, this is important for me and you," he said. Jordan gave a reluctant nod, and instantly the man produced a blue sweat suit to which he had affixed an Air Jordan logo.
"Michael, look at this!" he said. "Nobody's making these. Michael, we've got to talk. Please! Can we talk?" Jordan took the man's phone number. (The next day, after Game 5, Jordan reported that he had returned the call but had begged off the deal.)
"It ever strike you that you have a bizarre life?" Jordan's passenger asked him as he drove off.
"Sometimes?" said Jordan. "Believe it or not, that wasn't all that unusual."
Jordan is a man who appears to have the many and varied pieces of his life in order. He handles himself off the court as well as he handled himself on the court this season, and that's saying something. While it is true that, as the Cavs' Ehlo says, "He has different skills than the rest of us," it's also true that Jordan has exceeded everyone's excessive expectations because he has never stopped improving. His .535 season shooting percentage, absurdly high for a guard who averaged a league-high 35.0 points per game (last year's figures were .482 and 37.1), is testament to that.
Or consider his defense. He is the first player in NBA history to lead the league in both scoring and steals (3.16 per game). "There've been a lot of times that Doug has put me on somebody to stop him," says Jordan. "I played Alex English, I played Magic Johnson. Doug still hasn't let me on Larry [Bird], though. That's the one I'm waiting for."
Jordan obviously hopes to get his chance in the Eastern finals against the Celtics. In the meantime, though, the Bulls' second-round series against Detroit, which began Tuesday night, loomed as a giant obstacle, one that would put to a test the assertion of an exuberant Pippen on Sunday: "Now we know we're not a one-man team anymore." As Pippen and the rest of the Bulls know full well, the obstacle can be overcome only by Team Chicago, not just Team Michael.
PHOTO
JOHN
BIEVER
At times, Corzine (right) stuck out against the Cavaliers nearly as much as Jordan did.
PHOTO
BILL
SMITH
Jordan had some chilling moments, even as he set a five-game playoff scoring record.
PHOTO
JOHN BIEVER
In a dive for a loose ball in Game 5, Ehlo (3) was actually able to scale Mount Oakley.
PHOTO
JOHN BIEVER
Pippen's start in the concluding game was a surprise, as were the 24 points he scored.