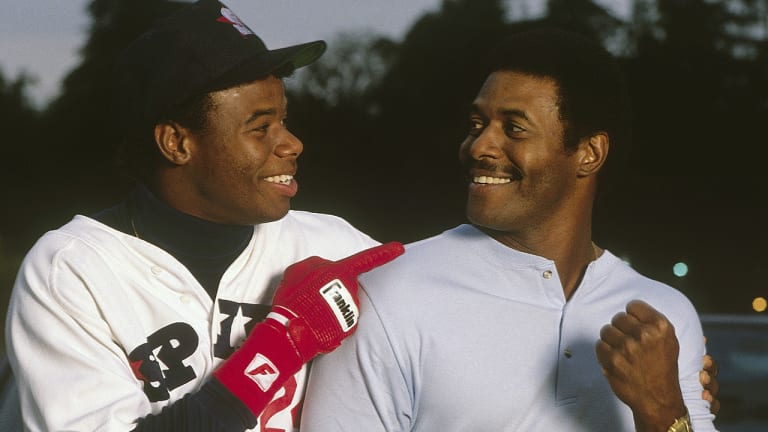 Born to Be a Big Leaguer
The way 18-year-old Ken Griffey Jr. is hitting, he may become the first player ever to join his father in the major leagues
On a cool April evening in San Bernardino, Calif., Ken Griffey, the veteran outfielder for the Atlanta Braves, emerges from his rented Cutlass and strolls across an asphalt parking lot, angling for the rightfield line of Fiscalini Field. His target is a large youth in the uniform of the hometown Spirit who is chatting over a chain-link fence with a few ballpark denizens. As Griffey walks, word of who he is spreads, and a sea of children surrounds him, their pens poised, their looks beseeching. Some ask him to sign baseballs that already bear a signature resembling his own. "How much money you got on you?" Griffey deadpans before signing.
Until now, Griffey's day hasn't been an uplifting one. The Braves lost an afternoon game at Dodger Stadium, dropping their record to 0-10, a modern National League record for season-starting futility. Griffey, a .299 hitter over his 15-year major league career, lined out as a pinch hitter in that loss and lowered his 1988 average to .091. But after the 80-minute drive from L.A., the frustration has faded. Griffey is about to watch his son George Kenneth Griffey Jr. play Class A ball, and his mood is soaring.
When the older Griffey reaches the fence, Ken Jr. extends a wide smile, a greeting—"Dad!"—and a large right hand for a vigorous shake. "Hey, kid," says the father. Kenny, as his father calls him, inquires about Ken's game that day and then, with a child's innocent energy, blurts out the details of his own latest feats afield. Ken absorbs this rapid-fire narrative before advising his son to tuck in the two dangling gold necklaces he's wearing. Kenny tucks one under his turtleneck, leaves one out.
Soon they are down to family business. Griffey the father wants to know where his kid's twice-monthly loan payment is. Griffey the son wonders how many bats his dad has brought with him. They hike back out to the parking lot. Although their shoulders roll gently as they walk, the Griffeys aren't very similar. Dad is 38 and thick through the middle, 200 pounds of mostly muscle on a 6-foot frame, and he moves with a professional's assuredness. The son, at 18, is 6'3", his 195 pounds are tapered, his sloping, open features favor those of his mother, Alberta. He's a kid in a rush. Ken pulls a brown garbage bag out of the trunk of the Cutlass and loads Kenny up with batting gloves, underwear, a mitt and two pairs of cleats. He hands him a 35-ounce bat, too. Kenny scans the trunk. "Only one?" he asks.
The father smiles and shakes his head. He has given his firstborn much in life, including a gift that will keep on giving: his talent. When his career ends, Ken will have around 2,000 major league hits. Kenny has taken that talent and amplified it. As the game between San Bernardino and Palm Springs begins, Kenny, who plays centerfield for the Spirit (which was 7-0 then and 15-9 at the end of last week), leads the California League in batting (with a .520 average), home runs (4) and RBIs (11). Last season, just before Kenny graduated from Moeller High in Cincinnati, the Seattle Mariners made him the No. 1 draft pick in the nation and signed him for a $160,000 bonus. Less one jockstrap, two pairs of sanitary hose and a Cincinnati Reds warmup jacket, that was $160,000 more than his father signed for as a 29th-round choice in 1969.
As a 15-year veteran, Ken has the abiding respect of his peers; Kenny may one day have their awe. But while Ken had to work to prove his ability, Kenny will have to work not to disprove his. By age six, he showed that he had a feel for the game: When his dad struck out in a Puerto Rican league game, he told him in the dugout, "That pitcher's got nothing." When Ken struck out again, the kid said, "Dad, you got nothing." The game hasn't humbled Kenny much since.
If the Griffeys' major league careers overlap—and there's an outside shot that the Mariners will call up Kenny in September—they will become the first father and son to play in the bigs at the same time. The Mariners showed an interest in trading for Ken last season, and if such a deal were ever to be made, one can imagine the dialogue as the Griffeys trotted out to their positions in the Kingdome outfield:
Son: What happens if I call you off a ball?
Father: You'd better. Or you're grounded, and I'm taking your car away.
Baseball, though, has mostly kept the Griffeys apart. During his eight seasons with the Reds, Ken was around the family's Cincinnati home enough to share the preteen years of his kids, Kenny and Craig, now 16. But since 1981, when Ken was traded to the New York Yankees, his schedule has allowed him to see Kenny play only seven or eight times. Some scouts saw the kid play that many games in his senior year at Moeller alone. It took the family's chief scout, Alberta, three months to convince her husband that when Kenny was 16 he was good enough to compete with 18-year-olds in Connie Mack ball. At the Connie Mack World Series that year, Kenny hit three home runs, one to left, one to center and one to right.
Griffey Sr. lingers along the rightfield line for the start of the game against Palm Springs, dressed in a borrowed Mariners warmup jacket. Kenny has played in 60 Class A games (after signing last year, he batted .320 with 14 homers and 13 steals at Bellingham, Wash.), but Ken has only seen him once, when he pinch-hit and struck out in a game against Medford. "There are so many things I don't know," says Ken, "because I didn't see him." His presence still distracts his son. "Only when his father was there would Kenny pressure himself," says Mike Cameron, the Moeller coach. "A hundred scouts could be in the stands, and it wouldn't make a difference." Until Kenny singled in Instructional League play last fall, he hadn't gotten a hit in front of his father since 1982. "When he was there, it was the only time I thought I had to impress somebody," Kenny says. "He'd say he was the one guy I didn't have to impress."
With two out in the bottom of the first, Kenny is introduced to the crowd. "Yes indeedy, boys and girls," the P.A. man bellows, "what time is it?" The 2,469 fans shout back, "It's Griffey time!" Ken shakes his head. "I'm all over him for that," he says.
Both Griffeys bat lefthanded, but the younger one stands more upright, his back leg cocked more than his dad's, in the fashion of a power hitter. Between pitches he sneaks a glance down the line at Ken. He's well aware that's he's 1 for 5 years in front of the old man, and with the count at 2 and 1, he lays a bunt down the third base fine. He's almost flying as he reaches first without drawing a throw. "I was going to get at least one hit, even if he gets on me about it," Kenny would say later. After the bunt his father, grinning, calls his son "a Judy."
The Griffeys needle each other all the time, but this doesn't stop Ken from being a disciplinarian, though he must often play that role over the phone. When Kenny was 16 and traveling with an older crowd, the Midland Cardinals on the Connie Mack circuit, he knocked on coach Joe Hayden's door late one night. Hayden had prohibited the players from making calls from their motel rooms, but Kenny was under instructions to check in with his dad. Hayden allowed him to use his phone. Father and son gabbed for a bit, and when Kenny hung up, he asked Hayden if he could spend the night in his room. "My dad wants to call later to make sure I'm not out misbehaving," said Kenny. Hayden said sure. At 3 a.m. the phone rang. It was Ken, just checking.
"Ken can reach for a belt with one hand," says Alberta, "but he'll be reaching in his pocket with the other." Mostly he'll be reaching for car keys to hand out. In less than two years, he has helped Kenny purchase a Chrysler Laser and two BMW 325s. He's now on his third BMW, an M3. It has a cellular phone and $6,000 worth of stereo equipment, including 14 speakers, so when he idles at a red light, people on all four corners can appreciate the sounds of LL Cool J. Craig, a Moeller junior who's a football tailback and track star, drives a Conquest. Brian Goldberg, the agent for both Ken Griffeys, describes Ken in two words: "Very generous."
Ken's father, Buddy, wasn't a source of much sustenance for his son. Buddy moved away from his wife, Ruth, and their six children, including two-year-old Ken, in Donora, Pa., leaving Ruth to support the brood with odd jobs and welfare checks. Seven years later Buddy showed up at the door, and Ken, not recognizing him, began to close it in his face. They seldom see each other now—Buddy, who played some ball in Donora with Stan Musial, is a custodian in Cleveland—and their fragmented relationship troubled Ken into his 20's. "Have I spoiled Kenny and Craig?" says Griffey. "Hell yeah, I spoiled them. I wanted them to have what I couldn't."
By the sixth inning, Kenny has twice demonstrated his defensive skills: Once he ranged far into left center to cut off a ball bouncing toward the fence and hold the hitter to a single, and then, more for show, fired a BB to home on a sacrifice fly, though he had no chance to get the runner. "I'd like to borrow some of that," says Ken admiringly of his son's arm.
After hitting into a fielder's choice in the third, Kenny comes up with runners on first and third in the fifth. For the first time he is wielding the bat his dad brought, and he smacks an infield single to the the right side, driving in a run.
Ken made much of his living with infield hits, banging out a total of 75 of them in 1975 and '76 as a vital, if underappreciated, cog in the Big Red Machines that won the World Series in both of those years.
Kenny is nearly as fast as his father was, but he prefers the power game. "Dad impressed me once," he says. "That was when he hit a home run and was named MVP of the 1980 All-Star Game. Mostly, it didn't matter what he did. He was just Dad." Kenny has hardly modeled himself after his father, though occasionally, to show off for Alberta, he lets his top hand fly off the bat, just like Dad. He wears No. 24, the number of his hero, Rickey Henderson.
At the request of the Spirit's management, Ken moves to the radio booth in the sixth inning to comment on his son's next at bat. He's introduced to the crowd and greeted with loud cheers. With the spotlight intensified, Kenny strikes out.
Being a big leaguer's son carries burdensome expectations, and being a No. 1 pick and the star of one's team, despite being younger than everyone else on the roster by more than two years, doesn't lighten the load. Kenny eases the stress by acting like the teenager he is. Says Cameron, "Before he went down to spring training I told him, 'Kenny, you've got to get serious, this is a great opportunity to make a nice living.' He looked like he was listening hard. Then he said, 'I can't wait to get there. I'm going to get in a pillow fight.' "
The Mariners will suffer Kenny's immaturity for now, but Alberta won't. When she flew from Cincinnati to Bellingham to visit him last season, he was in a slump that left him batting .230. "When I can't hit, that's when I want to quit," he says. Worse, he was on the bench for violating curfew. "The night before I left, I gave it to him up one side and down the other," says Alberta. "He didn't call me for four days." Kenny then reestablished contact with his family—and with the baseball, batting .450 for the rest of the season.
By the bottom of the eighth, the Spirit is ahead 9-5. Seattle has stacked this team with hot prospects, hoping it would win and thereby build winning attitudes. Kenny's teammates enjoy regaling Griffey Sr. about his son's most recent herculean homers. George DeLange, the club's chairman of the board, is telling the father what a fine young boy he has when Kenny steps up with two out and no one on. He's in his fourth stance of the game and using his third bat. On one swinging strike, he looses his top hand in an unspoken tribute to his dad. Then, on a 3-2 pitch, it is indeed Griffey time.
With a looping stroke, he launches an outside fastball into a high arc toward leftfield. The Palm Springs leftfielder drifts back, back, but he has no hope as the ball disappears beyond a clump of eucalyptus trees more than 400 feet from the plate. In the press box, DeLange punches Ken in the shoulder, but the older Griffey is too stunned to notice. Through a hand held over his mouth he mutters, "Did you see how far that ball went?" As Kenny rounds the bases, he cackles to himself, as if to say, "Aha, I did it!" When he crosses the plate, he points a triumphant and taunting index finger at the old man.
After the game, the Griffeys and four of Kenny's teammates, whom Ken is more than happy to entertain with major league tales, go out to eat. On the way to the restaurant, Kenny calls Alberta from his car—it's 2 a.m. Cincinnati time—and gives her the details of his 3-for-5 night, getting a jump on another $600 phone bill. Three hours later, when he returns to his Los Angeles hotel, Ken wakes his wife again, with his first scouting report on a Mariner phenom they both know. "Bertie, I saw something from him in all five categories [hitting, hitting for power, running, throwing and fielding]," he says. "It doesn't make sense for someone to have that much talent."
Next time the father and son talk, Kenny offers to lend his dad a few hits. Ken threatens to ground him. For the kid, there's a little time left before he has to get serious. "I haven't been yelled at enough for it not to be fun yet," he says. At the end of last week he was hitting .371 with 20 RBIs and leading the California League with six homers. For the dad, who was still slumping but had raised his average to .196, there will be time to catch up. "Enjoyment," says Ken. "That's what I feel watching him. Enjoyment."