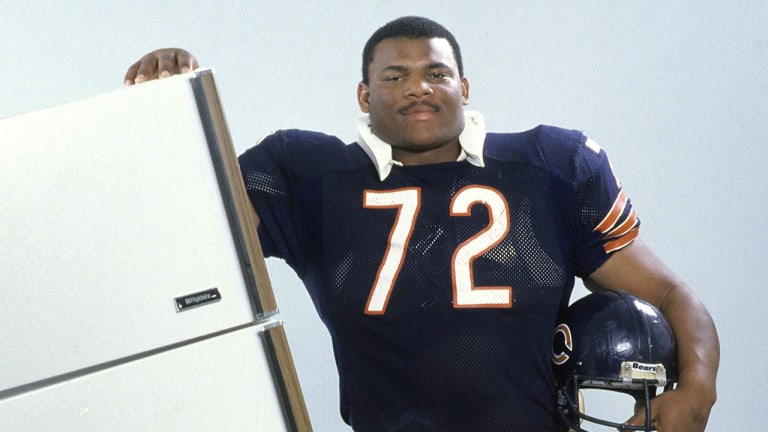 Publish date:
Slim Down A Bit, Fridge
By shedding 60 pounds, William Perry could be big again
Is there anyone among us who has never tried to lose weight through dieting? Anyone who has never at least thought about going on a diet? Those with their hands raised are excused. You may close this magazine, go eat sensibly, pat your washboard midriffs and chuckle smugly over your metabolisms, which must have been lifted intact from shrews and hummingbirds.
The rest of you, gather round as we discuss 6'2" defensive lineman William (the Refrigerator) Perry, who, at the Chicago Bears' recent minicamp, tipped in at 377 pounds. Football player or not, 377 pounds is a lot of weight to lug around. Even more startling is that the Fridge was on his way down from a reported high of 420 a couple of months earlier.
No need for fat jokes here. Perry is a congenial guy, and he has heard all the gags. Indeed, his former teammate Tim Wrightman, a budding comic, had a satchelful of Fridge jokes, some of which were better than anything Wrightman did on the field. But 377 pounds goes beyond humor, or even cosmetic or career concerns, straight to health risks.
"It is life-threatening." Bears coach Mike Ditka says of Perry's obesity. Ditka wants Perry at 320 when training camp opens on July 21. But more than that, Ditka wants Perry to realize he has a problem and to embrace an effective diet that will carry him safely through the rest of his life. Ditka knows that going up and down like a yo-yo with one's weight to satisfy other people's goals is not the answer. Indeed, how healthy could Perry be even if he reports at 320, after having lost nearly 60 pounds in only two months? "And what about the moment he's out of football?" says Ditka.
Ditka's great compassion for Perry stems partly from the fact that he helped create the Fridge phenomenon that captivated the country during Chicago's 1985 drive to victory in Super Bowl XX. Ditka had Perry run with the ball, catch the ball, even pass it that season. And Perry's gap-toothed smile seemed to imply that life was nothing but hard work and a plateful of Big Macs. Seeing a happy fat man performing all those wondrous athletic feats made a lot of people feel better about their own burgeoning breadbaskets. The Fridge was therapeutic. He appeared in commercials and got rich, and we all enjoyed him.
But back then he weighed only 308 or so, and for a shy rookie from Aiken, S.C., the hoopla must have seemed like a bizarre dream. Cars lined up in front of his modest suburban Chicago home so fans could get a glimpse of this mythic creature, the Refrigerator. And all the while Perry kept telling reporters, "I'm just me."
"I think the whole thing overwhelmed him," says Ditka.
Perry is a friendly fellow, but he is not particularly close to anyone on the Bears, and has no real support group to assist him with his weight-loss efforts. He was very attached to his mother, Inez, and was deeply hurt by her death last February. Though he is married and has two small children, Perry, at 25, is still something of a large child himself—an easygoing, fun-loving kid in a pressure-packed world. Often when a person becomes depressed, nervous, bored, distraught, etc., he will do one simple thing to mask the pain—eat. Perry, it seems, has done that.
Only through his astounding athletic ability has Perry remained an effective NFL competitor. I often play pickup basketball with him at a Chicago gym. One day, when he was in the 320 range, he told me he could dunk. I said he couldn't. He grinned and then took the ball, ran and smashed it through the hoop like a massive Michael Jordan. I still wonder if anyone heavier and shorter has ever dunked a basketball. "He's a hell of a football player," says Ditka. "His movement is astounding, scary at his weight. But I told him he won't be able to last beyond a quarter."
Ditka and Perry have discussed possible remedies for Perry's weight problem, including liposuction, fasting and a live-in nutritionist. The Bears have been inundated with mail from concerned people suggesting every imaginable type of diet and exercise program to assist the Fridge. But as Ditka says, "The whole organization, his wife and others are involved with him, but Bill's got to make it happen."
That's the key. Perry has to be willing to make a major lifestyle change, and he has got to do it himself. At a time when Walter Hudson, the erstwhile heaviest man in the world, has dieted his way down from an estimated 1,200 to less than 700 pounds over the past 10 months, it would seem that Perry could draw inspiration from Hudson and everyone else who has made the commitment to lighten the load.
What if the Fridge comes in looking lean and mean and healthy this season? Knowing Ditka, he just might put Perry at quarterback and let him run the wishbone. Let's have fun again in the NFL. Let's beat this thing, Bill.
PHOTO
BUCK
MILLER