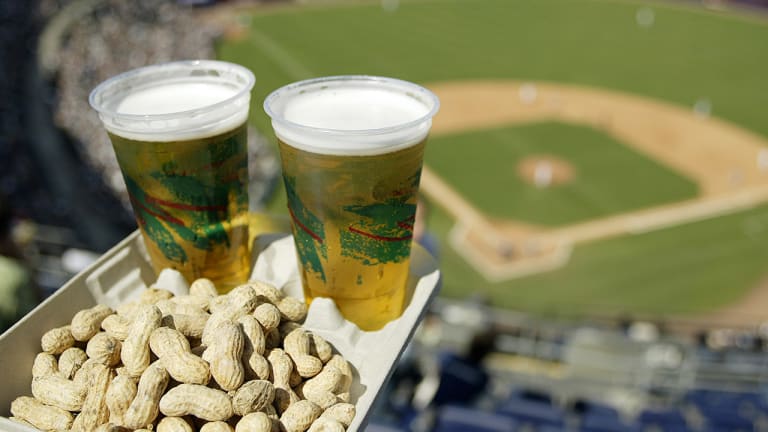 Sports and Suds
The beer business and the sports world have brewed up a potent partnership
You can put it either way. It's beer, beer that makes you want to cheer. Or: It's cheer, cheer, cheer that makes you want a beer. No matter which, you have spoken the one great truth about beer in the U.S. in the waning years of the 20th century: Nothing loves suds like a sports fan loves suds.
This is an indelible fact of contemporary American anthropology. It is a matter of demographic statistics. It is blessed chapter and verse in U.S. brewers' bibles of marketing and advertising. It is the reason that almost every kind of sporting event—from a rinky-dink hometown road race to the Olympic Games—is played out, as often as not, in an environment of beer slogans, beer signs, beer songs and beer salesmanship. And it is the cause of some ugly social problems, which leads some to wonder just what kind of cultural hypocrisy is going on when Americans relentlessly insist on immersing sport—our most wholesome, most admired, even (sometimes) most heroic institution—in a sea of intoxicating drink.
Whatever angle you view it from, beer and sport have come to be as inseparable in the American lexicon as mom and apple pie, God and country, ham and eggs, Jack and Jill and, of course, suds and Spuds. This wasn't always so. Beer has come a long way, through ferment of time and foam of tide, to get to its ringside seat as U.S. sport's No. 1 corporate team sponsor, media advertiser, event underwriter, cheerleader, troublemaker, thirst quencher and life-support system.
THE THREE-HEADED BEER
When consumed in the ballparks, stadiums and arenas of America in the 1980s, beer means three things: profit, fun and trouble. Unfortunately, you can't have the first two without the third, and there lies the dilemma.
Take the Cincinnati Reds baseball club, that venerable 19th-century institution residing in one of the world's great brewing cities. Last season the Reds sold 12,610 half-barrels and 35,365 cases of beer, which works out to nearly a pint for every man, woman and child among the two million plus who attended the 81 Reds games played in Riverfront Stadium. Total sales, after taxes, for beer (and a tiny bit of liquor) came to $4,635,514. Profit? As with nearly all professional teams, the ball club shares the revenues with stadium concessionaires: the Reds get 33% (and give 10% to the city), meaning a neat take of $1,006,000 plus for the club.
And fun? Well, there's the annual and hugely popular Relief Pitcher Night (the first 20,000 people through the turnstiles get free beer pitchers with four tumblers inside) sponsored by sturdy old Hudepohl-Schoenling beer, which is made by the last of the 36 breweries that produced suds in Cincinnati before Prohibition.
And trouble? A few months ago, on April 30, 41,032 baseball fans produced one of sport's most memorable mass temper tantrums, turning Riverfront Stadium into a garbage dump and forcing an umpire to flee the field. Later, it was quite properly pointed out that the catalyst for the riot was not a gang of beer-soaked louts but an enraged Pete Rose, who was presumably dead sober. Nevertheless, beer deserved its share of the blame: the melee happened in the ninth inning, when the foam had been flowing for hours (even though the taps were shut off at the top of the ninth), and the crowd's reaction was far out of character for an old baseball town where the fans have been described by A. Bartlett Giamatti, president of the National League, as "enormously knowledgeable and historically civil."
Usually the trouble with beer is neither so massive nor so melodramatic. A short-list compendium of complaints drawn from an unscientific poll of fans produced these facts:
1) Everyone who had ever been a spectator at a sporting event of any kind had, at one time or another, experienced the bellowing of obscenities, racial or religious epithets (not always bellowed), abusive sexual remarks to women in the vicinity, fistfights between strangers and fistfights between friends.
2) Some people (about one third) had suffered such ugly experiences as having beer spilled on them by accident; having beer poured on them on purpose; witnessing vomiting in nearby seats, urinating in the aisles and indecent exposure; receiving insults from a drunk, blows from a drunk, spit from a drunk, as well as receiving insults from abusive ushers who had been asked to reprimand abusive drunks.
3) Many (about three quarters) noted that the beer sold at American sporting events almost always seems to taste so warm and weak that it is barely drinkable.
4) Most agreed that it was hard to understand how anyone could stomach enough of such swill to get drunk.
5) About half said that bad as it usually is, beer at a ball game is still enough of a pleasure that it is probably worth the trouble it creates.
6) The other half said probably not.
BEER THROUGH THE AGES
No one knows exactly when beer first slaked man's thirst, but it is the world's oldest alcoholic drink and was invented independently again and again by widely separated ancient races—Incas, Egyptians, Babylonians, Hebrews.
In 1777, Frederick the Great, King of Prussia, said: "My people must drink beer. His majesty was brought up on beer and so were his officers and soldiers. Many battles have been fought and won by soldiers nourished on beer, and the King does not believe that coffee-drinking soldiers can be depended on to endure hardships or to beat the enemies."
Along that same line, a 1909 ad for Budweiser, under the headline BALL PLAYERS USE BEER IN TRAINING, quoted C.H. Ebbetts, president of the Brooklyn Trolley Dodgers, describing an ideal meal for his team: "We would request a simple dinner with light beer as that is our idea of a proper drink for athletes in training."
And just this past April that eminent nutritionist and philosopher Whitey Herzog of the St.Louis Cardinals said something amazingly similar after an epidemic of pulled muscles had hit his pitching staff: "If they'd eat a blasted steak or drink a blasted beer once in a while, maybe their muscles wouldn't keep ripping off their rib cages. Grover Cleveland Alexander never pulled rib muscles. Paul Waner never did and neither did Babe Ruth. Babe lived on hot dogs and beer. Sometimes that might be good for you."
BEER BARONS & BALL CLUBS
• Chris von der Ahe of St. Louis was a beer-and-baseball baron whose fascination with the national pastime was never so much with the game itself as with the drinking that went on around it. In the late 1870s von der Ahe noted that his saloon did particularly good business when the St. Louis Brown Stockings were in town, and around 1880 he decided he should sell beer direct to the fans at the game. Alas, he was not allowed in the park. In 1881, von der Ahe bought a piece of the Browns—mainly so he could sell beer inside the park.
Von der Ahe's ballpark—the original Sportsman's Park in St. Louis—was a garish place featuring a shoot-the-chute amusement ride in rightfield and a three-eighths-of-a-mile horse track around the inside of the park, encircling the ball-field. He was roundly hated by other baseball owners for his showy, profligate ways. To their glee, he made a number of terrible real estate investments, went through a scandalous divorce and ultimately was ruined for good when a fire destroyed his ballpark, injuring several fans, in April 1898. He was forced to sell the Browns for a pittance and disappeared from the public eye. On June 5, 1913, von der Ahe died at the age of 61 of cirrhosis of the liver. A St. Louis Post-Dispatch headline called him a MAN WHO PUT ST. LOUIS ON MAP.
• Jacob Ruppert was a credit to baseball, beer and the human race in general. He was a New York socialite, a dilettante of good taste and eclectic interests. He was a breeder of racehorses and Saint Bernards, a yachtsman, and a collector of jade, porcelain, Indian artifacts, rare books and monkeys. He was also a four-term U.S. congressman from Manhattan.
Born in 1867 to a family already rich from the yeasty proceeds of the Ruppert Brewery, he grew up in the best of protected worlds—yet somehow he became a baseball fanatic, his club being the Giants. He scorned the pathetic Yankees, but when the team came up for sale in the winter of 1915, Ruppert jumped to buy. The rest is magnificent history. He finagled the purchase of Babe Ruth from the inept Boston Red Sox; the addition of the Bambino to the Yankee roster was announced on Jan. 5, 1920, exactly 11 days before Prohibition banned all sales of alcohol in the U.S. In the very years when his mighty brewery was reduced to turning out near beer, the indomitable Ruppert assembled a brilliant baseball team, housed it in a new stadium that knew no equal, and went on to win 10 American League pennants and seven World Series in the 24 years he owned the Yankees. It all ended with his peaceful death in bed in 1939 at the age of 71.
• August A. Busch Jr. ushered the partnership of beer and baseball into the modern age. In 1953 the citizens of St. Louis were concerned that the Cardinals—descendants of von der Ahe's Browns—might fly the coop. The Cards' owner, Fred Saigh, a lawyer, had been found guilty of income tax evasion, and baseball commissioner Ford Frick insisted that he sell the club. Busch, president of the Anheuser-Busch brewery, stepped in with $3.75 million to buy the team and save the day. In general, he was lauded for this great civic gesture, but the St. Louis Post-Dispatch, sensing a double-edged motive, editorialized on Feb. 21, 1953: "Mr. Busch gives every evidence that he thinks of the Cardinals as a baseball club and not as a device for selling beer.... There is a certain affinity between beer and baseball which nobody need deny.... It would be a mistake to forget that the record of his new property will be written not in bottles but in the box score."
Well, Gussie didn't forget: There were plenty of winning box scores. But the bottles weren't totally overlooked. In an interview in The Sporting News in 1978, the 25th anniversary of his purchase of the Cardinals, Busch summed up the team's performance this way: "Even though we've had losing seasons on the balance-sheet in recent years, the brewery is still ahead and so am I. We've both gained from the time we paid Saigh $3,750,000 for the Cardinals. The brewery's sales have gone up from fewer than 6,000,000 barrels a year to more than 35,000,000 now, partly because of our baseball association."
Since that interview, the number of Anheuser-Busch barrels sold has more than doubled, and that, certainly, is due in part to the fact that every Cardinals home game for years and years has been a nearly nonstop Budweiser commercial, capped, of course, by Gussie's 1987 World Series rides through the outfield with the Anheuser-Busch Clydesdales. Here is a man who knows how to keep his eye on the ball—and his other eye on the bottles.
OF SUDS AND SPUDS
The marketing of beer through the use of cute dogs is not an ancient and honorable tradition.
For most of its first 5,000 or so years on earth, beer was not marketed at all; it was merely scarfed down within a very short distance of where it was brewed. Then came all sorts of 19th-and 20th-century innovations and advancements. The railroads spread across the land. Then came refrigeration, then pasteurization, then flickering black-and-white television shows—like the Pabst Blue Ribbon Bouts—then four-color television with glitz events like the Super Bowl, then the invention of Miller Lite beer, then the belated invention of Bud Light.... Somehow all of that led, with perverse and mysterious inevitability, to Super Bowl Sunday 1987, when a female bull terrier with the inexplicable and decidedly unmarketable name of Honey Tree Evil Eye made her national television debut under the alias Spuds MacKenzie.
Alas, there is no one at Anheuser-Busch or anywhere else in the brewing industry who purports to understand what made this particular mutt such a great beer salesman. When confronted with the question "Why Spuds?" Michael Roarty, 59, a 35-year veteran of the company and for the past 11 years executive vice-president and director of marketing, just shakes his head and tells the truth: "Some guy in our Chicago agency drew a rough sketch of a dog called the Party Animal, for a Bud Light poster. That meant we had to find a real dog that looked like his drawing. That meant Spuds. Orders for the poster of this strange-looking dog were monumental. We still can't explain it. It's like everything else in advertising. You just hope you get it right, but you never know for sure."
Since Spuds first went on the air during the '87 Super Bowl, she has appeared in a dozen different commercials. Bud Light's sales rose 21% in 1987, by volume the biggest jump of any brand in the business.
BEYOND THE SMOKESTACK
Having reached this pinnacle of business genius and marketing sophistication, that point where we are able to send a dog out to sell beer to 87 million sports fans without knowing why it works, perhaps it's time to report in more detail exactly how this came to pass.
The marketing of beer through indirect and unexpected means is not entirely new. The more enterprising brewers in the old days used to commission songs about their beer, then send out the sheet music to local taverns for plinking and singing by the omnipresent piano player. This produced such hits as Under the Anheuser Bush,The Budweiser Rag and Budweiser's a Friend of Mine. But for the most part, brewers favored the stodgy and the obvious when it came to marketing beer: posters, coasters, billboards and, of course, the oldest and most reliable advertising of all—word of mouth.
Alan Easton, 54, vice-president for corporate affairs of the Miller Brewing Company, sums up beer marketing during the first two thirds of the century like this: "The beer barons of America were staggeringly small thinkers. If you asked one of them, 'Who is it that consumes your beer?' he would reply, 'The guys who buy it, who else?' They had no idea about market research or much of anything else that went on beyond the shadow of their own smokestacks. Most breweries were family businesses satisfied to sell enough beer to keep the baron and his family consistently provided with the enormously luxurious life they had grown accustomed to. This narrow-minded mentality prevailed in the U.S. brewing business right through the 1960s."
Once in a while a brewer tried something new—sometimes with disastrous results. In the 1950s the Piel Brothers Brewery of Brooklyn hired the hilariously low-key radio comedy team of Bob and Ray to do a series of commercials as the hilariously low-key brewer brothers Bert and Harry Piel. The ads ran for five years and generated massive popular admiration. The result? Piels beer sales went down and down and down, until the company finally was sold in 1963. What happened? Jerry Steinman, publisher of the newsletter beer marketer's Insights, explains: "Unfortunately, the beer itself was not very good. Because of the great ads, all kinds of people bought it for the first time, hated it and spread the news everywhere about how awful it was. It was a case of terrible word of mouth caused by a wonderful ad campaign."
Advertising beer on radio and television didn't ordinarily lead to such catastrophic results, but neither was it the fine-honed marketing art it is today. Robert S.Weinberg, a former Anheuser-Busch vice-president who is now a professor of marketing management at Washington University, recalls, "In the '50s and '60s most of the beer ad campaigns on television either were silly comic things like Hamm's beer bear or they were deadly serious ego trips for the brewer that pontificated about excellence and fineness and quality. It was not until Philip Morris bought Miller that really sophisticated marketing programs for beer came into being. Nothing has been the same in the beer business since."
Philip Morris, the tobacco conglomerate, completed acquisition of the lackluster Milwaukee brewery in 1970. Miller was then ranked seventh in the industry, far behind the top three—Anheuser-Busch, Schlitz and Pabst—and was also trailing Coors, Schaefer and Falstaff. Soon after that, Philip Morris unleashed a high-powered marketing juggernaut that had been primed and perfected in the brutal cigarette-brand wars of the 1960s. Says Miller veep Easton, "Even our most heated competitors would agree that we were responsible for the marketing revolution in the beer business. We introduced them to segmented markets, target marketing, to image-oriented selling. We knew how to translate our products into media in a way that made the consumer feel good about himself when he bought them. The beer people hadn't a clue about this sort of thing until Philip Morris bought Miller."
Although there had always been some beer advertising on TV sports programs, American breweries really hadn't taken full advantage of the sales clout the medium offered. Chrysler had recently overtaken Gillette as the No. 1 TV-sports advertiser. But the great truth about beer in the U.S. in the early 1970s was the same as the great truth today:
Beer drinkers and sports fans are one and the same—indivisible, inseparable, identical! No one drinks more beer than a sports fan, and no one likes sports more than a beer drinker.
Statistical curves indicate that the age of maximum beer consumption and the age of maximum sports involvement are the same, both for men and for women. Peak beer-consuming years are 18 to 29, as are the peak sports-consuming years—for both participants and spectators. Among males 18 to 34, there is a core group of drinkers whose consumption is so phenomenal that even though they make up only 20% of the beer-drinking population, they consume an estimated 70% of all beer drunk in this country. Though the industry doesn't make a public point of it, these supersudsers are obviously an enormously important audience—and most easily reached with sports-associated salesmanship.
As Miller's Easton says, "Once you're into the demographics of sports, you are also into the total demographics of beer drinking. You get them all, from the couch-potato spectator to the high-action, participating jocks—joggers, softball players, bowlers. Even at a very high price, it is an extremely cost-efficient buy. TV sports and beer commercials are a perfect marriage. "So Miller plunged deeply into TV sports and by the late 1970s was buying more than half of all beer-commercial time on network sports programming. The company had introduced Miller Lite beer in 1974 and had found it a runaway success with the wildly growing population of fitness freaks. (In the first year that Miller Lite appeared, the so-called light beers—96 calories compared with about 150 in regular beers—held an airy 1.08% of the market, virtually all of it Miller Lite; in 1987, the light share was 24.58%.) By 1977, Miller had vaulted from seventh to second place among U.S. brewers and was threatening the longtime leader, Anheuser-Busch.
And that meant a fierce, frothing beer war was ahead, for A-B—as Anheuser-Busch is oh-so-respectfully nicknamed in the beer biz—had never been one of those moldy old breweries afraid to step beyond its smokestack shadow. Far from it.
THE KING, INC.
Let's start by declaring the obvious: Miller Brewing did not win that war, not by a long shot. At this moment, no company in the world is selling more beer than Anheuser-Busch. A-B, which is also involved in a variety of other products and enterprises—including baker's yeast, snack food, amusement parks, turf farming and railroad car repair, to name a few—ranked 47th on the latest Fortune 500 list, with $8.25 billion in sales. It has been the No. 1 brewery in the U.S. every year since 1957. In 1987, A-B sold 76.1 million barrels of beer, an impressive 5.2% increase over the previous year in a flat national beer market. This gave A-B an unprecedented 40% share of the American market. Miller was second with 39.3 million barrels, up 1.4% to give it a 20.7% share of the U.S. market, with the other breweries following far behind.
A-B is no late-fermenting, newfangled, 20th-century M.B.A.'s dream. It has been a hard-selling, territory-grabbing company since the Civil War. In 1861, Adolphus Busch married the daughter of Eberhard Anheuser, a St. Louis soap-maker-turned-brewer. Three years later Busch went to work for his father-in-law and by 1874 he was a full partner and obsessed with the idea of selling Anheuser-Busch beer everywhere. In 1876 he created the brand Budweiser (a name derived from Budweis, a town in Bohemia), and it became America's first nationally marketed beer. Before the advent of pasteurization, beer would go bad if not kept cold. Adolphus first created a network of railside icehouses to cool the beer in his freight cars, then took the logical next step and launched a fleet of railcars that were themselves refrigerated.
The brainy brewer had determined that quality and consistency of product were the keys to selling an alien beer to drinkers used to consuming only local brews. Thus, for Budweiser he insisted on a traditional, time-consuming method of brewing that used high-grade barley, hops and rice, and guaranteed a constant quality of beer—something not so easy to achieve in the volatile and delicate chemistry of beermaking.
Adolphus, who was as good at writing hyperbolic copy as he was at brewing beer, declared in his ads that Budweiser represented "the very highest point known to the art of modern brewing." He promoted his beer with such giveaway items as pretty little pocketknives with corkscrews for opening the corked beer bottles of the day. With his combination of brewing and marketing genius, Busch led the company until his death in 1913. By then Budweiser was the biggest-selling beer in the world, with a volume of 1.5 million barrels a year.
Other Busches—August A. Sr., Adolphus III, August A. Jr. and, now, August A. Ill—have taken over since then and have dealt with war, Prohibition, the Depression, and recession; with the beer battles of the '50s against its chief competitor, Schlitz; and with the explosive growth of foreign imports; to say nothing of keeping up with the vast and fast-changing terrain of marketing in a fiercely competitive, TV-dominated age. All the A. Busches who have led A-B through the 20th century have achieved much success. However, even genius goes stale. In 1974, when young August III was promoted to president at the age of 37, his father, August Jr., had been head of the company for 28 long years, and Gussie had, clearly, failed to keep up with the times. Says Weinberg, who had served as A-B veep several years before August III replaced August Jr., "Anheuser-Busch was a $700 million company that was run like a corner grocery store."
In contrast, Miller, powered by Philip Morris money and moxie, was going strong, building new breweries, introducing new brands. And Miller rode roughshod over all competition when it came to bright, intelligent mass-media marketing—particularly with its funny, macho Miller Lite commercials, which created new careers for a whole contingent of over-the-hill jocks, coaches, comedians and thriller writers.
Mike Roarty, who was made director of A-B's troubled beer-marketing department in 1977, says, "We had to dig ourselves out of a deep hole. They had Miller Lite; we didn't have a light beer at all. We were doing 36 million barrels to their 24 million, but we had a strike in 1976 and production was screwed up. We had to get our act together."
August III and Roarty decided the time had come to start selling Budweiser and other A-B brands on network TV sports programs, which, amazingly enough, they had done rarely in the past. "We went to the networks and innocently explained that since we had come to realize that it was such an efficient buy, we'd really like to get into a lot of network sports," Roarty recalls. "They looked at us like we had just come to town on a bus, and they said, 'Where have you been? We've been sold-out for years!' It was true: Miller had something like 70% of all network TV sports at the time. We just had to wait until things opened up. It was very slow in coming, but we persisted."
In the years since, A-B has effectively outpersisted all competitors in the brewing field, even surpassing Miller, in buying time on network sports shows. As of today, the two largest brewing companies in the U.S. hold what amounts to a near monopoly (despite some inroads by Stroh and Coors) on beer commercials run during all major league sporting events shown on network TV. Much of this is done through "exclusivity clauses," which means not only that A-Band/or Miller are the exclusive advertisers of beer on these programs but also that, generally, the Big Two have the right to renew the sponsorships under the same terms before other beer companies get a crack. Some exclusivity contracts are shared by A-B and Miller, such as Monday Night Football on ABC; others are absolutely exclusive, such as the NBA on CBS, on which Miller products are the only beers advertised. Such exclusivity clauses for A-B and Miller exist in most every major sport from bowling to the Olympics. In addition, A-B has been the exclusive beer advertiser for ESPN since that network's inception in 1979. This means that, with a limited number of exceptions (such as events sponsored and produced by other beer companies), if there's a beer commercial on ESPN, it's for an A-B beer.
Competing brewers have complained about being frozen out. Roger Fridholm, 47, president of the Stroh Brewery, now the No. 3 company in the country, says of A-B's ESPN deal, "It's sort of a barrier to purchase. If we want to buy time, ESPN has to offer it at a comparable price to Anheuser-Busch first." In 1985 Stroh filed a complaint with the Justice Department, charging restraint of trade in the Big Two's exclusivity deals with TV. However, Justice Department lawyers ruled that there was nothing illegal in the arrangement.
A-B now invests two thirds of its $344 million advertising budget in sports-related areas and, according to Arbitron's Broadcast Advertisers Reports, spends $109,244,800 for advertising on the three major networks' sports telecasts. Says Roarty, "We didn't go into sports in a big way until 1977, but since then we have jumped up from selling 22 percent of the national beer market to 40 percent—and we are still rising. We think that came about largely because of our concentration on sports—plus, of course, the quality and consistency of our product."
Whatever it is, the King of Beers thoroughly wiped out Miller's threat to A-B's No. 1 position—indeed, Miller is now working desperately to save its falling High Life brand even as its Genuine Draft climbs and Miller Lite holds its own. At the same time, A-B steamrolled dozens of brewers far smaller than Miller. F.X. Matt II, 55, is president of his family's century-old brewery in Utica, N.Y. Matt brands include Utica Club, Saranac, Matt Premium and Matt's Light, among others. The company also does contract brewing for some of the innovative young East Coast microbreweries that produce a wide selection of interesting and sophisticated brews. F.X. Matt is president of the Brewers Association of America, an organization of 62 mostly small breweries, all of which have been affected in one way or another by the ever-growing domination of you know who.
"A-B has things its own way, and with that kind of concentration of power, bad things can happen," says Matt. "The federal regulators are afraid of them, afraid of their lawyers. Nobody should have unlimited power, but they are getting it. All sports are dominated by Mr. Big, all television, all markets. We need a diversity of breweries, and the renaissance of the small ones is a very nice phenomenon. But I'm afraid that the future holds simply more and more Budweiser and less and less of everything else."
Anheuser-Busch has indeed moved into a stage of unprecedented domination among the world's brewers. There's even talk around A-B headquarters of the day, perhaps only four or five years off, when the company will sell fully 50% of all the beer consumed in the U.S. Budweiser currently outsells every other brand in the world, is on sale in 37 countries and, according to Impact International, outsells Kirin—globally the second-place brew—by a 2.4-to-1 margin. Spuds MacKenzie continues to sell more and more barrels of Bud Light, even though Senator Strom Thurmond of South Carolina has accused A-B of trying to target youthful drinkers through promotions that featured a stuffed-animal Spuds, a toy Spuds and Spuds-embossed T-shirts.
Meanwhile, Anheuser-Busch has sponsorship associations (which secure the use of local TV and radio and ballpark billboards for advertising, brand promotion and merchandising tie-ins) with all 24 U.S.-based major league baseball teams, 20 of 28 NFL teams and more than 300 college sports teams. A-B also has a large number—Roarty says "about a thousand"—of sponsorships of individual events, competitions and leagues, ranging from the Bud Light Ironman Triathlon World Championship in Hawaii to the Michelob Night Riders cycling circuit to the Carlsberg single-handed round-the-world sailing race. There seems to be no limit to the A-B reach when it comes to stamping the Bud logo on sporting venues—many of which would probably not survive without it.
AFLOAT ON BEER
A-B is not alone in its support of the sporting needy. And such support, of course, is motivated by more than altruism: The motive clearly is to enhance the image of the brewery and promote the sale of its beer. Nevertheless, sponsorship by the American brewing industry has done a good job in keeping all manner of tournaments, races, leagues, etc., afloat when they might have sunk—or never have tried to swim at all.
These events and endeavors range from the minuscule to the monumental. For example, one of Miller's major commitments is a $1 million-a-year contribution to underwrite the 1981-to-1988 operating expenses of the U.S. Olympic Committee's training facilities. But even this effort pales in comparison with the Miller investment in motor sports—its single largest area of commitment—which includes sponsorship of teams on every major auto racing circuit. Miller also puts sponsorship money into a sports potpourri that includes tractor pulls, NASTAR ski racing and NBA All-Star balloting, and offers a cool $1 million to anyone on the pro bowlers tour who wins a three-tournament parlay called the LiteSlam.
The Labatt Brewing Company of Toronto—which owns 45% of the Blue Jays as well as marketing and TV rights to the Montreal Expos and the Canada Cup, and Canadian TV rights to Major League Baseball and the NFL—could be called the A-B of Canada (indeed, the company brews Bud and Bud Light in Canada). Labatt was a major sponsor of the '88 Winter Games; its sponsorship included a widely admired project that paid for all parents of Canada's 149-member Olympic team to come see their offspring compete in Calgary. First budgeted at less than $10 million Canadian, the final bill for Labatt's total Olympic commitment reportedly came to nearly $25 million. Undaunted, the company is now putting up substantial money for a harness-racing series called the Ontario Sires Stakes.
Other major brewers have recently gotten into the act as well. G. Heileman, the fourth-largest brewing company in the country and maker of such brands as Old Style, Colt 45, and Carling, put up a reported $6 million in April to sponsor the Chicago marathon—now the Old Style Marathon. Stroh sponsors professional boxing tournaments, the NHL's "power rating" statistics program and a variety of motor sports teams. And Coors is big in softball, underwrites rodeos and the National Western Stock Show and sponsors the premier cycling event in the U.S., the Coors International Bicycle Classic.
With the big guys muscling in on all the major events, microbrewers are pretty much left with microsports. F.X. Matt sponsors the Matt's Winter Classic Arm Wrestling Championships. The Sierra Nevada Brewing Co. of Chico, Calif., sponsored the Chico Criterium bicycle race until last year, when Coors moved in with more money and bought the event. Sierra Nevada now settles for the Wildflower Classic Century bike ride (not race), as well as kayak races and Ultimate Frisbee competitions, all in California. At the even tinier San Francisco Brewing Co.—which sponsors a squash tournament—Allan Paul, founder and brewmaster, says of the sporting monopoly held by the largest brewers, "On the one hand, I'm very unhappy to see the stakes so high that the underdog can't even get in the race. On the other hand, I'm glad the major breweries are supporting sports. I may not recommend their beer, but they're into a good cause."
THERE'S TROUBLE BREWING
There is a school of thought, however, that argues vehemently that sport is not a proper area for brewer sponsorship. To many physicians, psychologists and social critics our incessant blending of intoxicating drink with athletic excellence is hypocritical, irresponsible and hazardous to the nation's health. Dr. Jay Caldwell, director of the Alaska Sports Medicine Clinic, wrote a scathing column last August in the Anchorage Daily News. After he decried the fact that the Alaska Midnight Sun Triathlon Championship had been summarily rechristened the Bud Light Triathlon, he fired away: "For blatant, and apparently acceptable, commercial exploitation of our youth by drug merchants, this even takes first prize.... Lest we forget, alcohol is the No. 1 drug of abuse in the United States.... there are about 13 million alcoholics in this country and over 3 million of them are in the 14-17 age group.... I worry about the cozy connection between alcohol and sport. Beer merchants have very effectively linked the two. They have made it seem perfectly natural for an intoxicating drug to be consumed following a pleasant sporting activity. Through sponsorship of events such as a triathlon, beer comes to share the luster of healthy athleticism."
Dr. William J.Beausay, president of the Academy for Sports Psychology International in Columbus, Ohio, says, "It's really paradoxic that alcohol and all that it stands for should be associated with excellent athletic performance. You cannot have one and the other at the same time. If you're going to perform as a top-grade athlete, you have to cut out alcohol."
In Austria, laws prohibit all public references at sporting events to "alcoholic beverages,tobacco, pharmaceutical products, political parties and religious communities"—in that order. Ironically, in a country that brews some of the most beautiful beer in the world, the very idea of a brewery involved with sports is considered appalling. "We could never think of it," huffs Dr.Klaus Leistner, director of the Austrian ski federation. "Sports and alcohol should never be placed together."
Cynical, ironic, immoral, hypocritical as it may be, the juxtaposition of beer and sports in the U.S. is often simply a matter of cold business pragmatism. As Bob Whitsitt, president of the Seattle SuperSonics, puts it: "We would be seriously hurt without beer companies as sponsors. It is a sensitive issue because you need the money, but you don't want to be seen as promoting the idea that people come to our games, get drunk and drive home. We'd be foolish to say we don't want a beer sponsor on moral grounds, but at the same time that doesn't mean we encourage 21-year-olds to down a case. We do make sure that our players are out in the community talking about the dangers of alcohol and drugs. That helps."
MYTHS, MEN & BEER
Four academicians under the auspices of the AAA foundation for Traffic Safety recently compiled a study about beer commercials entitled Myths, Men & Beer. They analyzed the content of 40 such commercials broadcast on network television during February and March 1987. Their major concern was the effect of these messages on children, because as the report says, "between the ages of two and eighteen, the period in which social learning is most intense, American children see something like 100,000 television commercials for beer."
The study points out that through exposure to sales pitches for beer, children are given "a particular view of what it means to be a man," as well as particular" attitudes toward beer drinking and driving." According to the report, in the world according to beer commercials, men's work is mostly physical—"felling trees, loading hay, welding beams, rounding up horses." As for play, the "men of beer commercials fill their leisure time in two ways: in active pursuits usually conducted in outdoor settings (e.g., boat racing, fishing, camping, sports) and in 'hanging out,' usually in bars." The authors point out that some risk or challenge is nearly always involved in beer commercials, even if it is only the risk and challenge of "good-natured arguments" in the barroom. And always, in beer-commercial country, the final prize to any man who succeeds in overcoming a risk or mastering a challenge or completing his day's work is—what else?—a beer.
The researchers discovered that the men who inhabit beer commercials tend to be a limited and simplistic breed: "We found no sensitive men... nor any thoughtful men, scholarly men, political men, gay men or even complex men." Of the women who appear in beer commercials, they are "largely reduced to the role of admiring onlookers. Men appear to value their group of friends over their female partners, and the women accept this.... they become the audience for whom men perform." The study summarizes the stereotyped men and women who populate beer commercials as being "almost laughably anachronistic... apeculiar set of figures to offer the young of the 1980s as models of adult females and males."
On a darker note the authors ask, "Does the link in beer commercials between masculinity and beer drinking also promote an association between beer drinking and driving? On the basis of the analyses reported here, we conclude that the answer to that question is 'Yes.' " The study refers to the many beer commercial scenes that associate beer with fast-moving cars, with the excitement of speed, with tests of manhood and with tests of self-control; it says that "by omitting any references to drinkers' conditions and modes of transportation when leaving the setting where beer is consumed, beer commercials imply that drinking has no consequences or, at least, no consequences that are cause for concern." The final recommendation by the authors is tough and uncompromising: "That the policy permitting the televising of commercials for beer be revised to prohibit such commercials."
MYTHS, MEN & BUBBA
Bubba Smith, the ex-NFL defensive end, played a beer-commercial myth for a while in the celebrated Miller Lite series. In 1977, about a year after he left football because of a ruined knee, Smith was cast as a glowering, lovable, beer-can-ripping giant. Smith told Scott Ostler of the Los Angeles Times that he had been depressed, lonely and in need of work when the Miller people approached him: "Making those commercials was a joy to me. I told myself I couldn't be doing nothing wrong. It seemed so innocent.... Making those commercials, we were a team. It was like football, without the pain."
Then, in the fall of 1985, Smith went back to his alma mater, Michigan State, and performed as grand marshal of the homecoming parade. "I was riding in the backseat of this car," he said, "and these people were yelling. But they weren't saying 'Go, State, go!' One side of the street was yelling 'Tastes great!' and the other side was yelling 'Less filling!' It just totally freaked me out. When I got to the stadium, the older folks are yelling 'Kill, Bubba, kill!' but the kids are yelling 'Tastes great! Less filling!' And everyone in the stands is drunk."
Smith decided he had to quit the Miller Lite team. "I didn't like the effect I was having on a lot of little people. People in school. When kids start to listen to what you say, you want to tell 'em something that's the truth.... Doing those commercials, it's like me telling everyone in school, Hey, it's cool to have a Lite beer.... As the years wear on, you got to stop compromising your principles."
Not everyone feels the same about these commercials, of course. After 10 years as a villainous but essentially faceless offensive lineman in the NFL, Conrad Dobler retired from football and was billed on a 1987 Miller Lite TV commercial as "Famous Troublemaker." His life changed instantly. "In all of my years in the NFL," he writes in his upcoming book, They Call Me Dirty," a visit to my hometown of Twentynine Palms, Calif., barely generated enthusiasm among my own family, let alone strangers. But when I visited three months after 'Famous Troublemaker' came out, everyone who saw me wanted an autograph. Men bought me beers. Women offered me sexual favors.... It's especially gratifying to be walking down the street or sitting in a restaurant and have people yell 'Tastes great!' so I can yell back 'Less filling!'"
TEAM IN THE STANDS
Once upon a time, late in the 19th century, serving beer at baseball games was believed to be every bit as sinful as playing baseball on the Sabbath, or so said the then-omnipotent National League. But that all changed in 1882 with the founding of the American Association, whose teams played on Sunday and whose fans could drink beer. It is a little-known fact that Ladies' Day was introduced to baseball later in the 1880s as, at least in part, an attempt to bring some order and manners to unruly drunken fans. Ladies 1 Day didn't cure ballpark hooliganism then any more than it would now. But today there is a more modern device for confronting the problem, something called TEAM, which stands for Techniques for Effective Alcohol Management. It is a no-nonsense program for training ballpark, stadium and arena workers—from parking lot attendants and ticket-sellers to ushers and vendors—in the fine art of identifying and dealing with drunks. TEAM is now in use in 44 facilities in 37 cities with 15,000 trained employees.
It is an eminently sensible plan which was thought up in 1985 by Jerry Sachs, then president of the Capital Centre in Landover, Md., and developed by a coalition of organizations that includes the National Highway Traffic Safety Administration. The Capital Centre's TEAM training booklet states, "In our society alcohol is a desired accompaniment to cultural and sporting events. Our business is entertainment. Part of that business is the promotion and sale of alcohol.... It's profitable. Its effects can be fun and uninhibiting. It can be the basis for social interaction and enhance the event experience. But... alcohol can be a dangerous drug when abused or mismanaged. The Capital Centre has to balance the sale of alcoholic beverages with a program of responsible action. Training our employees in effective alcohol management will help to: 1) protect our ongoing source of revenue from the sale of alcoholic beverages and 2) limit our liability."
TEAM involves a four-hour course for stadium employees and includes instruction in distinguishing drunks from presumably normal sports fans and advises employees on how to deal with a potentially obstreperous drinker, counseling courtesy and a low-key, positive approach. This season baseball has turned the TEAM program into a full-fledged public relations campaign, with nationally telecast 30-second spots about "drinking with responsibility," designed to promote safe driving. The campaign is underlined with the slogan "We want you safe, 'cause we want you back."
Has it worked? Bryan Burns, the senior vice-president in the baseball commissioner's office, who is in charge of TEAM, says, "The bottom line is that in the year 1987 we put 52 million people into ballparks, nearly five million more than the previous year, and we also trained 15,000 people who work in our parks—and the number and severity of alcohol-related incidents went down."
PERCEPTIONS OF PLEASURE
As things have progressed, beer and sports have come to be something like Siamese twins—inseparable but clearly facing a complicated existence together. After the Cincinnati incident in April, Giamatti told The New York Times, "Alcohol is a large part of this; I believe excessive drinking is at the heart of the deteriorating situation. But to think that if one declared prohibition there would no longer be any problems of fan violence is naive. If you turn the ballpark into a maximum-security situation, then you have changed the nature of the event. Not because the event depends on alcohol, but because it depends on the perception that the event is a pleasure."
True enough. But it doesn't require storm troopers and police dogs to keep our sporting environments (or our perceptions of our sporting environments) pleasant. Nor does it require an absolute ban on alcohol. The vast majority of people at sporting events drink one or two beers—or no beer at all. And of those who drink more, the great majority are not troublemakers or obscenity-shriekers or fistfighters. What has happened is that a small minority of louts and loonies have been allowed a kind of license in stadiums that they aren't given anywhere else. A drunken man shouting obscenities at the top of his voice over and over again for two consecutive hours in the middle of a crowd that includes women, children and even sober, civilized men is not tolerated in any other public environment in America. Such a foulmouthed misfit would not last long at a sports event either if only ushers and guards were required by whatever authorities prevail to enforce the same standards of public behavior that govern the rest of society.
Why doesn't it happen? Well, in some places it does. Milwaukee, a city with a beer belly if there ever was one, is oddly enough not renowned for drunk and disorderly behavior at its stadium events—drunk, perhaps, but seldom disorderly. Bill Hanrahan, manager of County Stadium, says, "People from Milwaukee know that if they're out of order, they'll be caught and ejected promptly. We have drinking patrols and we might keep a better eye out for it than they do in some cities. People here are apt to complain sooner when there are disruptive fans. People know we're going to get right on any bad behavior, and they act better here than at some other stadiums." Seattle, with one of the most tranquil (some would say tranquilized) sporting populations, actually did have one venue in town where young drunken fans frequently ran riot. That was in the 4,100-seat Seattle Arena whenever the Seattle Breakers junior hockey team took the ice. It became so bad that attendance fell off, until in the 1983-84 season the Breakers' crowds averaged fewer than 1,800 a game. New owners took over four seasons ago, changed the team name to the Thunderbirds and completely revamped the drinking regulations—upgrading security, opening beer-free sections, limiting the beers bought by each customer and reducing cup sizes. The result? "We went 35 games in a row without any incidents in the seats," says Bob Kaser, the Thunderbirds' director of marketing, "and our attendance is now averaging 2,900 a game."
So why does action against obstreperous beer drinkers so often seem to be the exception instead of the rule? Is it the greed of beer wholesalers, team owners and ballpark concessionaires eager to sell every last dreg they can? Yes, it is. Is it also the fear of team owners, league officials and various commissioners that any moves against beer drinkers—however reasonable and logical—may displease the brewing corporations that spend untold millions of dollars on advertising, sponsorships and TV commitments? Yes, it is that too.
One clear and disturbing example of what's going on: The New York State Assembly last month approved a bill mandating that every major professional stadium and arena in the state declare 6% of its seats alcohol-free and another 15% of the seats free of vendors but allowing consumption of alcohol. (The plan would be phased in gradually over three years and the alcohol-free sections could be as small as 2% of the seats in arenas and stadiums that ban vending in the stands.) The bill is hardly a radical example of prohibitionist reform legislation, yet it has been met with attack from all corners of the beer establishment, as well as vehement opposition from the Yankees and the Mets. (The Nassau Coliseum did not actively oppose it, and Madison Square Garden dropped its opposition.) Baseball commissioner Peter Ueberroth supported the Yankees and Mets in their opposition. The bill was passed anyway and soon will be sent to Governor Mario Cuomo, who has not indicated whether he will sign it. As one sponsor of the bill, Assemblyman Richard Brodsky, said, "We are not going to be bullied. They have mounted an intense and bitter lobbying campaign, and I'd hope that the people who read the bill understand it's not anti-beer. It's pro choice. But, of course, baseball has some vested interests in beer and the baseball-beer relationship seems to cause them some difficulty in terms of this bill."
Despite heavy foot-dragging by some team owners and stadium operators, there has been a raft of new and encouraging ballpark policies instituted around the country, such as opening beer-free sections, offering low-alcohol beer, cutting off beer sales well before games are over, limiting sales per customer and—one of the most effective techniques of all—banning vending in the seats.
This last approach has been put into effect by nine major league baseball clubs over the past couple of years. It has proved to be a major revenue loser for concessionaires, but it has also been surprisingly effective in making those nine ballparks nicer places to visit. Why such a powerful effect? Vendors often work on commission and thus become supreme hustlers, pushing beer at both the sloshed and the sober as if their livelihoods depended on it—which, at $200 to $300 on a good night for a good vendor, they certainly do.
Boston's Fenway Park, which over the years has probably produced more hooligans on parade than any place but Yankee Stadium, has cut out vending in the seats and installed a beer-free zone. How is it working? Rico Picardi, for 45 years the concession manager for the Harry M. Stevens Company there, told the Boston Herald: "Yes, we're losing revenues—our beer sales are down 14 percent—but I can't say we mind. What we want most is to be sure the people come back to the ballpark. Hey, they come more often, they spend more money. And anyway, soda sales are up."
Even the best efforts, of course, don't provide instant and perfect results. Last season the San Francisco Giants banned beer vending in the stands. But on a recent Tuesday night, July 26, in a doubleheader at Candlestick Park against the Dodgers, the fans, sparked by two Giants losses and a controversial balk call and fueled, undoubtedly, by many hours of drinking, created another ugly scene. The problem of fan violence is complex and has to do with more than beer. Still, recent efforts to slow the flow are encouraging. According to Pat Gallagher, vice-president of business operations for the Giants, the drop in profit from the ban on vending beer in the stands—which cost the club roughly $600,000 last season—has been well worth the increase in good times had by all. "We knew it would have a negative financial impact on our beer sales," he says,"but we also noted that 90 percent of the feedback from the fans was positive. They said thanks for making them feel safer and better about bringing families to the ballpark. And we also found that beer sales did go down, but the sale of other concessions like nonalcoholic beverages and food went up. Overall, our alcohol-related security problems went down. Overall, we're very pleased."
Aha! Overall, is it possible that we have stumbled upon the inspiration for a brave new beer chant for the future? Let's try it:
Less profit! More fun! Less trouble! More fun!
Yes, I think we've got it. All together now:
Less profit! More fun! Less trouble! More fun! Less trouble! More fans! Less trouble! More profit! More fun! More profit! More fun...
[originallink:10655861:702588]
\n\n\n\n
What is going on when Americans insist on immersingwholesome sport in a sea of intoxicating drink?
Spuds? It's like everything else in advertising. Youjust hope you get it right, but you never know for sure"
By 1977, Miller threatened Anheuser-Busch, and thatmeant a fierce, frothing beer war was ahead
I'm afraid that the future holds simply more and moreBudweiser and less and less of everything else"
Between the ages of two and 18, American children seesome 100,000 TV commercials for beer"
ILLUSTRATION
DANIEL