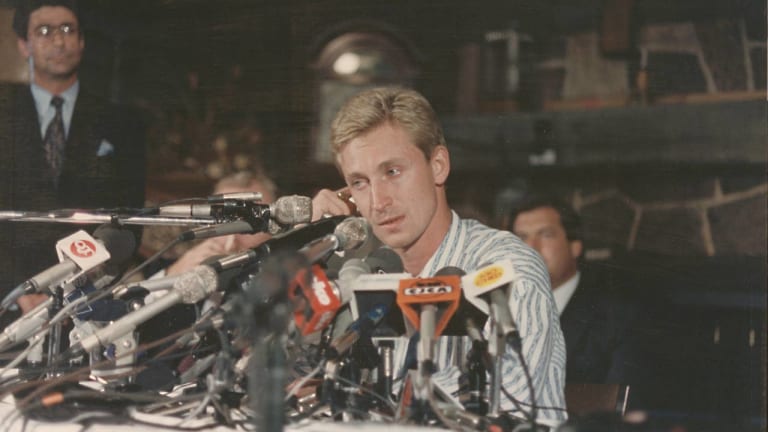 Woe, Canada
A nation wept as its hero, NHL star Wayne Gretzky, was traded from Edmonton to Los Angeles
Wayne Gretzky, the newest member of Tinseltown's glitterati, was seated in the Polo Lounge of the Beverly Hills Hotel last Friday morning and speaking on the phone to his new boss, Bruce McNall, owner of the Los Angeles Kings. "Who called?" Gretzky asked McNall, a roly-poly 37-year-old who some 72 hours earlier had pulled off the unthinkable and put the historically hapless, inconsequential Kings onto the front pages of newspapers across North America. "You're kidding," said Gretzky. "Well how old is he? [Pause] Thirty-four? [Pause] Why not? What do you have to lose?"
Gretzky could not suppress a grin. At the end of a long—and at times grim—week, here was some news that tickled him. Guy Lafleur's agent had just contacted the team, saying that Lafleur, the former Montreal Canadiens great, wanted to come out of retirement and try out when the Kings' training camp opened in three weeks. So what if Lafleur is actually 36. The Great One skating side by side with the aging Flower in la-la land, which had suddenly become gaga land over hockey, was no less imaginable than the events that had transpired in the previous few days.
"I knew this thing would be big," Gretzky said, putting down the phone. "But I had no idea it would be this big."
In case you have been walking the picket lines outside The Last Temptation of Christ and have missed the news, on Aug. 9 the Kings and the Edmonton Oilers swung the biggest trade in NHL history and, at least monetarily, the biggest in the history of sports. In return for $15 million in cash, plus 20-year-old center Jimmy Carson, first-round draft picks in 1989. '91 and '93, and 18-year-old Martin Gelinas, who was the seventh player taken in the June draft, the Oilers traded Gretzky, now 27, who for the past nine years has been, to many, the Edmonton franchise, the spokesman for the game and the greatest hockey player in the world. In addition to Gretzky, the Oilers sent forward Mike Krushelnyski, 28, and tough-guy Marty McSorley, 25, to L.A. (The negotiating rights to a couple of unsigned defensemen—the Oilers' John Miner and the Kings' Craig Redmond—were also exchanged.) If the Great One's arrival in the City of Angels does not exactly mark the Second Coming, it's the closest thing to divine intervention that the Kings have seen in their 21 years of trying to put fannies in the seats of the Forum.
The deal stunned the sports world. Not since the Milwaukee Bucks sent Kareem Abdul-Jabbar to the Lakers in 1975 had an athlete of Gretzky's magnitude been traded in his prime. Because of the huge amount of money that changed hands, comparisons were immediately made to the 1919 deal which sent Babe Ruth from the Red Sox to the Yankees for $100,000 (see box. page 24). Reactions throughout the U.S. and Canada were immediate and wide-ranging:
• Canada's New Democratic Party House leader Nelson Riis: "Wayne Gretzky is a national symbol, like the beaver. How can we allow the sale of our national symbols? The Edmonton Oilers without Wayne Gretzky is like...Wheel of Fortune without Vanna White."
• Kings fan Earvin (Magic) Johnson: "Hey, he belongs in L.A. He's the greatest. I'm definitely going to get season tickets. Even if they never win a game, it will still be exciting to go now."
• Harry Sinden, Boston Bruin general manager: "It brings everyone in the league closer to Edmonton and brings Los Angeles closer to everyone."
• Pat Quinn, general manager of the Vancouver Canucks: "The Kings have got to try to be successful for the next three years, and if that doesn't work out they've left their team in mud for the next 10 to 15 years."
• Cliff Fletcher, general manager of the Calgary Flames: "All of a sudden the Kings have the potential to beat anybody in a short series. Gretzky won't tolerate anything less than winning."
• Brent Gretzky, 16-year-old brother of Wayne: "Los Angeles. That means I can fly to L.A. and check out the women."
Reaction in Edmonton, where the Oilers have won four of the last five Stanley Cups, was a bit more downbeat. "I feel like I did the day Elvis Presley died," one fan told The Edmonton Sun. Oiler owner Peter Pocklington's effigy was burned outside the Northlands Coliseum and city hall, and outraged citizens organized boycotts against two of Pocklington's companies, Gainer's meat packing and Palm Dairies. Edmonton radio stations were inundated with calls from fans incorrectly blaming the trade on Gretzky's wife, U.S. actress Janet Jones, whom Gretzky married in an Edmonton wedding of royal style on July 16 and who is expecting the couple's first child around the New Year. Jones was called a "witch" and a "Jezebel," and newspapers across Canada quickly splashed racy headlines—'JEZEBEL JANET!'—comparing her to Yoko Ono, who was blamed for breaking up the Beatles because of her relationship with John Lennon.
No one in Edmonton cared that Carson, the Southfield, Mich., native who was sent to the Oilers by the Kings, is seven years younger than Gretzky and scored 55 goals last year—only the second teenager, after Gretzky, to score more than 50 goals. No one wanted to hear about all those first-round draft choices, or about Gelinas, whom Fletcher calls "arguably the most talented player to come out of last year's draft."
Gretzky was a once-in-a-lifetime talent, brash on the ice and classy off it, the heart of a young, proud city stuck out in the middle of nowhere. It would be difficult to overstate what Gretzky—winner of eight of the last nine NHL Most Valuable Player awards, seven of the last eight scoring titles, holder of 41 individual NHL scoring records—meant to this remote prairie metropolis of 683,000 people. As Sun columnist Graham Hicks wrote: "He was our best reason for living here."
When the news of the deal first broke, Gretzky said that he had asked to be traded. The truth is he acquiesced to the idea and eventually forced the issue when he learned that Pocklington was shopping him around. Gretzky had signed a five-year contract with the Oilers in 1987; it paid him an annual salary of some $1.5 million. After June 15, 1992, Gretzky would be a free agent without compensation. Last February or March, according to Gretzky, Pocklington approached him and asked to renegotiate his contract so it would run for two more years. Gretzky, who has been saddled with long-term deals since he was 17, told him, "'Absolutely not.' I'd finally got my contract down to four years, and I didn't want to give that up."
The day after the Oilers won their fourth Stanley Cup, Gretzky learned from his agent, Mike Barnett, and his financial adviser, Ian Berrigan, that a group of Vancouver businessmen was trying to buy the Canucks and had offered Pocklington $22.5 million (Canadian) for Gretzky's services. Gretzky told his linemate Jari Kurri that he had a feeling he wouldn't be with the Oilers next season. "Unless I signed a new contract, which I wasn't willing to sign, I knew I was going to be traded." Gretzky says now.
In Pocklington's eyes, Gretzky—the third-leading scorer in NHL history, with career totals of 583 regular-season goals and a record 1,086 assists in just 696 games, the most exciting player in hockey, and the MVP of last spring's Stanley Cup playoffs—was a diminishing asset. Pocklington could command a Kings' ransom for Gretzky if he dealt him now. In four years, Gretzky could skip town for nothing.
In those intervening four years Gretzky might well have helped the Oilers win four more Stanley Cups and an even more commanding place in sports history. But hey, what's that compared with $15 million? Pocklington claims not to have needed the money. "All my companies are very healthy financially," he said last week. Still, in the early '80s his financial empire, which currently includes real estate holdings, the meat packing plant, the dairy, the Oilers, the Edmonton Trappers (a Triple A baseball team), and the Edmonton Brick Men of the Canadian Soccer League, suffered a severe financial setback when the oil and real estate markets collapsed. He secured a loan using Gretzky's personal services contract with the Oilers as collateral, and reportedly still has some $67 million (Canadian) in loan arrangements with the Alberta government.
The Kings had been making overtures to Pocklington about Gretzky for the past two years. Jerry Buss had originally inquired, and after Buss sold the team last winter to McNall, his minority partner, the new owner reaffirmed his interest in Gretzky.
"A couple of days after Wayne's wedding he [Pocklington] called me and said, 'If you're serious about number 99, we should talk,'" McNall recalls. "He said that Jerry had originally offered him $15 million and any three players on the roster, and we used that as a starting point for the negotiations. I never did get him off that $15 million figure. The money issue was settled the fastest."
A self-made millionaire whose various enterprises include Numismatic Fine Arts, Inc., an ancient-coins business; Gladden Entertainment Corp., a motion picture company; and Sum-ma Stable. Inc., which races and breeds thoroughbreds, McNall reached Gretzky by phone at Jones's Sherman Oaks, Calif., apartment, six days into their honeymoon.
"You're kidding," said Gretzky when McNall explained that Pocklington had given him the O.K. to call.
Like most great athletes, Gretzky has tremendous pride which, when wounded, is slow to heal. It surprised and hurt him that Pocklington would not personally inform him that he was on the market. The hurt swiftly turned to anger. After his first conversation with McNall, Gretzky called his father, Walter, in Brantford, Ont. "My dad tried to get me to calm down," Gretzky says, "but I told him I'd already made up my mind I was never going to wear an Oilers' uniform again."
Any doubts about the move were dispelled after a phone call to Paul Coffey, his former Oiler teammate, who was traded last year to the Pittsburgh Penguins. "I asked Paul, 'Would you leave the Oilers if you had a chance to do it all over again?' It put him in a difficult position, since we won the Cup without him, and his team missed the playoffs. He said, 'Gretz, you'll miss the players, the friendships and the fans, but you won't even look back. It's just nice to go somewhere and be appreciated.' "
Gretzky and his wife moved into Canadian actor Alan Thicke's L.A. house while awaiting word on the progress of negotiations. Pocklington and Oiler coach-general manager Glen Sather had gone fishing at the end of July in the Northwest Territories with Sinden. When they got back, Carson, who had not been mentioned in McNall's and Pocklington's initial discussions, was the make-or-break player in the deal. "Sather obviously got involved during that fishing trip," says Gretzky. "That's why he's the best G.M. in the business."
When the word came, it came suddenly. In a late-night call that lasted into the wee hours of Tuesday, Aug. 9, the two owners finally came to terms. Some specifics of the trade had already leaked, so McNall and Pocklington decided on a press conference that afternoon. McNall woke Gretzky with a phone call and told him they were flying to Edmonton in his private plane that morning. "I can't," was Gretzky's initial reaction. "I'm not ready for this."
But he was. A few minutes before they were due at the press conference in Edmonton's Molson House, Pocklington, perhaps sensing for the first time the enormity of the transaction, gave Gretzky the chance to call off the trade. Gretzky declined. Then he had a brief tearful meeting with Sather. "It was out of Slats's hands," Gretzky says. "He didn't want to make the deal. He told me that."
When Pocklington's newly-hired personal publicist, Jeff Goodman, suggested that Pocklington and Gretzky ride over to the press conference together, buddy-buddy fashion. Gretzky refused. He also took offense that Goodman had written a statement for him to read. Speaking without a prepared text, Gretzky told the hushed assemblage of 200 reporters that he had requested the move to L.A. "for the benefit of Wayne Gretzky, my new wife and our expected child in the New Year. I feel I'm still young enough and capable enough to help a new franchise win the Stanley Cup." As he began to express his thanks to the people of Edmonton, he struggled and choked back the tears. "It's disappointing having to leave Edmonton...like I said, there comes a time when...." Then he stopped, unable to go on.
McNall and Gretzky flew back to L.A. that evening for a more upbeat news conference at the Sheraton Plaza La Reina, where Gretzky modeled the Kings' new silver, white and black uniform adorned by the number 99. The Kings, who have never advanced past the second round of the playoffs, were suddenly the talk of the town. All 8,500 loge seats in the Forum sold out for the season within three days of the Gretzky announcment. Prime Ticket, the cable outfit that televises Kings games, announced it would carry 60 this season, 33 more than in 1987-88.
Back in Edmonton, Pocklington dug himself an even deeper hole by telling The Edmonton Journal on Wednesday that Gretzky "has an ego the size of Manhattan.... He's a great actor. I thought he pulled it off beautifully when he showed how upset he was."
Pocklington later called Gretzky to apologize, claiming the remarks were taken out of context. "I understood where he was coming from when he talked about the size of my ego," Gretzky says. "He didn't mean that as an insult. But the part about the theatrics made me sick. I wouldn't accept an apology on that."
So who got the best of the trade? The big winner is the league, which suddenly finds its most glamorous player in its most glamour-starved market. If anyone can sell NHL hockey to the West Coast, it is Gretzky. Unfortunately, his presence in L.A. will do little to promote the sport nationally; the NHL, displaying an uncanny knack for shooting itself in the foot, recently rejected ESPN's bid to carry its games on cable in favor of SportsChannel, a regional cable company that will not penetrate markets where the league is traditionally weak.
As for the Oilers, their future is now secure. Those stockpiled draft choices ensure that they will be competitive into the next century. But being competitive is not the same as winning a Stanley Cup.
Conventional wisdom holds that the team that gets the best player gets the best of the trade. In this case that would be the Kings. A player like Gretzky brings the best out of everyone around him, so that the Kings may end up with 18 new players instead of three. Los Angeles still desperately needs help with goaltending and defense—Gretzky won't help them there—but McNall may not be through dealing. "We're still one or two players away," says Gretzky, a bit optimistically, "But if they hadn't made this deal I can guarantee you one thing: The Kings would have finished third or fourth and then been eliminated in the first round of the playoffs."
Very few in L.A. would have noticed. Now the entire country is watching, and a lot of folks are wishing them luck.
PHOTO
PERRY
MAH/EDMONTON
SUN
Gretzky was barely able to speak at the press conference in Edmonton, but the newspapers had plenty to say.
PHOTO
[See caption above.]
PHOTO
PAUL
BERESWILL
On a happier day, Sather (left), Pocklington and Gretzky gathered round the Stanley Cup.
PHOTO
BRIAN
GAVRILOFF/EDMONTON
JOURNAL
Only last month, Wayne and his bride, Janet, were treated like royalty in Edmonton.
PHOTO
PETER
READ
MILLER
McNall, at the L.A. press conference, wasted no time in going public with his big trade.
PHOTO
DAVID
E.
KLUTHO
After McNall's call, Gretzky said he wouldn't don an Oilers' jersey again.