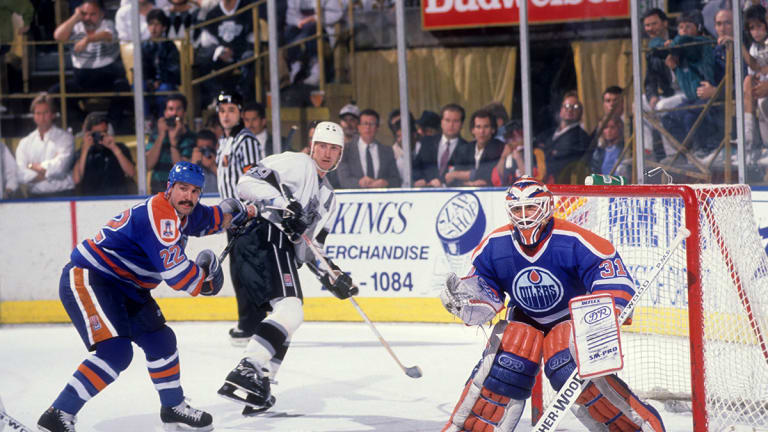 A King in Edmonton
Wayne Gretzky returned to his old city and was greeted with heartfelt cheers
Wayne Gretzky was back in Edmonton last week, an outsider visiting the city he put on the map. The question hovering over the Great One's return was not whether his new team, the Los Angeles Kings, would beat his old one. The Kings didn't, bowing 8-6 to the Stanley Cup champion Oilers, although a rudderless (read: Gretzkyless) Edmonton power play kept the game closer than it should have been.
No, the reason all of hockeydom was riveted to this otherwise unremarkable—indeed, this downright sloppy—early-season shootout was to see whether Gretzky would be booed or cheered by the people of Edmonton. And how long would the booing or cheering last?
Ten weeks had passed since No. 99 tearfully announced the fateful news that he and his pregnant bride, Janet Jones, whom he married on July 16, would be moving to a Southern California zip code. The resulting maelstrom of ill will swirled mainly around Jones, who was assumed to relish living in L.A. over Edmonton. Jones, an actress, was portrayed as the worst kind of dynasty wrecker until it was revealed that the deal had been initiated by none other than the Oilers' owner, Peter Pocklington, who felt he could get top dollar for Gretzky by unloading him before the Great One became a free agent in 1992.
Pocklington's image was further tarnished when it came to light that he had shopped Gretzky around before striking the deal with Los Angeles. Furious, Edmonton fans took to burning Pocklington in effigy.
For his part, Gretzky settled with his wife in the L.A. community of Encino and raved about his new surroundings. The Kings, he said, are "a great bunch of guys"; his "sensitive" new owner, Bruce McNall, "cares more about you as a person than he does about winning"; his adopted city is beautiful; traffic is "not that bad—if you drive at the right time. It's great going home from the game with the top down."
Gretzky looked forward to Wednesday night's game in Edmonton with something less than relish. It was not the pressure or scrutiny that had him spooked—he described the matchup as "just another one of those 'everybody's-watching' games"—but rather the idea of playing against his best friends.
"I'd really rather not have to go in there," said Gretzky, with a sigh. "We were the closest team, I think, that's ever been assembled in pro sports. It's going to be extremely tough."
Among those Gretzky would be facing was his former housemate and roommate on the road, Kevin Lowe. After the trade, Lowe had stopped talking to the press and gave up his weekly column for The Edmonton Sun. But Gretzky expected no quarter from Lowe. "I see myself going one-on-one with Kevin and getting knocked down in front of the net," Gretzky said. "I'm not looking forward to that."
Nor did he look forward to tangling with Mark Messier, his successor as the Oiler captain and, like Lowe, a member of the Gretzky-Jones wedding party. Shortly after the bombshell trade was announced. Messier had called a press conference. It was widely thought he intended to express his outrage at Pocklington, but at the 11th hour Messier canceled the session, presumably to keep peace with Pocklington, who, after all, was still his boss.
What gave the game against the Oilers added interest was that the Kings, thanks to Gretzky, had gone from being a poor-to-fair team to a fair-to-good one. They're certainly on their way to becoming a richer team. Indeed, the Kings stand a good chance of making money this year, after having lost between $3.7 million and $5 million in each of the past three seasons. It is estimated that Gretzky this season will generate an additional $15 million for McNall's and the league's coffers through increased ticket sales, greater licensing revenues and a sweetened cable television deal. The hottest piece of merchandise around is the new black, silver and white Kings jersey with Gretzky's famous 99 on the back. Everyone in L.A. seems to own one. In Edmonton, too.
Gretzky's arrival naturally charged up the Kings, who have always been the NHL's long-lost brothers, stuck out there in sunny California with nobody for company. In 1972, then Kings owner Jack Kent Cooke observed that there were supposed to be some 800,000 transplanted Canadians living in Southern California and that they all had moved there to get away from hockey. But Gretzky is King, and L.A. loves superstars, domestic or imported. "It is not just one new guy," says Kings defenseman Steve Duchesne, a holdover from 1987-88. "It is 23 new guys."
In fact, the Kings got off to a 4-0 start, the best in the franchise's dismal 21-year history. Gretzky's coming out against Detroit in the Forum on Oct. 6 was like a Hollywood premiere, complete with klieg lights and megawatt celebrities, and the Great One delighted the assembled glitterati by scoring on his first shot in an 8-2 Kings victory. Then came home victories over Calgary, the New York Islanders and Boston, followed by a 4-1 loss to Philadelphia. Though they were competing against the Dodgers, the Kings averaged 13,778 for those five games, up 2,111 over last season's average, which was the second worst in the league. Better still, the Forum was abuzz with the sound of diehards explaining to newcomers the difference between icing and offsides.
Then the schedule played a dirty trick on the Kings: It sent them on the road. Their first trip took them to Calgary, where on Oct. 17 the Flames' notoriously accomplished Gretzky-baiting fans accorded him a disorienting 20-second ovation. They probably were relieved that Gretzky was playing for L.A., not for their Alberta nemesis to the north. It was kinder treatment than the Kings received on the ice, where they were routed by the Flames 11-4.
L.A. trailed just 4-3 going into the last period; three of the Flames' seven third-period goals came within 60 seconds. Kings coach Robbie Ftorek kept goalie Rollie Melanson in the game all the way, later arguing, with some justification, that Melanson had not played poorly, 11 goals or no. Also distinguishing themselves for L.A. were defensemen Ken Baumgartner, who took six penalties, and Larry Playfair, who flung a cooler of chilled pucks from the penalty box onto the ice, costing his team a two-minute bench minor that led to Calgary's 11th goal. McNall, for one, discerned something positive in Playfair's rebellion. "It was a good sign," the owner said. "This team has accepted losing in the past, and now it sees losing as unacceptable." (Two days later, Playfair was dealt to Buffalo for left wing Bob Logan and a ninth-round draft choice in 1989.)
After the game in Calgary, the Kings, glumly silent, piled into a chartered bus and motored the 185 miles to Edmonton, where they checked into the Westin and crashed. It was in the same hotel—in the Crown Suite that has also housed Queen Elizabeth II, for whom it was named, and her son and daughter-in-law the Prince and Princess of Wales—that Gretzky and Jones had spent their wedding night. But now, here was Gretzky, three months later at a press conference, hoping aloud that the boos he expected to hear when he stepped on the Northlands Coliseum ice Wednesday night wouldn't be "too terrible, but you never know."
The Oilers did not exactly savor the notion of having to clamp down hard on the guy who had scored or set up 1,669, or 48%, of their goals since 1979 and had led them to four Stanley Cups. "I've been wondering what I'm going to do the first time he comes up my wing." said hulking defenseman Steve Smith. "Do I take him hard into the boards? Do I just hold him?" And Oilers general manager and coach Glen Sather said, "I've got enough aggravation as it is. I sure wouldn't mind having this one over with."
The Oilers got off to their usual sluggish start this season. Goalie Grant Fuhr had reported overweight and then injured his knee. Glenn Anderson had no goals in the first six games. Jimmy Carson, the wunderkind center who came from Los Angeles in the Gretzky deal, was taking a long time to adjust to Edmonton's style of play; on a team of speed merchants, he seemed a half step slow. On Oct. 12, Vancouver won at Edmonton for the first time in 3½ years. The Oilers showed up for Gretzky's return with a 2-2-2 record and were coming off tie games against Winnipeg and Minnesota, two of the more underwhelming teams in the NHL.
"We're still a good team," said Edmonton co-coach John Muckler. "We used to be a great team."
For all of Gretzky's trepidations, it quickly became apparent that all the good citizens of Edmonton wanted was the chance to bid their favorite son a proper goodbye, something the midsummer night's deal had deprived them of. The Canadian Broadcasting Company switched a regular-season broadcast of Hockey Night in Canada, usually seen on Saturday, to midweek for the first time in that program's 37-year history. More than 200 media credentials were requested, about five times the usual number for a nonplayoff game. A local radio station invited listeners to call in and share their "favorite Gretzky moments from over the last 10 years."
"I remember the time he gave the Stanley Cup to Marty McSorley, and Marty skated over and gave it to his dad...."
"I remember the time he tried to scrap with Neal Broten, and it looked like they were dancing...."
And so forth. Listeners who contributed the best Gretzky memories were awarded copies of the Pink Floyd album Momentary Lapse of Reason. The night of the big game, the cover charge at Goose Loonies, a nightclub over on Edmonton's south side, was 99 cents.
Did Gretzky really think he might be booed? The instant he stepped on the ice for the pregame skate, he was showered with full-throated expressions of adoration. Later, the cheers came to a deafening crescendo when the Kings took the ice just before the national anthems. For almost four minutes, 17,503 people stood as one and paid lusty tribute. Would they cheer? Indeed. Would they ever stop?
The love-in might have lasted much longer had not Oiler officials, trying to act as though nothing extraordinary were afoot, trundled out Edmontonian Tim Feehan to sing the national anthems right on schedule. But the real wet blanket was Ftorek, who didn't put Gretzky among the first five Kings to take the ice. No matter. Everyone present knew what was happening. Pocklington looked down from his luxury box with McNall at his side. When asked if he would sit with Pocklington, McNall had said, "As long as the glass is bulletproof."
Down the drain without Wayne prophesied one gloomy sign. Wrong. With Melanson still shell-shocked from his misadventure in Calgary. Ftorek went with Glenn Healy in the net, and Healy promptly let six of the Oilers' first 15 shots get behind him. Not that he was entirely to blame. As had been the case in Calgary, the Kings defensemen were abominable.
And Gretzky was a little too keyed up. He did have two assists, but he misfired or was robbed by Fuhr on his four strong scoring chances. The one-on-one confrontation that both Gretzky and Lowe dreaded didn't come off, as Lowe, still woozy from a concussion suffered in a game against Calgary the previous week, sat out. But Messier, with whom Gretzky would share a quiet meal after the game, wasted no time depositing 99 on the seat of his shiny new black shorts. He later devoured the Kings' helpless defensemen, scoring on two of his patented rocket-wrist shots, the first while the Oilers were shorthanded. to put them up 4-1.
Damned if L.A. would roll over, though. Every time it looked as though the rout was on, some non-Gretzky King would pop a goal and keep the visitors in it. Still, no matter how close the Kings came this night, one suspected that Messier would never let his team lose.
"Down the right side, snap the puck in—I've seen him do it a hundred times." said Gretzky of his successor's first goal. "Mess is a great, great hockey player," continued the Great One, a twinkle in his eye. "I just wish he was for sale."