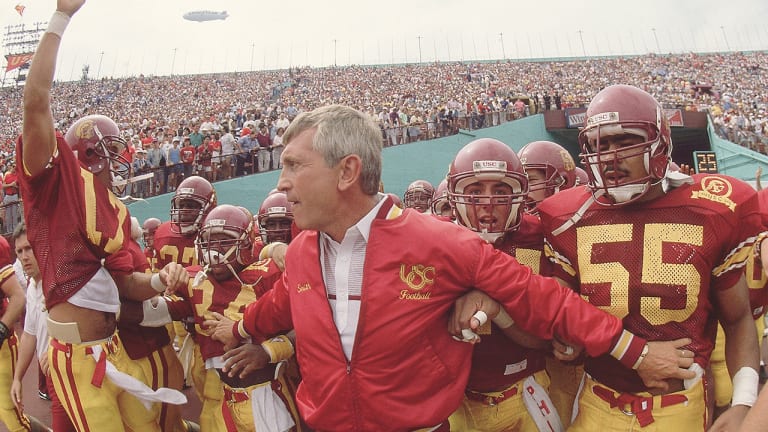 Publish date:
That Old School Spirit
At USC, football players may come and go, but a group of well-heeled boosters are a permanent part of the Trojan team
You never know. Perhaps the $1.75 million that Dr. Charles Elerding gave his alma mater to endow its punter and head coach until the end of time had nothing to do with death. Maybe death is overrated.
Nothing is certain. Perhaps it bore no relation to all the weight Elerding had lost, to all the hours he had lain awake on his pillow, staring into the darkness, envisioning cancer at work inside his body, trying not to be afraid.
After all, there were 175 other reasons why he might have done such a thing. . . .
My god, was that how many times in his life he had watched his USC Trojans gather at the end of the Coliseum tunnel just before a game, slapping each other's helmets, banging shoulder pads, throwing sparks of red and gold into the air? Was it a quarter of a century now that he had been packing his family into a car or motor home early on Saturday mornings, beating the traffic up the freeway, setting up the folding picnic table and the blanket on the grass outside the stadium, sharing chips and cheese and wine with old fraternity brothers, smelling the steaks on the grill and snatching glimpses of the coeds when the wives looked the other way? My god, where did the time go, how did it pass so quickly?
You never know. Maybe it didn't have any connection with his mother's passing away in her sleep six months before. Who could think of Mom without seeing her head tilted toward the radio on fall Saturday afternoons, letting out a very ladylike whoop each time the Trojans scored, even up to the end when, at 93, the candle flickered out? Ninety-three years, gone like that. What happens to a life?
Perhaps it would be foolish to link Elerding's gesture to the silence he heard sometimes in the middle of the day, now that he had retired from his practice after 27 years, now that all the bedrooms had emptied and his three sons lived on their own. You see, Elerding is not the type to talk about such things. Hell, the whole thing could have been a tax write-off. You never know.
Fourth down, two feet to go. Southern Cal up 14-7, ball on the Washington 49. Third quarter, midseason, Trojans' undefeated season and No. 3 ranking at stake. Near the bench the Dr. Charles E. and Janet R. Elerding punter limbers his leg. On the sideline the Dr. Charles E. and Janet R. Elerding head football coach squints at the yard markers and ponders. In the press box Dr. Charles E. Elerding himself makes up his mind.
"I'd go for it," he says.
The doctor feels good. Cold beer and fresh peanuts at his fingertips. Glorious autumn sun aglow in the sky. Regular reports coming in: Notre Dame is busy upsetting No. 1 Miami. What a day! At a pregame brunch that very morning, he and his wife had been presented Trojan jerseys symbolizing the two positions they have endowed in perpetuity. Earthquakes may come, ozone layers may disintegrate, the earth may turn into a sweltering steambath, but one thing is sure: As long as life—and USC football—exists on this planet, there will be a Trojan punter to Umber his leg on fourth-and-two feet and a Trojan head coach to squint and decide.
"Well, maybe we should punt," the doctor hedges. "We do have the lead."
Other men have endowed English professorships, zoology and anthropology chairs. What did they do on such an autumn Saturday afternoon? Think of it: Without ever touching the $1.75 million principal that Elerding had donated, USC could use the interest ad infinitum to cover the coach's salary and the punter's tuition, room, board and books, with enough left over each year to fold back into the fund and allow for inflation. Wealthy men have endowed head football coaches at a handful of universities, including Cornell, Yale and Princeton, but only USC, among the schools in the land, has its players endowed as well. All it takes is a one-time gift of $250,000 and a donor can attach his name forever to a starting position; if the university's investors are able to earn 10% on that money, it will be more than enough to cover the $17,500 that a scholarship currently costs.
In the Aug. 26 Los Angeles Times, a full-page ad ran that showed Trojan helmets aligned, defensively and offensively, as if in a scrimmage, with the names of donors beneath the positions they had funded. JOIN US IN ENDOWING THE USC STARTING FOOTBALL TEAM IN PERPETUITY urged the headline in the ad. But one would have to act swiftly. Only five helmets—the strong safety, the two defensive tackles and the two cornerbacks—remained orphans in the two-year-old program; as of now, only the cornerbacks remain, and the athletic department plans to have guardians for them, as well, at which point it will begin offering assistant coaches and second- and third-stringers to the public. "All 95 football scholarships endowed, that's our goal," says USC associate athletic director Don Winston. "And then there's basketball. . . ."
How in the world did anyone ever think of endowing a college football team? The first endowment ever made to an American college was £100 sterling from Lady Mowlson (otherwise known as Anne Radcliffe) to Harvard in 1643. The first college football game on record, between Princeton and Rutgers, took place in 1869. In America one must consider this question from a slightly different angle: How in the world did it take so many years for someone to think of endowing a college football team?
"Yeah, we might as well punt," sighs Elerding in the press box. "A good one here and we can pin 'em down near their goal line. . . ."
Another question arises. Exactly what kind of man would endow a football position? The president of Occidental Petroleum, Ray Irani, for one, as well as the late Chester Dolley, a founder of Atlantic Oil. The retired president of a company selling contraceptive sponges did it, too. Not to mention five attorneys, a dentist, an insurance company owner, a stockbroker, a chemist and a dermatologist, Elerding. Three of them happen to live in the same 107-home waterfront community in Newport Beach; two are next-door neighbors; six are themselves former USC football players. Can I borrow a cup of sugar? No, but how about a split end? Simply by digging a quarter of a million dollars out of his wallet, retired lawyer and former executive vice president of the Hughes Corporation Richard Alden, a third-string center on the 1943 Trojan roster, had climbed to first-string center forevermore.
A man who endowed a linebacker, and who asked that his name not be used here, explains, "I did it because I like the conservative political environment at the school, its belief in the entrepreneurial system and the education it gives."
Consider the financial burden these men have removed from their alma mater. In 1988 it cost USC, a private institution with no state funding, $4.1 million to finance the 239 men and women on athletic scholarships. Over the past decade, that figure has grown an average of nine percent every year. The prospect had become frightening: Each year the school would have to start from scratch and pray that it could beg roughly $370,000 more from its alumni than the millions it had raised the year before. Did anyone out there understand how fragile was the footing beneath the athletic program at one of the country's most upright institutions? It was unthinkable and yet possible: Rose Bowls in the next century without Mike Garretts, O.J. Simpsons and Marcus Allens sweeping right end, turning upfield and racing off into Trojan mythology.
Whose eureka! was the endowment plan? To Don Winston, who had spent much of his career soliciting funds for academic chairs at USC before he was named associate athletic director in 1983, the hybridization seemed only logical. "Forever," he knew, was a powerful word to sell to mortal men. "Imagine," says Winston, "40 years from now their great-grandchildren can look up at that plaque with all the endowers' names on it, and say, 'My great-grandfather funded the scholarship of the player who scored the winning touchdown against UCLA today.' "
Would the pipe-smokers in the economics and linguistics departments feel affronted, finding themselves feeding from the same silver platter as the noseguard and linebacker? "Why should they complain?" asks Gary Caffey, a sportswriter for the Daily Trojan, USC's campus newspaper. "After all, the other departments all have their own sugar daddies."
Even if Elerding borrowed his wife's hands, he would not have enough fingers to count all his millions—most of them accumulated by buying and selling California real estate. Sure, mark him down for a quarter of a million, he told Winston last year. Could he have the quarterback? Sorry, doc, the quarterback was taken—how about a tackle? Who in hell could tell what a tackle was doing? Tailback? No, that was the one position reserved for small fry, an endowment made up of many gifts of $25 or $100 or more—but not too much more—from ex-players, friends and fans in memory of late Trojan tailback Ricky Bell. Placekicker, wide receiver? Gone. The punter. . . . Yeah, why not the punter?
Nine months passed. You never know. Elerding felt the need to do more. At lunch in late March with Winston and the USC athletic director, Mike McGee, he asked, "What about endowing the head coach? How much would that be?"
"The head coach?" said McGee. His heart fluttered, his mind whirred. No one had ever thought to affix a price tag to that position.
McGee drew in his breath. Wouldn't the cost be about the same as that of an academic chair at USC? Wasn't a coach sort of a professor? Of course he was. McGee blinked. "One and a half million," he said.
Elerding didn't blink. This wasn't one of his investment decisions on which he might spend weeks researching property values, zoning laws and deeds. This was like religion. "You don't think too long about something like this," he says. "You either do it or you don't."
"Janet," he told his wife, "I'm going to endow the head football coach."
"Oh, really? How much?"
"A million and a half."
Janet's jaw dropped. "That's nice, dear," she said.
Cool heads prevail. The Trojans punt. The football angles off the Dr. Charles E. and Janet R. Elerding punter's foot toward the coffin corner, the returner vanishes at the seven-yard line under a swarm of red and gold, Elerding's fists fly up, the Coliseum crowd erupts, the band blares, the stadium shakes. And what about the children dying of hunger in Mozambique?
"Well," says the 58-year-old doctor, "it's a good question. Why didn't I give all that money to the needy of the world or to cancer research?"
Perhaps you are a cynic. Perhaps you would like to tap Elerding on the shoulder and say, "Yes, doctor, I know why it went to USC instead of to the needy. Why don't you tell us all what kind of perks you have purchased with this $1.75 million, what kind of influence you have obtained?" Third quarter, a good time to ask: He's digesting a free hot dog right now, washing it down with a complimentary beer. Yes, that's what he receives for home games, and popcorn and peanuts, as well, and four free tickets, and good parking, and one trip to an away game each season. But then, all you have to do is donate $15,000 a year to the athletic department to get those things.
Was it the chance to rub elbows with the punter and head coach? Well, he did receive a Tommy Trojan trophy from Chris Sperle, the USC punter, at a banquet in August 1987, and he did take coach Larry Smith and his assistants and their wives whale-watching on the Elerding yacht last spring, but that was it. No, he didn't stop by to watch practice all the time, to chat with the offensive coordinator, to slip a play scrawled on a cocktail napkin to the coach. Elerding isn't a backslapper. Among friends, after a couple beers or Bloody Marys, he can hoot it up with the best of them, but among people he doesn't know well, you might find him over by the wall. A frustrated jock? No, never a jock at all. Tried out for one team in his life, the basketball squad at John Marshall High School in Los Angeles 43 years ago; he was insulted by the coach for his clumsiness and walked off the court the first day, cruel adolescent laughter ringing in his ears. . . .
You never know. All his life a man labors in order to relax one day and reap, and then when harvest time comes he realizes he is a laborer, not a reaper. For years Elerding had attended to his patients and ignored his bank account; he pushed away the plush life, living in a modest house in Santa Ana, driving an unpretentious car in a very car-conscious town, working 11- and 12-hour days at his medical practice in nearby Garden Grove and his real estate office in the same building. He refused to be sick; never in the 27 years of his working life did he miss a day of work. Once, for two weeks, when his back hurt so badly he couldn't tie his shoes or drive, he had his receptionist drive him to and from work, where he lay on the treatment table in order to treat to his patients' skin problems rather than cancel an appointment.
And then, two years ago, at 55, he retired from his practice, bought the million-dollar house on the Pacific and the $125,000 Rolls-Royce, and took off for weeks at a time to the Mexican Riviera or to San Francisco on his $700,000 yacht. The good life. In the mornings he ran laps around the deck. By afternoon friends sometimes saw him staring off at the swells, heard him sighing like the sea. Stillness . . . silence. . . . He had never had any practice at these.
Patients had cried when Elerding retired. "What will we do without you?" some had asked through their tears. It was only now that he realized how much satisfaction he had derived from helping people, from curing a man ravaged by psoriasis or detecting a melanoma on a woman's arm. Maybe he needed to return to his old formula. Perhaps he could find someone new to help; maybe the last third of his life could be as fulfilling as the middle third, and the first. . . .
You never know. A man spends his life seeking the best way to make money, and then his hour of death draws near and he seeks the best way to give it away. By the spring of 1988 it had been eating inside of Elerding for months. Fevers burned his forehead, fatigue left him limp. His skin tone changed, his weight dwindled . . . 10 . . . 15 . . . 20 pounds.
Once he had been a man who exuded energy, who woke in darkness not to clamp his teeth at thoughts of death but to rush outside for his three-mile run, or to the gym for his Nautilus workout before showering and hurrying off to work. On a weekend jog with a buddy, he would surge the last 50 yards and try to win. His body was tanned and hard, his life full and intense, one minute deciding which treatment might best cure a severe dermatitis, the next deciding whether or not to risk a few million dollars on an Orange County shopping center. Now his kidneys began to ache. Now his lungs clutched for air after the smallest exertion.
He couldn't pretend. In his years as an intern at Los Angeles County Hospital he had seen human beings racked by runaway carcinomas, watched emphysema and cancer victims die each night, then studied the devastation of their organs at the autopsies the next morning. Life was remorseless. Now it was his turn.
Cancer? That's what Elerding's doctor suggested. Leukemia? Lymphoma? A doctor was not supposed to bat an eye when colleagues pronounced such words to him, was he? Now his days became a blur of X-rays, cultures, biopsies, bone scans and blood tests. At night his eyes would open, the horde of stuffed animals his wife collected would stare at him, his body would tense, and his mind would begin the chase.
Where does a man best leave his legacy? How does a self-made multimillionaire who believes fiercely in the politics of individualism and the folly of handouts make a donation without diminishing his principles? What had really mattered in his fife? What had he truly cared about?
At the USC-Notre Dame game a few years back the rain had come down so hard that three-quarters of the crowd had disappeared, and most of Elerding's family and friends had fled to the motor home. But there sat the doctor beneath his umbrella, peering through the deluge until the final gun, even staying afterward to stand and sing the alma mater with a few other waterlogged stragglers. Of course it was only a game, but sometimes in the heat of battle his family would look at him and see a man they never saw on weekdays or Sundays, in summer or in spring, an emotional man, a released man, a man who jumped and screamed.
Of course it was only a game, but somehow the Trojans, bursting out of that stadium tunnel, had come to stand for a way of life. If you asked the doctor, "What is your fundamental philosophy?" he might ramble for 10 minutes and never quite hit on it. But the sight of those USC teams rolling across the Coliseum grass, dominating their opponents—and without a single penny of the government aid that the UCLAs and Oklahomas and Nebraskas depended on, dammit. All of it happened, year after year, because the school annually turned out a phalanx of new achievers, men who pulled themselves up by the bootstraps and went on to be the cream of their crops and the captains of their industries, men who started companies and expanded businesses that created jobs and took people off the welfare rolls, men who took care to plow back their superabundance into the institution that had launched them, so that the Trojan tradition of independence and excellence would go on and on. Yes, the sight of that wave of red and gold articulated everything. Maybe you cannot comprehend that. But a Trojan can. It is a little like being a Marine. You know you are one of the elite.
"Loyalty, respect, tradition, winning," says Elerding's 31-year-old son, Chuck, also a USC graduate. "The school's values become your values. You go to UCLA for four years, but you're a Trojan forever. We were born and raised Trojans. USC has meant everything in our lives. It's something that we are."
Yes, the doctor sensed, there was something almost magical about the school and the success it conferred upon the youths who strode across its 150-acre campus. Hadn't he gone in as the skinny son of a middle-class construction contractor from Los Angeles and come out as a dermatologist so successful his accountant would insist he make some investments as tax write-offs? That was why he had started buying property, and that was why he became rich. He had never planned on it, had never really thought much about money. It was almost mystical.
Certainly he had worked his tail off for everything he had; he was, after all, a self-made man. Yes, it was exhilarating to be self-made, but it was a little lonely, a little frightening, too. Even a self-made man needed someone or something to be thankful to, something for which he could sacrifice. Was that death whispering to him? Choose your altar, doctor. Choose it quickly.
His condition grew worse. The mystery deepened. All the medical knowledge Elerding had accrued, all the brilliance he could buy with all the money he had amassed . . . and now he suffered from a disease that could not be treated because no one could identify it, no one could name it. You never ever know.
There was no more room for delay. In April, emaciated, the doctor who never allowed himself to be sick surrendered to a hospital. A new battery of tests began. Even the hospital smells that had once been so matter-of-fact now had a different character, a fragrance of horror, an essence of dread. Daylight fled. Night came. Choose your altar, doctor.
Certainly he could do as other men did, leave his legacy to the United Way or the American Cancer Society, to which he had already made some smaller contributions. But wouldn't that be like writing a check, folding it into a paper airplane, and sailing it off into space? God, if he ever made it through this nightmare he wanted to donate his money to something that would give back something positive, like the grin he used to receive when a teenager's acne cleared up. He wanted to give it to someone with whom he could nurture an ongoing relationship, like the old patients who came back with their children and grandchildren. Who knew into whose pockets $1.75 million might vanish if he gave it to some group claiming to feed war refugees in the Sudan or to clothe orphans in Colombia? No, he finally said, searching for a way to explain why he had no urge to donate the money to other causes, "I don't feel an obligation to give to them."
This was money he could watch at work each fall—if he lived, please, God, if he lived—money he could watch tumble end-over-end through the air, that he could help multiply by attending the fund-raising meetings with all the other men and women who shared his passion, money that would continue to work even when he died. He wasn't really giving it to a punter and a head coach, the doctor pointed out, he was giving it to a cause that brought thousands of people together five or six times a year, that created instantaneous friendships. (How many times had his sons, just by wearing the colors, had strangers walk up and say, "You're a Trojan too?") It was a cause that kept the school's name on everyone's tongue, that kept student enrollment high and that inspired others to donate millions more to music and art departments, libraries and science labs. Money that ricocheted, rippled, resounded. Forever. Is that word clear? An infinite number of young men, theoretically, would receive the benefits of his gift, walk the same walks he had, smell the same smells, yearn the same yearnings, hurdle the same hurdles, eternally, everlastingly, perpetually, forever and evermore.
What a time those young men were in for! Hell, if right now he could rip off the tubes and IV bags and escape this reek of disinfectant, he could walk that campus and the memories would wash over him like a morning shower. Trifling memories to anyone else, perhaps, but to him the sensations revived by the turn of a corner, a slant of sunlight, a color of brick were powerful. The tightening he felt in his stomach when the English professor handed out a test in Founders' Hall—since renamed Taper Hall—with the essay question: What was Keats's meaning of beauty in Ode on a Grecian Urn? The amazement he felt one night when he slipped outside the Science Hall to cop a cigarette and the university chancellor called out, friendly as the milkman, "Hello there, young man!" Do you hear the fountain gurgling in Alumni Memorial Park? Oh, the tingle he felt there at graduation when he opened up the commencement program and discovered that Charles E. Elerding had been chosen USC's outstanding biological sciences student. A shadow of his self remained on that campus—his best self?—a self naive and eager and ready to take on the world. The truth, now: How often would he and thousands of others like him ever go back and glimpse that self, were it not for football?
There, for the first time in his life, he had felt he belonged to something important and grand; there he had earned the privilege to use that magic word, the word he craved: we. There he had discovered the joy and pain of sacrifice, surviving with his bride on 19¢ boxes of Kraft macaroni and cheese in order to make it through medical school. Janet, poor gal, had gone to UCLA, but it was a Trojan frat brother who had made the introduction, and through the power of the doctor's passion, by god, he had made her a Trojan. The truth, now: Who and what else—in an age when people jettisoned jobs, homes, cities, spouses and friends—had made the long trip with him from skinny undergrad to 58-year-old multimillionaire but his wife and USC?
His own family, for goodness' sakes, how much more of a family it had become because of the Trojans. Everybody might run off in a thousand directions from Sunday through Friday, but on Saturdays in autumn everything had its place, everyone had his or her role: Chuck brought the chips and the salsa and the beer, and his brother Jay had those three-foot subs with the Trojan peppers, red and gold; Janet packed the cookies and sodas and cheese and arranged a bouquet of flowers for the picnic table—and always asked her husband, no more than 3½ seconds after they got on the road, "Did you remember to bring the tickets?" The doctor would roll his eyes and say, "Yes, dear."
Third tree in from Menlo Avenue, that was where they would meet the old gang, 15 or 20 of them, easy friends to have, the sort you could laugh and drink and joke with from Labor Day weekend through New Year's and then not see again until the Trojans gave them a reason to get together the following fall. All of them scrambling to clean up the tailgate party when they heard the drums thumping, hastening to their seats just in time to see the band, 267 pieces strong, come thundering into the Coliseum. And then, after they had wrung themselves out cheering for 2½ hours, it was back to the tree to pop the three bottles of champagne and analyze the game, to heat up the pasta inside the motor home, then to head back to the house and pull into the driveway at dusk, feeling tired—a good tired, a winner 115 times at home in the last 25 years—and then to sprawl out on the couch and watch the day's big plays all over again on the 11 o'clock news. Repeating it over and over until it became ritual, as automatic as which side he slept on, moments and smells and scenes so inseparable from a man that it was difficult for him to truly believe that all of it would go on and on and on even after he was gone.
"I didn't do it for plaques or publicity," says Elerding. "I did it because I feel good about what this school provided me. Most of the people in this world are takers. They stay on the sidelines and then wonder why life passed them by. Who wants to be in the audience all the time? No, I'm not on the outside looking in anymore."
A startling thing occurred in April. Elerding suddenly became better. Pneumonitis, they finally called his illness, then, after 10 days, detached him from the tubes and sent him home. In June, he wrote a check for the Dr. Charles E. and Janet R. Elerding head football coach, and he knew he was doing the right thing. He pledged his legacy to the Trojans.
Within a few months, on a trip to northern California, his left arm went dead. Stroke? Tumor? The nightmare commenced again. An abscess in the brain, they finally called it, and then, through massive doses of sulfa drugs, the side-effects of which made him ultrasensitive to sunlight, he began to recover from that, too.
And now, of course, it is a glorious Saturday afternoon, midseason, the last seconds ticking off on a 28-27 war with Washington, the Dr. Charles E. and Janet R. Elerding punter salting it away with a majestic 51-yarder. The Trojans have survived. And although he can no longer join his friends for the pregame picnic or sit out in the sun with them, just a few rows from the band, Elerding has survived, too.
"That champagne is sure going to taste good today," he says. "We've earned it."
He puts on the sunglasses, gloves and wide straw hat he now wears as a precaution to protect his skin, leaves the shade of the press box and files out with the crowd. Old friends spot him and point. What do they say to the man who has recently made what may be the largest contribution to a football team in history, the man who has endowed the head coach and punter until the end of time?
"Nice hat. How's the migrant work, pal?"
You never know.