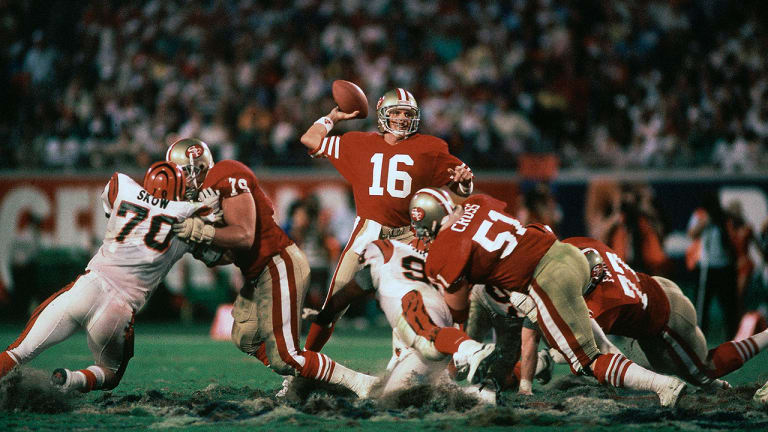 Joe COOL
The 49ers' Joe Montana knocked the Bengals cold with a spectacular late rally in the Super Bowl
You heard in the press room and in the parking lot as people headed to their cars after watching the San Francisco 49ers beat the Cincinnati Bengals 20-16 in Super Bowl XXIII. You heard it in the bars in downtown Miami and on the streets. What you heard was something you seldom hear in connection with the Super Bowl, which has almost become a parody of itself: "Great game...great game...hey, that was some game, wasn't it?"
A great game? The final quarter was certainly great—the best in Super Bowl history—but for almost 45 minutes it wasn't a great game at all. It was a screwup game played against the depressing backdrop of a city torn by riots and flames.
Then Joe Montana, who saves his best performances for the biggest games, stepped in and rescued this Super Bowl. So did Jerry Rice and Roger Craig. The cream rose. San Francisco marched 92 yards in the dying moments to pull out the win, and, yes, Montana and center Randy Cross, the only two of Sunday's 49ers who had been on the field for the great winning drive against the Cowboys in the 1982 NFC championship, said this victory brought back memories of that Dallas game, which until now had been the finest moment in Niner history.
The climax this time had no play to match the breathtaking touchdown catch Dwight Clark made against the Cowboys. Instead, it had lots of good ones. The first crisis of the drive came on the ninth play, with the Niners trailing 16-13 and facing second-and-10 on the Cincinnati 35. Cross committed his third boo-boo of the day—he was caught downfield on a fouled-up pass that started as a screen but ended as a dump-off to Craig.
"Holding, bad snap, downfield, I did it all today, didn't I?" Cross said. "But you'll be amazed at what a great game I had 10 years from now when we're looking back on it."
The penalty against Cross left San Francisco with second-and-20 on the Bengals' 45, and at this point, Montana admitted, he was "just thinking about getting the field goal that would put the game into overtime." To get in range, he chose a particularly dangerous play, a square-in to Rice. Bengal cornerback Lewis Billups and safety Ray Horton bracketed Rice, and strong safety David Fulcher backed them up. The pass covered 13 yards, but somehow Rice got the ball in the middle of the pack and broke clear for another 14 yards. "It had to be a perfect throw and catch," said Billups. "He had all kinds of hands flashing in front of him."
The ball was on the 18, and then Montana found Craig on an eight-yard crossing pattern, right to left. "Nothing greedy. I just wanted to get some yards," said Craig. Now the 49ers had second-and-two on the 10, and the Bengals went into a two-deep zone: short and medium coverage on Rice on the right side, the same on split end John Taylor on the left. The book calls for man-to-man in this situation, but zone coverage was what Cincy did best.
The play was 20 Halfback Curl X-Up. Rice went in motion to the left, passing behind Taylor before the ball was snapped, and decoyed into the left flat. Craig, who curled into the middle from the right, was the primary receiver, but he got jammed up in traffic. Taylor put on a little wiggle move and ran straight down the seam. Montana hit him in stride, inside Horton's coverage, and the Niners had their third Super Bowl win in eight years. Only the Pittsburgh Steelers, who have won four, have more Super Bowl victories.
"That's Joe Montana," said Cross. "Primary receiver's covered, he goes to the No. 2 man. just like that—reflex."
Montana completed eight of nine passes on the drive for 97 yards. Counting the 10-yard penalty, the 49ers ate up 102 yards on the march. Montana finished with 23 completions in 36 attempts for a Super Bowl-record 357 yards. In three Super Bowls he has thrown 93 passes without an interception, and his 65.6 completion percentage is the highest in the game's history.
Rice, whose 11 catches tied one Super Bowl record and whose 215 yards broke another, was voted the game's MVP. Coawards wouldn't have been a bad idea.
In the winning locker room, corner-back Eric Wright dumped a bucket of ice water on Niner owner Eddie DeBartolo. and tight end John Frank lifted DeBartolo off the ground in a bear hug and carried him 10 feet, bonking DeBartolo's head on defensive end Larry Roberts's locker. Even NFL commissioner Pete Rozelle was caught up in the euphoria: "Eddie DeBartolo, coach Bill Walsh, you and the great Cincinnati team gave us the finest of our 23 Super Bowls. I don't think there is any question about that."
You could feel the relief dripping off Rozelle's words. For two days early in the week Miami had been a very bad scene. On the night of Monday, Jan. 16, in the predominantly black section of Overtown, a policeman shot and killed a speeding black motorcyclist. Another black man, a passenger on the motorcycle, would die a day later from injuries suffered when the bike crashed. All hell broke loose in Overtown, and the next night the rioting spread to Liberty City, another black area (see page 9).
On the fringes of this madness stood the Super Bowl. The 49ers were billeted at the Miami Airport Hilton and Marina, a showy place eight miles from the rioting and at the end of a half-mile drive bordering a lagoon. Brightly plumed parrots greeted visitors at the door. But the Bengals, who were staying at the Omni International Hotel downtown, were only half a dozen blocks from Overtown. They could see the fires from their rooms. They were advised to stay indoors. "I feel like I'm being held hostage," said strength coach Kim Wood.
Super Bowl week, with its lush parties and endless interview sessions, had become a bad joke. "What's going on out there is life," said Cincinnati quarterback Boomer Esiason. "It makes you ask yourself, 'What does football really matter?' "
The inevitable question was asked: Was the NFL right in secluding its most glamorous representatives from the turmoil around them, or should the league have recruited some players to try to temper the violence through appearances and appeals? "It's no place for the NFL or its players," said Bengal guard Max Montoya. "It's a deeply rooted problem for the city, a lot deeper than football. I don't think you can throw an NFL blanket over it and try to calm it down. They don't know us. When you're talking about a life-and-death situation, an NFL badge isn't going to mean much."
"Frankly I was waiting to be asked, and I would have welcomed the chance to do something to help," said Frank. "It just shows how skewed our values are, how much we isolate pro football. Every year, though, you see guys busted when the game is over for them, guys with no place to go. Yes, I'd have wanted to help. Maybe I was the wrong person for it, being white, but I know there are black guys on our team like Eric Wright and Keena Turner and Roger Craig who would have done something."
Someone asked Frank if it was really logical to expect players to tear themselves away from preparing for something that was, to them, the most significant event of the year, maybe of their careers, especially with coaches constantly hammering away about the need to maintain concentration.
"Maybe not toward the end of the week," Frank said, "but in the beginning it wouldn't have mattered."
Even the football aspects of the week had a downside—the lingering rumor that this would be Niner coach Bill Walsh's last game, the hints that league officials were planning to tone down? Cincy coach Sam Wyche's no-huddle offense and, finally, the Sunday morning announcement from the NFL that the Bengals' backup fullback, Stanley Wilson, a key man in their short-yardage offense, had been suspended from the game because of a drug violation (see page 9). The game started with two strikes against it, and it clearly would take a memorable evening to erase the negatives.
The first half didn't help. San Francisco's left tackle. Steve Wallace, broke his left ankle on the third play. On the 49ers' next series. Cincinnati's All-Pro noseguard and defensive leader, Tim Krumrie. twisted his left ankle almost 180 degrees as he fell to the turf, shattering two bones in the lower leg. The center of the field at Joe Robbie Stadium, which had been resodded five weeks before the game, was miserable. Big clumps of turf came up. Teams of red-shirted maintenance men ran out during timeouts to try to tamp down the loose sod.
"The field right around the NFL emblem was horrendous." said Esiason. "It was worse than Cleveland Stadium, and that's saying a lot. I mean, there were huge holes out there."
"Oh, the turf was gorgeous." said Cross. "A full two inches of root system, and that's being generous."
The Niners put together a 73-yard drive in the first quarter that ended with three incomplete passes and a 41-yard field goal. On their next possession they made it to the Cincinnati two. where they faced fourth-and-a-yard. Walsh played the percentages and went for the field goal. The 19-yard attempt was botched when Cross's snap was low. "When we got behind in the second half I was thinking that maybe we should have gone for it," Walsh said, "but it was just a little too far."
Toward the end of the first half. Cincinnati got the ball on San Francisco's 44. drove to the Niners' 16 and kicked a 34-yard field goal. The half ended with the score tied 3-3. Not since the Pittsburgh Steelers led the Minnesota Vikings 2-0 in Super Bowl IX had so few points been scored in the first half.
So far it wasn't much of a game. The defenses were showing some spirit, but with the exception of Rice, the big-name offensive stars were coming up short. Montana's numbers were O.K.—9 completions in 16 attempts for 114 yards—but he had no rhythm. He seemed to be pressing. Nothing was smooth. Walsh's pregame fears—a mobile, stunting Cincinnati defense backed up by an exotic blitzing scheme that featured Fulcher—were coming true. "I see two well-conceived offenses putting on a high-level show." said Walsh the night before the game, "but underneath there's a haunting feeling that their line stunts might catch us wrong. They could happen to hit us, but the odds say that shouldn't happen."
Craig had rushed for 52 yards, but he had fumbled on his longest gain, 16 yards. Only Rice had shone. He made a nifty one-handed grab on a sideline pattern in the first quarter and had a 30-yarder on a deep corner route in the second-quarter drive that ended on the two. But Rice was playing on a tender right ankle; he had aggravated an old injury during a workout on Monday of Super Bowl week (see box, below). On Wednesday a rumor circulated that the ankle business was a hoax and that the Niners had intended to rest Rice in practice anyway. "No hoax, man," said Rice. "I turned it pretty badly. I can run straight ahead, but I won't know whether I can cut on it until game time."
The Bengals weren't having much better luck in the first half. Ickey Woods had 27 yards on his first four carries, but a thunderous hit by free safety Ronnie Lott calmed him down toward the end of the first quarter. Woods would get only 10 yards the rest of the half. Esiason was struggling. He finished the half with 4 completions in 12 attempts for 48 yards. In his previous five games he had completed fewer than half his throws, but the Bengals had run so well they didn't need his arm. He had sprained his left ankle and the index finger on his throwing hand in the last regular-season game, and observers at the Bengals' closed Super Bowl workouts said privately that Esiason still wasn't right.
Finally, the no-huddle, quick-snap offense, which had been such a hot midweek topic, was a big zero. Cincinnati tried it a few times in the first half and then junked it. "They weren't catching us in the middle of any shifts or anything like that," said 49er strong safety Jeff Fuller afterward. "I think we surprised them because we didn't try to shift people around or do anything fancy. We stayed in our base defense and lined up left and right with our DBs—strong safety and cornerback left, free safety and cornerback right—no matter how they shifted."
At the start of the third quarter the Bengals took command. Their ground attack came alive. And veteran wideout Cris Collinsworth, who had played only sporadically during the season, came through with a diving 23-yard catch and then an 11-yarder down to the Niners" 22. Cincinnati kept the ball for 9½ minutes before booting a 43-yard field goal, which put it ahead 6-3.
Three minutes later the Bengals committed their only turnover of the game. and it cost them three points. Esiason threw for Tim McGee on the left sideline, but Bill Romanowski a 6'4" rookie linebacker, who was drifting underneath, leapt, batted the ball and came down with it. "It wasn't that Boomer didn't see me," said Romanowski "It's just that I don't think he figured I could jump that high."
The Niners had the ball on Cincy's 23, and again they came up a yard short of a crucial first down, but Mike Cofer's 32-yard field goal made the score 6-6 with 0:50 remaining in the third quarter. It looked as if a Super Bowl would be tied going into the fourth quarter for the first time ever.
But Stanford Jennings, whose wife had had a baby girl the night before and who had dreamed of running a kick back all the way as a kind of present for little Kelsey, did just that with the ensuing kickoff. He went 93 yards down the middle of the field without breaking stride or making a cut. The wedge in front of Jennings—tackles David Douglas and Jim Rourke, linebackers Leon White and Leo Barker—had swept the board clean.
The Bengals led 13-6, and still no touchdowns had been scored by either offensive unit. All of a sudden the game opened up. and the Super Bowl everyone will remember began. Starting on his own 15, Montana hooked up with Rice on a little out pattern. Rice shook off cornerback Eric Thomas and turned the play into a 30-yard gain. On the next play, as the fourth quarter started, Montana connected with Craig on a perfect 40-yard fly. Then the 49ers got lucky. They were on the Cincinnati 14, and Montana tried a slant pass to Taylor, who was on the goal line. Billups jumped and should have had the interception. "I knew they'd go to the slant, and I knew I had to get there fast." said Billups. "The ball got there really quickly. It surprised both of us, the receiver and me. It hit my shoulder pads."
Rice lined up in a slot left on the next play and broke to the corner as Taylor cut inside him. Montana laid the ball out perfectly, Rice caught it on the five, wrapped the ball around the goal-line pylon, and the game was tied again.
After the Bengals took over on their own 32 with 8:47 to go, Esiason passed to Ira Hillary, Cincinnati's No. 4 wideout, for 17 yards on third-and-13, and Woods bit off 17 yards on two runs. San Francisco was sagging. "The middle of our line was controlling things," said Bengal tackle Anthony Munoz. "Right then I felt we were going to win it."
The drive ended with a 40-yard field goal, which gave Cincinnati a 16-13 lead. A penalty against the Niners on the kickoff moved the ball back to the San Francisco eight, and the clock showed 3:10. There was time for one miracle.
"Did I say anything inspirational?" said Montana afterward. "Oh, no, I was concerned with other things. We were calling two plays at a time, and I had to think about what the second one would be. I did say to myself, though, Here we go, just like Dallas in '82."
The resemblance was striking. The drive that put the Niners in Super Bowl XVI, against the Bengals no less, covered 89 yards in 13 plays. It started with 4:54 left and ended at 0:51. This one covered 92 yards in 11 plays. It began with 3:10 to play and ended at 0:34. The Cowboys went with six defensive backs, and the Niners stayed with their standard two-wideout set. San Francisco won the game with power sweeps and short passes.
"A lot of teams would have just sent everyone down on a couple of bombs," said Walsh after the '82 game, "but we wanted to get 10- and 12-yard chunks, and we thought we could do it effectively because of the defense they were in."
Wyche was a 49er assistant, sending down plays from the press box, on that January afternoon seven years ago. Now he was on the opposite sideline, agonizing. He should have remembered. After the first few plays, Cincy went with six defensive backs. The 49ers, for the most part, stayed in their base offense. At first their yardage came in small chunks: 8 yards to Craig, 7 to Frank, 7 to Rice. Then came bigger chunks: 17 to Rice, 13 to Craig. It was inside stuff mostly, plays they wouldn't figure to call with time running out.
"When they started the last drive, do you know what I was thinking?" said Montana's mother, Theresa. "The 1979 Cotton Bowl, when he brought Notre Dame from behind in the fourth quarter. That was the best—until now."
"We had them on their eight with three minutes to go," said Collinsworth. "and somebody came up to me and said, 'We got 'em now.' I said, 'Have you taken a look at who's quarter-backing the San Francisco 49ers?' That's what it comes down to. Joe Montana is not human. I don't want to call him a god, but he's definitely somewhere in between. I'm sure he did it in peewee football, in high school, college and now in professional football. Every time he's had the chips down and people counting him out, he's come back."
Cross was the last player out of the San Francisco locker room. As he was leaving, someone asked him about Montana and Rice. He stopped and gave the question some thought. "We have more superhumans on this team—Montana. Jerry Rice," he said. "Talk to the trainers about these guys. Knees, ankles—other guys say, 'Fine, I'll see you in two weeks." They line up. As far as Joe Montana's concerned, I hope people will finally stop saying they rate him with the best. He is the best. There's never been a better big-game quarterback.
"God, what else does this guy have to do? You name it and he's done it in a 10-year career. And he's not finished."
That gives us something to look forward to, because as Montana demonstrated again on Sunday, there may never have been a better finisher.