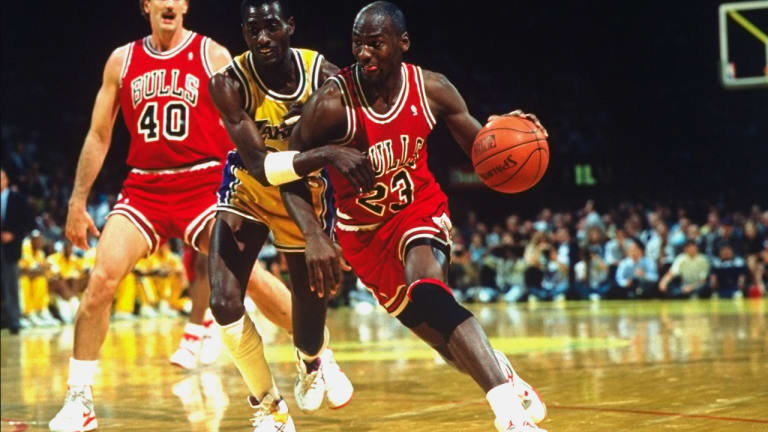 Horns Of A Dilemma
Michael Jordan continues to carry the Bulls, but how much abuse can his body take?
Real men get their nails done. At least, Michael Jordan does, and the consensus is that Jordan is one real man. Besides, today he must look sharp, feel sharp and be sharp, for in a few hours he will attend a party in Chicago to celebrate his appearance on the cover of the March issue of Gentlemen's Quarterly.
"But I'd be getting them done anyway," said Jordan last Thursday afternoon, while relaxing on a stool at Spa Mirage, a salon located upstairs in the Multiplex, the Chicago Bulls' practice facility in suburban Deerfield. "About every 10 days, two weeks, I get a manicure," Jordan added. "You know who I picked it up from? Dr. J. I don't know that it helps much out on the court, but basically it just feels good. It's therapy for the hands."
So, that takes care of Jordan's hands. But what about the tender feet, the aching back, the throbbing knees and the burning lungs? Any therapy for them? The questions are relevant because last year's MVP in the NBA has once again hoisted the Bulls upon his splendid but by no means oversized shoulders, taken a deep breath and said, "Welcome aboard, guys, let's see how far we can get this time." Through Sunday, Jordan led the league in minutes per game (40.4), points (33.4) and steals (3.07). He also paced Chicago in assists (6.9) and, of course, the universe in oohs and aahs generated (no estimate).
"It must be like most of the rest of us playing with grade-school kids," says teammate John Paxson. "That's how good he is."
Aah, but how good are Jordan's Bulls? That's the question. After a 122-104 loss to the Knicks in New York last Saturday night, Chicago stood at 34-22, good for fifth place in the tough Central Division and sixth overall in the Eastern Conference. That's three wins better than last season's record at the same point, but a tough stretch of the schedule lies dead ahead, and no one has stepped forward to consistently take the burden off Jordan. "Michael plays it down, but he's a one-man team," says Dallas Maverick forward Sam Perkins, a former teammate of Jordan's at North Carolina, and it's hard to dispute him.
Those words cut through the men who run the Bulls like a biting wind off Lake Michigan. A thousand times since Jordan's rookie season of 1984-85, they've protested that he's not a one-man team, and a thousand times the statistics scream "wrong." The degree to which Jordan dominates Chicago's stats (even his 7.5 rebounds per game are second on the team to power forward Horace Grant's 8.7) suggests the Bulls are wearing him down and, ultimately, cutting years off his career.
"No one by himself can carry a team through a season," says fellow superstar Dominique Wilkins of the Atlanta Hawks. "If Michael has to do this year after year, it will shorten his career."
In that regard, statistics and minutes played aren't the whole story. It's the way Jordan performs that brings his longevity into question. "He plays every game like it's his last," says another Hawk, guard Doc Rivers. "I think the Bulls can rest him more. I know it's tough, but I think they're good enough to win if he plays three or four minutes a game less. They just don't know it."
Well, Doc, that would be a revelation to Chicago coach Doug Collins, who devotes many of his waking moments to that very issue. "Yes, I do worry about Michael wearing down," says Collins, the caretaker of Jordan's playing time. "I'd love to get his minutes down to, say, 37. And when we're a team that can score consistently without him, we'll do it."
Jordan views the fatigue issue as unimportant. "Hey, I'm a young thoroughbred," he says, "and young thoroughbreds don't need rest." He now relies more on his jump shot and has cut down on his magic-carpet drives to the hoop, but that change is as much a result of taking what the defense gives him as it is a conscious effort to reduce wear and tear. Let a single defender crowd him and Jordan is dust in the wind.
Jordan figures he gets his rest during the off-season, now that he substitutes eight or 10 hours of golf a day for the three or four hours he used to devote to playground basketball. "When I'm on the golf course," Jordan says almost dreamily, "I'm at peace."
Which isn't the way he would describe his life now. The world sees a smiling Peter Pan in Nikes—and, to be sure, much of Jordan's engaging youthfulness remains—but at 26, Michael Jeffrey Jordan has a lot on his mind.
His fame and celebrity are weights he can never put down. One could see the gloom in his eyes last Saturday morning when, as he walked through Chicago's O'Hare Airport to board a flight for New York, he was spotted, surrounded and all but swept off his feet by a mob of teenagers. He signed a few autographs and then quickly followed airport security into a private room. "It's like traveling with a rock star," is the way his teammates put it.
Jordan chafes at the role Collins wants him to play as team leader off the court, the guy who watches over Chicago's younger players, like Grant, and forwards Scottie Pippen and Brad Sellers. Although Jordan isn't a carouser, he feels uncomfortable on the pulpit—he would prefer to be "one of the guys," his celebrityhood notwithstanding—and he likes to lead by example. "It's hard for me," he says. "I can tell guys, 'Look, you need your rest,' but that's all I can do. If they don't listen, they don't listen."
And, finally, Jordan wrestles almost daily with what is known in Chicago as the Ernie Banks Syndrome. He worries that he will end up like the former Chicago Cub, who played Hall of Fame baseball for 19 seasons but never won a championship.
Still, Jordan deals with the Sturm und Drang of his life as well as anyone could. Everything about Jordan says order and clarity and neatness, from his mind to his clothes to his beige carpeting, which is why on a snowy afternoon last week he could be found ordering four guests to remove their shoes before entering his suburban Chicago house. Adolph Shiver, a longtime buddy from North Carolina who was visiting, challenged Jordan about the shoes. "Uh-uh, take them off!" said Jordan. Shiver saw that Jordan wasn't kidding and removed his shoes.
The group proceeded to the basement, which can only be described as an adult day-care center: stereo system, large-screen TV, pool table, Ping-Pong table, poker table, six-hole artificial-turf putting green (on which Jordan knows the breaks). Shiver grabbed a cue. Fred Whitfield, an attorney and another North Carolina buddy, went to fetch some food from the kitchen. Howard White, a Nike salesman from Washington, D.C., and a close friend, idly shuffled a deck of cards as he glanced at the score pad from the previous night's bidwhist game that lay on the table.
Jordan was asked about his early December meeting with Bulls vice-president Jerry Krause, at which Jordan suggested that the Bulls acquire some help for him. Krause said the Bulls were about to acquire shooting guard Craig Hodges from Phoenix, but that the team couldn't make many personnel moves other than that because the new eight-year, $25 million contract Jordan signed in September put the Bulls at the NBA's salary limit.
"All I know is that my money is hard-earned," said Jordan as he wolfed down yogurt, "and maybe that isn't the case all around. I hate to be singled out as the reason we can't get any more players. It isn't right." Krause says that he wasn't singling out Jordan but merely "dealing with the reality of the cap situation."
Jordan is still steamed about the controversial trade last summer that sent power forward Charles Oakley, one of the NBA's best rebounders, to New York in exchange for center Bill Cartwright. Jordan misses Oakley's presence. "The way he gave us kind of a tough image. I think we've lost that this year," he says. True, Chicago gained a post-up center, something that it never provided for Jordan before, but the deal hasn't yet paid dividends for the Bulls; or for Cartwright—who at week's end was averaging only 12.9 points and 6.9 rebounds a game; or for Jordan's teammates, who are unaccustomed to feeding the post; or for Jordan, who sometimes finds Cartwright clogging his penetration down the middle or failing to hold on to Jordan's passes, which seem to appear out of nowhere.
But Jordan knows that someone—be it Cartwright or Pippen, Chicago's second-leading scorer (13.7), or point guard Sam Vincent—must assert himself if the Bulls are to get truly bullish. The double-and triple-teaming of Jordan is increasing, if anything. During the fourth period of last Saturday's game against the Knicks, Jordan drove the baseline, soared in front of the basket facing downcourt and, amid several defenders, flipped in the ball while not looking at the basket. That's often what Jordan has to do to get off a shot.
Lately, the Bulls have consciously tried to spread the wealth. Through Saturday's loss in New York, Jordan had attempted fewer than 20 field goals in seven of Chicago's last nine games, during which time the Bulls were 7-2. "I get left out in the cold from time to time, but that's O.K.," says Jordan. "If we can get productivity from the other guys, it's fine."
"Out in the cold" is a little strong. In each of the seven games in which he didn't take 20 shots, Jordan led the Bulls in scoring, as he has done in all but one game (on Dec. 7 at Detroit, when Vincent outscored Jordan 20-18) this season; and down the stretch, when the game is on the line, he's Chicago's near-exclusive option. He knows it, his teammates know it, and the opposition knows it. The Bulls won't be a truly dangerous team until someone else can step in and take the big shot.
"That day is coming, I know it is," says Jordan. But he doesn't sound convinced. He looks around in his fifth season in Chicago and sees Cartwright, an aging, one-dimensional center, and Vincent, who has yet to prove himself at point guard, and Pippen and Grant, second-year players who are still cutting their NBA teeth.
"I don't think the Bulls are wearing him out, but what he needs is a complementary player," says Sacramento coach Jerry Reynolds. "The only way to take pressure off a guy like that is to put more great players around him."
Jordan knows. And the thought of a future without a championship bothers him, though his four-month-old son, Jeffrey Michael Jordan, can quickly dispel that worry. He gathers the boy in his strong right hand and lifts him toward the ceiling, brings him down and lifts him again. "Hey, it's an Air Jeffrey ,. push-up," Jordan says, beaming. At this moment, Jeffrey has one thing in common with the Chicago Bulls—he's in one man's hands.
PHOTO
BILL
SMITH
Walter Berry (6) and Derrick Chievous (3) of Houston pull the old squeeze play on Jordan.
PHOTO
DAMIAN
STROHMEYER
Does Jordan play too much? If so, he doesn't sweat it.
PHOTO
JOHN
BIEVER
Jordan is no mere scorer as this block on the Bucks and pass against the Warriors show.
PHOTO
MIKE POWELL/ALL SPORT USA
[See caption above.]
PHOTO
JOHN
MCDONOUGH
As is his wont, Jordan is leading the league in scoring. This season his average is 33.4.