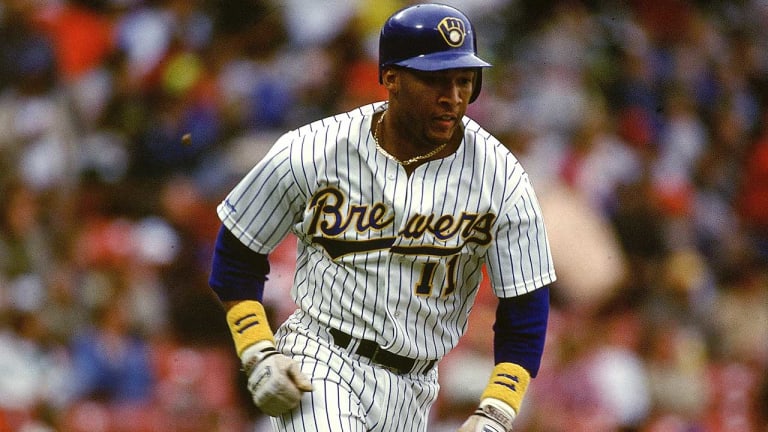 Street Smarts
GARY SHEFFIELD LEARNED HIS BASEBALL AND MORE IN TAMPA'S BELMONT HEIGHTS
I wouldn't ever come here at night," said Gary Sheffield, glass crunching beneath his feet as he walked across the playground parking lot. The walls of the dugouts on the baseball diamond were covered with graffiti, and the infield was littered with beer cans and broken bottles. In rightfield somebody had dumped trash from the burned-out projects across the street.
"This is where I started playing Little League," said Sheffield. "It was great. The stands were packed. Now look at them. Some aren't even here anymore, and what's left is falling apart."
The Cyrus Green Playground is in the Belmont Heights section of Tampa, and as a boy, Sheffield would go there daily to play ball with his uncle, New York Mets pitcher Dwight Gooden. What Sheffield calls "the neighborhood" covers a square mile surrounding the playground. No other neighborhood in the country has turned out so much baseball talent. Philadelphia Phillies pitcher Floyd Youmans grew up there, as did California Angels pitcher Vance Lovelace. The neighborhood has also produced Ty Griffin, an infielder with the Chicago Cubs organization; Derek Bell, an outfielder who may be the best prospect in the Toronto Blue Jays' farm system; Maurice Crum, a high school teammate of Sheffield's who was drafted by the Chicago White Sox but is currently a linebacker for the University of Miami; and Sheffield's cousin, Derrick Pedro, an outfielder at Hillsborough Community College who is certain to be drafted in June. "Another dozen could have been good, but they got messed up," said Sheffield.
Sheffield turned and looked at the housing project across the street. In February 1987 a race riot erupted there after a police officer, using a choke hold, killed a young black man. "Drug deal," said Sheffield. "Isn't everything? They were setting trash cans and fields and houses on fire. We could hear the sirens all night. All that stood between the worst of the rioting and the neighborhood was this park, and look at this place. The police are afraid to come here. After the riots they had to close down the Little League for a while, and even now they've had to cut the number of teams way down because they can't get enough kids. It's drugs, the lure of easy money. Kids that would be playing in these programs—I mean 12-and 10-year-olds—don't want to go to school or play sports. They're selling drugs. It's everywhere."
Seven years ago Sheffield pitched Belmont Heights to the senior Little League world title. Griffin was on the team. So were Bell, Pedro and Crum. All five were also members of the 1980 junior team that lost 4-3 to Taiwan in the championship game of the Little League World Series in Williamsport, Pa. Now, at 20, Sheffield is a power-hitting shortstop for the Milwaukee Brewers and the most heralded rookie in the American League.
"In a lot of ways this place is what I am," said Sheffield, surveying the neighborhood. "But a turning point in my life was when I moved away from here in October 1987. I left a lot of good friends and a ton of great memories. But things have changed in the neighborhood, things I had to leave behind."
That fall, with the help of Dwight's bankroll, Sheffield, his mother—also Dwight's older sister—Betty Jones, his stepfather Harold Jones and other family members moved across Tampa Bay to St. Petersburg. "The family got together and decided it's something we had to do," says Gary's mother. "Understand, first, that this is a very close family, and second, Dwight is a very generous, family-oriented person."
The clan bought three houses on a cul-de-sac overlooking the Bay. Dwight lives in the middle house with his wife, Monica, his parents and his grandmother. Out back are a batting cage, a swimming pool and a satellite dish, so his folks can watch all his games. On the right side of Dwight, in the white house with the indoor pool, resides Sheffield, his fiancèe, Sherry Gary, and Harold and Betty. On the left side are Dwight's other sister, Mercedes Pedro, and her son, Derrick.
As soon as Sheffield returned home from his visit to Belmont Heights he had to address the problem of packing for spring training. He was leaving for the Brewers' camp in Chandler, Ariz., in three days, and he would probably need that much time to sort through the mountain of sweaters and slacks on his bed and the more than two dozen pairs of shoes lined up on the floor. "Ever since we moved here, I've been able to focus on what I have to do to make it in the big leagues," said Sheffield. "If I were back in the neighborhood, there would be too many distractions. I would always have something going at night. Some of my old friends think I've gone big time or that I'm a snob. I'm not, but with all that's going on, just to be associated with some people could be bad publicity. What's that line the newspapers always use: 'Unidentified sources say that such and such associates with known drug users'?"
That night, as he waited for Sherry, a model and former Tampa Bay Bucs cheerleader, to get home, Sheffield watched TV with his stepfather. Somebody on ESPN was talking about the season's most promising rookies. The first player mentioned was Mets infielder Gregg Jefferies. "He was born to hit," said the announcer. Next up was Los Angeles Dodger pitcher Ramon Martinez. "I told you about him," said Sheffield during the accompanying commentary. Finally, Sheffield himself was featured. "The question about this kid is his checkered past," said the announcer. Sheffield hung his head and stared at the floor.
Jefferies plays in New York, Martinez in L.A. and Sheffield in Milwaukee, which in itself establishes a natural publicity order. "I'm glad to be in Milwaukee, not on the East Coast," said Sheffield. "I've been up to New York and stayed with Dwight. I've seen what he's gone through.
"Gooden tested positive for cocaine in March 1987, and he entered the Smithers Alcoholism and Drug Treatment Center in Manhattan. After his release 27 days later, the Mets asked him to move to New York so that they could keep an eye on him in the off-season. He refused. Further, the press wouldn't let up on him. The late Dick Young, the columnist for the New York Post, even encouraged fans to boo Gooden when he pitched his first game. "People ask, "Wasn't all that hard on the family?' " says Betty. "Not in comparison to what Dwight went through."
If Sheffield were playing in New York, he, too, would be put under the microscope. But Milwaukee is different. "Sure, there's a lot of anticipation concerning Gary," says Brewers general manager Harry Dalton. "But we've got established stars like Robin Yount, Paul Molitor and Teddy Higuera. And Milwaukee just doesn't provide the same kind of hoopla that you get in some of the bigger media markets."
The Brewers' brain trust has never had any doubts about Sheffield's ability. Like several other teams, Milwaukee rated Sheffield as the best prospect in the 1986 draft, but he was the sixth choice overall, because most of the clubs that had higher picks than the Brewers were looking for more seasoned players. Sheffield played rookie ball in Helena, Mont., where he batted .365. The next season, at 18, he hit .277 but knocked in 103 runs at Class A Stockton. In 1988 he started with the Double A El Paso Diablos and moved up to the Triple A Denver Zephyrs, hitting a combined .327 with 28 homers and 119 RBIs in 134 games, before playing for Milwaukee in September.
"He's a shortstop who hits for power, yet he makes contact like a Mattingly or Boggs," says Brewers hitting coach Tony Muser. What's more, Sheffield has a flair for the dramatic. His first major league hit was a ninth-inning home run against Seattle Mariner ace Mark Langston that tied the game at 1-1. His second hit was the game-winning single in the 11th inning.
With a week to go in the season Sheffield's batting average in Milwaukee was .283, but he finished at .238 with four homers in 80 at bats. "I was batting ninth for the first time in my career, and that requires taking pitches, which I'd never had to do," says Sheffield. "I learned from it. I also had to make an adjustment for the inside pitch. That's my favorite ball to hit, but I was so worried about the outside corner that I was crowding the plate and getting jammed inside. So I went to a lighter bat, moved up on the plate and started hitting that ball the way I always did before."
The Brewers knew that Sheffield could hit. What they hadn't figured out was where to play him. "I hardly ever played shortstop before I signed," says Sheffield, who had pitched and played third base at Hillsborough High. "But they put me there in Helena. I had my problems for a couple of years, I didn't bobble many balls, but I made a ton of throwing errors, because I didn't have the footwork to get set. I had it down the first part of last season in El Paso, but in Denver they moved me to third."
When the Brewers brought him up on Sept. 2, they were planning to use him as a third baseman or leftfielder. But the next day their regular shortstop, Dale Sveum, broke his leg, and Sheffield took over his spot. His instincts were so good that in 24 games he made three plays that were dazzling enough to make the Milwaukee highlight film. On the last day of the season, manager Tom Trebelhorn called Sheffield in and told him, "You should never go back to the minors," and promised him that the shortstop job was his to lose.
Inspired by Trebelhorn's remarks, Sheffield followed an off-season conditioning program and jogged two miles every day with Gooden. Sheffield reported to spring training two days early and weighed in at 190 pounds, five below his prescribed playing weight. Billy Reed, Hillsborough High's legendary coach, who has worked with such players as Gooden, Youmans, Detroit Tigers catcher Mike Heath and his latest find, pitcher-infielder Kiki Jones, who is a sure bet to be one of the top three picks in the June draft, has always been impressed by Sheffield's drive to succeed. "More than anyone I've ever known," says Reed, "Gary has a burning desire to be great. Not good, great."
"People can't read Gary because he's so quiet and shy," says Lovelace. "But ever since I've known him—and I think he was five or six, hanging out at the playground watching Dwight and me play—he's pushed himself hard."
The walls of Sheffield's den are filled with baseball memorabilia, including several photos of Gooden and other major league stars, one of Sheffield's 1980 Little League team posing with Reggie Jackson in Yankee Stadium, another of Sheffield signing with the Brewers and a National High School Player of the Year award from Gatorade. Above the door is a needlepoint sampler that reads I LOVE MY PARENTS AND GRANDPARENTS, and his high school diploma hangs in a prominent spot above the bookcase. According to Reed, Sheffield had become serious about his studies by his senior year at Hillsborough, and by the second half of that year he was on the honor roll. "If I didn't get drafted in the first round, then I would have gone to college, probably Miami," says Sheffield.
For the first seven years of his life, Sheffield, who has lost touch with his natural father, lived with Betty and Harold in the Goodens' house in Belmont Heights. "People ask how close I am to Dwight," says Sheffield. "Well, we're only four years apart. He's my older brother. I'm his younger brother. We did everything together."
When Sheffield was seven, the Joneses moved across town to Port Tampa so that Harold could be closer to his job as a boatyard foreman. They moved back to the neighborhood when Sheffield was nine. He recalls playing games of four-on-four with a rubber ball in the streets. "You'd hit the ball and run to a base and back," he says. "We started when I was six, and we'd play kids from other blocks. Floyd Youmans would play us. Ty Griffin. Dwight usually pitched, and I usually caught him. You wouldn't believe the crowds that would gather on the corner to watch us. We broke a few windows and got some people mad, but they knew we weren't up to any trouble. At the park they'd often make Dwight and me split up, so I got to hit off him. I hit him well, too. People ask about my ability to swing and make contact, and it goes back to all those games. When I was six, seven, eight and nine I was hitting against Dwight, Floyd, Vance and kids much older. That's how I learned."
Sheffield could pitch, too. In fact, many scouts liked his 90-mph fastball as much as his bat. "But he was just too great a hitter," says former Brewers director of player development Dan Duquette, who's now farm director for the Montreal Expos. In 62 at bats as a senior at Hillsborough, Sheffield batted .500, hit 15 homers and didn't strike out once.
Sheffield got a $152,000 signing bonus from the Brewers and immediately began to act like someone who had come into a good deal of money. "He hung out with a star, and he had a star's lifestyle," says Dave Machemer, who managed Sheffield at Stockton and at El Paso. Sheffield had his initials inlaid in gold on his front teeth and bought a gold Mercedes. But what got him the most attention was a famous set-to with the Tampa police in December 1986.
As Sheffield, Gooden and three companions were returning home from a University of South Florida basketball game, the police stopped them for allegedly driving erratically. Gooden got into an altercation with the police officers, and when it turned physical, Sheffield and the others jumped in to help. All five were arrested and charged with battery of a police officer and violently resisting arrest. Gooden pleaded no contest and was sentenced to three years probation and community service. Sheffield and two others also pleaded no contest and were given two years probation, while the fifth participant was absolved because he was a juvenile.
"No one will probably ever know what happened that night," says Sheffield. "We don't talk about it. I didn't mind the probation; they just told me to work with kids in St. Pete, which I do anyway. But why does it continue to haunt me? I'll bet everyone in baseball has got in a little trouble somewhere in his life. How serious was it? We didn't even get tickets. When we were on trial, the judge couldn't believe it. 'No tickets?' he kept asking. Hey, with all the publicity, he had to give us some sentence. I don't blame him. I just wish people would stop bringing it up."
Machemer remembers having some minor run-ins with Sheffield. "I stayed on him hard." says Machemer. "I'd fine him for little things, like wearing a shirt without a collar, and he'd get mad and say, 'You can't fine me.' But I stayed on him because I knew he had a chance to be something special and because I knew he was a good kid. The reason he turned around and got his talent to Milwaukee so fast is his parents."
"These kids are so young, they're faced with all the trappings of stardom and big money before they're 21," says his mother. "It's very hard. Gary always complained that we were too strict, that we gave him curfews that no other kids had. Well, he knows now that because he had to be home, he stayed out of some serious trouble. I don't know anything about baseball, but I know about spanking and I know about discipline."
Not only do Harold and Betty talk to Gary almost every day on the phone but they also spend their vacations watching him play. Two years ago, when they were in Stockton, Machemer suspended Gary for three games for an infraction Machemer claims he doesn't even remember. "The next day his stepfather came to see me," says Machemer. "He told me, 'We back you 100 percent, and Gary knows it. He needs the discipline, and he'll accept it as far as we're concerned.' I knew then that with his parents, he would turn out fine."
What Machemer didn't know was that when Sheffield went to Helena, at 17, he tried to get his folks to take care of his day-to-day finances. But Harold said no. "You won't be able to handle $1 million a year if you can't handle $12,000." he told his stepson.
When Sheffield moved up to Milwaukee, his new teammates didn't know what to expect. "We'd heard things, but I don't think he said three words the entire month," says catcher B.J. Surhoff. "He watched and listened."
His mother isn't surprised. "Gary's always been a great listener," she says. "Anyway, before he left for Milwaukee, Dwight told him to look and listen."
Five days before departing for spring training this year, Sheffield had the GS removed from his teeth. He also gave some of his gold jewelry to his family. The night before he left, he talked on the phone to his uncle. "Now remember," said Gooden, "stay away from the street, work hard and have fun."
"What could ever be more fun than playing baseball from sunup to sundown?" says Sheffield. Then his thoughts return to the playground: "In the neighborhood, I've seen what the streets can do."
That's why this phenom from the best baseball address in America won't ever go home to Belmont Heights again.
PHOTO
TOBEY SANFORD
GRAFFITI AND BROKEN GLASS DEFACE THE PLAYGROUND WHERE THE BREWERS ROOKIE TOOK UP THE GAME
PHOTO
TOBEY SANFORD
UNCLE DWIGHT (RIGHT) HAS ADVISED GARY TO WORK HARD, LISTEN TO HIS ELDERS AND SHUN THE MEAN STREETS
PHOTO
RONALD C. MOORA
AFTER HITTING 28 HOMERS IN THE MINORS IN '88, SHEFFIELD MAY NOT BUNT TOO OFTEN FOR THE BREWERS
PHOTO
TOBEY SANFORD
AT THE BALLPARK OR THE AMUSEMENT PARK, EX-CHEERLEADER SHERRY NOW PULLS ONLY FOR GARY
PHOTO
TOBEY SANFORD
BETTY HOPES THAT SPANKINGS AND CURFEWS HELPED PREPARE GARY FOR "THE TRAPPINGS OF STARDOM"