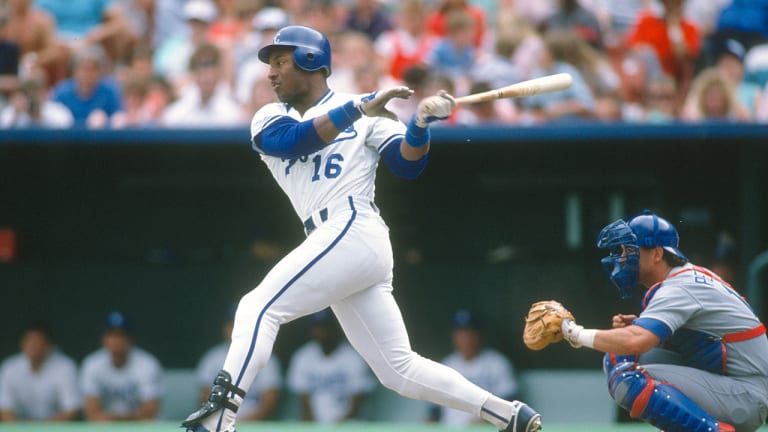 The Big Stick
With every swing of his bat, there's a chance Bo Jackson will do something extraordinary. So everyone watches
Batting practice on this May night in the Minneapolis Metrodome had become a skeet shoot for Bo Jackson. He stood at the side of the cage and as each player made contact, Jackson shouted, "Pull!" Then, with his bat held like a rifle, he followed the flight of the ball and fired an imaginary shot at the arcing white sphere.
"Bo, it's your turn. One last swing," hollered Kansas City Royals hitting coach Mike Lum. The righthanded Jackson darted into the cage and jumped up to the plate—on the lefthand side. He took his one cut, and it was the last scene from The Natural, in nonfiction. The ball towered past the dome lights, crashing off the Hardware Hank sign on the facade of the second deck in far right center-field, an estimated 450 feet away and only 30 feet short of the longest rightfield homer ever hit in the Metrodome.
Kirby Puckett, standing in back of the cage with several other Twins, howled at Bo as he walked slowly toward the dugout to put the bat in the rack. Jackson glanced back at Puckett and yelled, "I got work to do," then picked up his glove and strolled nonchalantly out to leftfield to take some fly balls.
"Players from both teams watch when Bo takes batting practice," says Royals pitcher Bret Saberhagen. "There's always the feeling that you're going to see something you never saw before, and we don't want to miss it." Says Seattle catcher Scott Bradley, "Bo and [Jose] Canseco are the two guys that everyone wants to watch. When they're done you go into the clubhouse and swap stories about balls they hit. It doesn't matter if we haven't played the Royals for two months, Bo gets talked about. Everyone has to have a topper Bo story."
At Royals Stadium the rustle of anticipation begins as soon as Jackson takes his first step out of the on-deck circle toward home plate. By the time he steps into the batter's box, the crowd has usually begun a chant of "Bo ... Bo ... Bo." But it's not just at home that Jackson is the main attraction. In Minneapolis before a recent Royals-Twins series, the TV spots for the games consisted of 16 seconds of Bo highlights. "He's been called the greatest athlete of our time," intoned the announcer. "There's almost nothing he can't do." In Anaheim, Calif., the public address announcer was plugging Jackson's visit to the Big A three weeks before the Royals were to arrive. During a weekend series in Boston in April, in which Jackson had two homers and four stolen bases, a fan yelled, "Bo, let's see you hit the ball to Kenmoah Squayah—and catch it yawself!" When the first results of the All-Star balloting were announced on May 22, the American League's leading vote-getter was Bo.
No longer does one have to say "Bo Jackson," any more than one had to add Ruth to the Babe or Presley to Elvis. Bo, in just his third full season, has reached single-name stature. And he creates the same kind of "what next?" anticipation as basketball's Michael Jordan. "Bo is the only baseball player that you sense can do whatever he wants," says Royals centerfielder Willie Wilson. "And you can't wait to see him do it."
It's not only with the bat that Bo does it. On the night after his lefty BP blast in Minneapolis, Jackson hit a pitch from the Twins' Francisco Oliveras into that same second deck—the first time a righthanded batter ever hit a ball into the rightfield upper deck. Afterward Jackson shrugged off the feat ("I hit it off the end of the bat," he said); he was much more excited about his steal of home that night. More accurately, he simply outran a throw. Jackson was caught off third on a botched hit-and-run, and Twins shortstop Greg Gagne, holding the ball, ran toward him to start a rundown play. Bo took off for the plate and beat Gagne's throw.
"You define mistakes differently with Bo," says K.C. manager John Wathan, "because a mistake to a normal player isn't a mistake to Bo. He can outrun and outthrow mistakes. We've got some terrific players on this team, but it seems as if nine out of 10 questions I answer are about Bo Jackson. We won a tough game against Cleveland, and the first question I got was about Bo breaking his bat over his knee after striking out. I'll have to admit, it was amazing to watch him take that bat and snap it over his knee like kindling."
Tales of Bo. There's the one about the 515-foot homer he hit in spring training off Boston's Oil Can Boyd—it cleared a 71-foot scoreboard. Royals coach Bob Schaefer tells about the time last year when Bo stepped out of the box and asked for time as Oriole pitcher Jeff Ballard went into his windup; the umpire refused and Jackson had to jump back in as the ball was on its way to the plate. He drilled a home run over the right centerfield fence.
They talk about his first major league homer, in September 1986, the one that went three-quarters of the way up the outfield embankment in Royals Stadium and hit the grass so hard it stuck. Scouts talk about clocking him to first base in 3.82 seconds to beat out a routine ground ball—on turf, no less—to Boston second baseman Marty Barrett. Then there was the day he raced into left center and hurtled through the air to stab a Rich Gedman line drive, prompting Red Sox manager Joe Morgan to say, "I've never seen anything like it in 37 years of professional baseball." Orioles scout Ed Farmer swears that in a game last season, he saw Jackson strike out and snap his bat over his shoulder, breaking it against his back.
Jackson's one-on-one confrontations with pitchers are already legend. On May 11, Jackson struck out four times against the Rangers' Nolan Ryan. "It was really fun," said Ryan afterward. "By the last couple of times up, he was on almost every pitch, so with a lead in the ninth, I just reared back and threw as hard as I could, and he swung as hard as he could. I wonder what would have happened if he'd made contact." Ryan found out 12 days later. Jackson struck out in his first two at bats. Third time up, Ryan brushed Bo back, then sent him reeling on the next pitch with a 95-mph zinger over Jackson's head. Bo, popping his bubble gum all the while, wandered out of the box and stared at Ryan, then finally stepped back in. Ryan came in with a fastball. Jackson fouled it off. Ryan challenged him again. The ball landed high in the centerfield bleachers, 461 feet away, the longest at Arlington Stadium since they started measuring there. "They'd better get a new tape measure," said Bo.
Farmer says, "Bo Jackson is the best player in the game today." Few others would agree with that assessment—yet. Instead, rating Jackson is like watching him take batting practice. It's mostly anticipation. "There's no telling how good he can be," Wathan says. Toronto scout Gordon Lakey says, "He's a great player. He has almost unbelievable impact on every game he's in. But he's not yet as good a baseball player as a Kirby Puckett, Jose Canseco, Devon White or Ellis Burks."
Still, Jackson has been darn close to being the best player in the American League this season. He is among the leaders in homers, runs, slugging percentage, total bases and stolen bases. He's the best defensive leftfielder in the league and, after White, perhaps the best defensive outfielder, period.
But nine weeks isn't a season, and the Royals are well aware that Jackson's lifetime average after the All-Star break is .203. Inevitably, the blame for that statistic is laid on his other career, as a running back for the Los Angeles Raiders. Says Wathan, "Coping with the grind of six months and 162 games—as opposed to playing a football game every seven days—is something he has to learn for himself. We all think about what he could do if it weren't for the football thing. For instance, he could be a great switch-hitter if he could work on it during the winter, but...."
Jackson the football player shows up on the baseball diamond in another guise. "Bo is really naive in terms of baseball, because he really is into that Joe College, rah-rah stuff," says Royals DH Bill Buckner. "We kid him about it, but he's very serious about it. He thinks every day is Auburn-Alabama." As a two-hour rain delay was ending in a game in Kansas City last month, Jackson walked around the clubhouse shouting, "Let's go, let's go, we've got a game to win. Let's go kick some butt." Dick Butkus, maybe, but definitely not Willie, Mickey or the Babe.
Only time will tell if Jackson will suffer another late-summer slump, but some people expect things to be different this time around. Says Lakey, "I think this is the year we'll see him explode into greatness, because the Royals are going to be in the race." Says Schaefer, "He should be spectacular in a pennant drive because he loves challenges. If someone says he can't do something, then he'll try to do it."
In a game early this season in Kansas City, Jackson faced Roger Clemens. The Red Sox ace had struck him out nine of 13 times, but Bo told his teammates, "I'm going to get him." In the top of the seventh, with the Red Sox leading 1–0, Jackson caught up with a high Clemens fastball that was clocked at 93 mph and hit a line drive that just cleared the fence in right center. "He'd never shown that he could hit that pitch," says Clemens. "I had a lot on that ball, but I tip my hat to him. He whistled his bat through the strike zone like nothing I'd ever seen, and he hit the ball so hard I couldn't even turn around to see it go over the fence."
Jackson may still have a lot to learn, but he'll learn it on his own. He isn't one to spend a lot of time listening to hitting tips from Lum or working in the cage. "Bo doesn't talk baseball much," says Wilson. "He really doesn't listen to people. [Royals coach] John Mayberry tried to tell him a few things, and Bo just said, 'Get out of my face.' He doesn't have to listen. Bo's been able to do anything he wants all his life."
"Bo never has to be told anything twice," says Schaefer. "He'll just study something and figure it out. Like running the bases. He watched the proper way to turn the bases, figured it out and now he cuts the bag as well as anyone in the league. He makes improvement just by playing." A case in point: In three seasons, Jackson's strikeout-per-at bat ratio has declined from 1 per 2.50 at bats to 1 per 3.01 to 1 per 3.40.
The one area in which Jackson has truly worked hard is defense. In his first two seasons, he spent hours taking fun-goes. "He used to run at odd angles to the ball, but he learned how to go at proper angles," says Wathan. "He's made two great catches this season on balls hit over his head, which is the toughest play for a leftfielder. A year ago he'd never have caught them." Says centerfielder Wilson, "No matter how fast we're running toward one another after a fly ball, he seems to know where I am at all times. Bo's about the only outfielder with whom I've never had a collision. Thank god."
The Royals, of course, want Jackson to quit the Raiders and concentrate on baseball, reminding him of the short life span of an NFL running back. They know by now that he's certainly not going to institute any kind of special conditioning program. Asked what he does to keep his legs in shape in the two months between the end of football season and spring training, Jackson says, "I take walks in the woods with my wife."
Bo will do what Bo wants to do. Bo wants to play football. He wants to play baseball. He wants to hunt. "Idle time is something that doesn't fit into my agenda," he says. Some days he'll come to the park with his bow and arrows, set up a target in a batting area underneath the stands and astound teammates by burying one arrow after another in the bull's-eye. Says Wathan, "Bo loves archery, so he does it—better than anyone else."
While some players may resent Jackson's awesome skills and his seemingly effortless saunter through two demanding athletic professions, the bitterness that flared two years ago when Bo announced he was going to play football has subsided. "I was upset then and said some unfortunate things," says Wilson. "But as I've come to learn, Bo's such a good guy, I just admire him." Jackson may walk up to home plate with the cool strut of a superstar, but off the field he is warm and congenial. "He's one of the few players I've ever seen who tips each individual clubhouse kid," says Boston visiting clubhouse manager Don Fitzpatrick. "Not only that, but he talks to each of them about staying in school, staying away from drugs, trying to do something for society. Bo's special."
Because of his dual career, and because he may no longer find baseball fun after a while, Jackson, now 26, may never run up the lifetime numbers of a Mantle or a Mays. But for the next five or six years, he may be the most exciting player in the game. "I won't let anyone outdo me" is the only promise Bo makes. Fair enough. We'll just sit on the edge of our seats and watch.