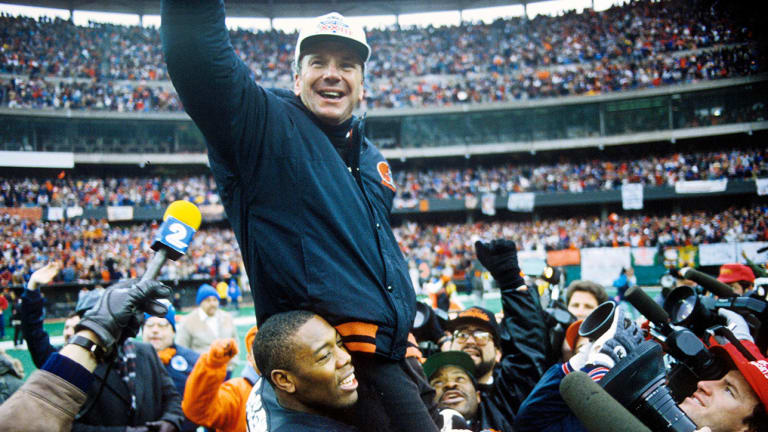 Good Neighbor Sam
Coach Sam Wyche is a big man in Cincinnati, but he hasn't forgotten the little guy.
This article originally appeared in the Sept. 11, 1989 issue of SPORTS ILLUSTRATED.
Sam Wyche guides his Chevrolet with the garbage in the trunk through blocks of dreary urban warehouses. He snakes around the crumbling foundations of an elevated highway and swings left, and, boom, he is staring at an unexpected expanse of emerald turf, neatly framed by a cedar hedge. The hop from suffocating inner city to sanctuary is so abrupt that it is almost disorienting.
This is Spinney Field, the Cincinnati Bengal practice facility, and Wyche enjoys the jolt with which it reveals itself. "A great pulpit out there," he says, acknowledging football's hold on millions of imaginations. "All the world's heartache and excitement."
He pops the trunk, lifts out the family garbage and drops it into the Bengals' dumpster. "I don't know why we can't use our neighborhood garbage service," he says. The chore seems evidence of his contention that delegating responsibility isn't easy for him: "I love the idea of something physically completed, by me."
On this summer Saturday the Cincinnati players have been invited to Spinney Field to pick up their AFC championship rings. A hearty Jostens man is arranging $200,000 worth of diamond rings, watches, pendants and framed posters. Wyche is early, convinced that the players will be lined up. None is. The rings are huge. Offensive tackle Anthony Munoz's is the largest, at size 18: A quarter passes through it. The engraving inside each ring reads FINISH EVERYTHING.
Studying his, Wyche says, "Doesn't it seem, uh, like there should be two N's in Cincinnati? I mean a double N in the middle. Isn't that odd? You live here for years and still you aren't sure." The Jostens man has blanched. He peers at the ring, sees the spelling is correct, reddens with relief and looks up into Wyche's radiantly bland poker face.
During the next half hour only a handful of players and a dog come by. Wyche takes heart. "They're sure not living in the past," he says.
Wyche drives to his home, which is a restored 1895 carriage house in the Cincinnati suburb of Wyoming. The lot is heavily wooded. His wife, Jane, explains that Sam has to ferry garbage to work because raccoons spread it across the lawn if it's left out. Cats abound. One, named Ghetto Swinger, or G.S. or Gus, has a past. "I took the kids through the town's Over-the-Rhine area so they'd appreciate what they have," says Wyche. His son, Zak, is a freshman defensive end at Carson-Newman College in Tennessee. Daughter Kerry is a junior cheerleader at Wyoming High.
"They always apologize to their friends for how their dad is taking them through the worst part of town," says Wyche. "Anyway, we saw a boy spinning a cat by its tail. We stopped and the kid gladly gave it up, all wet and hissing. Now everyone leaves stray cats here."
Wyche is equally, sometimes famously, protective on the job. He has turned away a process server pounding on the locker-room door before a game. Another time, he took the side of a player found to have a gun in his car. "I said something that wasn't complimentary to the police, about whether there was real reason for them to search, and had a nice visit from the police chief. I get myself into these things. My frankness overtakes tact."
But he does not lash himself over it. "You reflect," he says. "You wish you could have handled a situation differently. Then you find yourself in the same one, and you're behaving the same as the first time. Don't people pretty well have fixed personalities?"
If we judge by Wyche himself, personality does seem to crystallize early. He settles into a seat on his cool, screened side porch and recalls growing up in Atlanta, the son of a salesman and a secretary. "My younger brother Bubba and I competed at everything," he says. "Bubba made all-state in football, basketball and baseball." By significant contrast, Sam matured late and rose no higher than third-string quarterback for North Fulton High. "I was just kind of a guy on the club," he says. "A worker, a classic overachiever."
His dogged nature kept him at sports until his body finally came around. In the fall of 1962 he was a walk-on at Furman. He was the starting quarterback by the end of his sophomore year. "I was big and far from good," says Wyche, who usually includes a few sandbags among his self-assessments. "The coach was Bob King. I remember him saying, 'Work, and you'll play in the pros,' but that was far from my mind while sitting in the Poteat Hall stairwell practicing my Spanish sentences, worrying about flunking out."
As a freshman he met Jane, a junior at the time. She later taught school in Pickens, S.C., while waiting for him to graduate. "We were to be married in December 1965," says Sam. "But I broke my back against The Citadel. Margaret, Jane's mother, said, 'I'll wheel him down the aisle.'
"I made it on my own," says Wyche, "with a brace."
Because of the fractured vertabra, Wyche was shunned in the NFL draft. After graduating in 1966, he played during the summer with the Wheeling (W.Va.) Ironmen of the Continental Football League. "He played safety. "Billy Canty [a former Furman star] got me the tryout."
Coaches often slip into soft-eyed reverie when listing the schools and jobs that led them toward the primal roar of the big arena. Wyche cannot retrace his path without also delivering up the name of every man who passed him along, hand-to-hand, like a bucket on the way to a fire. Listen to the constant lapping of names:
"I went to business school at South Carolina, where I was a graduate assistant to Paul Dietzel. Jackie Powers got me that. I worked the scout team with Lou Holtz. I'd be the opposing quarterback. When pro scouts would visit, I'd jump in front of them and say, 'Look, I'll hit that phone pole.' And I would. Holtz knew Rick Forzano on the Bengal staff. He finagled a quarterback try-out for me. I made the cab squad."
Wyche looks up. "It's all a spider's web," he says, "all contacts, connections."
Wyche thus acknowledges football's matrix of acquaintanceship through which athletes, coaches and even writers inextricably swing and crawl, everybody making the wires hum with the names of the brave, the quick, the possessed. "I was 20 for 25 in the first game I ever played for the Bengals, against Houston in 1968," he says. "Then Nick Buoniconti broke my ankle in Miami, and that was that year. We drafted Greg Cook in 1969, and I was backup."
The sound of football names grows comforting, like a creek through a yard: "My third year we had Virgil Carter. I was backup. We won our last seven and the division. Bill Walsh, who was the quarterback coach, had Jane and me over for dinner. 'By the way,' said Bill, 'there's a good chance we're going to draft this kid out of Augustana.' "
The kid was Ken Anderson. "I was off to Washington," says Wyche, "in the big Sam Wyche-for-Henry Dyer trade."
As Wyche remembers the Redskins, the creek rises. "It was 1971, George Allen's first year," he says. "He'd brought together the Over The Hill Gang: Ron McDole, Bill Kilmer, Speedy Duncan, Diron Talbert, Jack Pardee. Great locker-room lies. It was only two years after Vince Lombardi had died there. We went to the playoffs the first season, and the next, to Super Bowl VII. We lost to the undefeated Miami team, but I held for extra points. I got to play in the Super Bowl. I got my knee dirty.
"My fourth year with the Redskins was 1974. We got Joe Theismann. It was a strike year. I was on the picket line with a NO FREEDOM, NO FOOTBALL T-shirt. Joe was in practicing."
Wyche was immediately shipped to Detroit. "In the long view, it was fortunate I got bounced around," he says. "I met a lot of the great players and coaches, like Ray Berry at Detroit. I saw a lot of methods. Later I could pick and choose."
The Lions released Wyche in 1975. He then hooked on for half the 1976 season with St. Louis. "Don Coryell. Joe Gibbs, Jim Hanifan," says Wyche of the Cardinals coaching staff then. "We played the Chargers in Tokyo. I sat in the lobby of the New Otani Hotel with Bill Walsh, who was a San Diego assistant at the time, talking about ultimately getting together."
His playing days done, Wyche went back to Greenville, S.C., and ran a sporting-goods company he had helped start with his '73 Super Bowl money. The business succeeded, but when Walsh took over the 49ers in 1979, he found Wyche looking for a high school coaching job. "I'd written to two schools." says Wyche. "The day Bill called, I'd received a letter from one saying I wasn't qualified to coach there."
Walsh hired him as his quarterback coach. Wyche worked with Joe Montana from 1979 through the '82 season, as San Francisco improved from 2-14 in '79 to 16-3 in '81, when it won the Super Bowl. "He has a great intuition for football," says Walsh. "He's a touch impetuous; he's always looking for new thresholds."
The cobweb of connections would always come through for him. In this delicately poised football matrix, coaches are lifted high or cast down according to the esteem of football men. Bengal owner Paul Brown is the essential football man. Eleven of the 23 Super Bowls have been won by coaches who either played for Brown or coached under him.
"As a player, Sam was courageous," says the 81-year-old Brown with courtly affection. "He stayed in the pocket until it froze over. He scored extremely high in intelligence on the testing we do. And he was a student of everything. All players had to keep their playbooks neat. Sam's asides, the little things you write, were done as a coach would do them. Every year I kept the best one. I kept Sam's."
Brown also kept an eye on Sam. "He went to coach in San Francisco and got his start with a guy who was good with passing offense," says Brown. "The philosophy there was essentially mine, because Walsh had been here for nine years.
"Then Sam went to Indiana [he was hired as the Hoosier coach in '83]. Now, I knew no one was going to do well doing that. They just didn't have the players. Then in 1984, Green Bay asked us for Forrest Gregg [who was then coaching the Bengals]. Forrest wanted to go. Returning to Green Bay, where he had played, was the ultimate for him, he thought at the time. So we had to find a coach. The first man who came to mind was Sam. I felt at ease with him."
But Wyche was reluctant. He liked Indiana. "He wasn't sure he'd been fair to them, after only one year," says Brown. "I pointed out that professional football is the pure science of football, not a recruiting war." The matrix, having done him so many favors, would not hear of Wyche declining his due. At Wyche's introductory press conference, Brown ceremoniously returned the new coach's old playbook.
Cincinnati's records in Wyche's first two seasons were 8-8 and 7-9, respectively. In 1986, with Boomer Esiason leading the offense, the Bengals went 10-6. "We had a good team coming," says Wyche. That made 1987 all the more galling. Cincinnati lost early and memorably. In the second game of the season, Wyche called a sweep to run out the clock on fourth down with six seconds to play while leading San Francisco 26-20. Defensive end Kevin Fagan, who was unblocked, shot into the Bengal backfield and tackled running back James Brooks with two seconds to go. Montana used them to connect with Jerry Rice for a 25-yard touchdown to give the 49ers an astounding 27-26 victory.
Walsh and Montana called Wyche to commiserate. Walsh publicly defended Wyche's strategy, which rejected the time-honored options of punting or taking a safety. But the play inflamed Cincinnati. A local paper called him "a social leper." Visible in much of the furor was resentment of his innovative nature. Suddenly he was Wicky Wacky Wyche, and 61% of the callers to WLW radio wanted him fired.
Finally, during the players' strike, which began the next week, the team—with a strong union element and a strong nonunion element—nearly disintegrated. "We were one comment, one incident away from coming apart at the seams," says Wyche. After the four-week strike, the Bengals were a spooked, snakebitten assemblage. They repeatedly outgained opponents but were killed by late-game fades. Injuries cut them to pieces. "It is just steady, excruciating suffering," said Wyche at one point. "My insides are eroding."
Now he says, "The worst part was the knowledge of being so near to winning. Our focus had been split by the strike. The all-out assault on the head coach on the talk shows was a constant distraction. I wasn't affected, but the players were. When you're always being asked about your coach, it hurts preparation."
The dynamics of any team are almost impenetrably complex. At most, a few dozen men had enough knowledge of the Bengals' situation to offer an informed opinion on Wyche's performance. One was strength coach Kim Wood, an intensely voluble sandstone of a man who has worked among the bellows and grunts in the team's cramped weight room since 1975.
"This is a wild-dog culture," says Wood. "Pro football is not a business for nice people. But Sam is honest and sincere, a man who treats you as a man, as opposed to a child, or a regiment. He followed a tough act. Forrest Gregg is a powerful leadership' coach. Sam is smart, but the romance of a charismatic leader is not there. He's not a savior; he simply does his job. He'll plan, he'll make decisions, he'll facilitate learning. He'll be honest, and that puts a lot of responsibility on the players.
"Sam kept his objectivity," Wood continues. "We weren't winning, but the program did not spin out of control. We had a chance in every game. He never wavered from his judgment that we were a good team, and that kept the players' faith in their ability."
Brown had promised Wyche that the strike season was not to be held against the coaches, but he couldn't speak for all of Cincinnati. "I didn't see the news much in those days," says Wyche. "Jane would read the paper, clear the debris and leave me the weather report."
The team finished 4-11, and Mike Dodd of The Cincinnati Enquirer, among others, abandoned hope. "Wyche's chameleon nature is partially responsible [for the poor play]," he wrote. Dodd also thought the offense was too complex. "Do the benefits of the no-huddle offense outweigh the busted assignments it causes? You can give a football player too much to think about."
Nonetheless, Wyche was retained for the fifth year of his five-year contract. "The Brown family did it," he says. "They knew why games were won and lost, and the losses weren't the coaches' fault."
Paul Brown professes to have been worried only about Wyche's health. "Sam was so eager to do right," he says, "that he was knocking himself out. So he came back in 1988 under the proviso that he get his rest."
Wyche also shifted some roommates around in training camp so they would get to know one another better. "When it's fourth-and-one and I know what's in your life," he says, "your family, your injury, your neighborhood, and I see the look in your eyes, there will be a degree of loyalty there."
"Even now he couldn't get those guys to charge a machine gun," says Wood. "But he freed them to play good football."
Cincinnati started fast in 1988. The defense, formerly the team's weakness, now had anchors in nose-tackle Tim Krumrie and strong safety David Fulcher. "And the no-huddle offense was paying dividends," says Wyche, "and making a lot of people mad."
By skipping the huddle and calling plays at the line, the Bengals not only broke the rhythm of opponents' work and rest—"They were sucking canal water," says guard Max Montoya—but also kept defenses from shuttling in defensive backs and linebackers as the situation demanded. Occasionally, when teams hurriedly tried to substitute, the snap caught them with 13 or 14 men on the field. "It picks up the pace and it drives people crazy," says Esiason. "That's what I live for."
Wyche didn't invent the no-huddle offense, but he had faith in it. "I'm a believer in the coaching tree," he says. "It's important to know where ideas started."
Indeed, this is how the football web reaches through time. "People had used the no-huddle some for years, in the two-minute drill," Wyche says. "Once Hank Stram and I were talking and he said, I wonder why teams don't just go ahead and do it?' That kicked me in."
Wyche's is a mind that walks on soft pads, downwind, plotting ambush. "You can't go into every game saying, 'We'll just damn well outplay you,' " he says. "You're looking for the two-percent edge, the surprise of a safety blitz, the surprise of having fourth-and-12 on your own 25 and going for it. These things are sound. They work." They are also sniffed at in league meetings as "popcorn football" by those whom they have burned.
After a 6-0 start in '88, there was no more talk of firing the coach. "We were a resilient team," says Wyche. "We never lost two in a row, and after three of the losses we blew away the next opponent." They finished the regular season 12-4.
The city's backing was now as lusty as its ire had been. 'The electricity in that stadium exceeded anything I've felt in D.C. or San Francisco," says Wyche of Riverfront Stadium last season.
In the midst of all this winning, Sam and Jane raised a glass to his having proved 1987 a fluke. Then they toasted his leaving football. "I was exhausted at the time," says Wyche. "Everybody has a time like that, right? When you ask yourself. What do I really want to do now? Do I want to go into combat again? At that one point, the answer was no. But as we closed in on the world championship, we realized that all the bad times are worth it, worth the moment at the top."
He falls quiet, then says, "We'll probably go through another evening like that. If you're not constantly evaluating your position, you ought to be evaluating why you're not evaluating your position. Then, too, I don't remember 1988 as being all that exciting. Coaches can't enjoy a good year. We're too worried that the whole thing will collapse at the end." It did, of course, but not without passionate, poignant battle on many fronts. In the divisional playoff, Seattle Seahawk nosetackles Joe Nash and Ken Clarke repeatedly faked injury to stop the clock and allow their team to make defensive substitutions against the Bengals' no-huddle attack. Cincinnati still won 21-13.
When Buffalo Bills coach Marv Levy vowed to do the same in the AFC Championship Game, the NFL office shamelessly caved in and instructed the referees to nullify any Cincinnati play that in their judgment began with the intent of catching Buffalo with too many men on the field. "Can you imagine what the NFL would have gone through if we'd lost the Buffalo game?" says Wyche. "The style of play that got us there was outlawed not because it was against the rules but because the other team threatened to make the game a farce. We were penalized for the actions of others. To which I said, 'Hey, arrest the crook.'
"The no-huddle had been complimented as fun and interesting by league officials," he continues. "People let you wander around in mediocrity as long as you want. But at the top of the hill, enemies await."
Cincinnati defeated Buffalo 21-10 to reach the Super Bowl against—bittersweet fate—San Francisco. Before the game, the league reversed its position, and Cincinnati's no-huddle weapon was permitted. Wyche says he has yet to use it in its most dramatic form: "I'd love to send all the receivers long, then have them step off the field. Here come fresh ones with no huddle, and they go long. Then in come more new ones.... Boy, would people raise Cain over that."
Wyche is not haunted by the 1989 Super Bowl, despite having good reasons to be. "The night before the game we lost Stanley Wilson to drugs," he says. "On the second series of downs we lost Tim Krumrie to a terrible broken leg. And we still were playing to win with 34 seconds left."
By then, though, the Bengals had been eviscerated by Montana's historic 92-yard touchdown drive. Cincinnati fell 20-16. "The hollow feeling, walking away from losing the Super Bowl," says Wyche, "is that you can have a better team, a better record next year, but you may never get back."
There were other hollow feelings. Wyche has often thought of the unexpectedness of Wilson's descent into cocaine use, of how he found Wilson stuporous and unresponsive in his hotel room that long night before the game. "All week he had had good practices," says Wyche. "He'd had his young son with him. He'd flown in his parents and had a limousine for them. There was no warning. None."
Wyche will always be haunted by the vision of Wilson before him that night, sweating, staring with unfocused eyes, apparently unable to answer any questions. Says Wyche, "Finally I said, 'Stanley, do you realize what you've done? That there will be no more football? That we'll help you find treatment, and a job if we can, but that everything you've built your life around is gone?' At first he gave no sign. Then he began to say, 'I'm sorry. I'm sorry,' as if some part of him knew.
"I told him I had to call his parents, that they shouldn't have to read about this in the papers. He asked me not to, maybe to give himself some time to pull himself together before he saw them. But I couldn't do that. I did call them. It was a terribly difficult call."
It is late. Moist night smells of honeysuckle and sawdust are infiltrating the porch screens. A cat named Rusty is shedding red hair all over Wyche's dark-green slacks and white sweater. "The clichès about commitment and dedication seemed to fit the game better years ago," he says. "I'm not blaming modern players. They have people wanting a piece of them. It's a lot of money and a short window in which they can earn it. They think they can handle it. Zip off to New York for a TV commercial in mid-season. They're young. They can get away with it. That becomes the cultural setting. You can survive losing a night's sleep. But in that setting, what's to oppose the feeling that you can survive an encounter with drugs? The distasteful part of football is watching wonderful potential dissipate. We're talking about a minority of the players, I think. But that does worry me."
This and much else Wyche has pondered. "He carries no protective devices," says Walsh.
It was perhaps inevitable that Wyche would recognize that the matrix of connections in which he moved involved more than football. It is, simply, the web of life. Thus, driving in the chill dawn of game days through the Over-the-Rhine area not far from Spinney Field, Wyche began to see, as he lightly puts it, "people starting the day who hadn't had too good an evening. I was touched by the elderly, the young fending for themselves. I was drawn to them. It almost borders on being unfair. It's not their fault that they have to grow up with no books, no folks or being mentally handicapped."
After last season Wyche announced he would charge $5,000 a speaking engagement, all of which would go to help the homeless in Cincinnati. In the off-season he raised $80,000, and he played his and the Bengals' connections for all they were worth. "The players won $32,000 on Family Feud," he says. "We took some of that to Kroger and said we want real food—meat and vegetables—and we want you to stretch it out with your own gifts. By now it's tripled or more."
A friend of Wyche's, Bob Stix, is a senior vice-president of U.S. Shoe in Cincinnati. Wyche asked him what happened to the leftover food in his cafeteria. The company started shipping it to the homeless. "You don't find underwear in discarded clothes bins," says Wyche. "We got 2,000 dozen pair of socks at a super price. We're getting 200 dozen pair of underwear. If our government could only operate as efficiently."
Wyche spent so much time at these projects that defensive-line coach Chuck Studley, for one, was concerned. "I told him I don't remember Vince Lombardi or Don Shula getting so involved," he says. "They'd lend their names to causes, but not give all the time Sam does. I told him it's not helping us win games."
That said, Studley leans back and allows that he isn't surprised. "There's no ulterior motive with Sam," he says. "That's not true of most things in my business."
Wyche takes a visitor on a short drive past 12th Street, where CASH/CREDIT signs thicken. The open windows of the dirty brick buildings seem as black as caves. He points out Mary Magdalen House. "They have little rooms for people to shower and shave," says Wyche. "St. John [Social Service Center] there is for clothes."
He stops beside the St. Mary's Catholic Church. White paint peels from its brick exterior. He leads the way inside. Boom, you are staggering back, gaping at magnificent stained-glass windows. They might be in Rome. The moment has all the force of discovering Spinney Field. At the far end of the immense sanctuary, a priest is saying mass for perhaps five parishioners. "I'm not Catholic," Wyche says as he backs out into the street. "I don't know whether the windows are great art, but I feel good that this is here."
Wyche climbs back into his car and drives happily off, a man in a web, spinning ever more surprises.