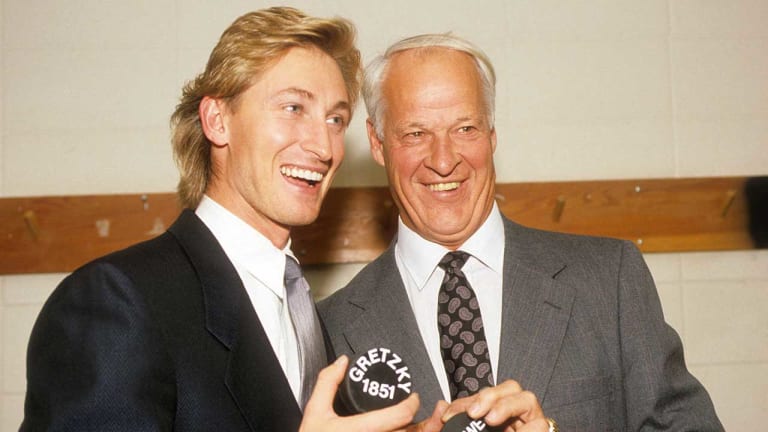 A BACKHANDED COMPLIMENT
In breaking Gordie Howe's scoring record, Wayne Gretzky honored Howe by using the shot he told Gretzky to perfect
When 11-year-old Wayne Gretzky met Gordie Howe at a sports awards banquet in 1972, Howe gave him a piece of advice: Work on your backhand. Fast forward to Sunday, Oct. 15, 1989. Gretzky takes the puck on that backhand and flips it into the net with 53 seconds left in the Los Angeles Kings' game with the Oilers at Edmonton's Northlands Coliseum. In that instant, the NHL career scoring record of 1,850 points that Howe built over 26 seasons was surpassed.
Gretzky had tied the record with an assist early in the game, but as time ticked away in the third period, it had appeared that the mark would not be broken this night in this place, with its strong ties to Gretzky. Then, suddenly, there was that Howe-recommended backhand, which Gretzky had practiced at home with a tennis ball only a zillion times or so.
Gretzky's momentous shot not only broke Howe's record but also tied the game 4-4. He then won the game for the Kings in overtime with still another goal, and he did all this against his old teammates, in the city where he led the Oilers to four Stanley Cups before being traded to Los Angeles last year. And he did it in 780 games to Howe's 1,767.
The record breaking almost had to wait for game 781, because what had been a wide-open game settled down in the second period, and so did Edmonton goalie Bill Ranford, who twice made strong pad saves against Gretzky during a 5-on-3 L.A. advantage. In addition, Gretzky suffered mild dizziness from a bump on the head in the second period, and coach Tom Webster held him out for a few shifts. When Ranford stopped a Gretzky-fed Bernie Nicholls shot on a power play with two minutes to go in the third period, there was a feeling that, well, nobody comes through on cue every time, not even the greatest player who ever lived.
But then Gretzky did deliver. Teammate Steve Duchesne saved a clearing attempt by Edmonton's Kevin Lowe and whacked the puck toward the crease, where it hit Kings winger Dave Taylor on the leg and came right to Gretzky on the left side of the goal. "I don't know what made me go there," said Gretzky. "I'm usually the outlet guy [in back of the net]."
What made him go there were the best instincts in the history of the game, and what made the Coliseum erupt in tumultuous cheers was a bond that Gretzky's trade to the Kings has not severed. The game was interrupted for a presentation of gifts from the NHL, the Oilers and the Kings. When it resumed, and Gretzky scored the overtime winner, Howe said, "There is no end to Wayne's brilliance." The magnificence of the moment may even have warmed the cool relations between Gretzky and Oilers' owner Peter Pocklington, who offered his congratulations out of public view after the game.
Gretzky's accomplishments have been so astonishing that they have acquired a mystical aura. It was suggested during the countdown to the record that destiny was guiding events so that the payoff points would come in Edmonton. More certain than the hands of fate, however, are the hands of Gretzky. He came into this season having averaged 2.37 points a game for his career. At that rate, needing 14 points to break the record, he would reach 1,851 in game 6. The fact that game 6 was to be played in Edmonton met the league's schedule, and Gretzky's, and destiny's.
The possibility—nay, probability—of getting his 1,851st at his old home rink was not lost on Gretzky. He mentioned the Kings' Oct. 15 visit to Northlands Coliseum as early as June, at the NHL awards ceremony, where he received his ninth Hart Trophy as the league's MVP. Of course, when Gretzky was asked where he really wanted to set the record, he always carefully considered the feelings of Bruce McNall, the owner of the Kings, and the Forum faithful. "My first choice is to do it in Los Angeles," Gretzky said. "If I can't, I'd like to do it in Edmonton."
Anyone who remembered how Gretzky became the first NHL player ever to score 50 goals in fewer than the first 50 games of a season, in 1981, certainly didn't discount his chances of getting the record even before he arrived in Edmonton. After 38 games in '81 Gretzky needed only five goals to reach 50, and on the morning of game 39 he told his roommate, Kevin Lowe, that he thought he could get all five that evening at home against the Philadelphia Flyers. And darned if he didn't. His fifth, an empty-netter, came in the final minute.
So Howe, who was invited by McNall to travel with the Kings during the chase, didn't risk arriving too late. On Oct. 8, he was seated in McNall's box at the Forum for the Kings' third game of the season, in which Gretzky had three assists against the Detroit Red Wings. Two nights later Gretzky added a goal and two assists at home against the New York Islanders and was only five shy of the record when he got to Vancouver for last Friday's game.
Gretzky has scored five points in one game 58 times in his career, but he settled for a mere three against the Canucks, including an eyes-in-the-back-of-his-head pass around defenseman Robert Nordmark to Steve Kasper to set up the game-winner with one second left.
Howe claimed to have no inside word as to when the record breaker might come, but he did drop a hint in Vancouver that he might be in the know. He showed up for the Kings' game against the Canucks in a turquoise sport coat. "If I thought he was going to do it tonight, I would have worn a suit," Howe said. "The suit will be on in Edmonton."
That wasn't the first time during the week a future Howe wardrobe had become an object of speculation. Five nights earlier he had suggested to the media that he might put on a uniform again after New Year's, at age 61, to fulfill a desire to play NHL hockey in each of six decades.
Howe first retired from the NHL in 1971, after 25 years with the Red Wings; he came back two seasons later to play in the World Hockey Association for the Houston Aeros and the New England Whalers for six years with his sons Marty and Mark. He then rejoined the NHL for one last hurrah, at age 51, with the Hartford Whalers in '79-80.
The Los Angeles papers noted the frivolous nature of Howe's comments about un-retiring, but a Detroit paper took them seriously. Suddenly, Howe became interested. "The general public evidently is excited," he said. "And it does make you feel good." On Oct. 11, Howe's wife, Colleen, had a statement read to the press in which she downplayed this "fantasy," but then she added to the confusion by going to the podium and saying, "If he's going to get in shape for one game, he might as well play a season."
Gretzky, who began his professional career in 1978 with the Indianapolis Racers of the WHA and thus got to play three games alongside Howe on an AU-Star team in a '79 series against Moscow Dynamo, said he thought a Howe comeback was a great idea. "If Gordie wants to play, I'm sure he can," said Gretzky.
Well, if Gretzky has taken up the misguided notion that a 61-year-old man can still be competitive with elite athletes in their 20's, he should be indulged. His clouded thinking is the result of almost 25 years of acute hero worship.
It was Howe, after all, who rescued the 11-year-old Gretzky when the young hockey prodigy was suffering from stage fright at that banquet in Brantford, Ont. Howe had jumped up, put his arm around Gretzky and announced, "When someone has done what this kid has done in the rink, he doesn't have to say anything." What the kid had done that year was score 378 goals in 82 games for the sub-peewee level Brantford Steelers.
It was also Howe who a few years later told the adolescent Gretzky that he had two eyes and one mouth and that the best advice he could give him was to keep the two open and the one closed. And it was Howe who, in that '79 series against the Soviets, told Gretzky to get the opening face-off back to Mark Howe and then go to the net. Mark would throw it into the corner, where Gordie would retrieve it and get it to Gretzky in front of the goal. In 10 seconds the puck was there for an easy tap-in.
And there was another lesson Gretzky would always remember. In the first WHA game he ever played against Howe, he stole the puck from his idol. Gretzky was wheeling back up ice, feeling very much like a legend-to-be, when he suddenly felt a sharp whack on his thumb. When he looked up, the old coot—always known for the crafty use of his stick—was winking at him.
Gretzky never saw a record he didn't want to break, but he wishes somebody else had owned this one. He insists that Howe will always be the greatest. Uneasy at the thought of diminishing a legend, Gretzky told Howe months ago it would mean a lot to him if he could be there when—gee, Gordie, sorry—the inevitable occurred.
Howe was equally gracious. "I kissed that record goodbye a long time ago, when Wayne started getting 200 points a year," said Howe. "He's good and I know, because I played with him. If you want to tell me he's the greatest player of all time, I have no argument at all."
Like its holder, Howe's record had been built to last. He dominated the corners—and didn't cut many either on the way to scoring his 1,850 points. All but the last five of his 26 NHL seasons were played in a fiercely competitive six-team league, where defenders gave up few easy goals.
Mr. Hockey had the arms of a lumberjack, and the callous disregard of one, too, for any limbs that might get in the way of his work. And yet Howe established the record—he became the NHL's career scoring leader in 1960 when he passed Montreal Canadien Maurice Richard's total of 965 points—with the patience and concentration of an architect. "He was in control of the whole game," says Gretzky, who watched Howe on TV in his prime. "He seemed to do everything so gracefully."
Howe averaged 30 goals and 40 assists a year for those 26 seasons. He never scored 50 goals, but only in his first three seasons and his final one did he score fewer than 20. He played a full decade before slap shots became common and almost another 10 years after that before defensemen started to join the attack. Only in the last four NHL seasons before his first retirement were there expansion teams like the California Golden Seals to pile up goals on, making 100-point seasons possible. Howe didn't have one of those until 1968-69, the second season after the league doubled in size. He was 41 years old then, good as always, but more remarkable than ever.
"I don't care how far past his record I go, he'll always be the greatest player who ever lived," says Gretzky. "And the classiest, too. See, one of the great things about him is that he doesn't get into comparing eras. You'll never get him to say that the competition now is watered down.
"It bothers me, sure, when I hear that. Obviously, the game is not as defensively oriented as it was in his day. The defensemen almost never came up past the blue line. Offensive players were never used to kill penalties. But you won't get Gordie to say now that the game used to be better. Because it wasn't. I can see how it has improved just from when I came into the league. I'd see a 6'3" defenseman then and I figured I could have a field day because he couldn't move. Now they're that size, but mobile and smart too. The skill level is higher now than it was 20 years ago, and 20 years from now it'll be higher than it is now."
When it reaches that point, Gretzky will continue to be a marvel. Fortune has delivered to the same era two players—Gretzky and the Pittsburgh Penguins' Mario Lemieux—who are far and away the most prolific scorers in the game's history. That says something about the era, of course. But the points Lemieux and Gretzky are running up also may show that presumed performance limits in hockey are not physiological but psychological. Lemieux, a hugely productive but still underachieving talent in his first three NHL seasons, was finally challenged by Gretzky to be as good as he could be when they played on the same line in the 1987 Canada Cup. Lemieux has outscored Gretzky in the two years thereafter.
And it should not be forgotten that Gretzky is only 28. If he averages 160 points over the last seven years of his current contract, he will have 2,957. To beat that, Lemieux, now 24, would need 187 per season for 12 years. "I think if Mario stays healthy, he has a chance," Gretzky said last week.
If he does, he will not only have to be as skilled as Gretzky, but he'll also have to care for the game as much too. Last week the energy, the sheer joy of playing that passed from Howe to Gretzky when he was just a kid, were returned as Gretzky unselfishly turned this record for the ages into a celebration of Howe. "Thank God Wayne is the person he is," said Colleen, "because he is bigger than the league. He is what hockey is today."
He remains, too, as grateful for his gifts as the game is to have him. Because of that, the flame from the torch that was passed Sunday night between two legends was especially warming.
PHOTO
BRANTFORD EXPOSITOR
Howe and Gretzky were mutual admirers as early as '72.
PHOTO
PAVID E. KLUTHO
Gretzky did a T-shirt promo with Howe before flipping in the record-breaking goal.
PHOTO
ANDREW D. BERNSTEIN
[See caption above.]
PHOTO
AP
Defenses were tighter in Howe's day, but they couldn't stop him from beating Richard's mark (left).
PHOTO
UPI/BETTMANN NEWSPHOTOS
[See caption above.]
PHOTO
DAVID E. KLUTHO
Record set, Gretzky swung around the net to nail the Oilers in OT.