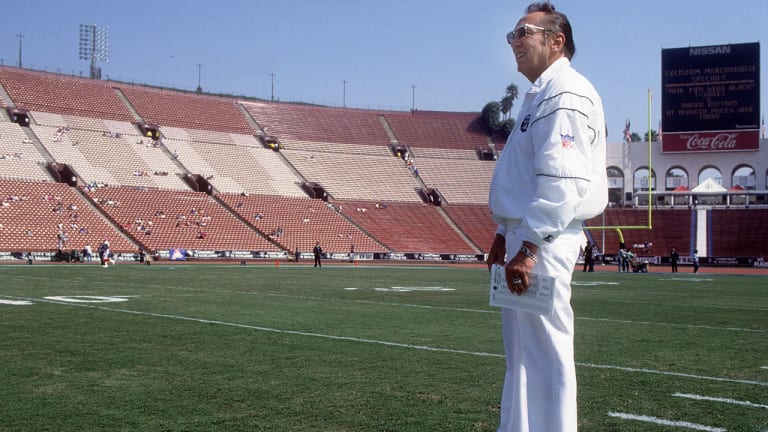 LORD OF THE RINGS
AL DAVIS CHEWS HIS NAILS OVER THE RAIDERS' MALAISE AND HIS OWN MORTALITY
Al Davis is suffering an unlikely crisis of mystique. The sight of him striding a sideline, rigged out in his white bell-bottoms and shiny black shoes, no longer stirs a sense of dread. Davis's team, which has made four Super Bowl appearances over three decades, now loses as often as not. When his Raiders do win, it is with the same gentlemanly flair exhibited by every other team in the NFL. His players do not dominate, they do not inspire terror, they do not engage in the cartoonish, roughhouse tactics their logo promises. "Weak sisters," sniffs Lester Hayes, a rogue cornerback who got out before Silver and Blackdom, as he has forever named the franchise, turned into Mr. Rogers' Neighborhood. For all we know, that pirate is winking behind his eye patch.
Strange times in Silver and Blackdom, huh? In recent years Davis, 60, watched a life's work, a testament to his will, crash down about him. Never mind the distracting years in court. The Raiders, who are 7-6 and fighting for a wild-card playoff berth in '89, missed the playoffs in each of the past three seasons, the longest the team has ever been out of the money.
Davis presides uneasily over this dormant dynasty. Never much of a loser, he now resorts to desperate measures. Hiring Mike Shanahan from the Denver Broncos in February 1988 to coach his Raiders was a wild departure from form. Davis admitted his mistake no later than Game 1 of the Shanahan era. Shanahan might be a good coach, Davis said, but he wasn't a Raider coach. Four games into the 1989 season Davis made that literally true, replacing Shanahan with Art Shell, the offensive line coach, who brought Raider heritage to the job. Davis had never fired a head coach in his life.
Strange times? Davis is considering hauling the franchise back to Oakland, having fought the NFL and the city for years so he could leave it. The attraction might be not so much that he would reap a relocation windfall but that the Raiders used to win in Oakland. It was in 1963 that rookie coach Davis turned a 1-13 team into a 10-4 contender, and the club enjoyed a mighty success for seasons to come. In Oakland. If Davis can work miracles only in one ZIP code, so be it.
These are, in fact, stranger times than you might know. The head buccaneer, who has always said he would rather be feared than respected, has allowed himself to be drawn into the gentleman's club of NFL owners, a sporting barony that previously represented nothing more to him than an opportunity for big-money litigation. Rival NFL owners paid Davis $18 million to settle the antitrust suit he brought against the league over its efforts to block him from moving the team to Los Angeles, but some of them now actually hail him as a force for reconciliation in league matters. He is practically Establishment.
You look at Davis's return to tradition, to respectability, perhaps even to Oakland, and you wonder. You hesitate to say his enormous self-confidence is slipping. But you do notice that Davis is suddenly hounded by defeat and mortality. He is not as defiant. Is it from turning 60? Is it from regular trips to Hall of Fame inductions at which the greatness of the Raiders is seen more as past than prologue? And all these people dying around him, friends and former players. Davis has taken a strange pride in his ability to breathe life into more than just franchises. He has nursed enough people back from the brink to hint at supernatural powers. "It's tough to dominate death," he said years ago, after helping to bring a Raider employee, Del Courtney, out of total paralysis. "But we got it done with Del." Just another Raider success story. But now they just...die.
This summer Davis lingered on the practice field and surprised a small group of writers by ticking off a number of recent deaths. There was Don McMahon, a high school buddy who died while pitching batting practice at Dodger Stadium. There was Don Clark, the USC coach who gave Davis his first big-time assistant's job. Former player John Matuszak, who embodied all things Raider, died, as did promising safety Stacey Toran.
"The football I'll get straight," Davis told the writers. "My biggest thing now is this death business. I've always been able to control the elements of my life, dominate my environment without hurting others. But this death business.... I can't beat it, I can't win." Strange talk in Silver and Blackdom. Had anybody ever heard this monumental force of personality express a doubt?
Al Davis does not suffer inspection needlessly. Most cross-examination, and he has had his share, is forbidden unless required by law. Pity the fool who presumes otherwise. Television reporters awaiting Davis after a recent meeting with the Los Angeles Coliseum Commission were advised they could neither film nor quote him. But they could continue to exist. Davis reacts to interview requests with a look of alarm; he actually pulls his pompadoured head back as if to put even more distance between himself and the public. "Oh, ah don't do those things," he says in that much-imitated Southern accent, eccentric in a Brooklyn boy.
He maintains a small circle of pals in journalism, trusted friends from his AFL days. That he speaks to them is testament to his loyalty and friendship, of course, yet it would not be cynical to note that these pals are strategically placed. At one point Davis had a confidant on each of the three network football shows. It is characteristic of his notion of public relations that Davis has always tried to maintain some control over the journalism that attends his every move. In the old days he rewarded reporters with Christmas gifts as well as bons mots. Those he felt did not properly reflect the Raider spirit would suffer freeze-outs or worse. Even today it is nothing for Davis to tell a beat reporter that he will speak to his editor, or publisher if necessary.
Who can blame him? One of the few times he made himself available to anyone beyond this small circle, he was wildly disappointed. A close friend arranged an extensive magazine interview for Davis, and it went so badly for him—the worst part was that certain blasphemies were laid out for Davis's mother to read, but there was also a reference to Hitler that could be construed as favorable—that Davis reportedly didn't speak to that friend for a year.
In the past Davis's secrecy, and the suspicion it generated, was a powerful weapon for creating confusion among his foes. Nobody in the league knew what he was up to. Alone among the owners, he disdained the NFL scouting combine, preferring to keep all intelligence to himself. This attitude fueled a comic paranoia; one rival coach shook his fist at "bugged" light fixtures in a locker room, and whenever a helicopter passed over a practice field, some naturally assumed that Davis was in it.
You do not need a genius, which is how many people have described Al Davis, to explain the Raiders' comeuppance. The NFL draft was designed to enforce parity, punishing winners and rewarding losers. Like any team denied high picks over a long period of time, the Raiders have suffered. The offensive line got old, the defense just got bad, and a quarterback never developed.
Still, Davis never relied solely on the NFL draft. He was so far out of the mainstream that for years he could have been said to be holding his own draft, one that neither interfered with nor resembled the league's version. Davis depended on an astounding network of unofficial scouts, all loyal to the Raiders and nobody else. Former Raider great Gene Upshaw says it was hard to meet anybody who did not represent himself as a Davis operative. "I'd run into some high-school coach," he says, "and he'd tell me he was a Raider scout. Everybody was a Raider scout."
Davis also depended on his own instincts. He drafted Mark van Eeghen out of Colgate after watching him run through a rainy-day drill in a gym. Davis prospered with all sorts of strange picks like that. Howie Long, the All-Pro defensive end on today's Raiders, was plucked out of Villanova in the second round of the draft. Defensive tackle Bill Pickel came from Rutgers, also in the second round.
That's Davis's history. None of the Raiders of yore fit a computer printout, either. "He never had normal players," says Tom Keating, a defensive tackle from the glory years. "Fred Biletnikoff was certainly not the fastest or strongest receiver, just a guy who had unbelievable hands. Al had a left-handed quarterback and a 47-year-old placekicker who thought he should be playing instead of that quarterback. We had a team full of people like that. We had an owner like that."
Davis took other teams' mistakes and turned them into Raider All-Pros. Castoffs like Matuszak, Lyle Alzado and Jim Plunkett all prospered under Davis. He played every angle. He obtained playing rights to Willie Wood, who had retired to a coaching job with the San Diego Chargers, just in case the Chargers, a division rival, thought about activating him against the Raiders. Davis once hung around a celebrity golf tournament in Las Vegas just to see if any football players were unhappy or otherwise available.
But his touch has deserted him in recent years. No reclamation project has buoyed the Raider defense, and no running back has come out of the tail end of the draft to lead the team in rushing, as Marv Hubbard, an 11th-round pick in 1968, did from 1971 to '74. In picking a coach, Davis stumbled even worse. Regardless of his prospects in the NFL, Shanahan could never have made it as a Raider coach. Davis might have thought he wanted some fresh air in an organization that had been hermetically sealed, but he quickly realized that Shanahan was all wrong. He made it clear that Shanahan was fired less for his silly disciplines (players could not sit on their helmets) or even his 8-13 record than for his refusal to throw long to Willie Gault. Davis mumbled something about shotgun formations, too.
Indeed, it was Davis's early-season return to the Raider way that corrected a disastrous beginning. Shell is no mere memento from the glory years but a forceful man determined to put the old philosophy back into effect. Against the Bengals last month, the Raiders' fourth win in five games under Shell, L.A. opened with a 63-yard pass to Gault. Bo Jackson suddenly was sweeping outside for big yardage—92 on one play—instead of banging into the left side of the line. And the defense brought back memories of Hayes's "kick maximus gluteus" unit; Bengal quarterback Boomer Esiason went down spitting up blood. This was all heartening but still inconclusive. The Raider way, after all, means Super Bowl rings on the players' fingers.
As the Davis mystique has faded, so has the Raiders' old image. The team does not dominate, a word that is ordinarily well represented in Davis's public statements (so are "attack," "commitment to excellence," "pride and poise" and "getting it done"). The Raiders are no longer the misfits who prospered in Oakland, inspiring talk of a "criminal element" in football. "They are on a par with the Atlanta Falcons," says Hayes. "There is no more fear of the Raiders. The fear factor is now null and void."
The owner, too, is softening his relations with traditional enemies. When the owner of the Cleveland Browns, Art Modell—whom Davis often characterized as former commissioner Pete Rozelle's running dog—offered to solve a fractious dispute among owners by resigning his position on the NFL's television committee, Davis was the first to insist that he stay. When Rozelle, long Davis's enemy, announced his retirement, Davis was the first to shake his hand. Strange times? Perhaps, as Hayes says, "the man is but a mere mortal."
If it is arrogant to put yourself beyond the working laws of the NFL, what do you call someone who places himself outside the rules of life and death? A mere mortal? Davis might be surprised to hear that. Might have been at one time, anyway. Concerning mortality, Davis intends to seek an exemption, both for himself and for friends.
"Death is the only thing I'm afraid of," he told Pete Axthelm in an ESPN interview this spring. "It's the one thing you can't control."
His friends have been hearing this for years. In an interview seven years ago Davis admitted, "I'm just nutty about death." He said, "I lost my dad in a strange way, and it does bother me.... So all this other stuff is kid stuff, because I believe I can overcome all other things and dominate."
As it turns out, he was being modest. He thought—and with some reason—he could dominate death, too.
In 1979 his wife, Carolee, whom he has described variously as "a big-time New York girl" and a "wild woman," went into cardiac arrest and sank into a coma. Davis has said that the doctors told him she would be a vegetable if she ever woke from the coma, an unlikely event in itself. Davis responded with a stubborn fury that is all his own, and within a week he'd set up shop in her hospital room, taking this matter into his own hands. Getting it done. He stayed by her bed around the clock, talking into the nights. Over and over he would say, "Wake up, Carolee, the plane is waiting for us, we've got to get to the game." After another week and a half Carolee came out of the coma, willed back to life by her husband.
"I don't think there was any virtue in that," Davis told Axthelm. "She was my friend. I would do it for any friend." Davis gave everyone on the hospital staff who had attended to Carolee—an interim family that included doctors and nurses and orderlies—a new television set. Carolee sits beside him in the owner's box at all the home games.
With others, though, Davis wasn't able to get it done. He tried to intervene in the fatal illnesses of two sportswriters, Jack Murphy and Wells Twombly. For the latter, a San Francisco columnist, he even arranged a liver transplant.
So many deaths. "It's busted him up," says Jimmy (the Greek) Snyder, a member of the Davis inner circle. "That's the one thing he can't put up a game plan against." Certainly it mocks all his assumptions. Upshaw, now executive director of the Players Association but still in touch with his old boss, says, "He always told me, 'If I could just conquer that, if I could just conquer life and death.' It's always been a mystery to him. It's a mystery to all of us, but he thinks about it a lot more than most."
Little artifacts of defiance—as when he said after a pet dog died of cancer a few years ago, "There are places I know now [that might have prolonged the animal's life]"—are being replaced by hints of resignation. People and pets do die, contrary to his best intentions. As for himself, he continues to lift weights, which he hauls along to training camps and NFL meetings, not to gain strength but to preserve his health and maintain his "lines." He drinks ice water with meals, though he has been seen with a Diet Pepsi. He has no known vices outside of fashion, in which he makes an interesting statement—that the development of style was halted abruptly in 1963. Everything about him seems concerned with the preservation of the past, which is strange in a man given to forward thinking.
Is it possible that nothing works anymore? What else is being mocked these days? How about loyalty? How did that get to be a joke?
Raider players continue to be the best paid in the league. Lyle Alzado once got a $100,000 raise he didn't ask for. But Davis's devotion to his players is best measured in other ways. Upshaw recalls that Davis chartered the biggest jets for his team, giving each player his own row of seats. Pregame meals were catered according to individual players' tastes. The assumption was that nothing was too good for a Raider. Like Super Bowl rings. The NFL pays for the rings, but Davis designed such outrageous diamond-studded fixtures that in 1981, after Super Bowl XV, the league set a maximum base value for each ring.
For an owner, Davis has always been strangely considerate of labor. He flew former Raiders to Super Bowl games, back when the team was in them, and he continues to fly former players to home games throughout the season. Whenever a Raider is inducted into the Hall of Fame—there have been six, and they have all asked for Davis to present them—he arranges for former teammates to be on hand. One former Raider, long since traded away, got into trouble with drugs, and Davis secretly financed his rehabilitation. And, says Upshaw, "If a player passes away, like Dan Birdwell did in 1978, he flies us all in for the funeral."
Now, Davis is not a modest man. Somebody who keeps weights in a room off his mirrored black-and-silver executive suite to keep up his looks is obviously a man of some vanity. Front-office workers recall with delight the time he emerged from his suite in new sunglasses and asked a secretary what she thought of them. Not much, she said. The sunglasses were never seen again. Another favorite story: Presentation of the trophy at Super Bowl XV was delayed while an assistant searched for a comb to smooth the Davis ducktail.
Still, he defers as much acclaim as possible to the players. He rarely goes to awards banquets for fear of denying the players their proper due. The gesture occasionally backfires. He got some heat in 1983 when he stiffed the Los Angeles Press Club; friends say he was just being careful not to steal attention away from the team.
When Upshaw and Davis visited Irwindale, Calif., to see one of several proposed sites for a new Raider stadium, Upshaw asked if it would be named Al Davis Stadium. Davis was surprised at the suggestion. "Not in a million years," he said, adding that the hall of fame he intends to build with the stadium will be devoted entirely to the players.
So why then did Marcus Allen hold out this summer? Gil Brandt, former personnel director of the Dallas Cowboys, says Davis was shocked by the holdout. "He had a hard time understanding that," Brandt says. "Al had a hard time believing, as well as he treats his players, that Allen would hold out. That never happened before. Maybe players have changed."
Oh, what doesn't change? The NFL has changed. Twelve years after Rozelle removed Davis from the competition committee, he reappointed him to the inner circle, embraced him once more as "a football man," the kind of guy who could bridge the widening chasms among owners. Al Davis? Wasn't it just yesterday that the league paid a fortune for interfering with his move to L.A.? And here's Modell, as representative of the old guard as any, saying, "I'd rather have Al inside the league than outside."
Ever since Davis was chosen commissioner of the old AFL, with the apparent order to force a merger (other NFL owners still believe Davis was disappointed he couldn't destroy their league first), he had been a stick in the NFL's eye. Even as a colleague he was a nettlesome presence. Davis was the "1" in too many 27-1 votes to have been anyone's favorite, but until he began hauling owners into court they had conceded that he had a certain charm. Former Browns coach Sam Rutigliano intended a kind of compliment when he said, "Al can steal your eyeballs and convince you that you look better without them."
His mischief in the AFL days marked him forever as a scoundrel—signing players under goalposts, more or less kidnapping them in planes and offering contracts with the inflight meals. There is a story that Davis once saw Brandt in a hotel men's room and quickly called the front desk to say Brandt would be taking all his calls in Davis's room. Davis then fielded all the scouting reports while Brandt studied his wallpaper. "I don't see how that could happen in a hotel, and I find it hard to believe," Brandt says. "But let me say this: I wouldn't put it past him." Lore like that was hard to live down.
It was hard to hold against Davis, too. Even a straight arrow like Tex Schramm, former president of the Cowboys, confesses to a certain affection for the miscreant. "I don't put him in the category of being dishonest, but he will tread as close to the line as he cam" Schramm says. All the same, he adds, he enjoys the heck out of Davis.
But Davis steadily depleted that reservoir of good will as he engaged owners in lawsuits. Davis is held responsible for having dragged the late Steeler owner Art Rooney, most beloved of NFL men, through court in 1977. But of course Davis was going to stand by his player, George Atkinson, who had been branded part of a "criminal element" by Steeler coach Chuck Noll. That marked the beginning of Davis's exile; Rozelle removed him from the competition committee.
As bitter as it got when Davis sued the NFL after the other owners tried to prevent him from moving his franchise, the final straw seems to have been his testimony on behalf of the USFL in the 1986 trial of that league's antitrust suit against the NFL. "Unforgivable," sniffs Tampa Bay Buccaneers owner Hugh Culverhouse.
But the NFL is now polarized, with new owners—guys who made their millions in oil, electric shavers and shopping centers—expecting sophisticated marketing ideas to go with their franchises. The old guard underestimated the division and found that they couldn't name a commissioner. Suddenly both sides found something to like about Al Davis.
Steeler president Dan Rooney, a "football man," notes Davis's protection of tradition. "I don't go for the genius stuff," he says, "but he's a bright guy, knows football and can grasp the issues. He's not the devil he has made himself out to be."
Rooney was reminded of this when, after his father's funeral last year, Davis sat down with some of Dan Rooney's sons and nephews and talked football and Art Rooney for two hours. "I thought it was wonderful," Dan says.
And the new owners like Davis's free thinking. Now, teams move at will—the Colts and Cardinals changed cities under the NFL's modified rules. Davis's idea that a city might owe a franchise for its benefit to the community—an idea that has led to an auction, with Irwindale, Sacramento, Oakland and even Los Angeles bidding for a team—has also attracted attention. "I like that," says Jerry Jones, the new man in Dallas.
Cities, mindful of an owner's short attention span, are now scrambling to please teams. After the Oilers threatened to move to Jacksonville, Houston found $40 million for stadium improvements all on its own. Team owners are not unmindful that the Cardinals struck gold when they moved to Phoenix. And now Oakland, which has had trouble funding its school system, is putting up about $50 million for football's potential benefit to the community. In other words, the ultimate beneficiaries of Davis's efforts to change the NFL's rules have been the owners themselves. Davis, meanwhile, still doesn't have the type of stadium for which he moved to L.A. in the first place.
Time passes, doesn't it? Schramm says of Davis, "I don't think he's had a happy 10 years. He's always talking about the one thing he can't control, death, and he probably has the feeling life is so short. Maybe he wishes he could have changed the last 10 years.... Maybe he's tired, he'd like to do football instead of all that other stuff."
Davis bought into the Raiders for $18,500 and has seen that stake grow considerably. He now owns close to 30% of the team, which was valued at $80 million two years ago, before the bidding for franchises got intense. Davis once asked Jimmy the Greek what passes for rich these days. "I told him a guy had to have better than $20 million, and he said, 'Just 20?' He's got a great sense of humor."
If Davis is rich, he doesn't assume the lifestyle. His extravagances are limited to the ridiculous largess he bestows upon loyalists. John Madden's son Mike, now on the Raiders' staff, remembers looking for his dad after a game. He was 12, and Davis spotted him pacing around. "What do you want for Christmas?" Davis asked. Mike said any kid would appreciate a motorcycle. "O.K.," Davis said. Mike added that, all the same, he probably wouldn't be allowed to have one. Too dangerous. "What about a car, then?" offered Davis. Too young, said Mike. "How old do you have to be?" asked Davis. Too old. "Let's think big here," Davis persisted. "How about a store, then? Could you run a store, hire and fire people?"
"I'm 12 years old, looking around for my dad, and all of a sudden I'm running a store," Mike says today.
Davis, for all his apparent power and fame, does not exploit his celebrity in a town that would surely enjoy it. Three or four nights a week he drops in at Carmine's, a small Italian restaurant in West Los Angeles. He dines alone, a telephone at one side, a pile of reading material at the other. For nightlife he returns to his home near the Raiders' training facility and watches game tapes.
For Davis the only important wealth is the legacy of the Raiders. But the Raiders are often losers now, and he blames himself. He frets that he robbed his team of its home-field advantage by moving it into the vast Los Angeles Coliseum. He agonizes over each defeat, each injury. After a loss, he moves through the dressing room like a wraith, approaching each player as if they'd both lost a loved one.
"He doesn't have anything else, you know," says John Madden. "His life is entirely the Raiders." Hard times in Silver and Blackdom, then, when the franchise fails to excite fear and suspicion, does not dominate. Of course, nobody thinks that Davis, even at 60 and with signs of mortality all about him, lacks the conviction that, one more time, he can get it done.
The history is, Al Davis has always gotten it done, achieved his will with an arrogance that is at times appealing. Del Courtney, a former big-band leader, became Davis's right-hand man in the Raiders' early years. One night in 1971, before the team was to leave for a game in Kansas City, Courtney got up from a restaurant table and keeled over. Stricken with Guillain-Barrè syndrome, he was completely paralyzed. For nearly three months he lingered in intensive care. Because he was unable to move even an eyelid, nobody knew if he could so much as hear. Doctors didn't think he would live. "Did Del make it through the night?" asked a doctor on rounds, unaware that Courtney could, in fact, hear. "Well, no way he'll make it through another."
Late each evening, after practice and meetings, Davis would appear at Courtney's bedside. Courtney says, "He would stand there and say, 'Del, I don't know if you can hear me, but things are going good at the office, made a couple of good trades.' Other times he'd say, 'You're probably lying there worried about your security. Well, nobody's been in your office, nobody's gonna take your place, and not a penny is being deducted from your salary. And if you're worrying about your horrendous hospital bill, we're picking up every cent.' "
On and on he went, each night. The Tribune in Oakland had prepared an obituary for Courtney. At one point doctors announced Courtney had one hour to live and phoned relatives, saying, "If you've got anything to say to Del...." And still Davis kept showing up. "He said, 'You're not gonna die, Del, you're gonna fight.' He kept saying that. I guess it got to me," recalls Courtney, who has retired from the Raiders and is once again leading a band. "He said, 'Del, you're a Raider. Raiders don't die.' "
Of course that was 1971 and Al Davis was just 42 and greatness was in the Raiders' future. It was possible to believe anything.
PHOTO
WALTER IOOSS JR.
SHADES OF THE PAST AND GAUDY SUPER BOWL DIAMONDS ARE PART OF DAVIS'S RETRO FASHION STATEMENT
PHOTO
ANDY HAYT
PHOTO
WALTER IOOSS JR.
WITH KEN STABLER (12) PASSING, BILETNIKOFF CATCHING AND MADDEN COACHING, THE RAIDERS OF OLD GOT IT DONE
PHOTO
SHEEDY & LONG
[See caption above.]
PHOTO
HEINZ KLUETMEIER
FORMER COACH DAVIS FREELY GAVE POINTERS TO MADDEN'S SUCCESSOR, TOM FLORES, IN 1979
PHOTO
ANDY HAYT
AFTER SHANAHAN (TOP) DEPARTED, SHELL SHOWED THE RAIDERS HOW TO THINK BIG AGAIN
PHOTO
PETER READ MILLER
[See caption above.]
PHOTO
RUSS REED/NFL PHOTOS
IN A WIN OVER BUFFALO IN 1963, DAVIS WAS A STEP AHEAD OF QUARTERBACK FLORES (15) AND RUNNING BACK GLENN SHAW
PHOTO
FRED KAPLAN/NFL PHOTOS
DAVIS THE JEWELRY DESIGNER CUT HIS TEETH ON THE 1967 AFL CHAMPIONSHIP RINGS
PHOTO
LOS ANGELES TIMES PHOTO
THE DEATHS OF TORAN (BELOW, ON POSTER) AND MATUSZAK (BOTTOM) HAVE SHAKEN DAVIS'S SENSE OF IMMORTALITY
PHOTO
ALLSPORT USA
[See caption above.]
PHOTO
CRAIG MOLENHOUSE
DAVIS WAS AT ROZELLE'S SIDE WHEN THE COMMISSIONER ANNOUNCED HIS RETIREMENT IN MARCH
PHOTO
ANDY HAYT
BOWED BY THE RAIDERS' TROUBLES, DAVIS TOOK THE FIELD AT THE COLISEUM BEFORE AN EARLY-SEASON LOSS TO SEATTLE