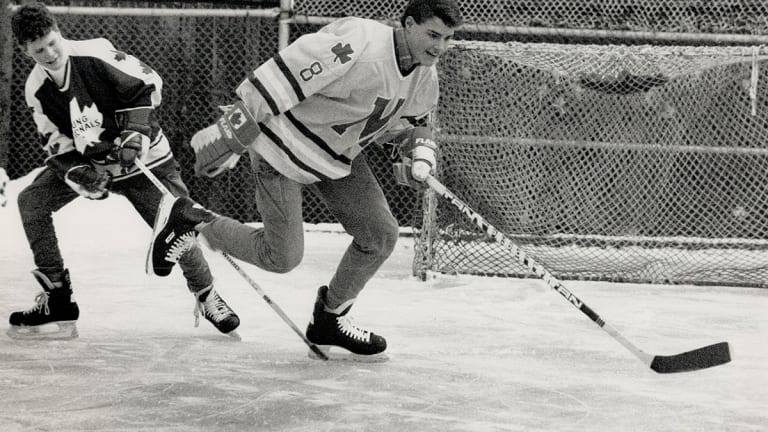 THE FACE OF THE FUTURE
Big tough and hugely gifted, 16-year-old Eric Lindros is already being touted as the NHL's next superstar
In the middle of the night, seven years ago, in a motel room in Buffalo, Bonnie Lindros came to the sudden, powerful realization that she had an exceptional son. "We were at one of Eric's Minor Atom tournaments," she says. "He was nine years old. You know how sometimes you just know? Well, I did that night. He wasn't even bigger and stronger than most of the other kids at that age. He was just better. I woke up in bed and started shaking."
Eric Lindros, 16, has grown up to be even better than his mother could have dreamed possible. Now it's NHL scouts and general managers who start shaking whenever they think about him. Men who foresaw the greatness of Bobby Orr, Wayne Gretzky and Mario Lemieux now talk about Eric in tones that are reverential. Eric, 6'4½" and 220 pounds of franchise-to-be, is not only too good for his age, but he's too good to be true. "He's the best 16-year-old player I've ever seen," says Philadelphia Flyer general manager Bobby Clarke! "He could play in the NHL right now."
However, Eric, who hails from Toronto, won't be eligible to do that until the 1991-92 season, because the NHL does not draft players younger than 18. So now he plays center for Compuware of the nine-team North American Junior Hockey League in Farmington, Mich., where he is spending his senior year in high school and living with a large, gregarious family. Signs at the Oak Park Arena, Compuware's home rink, prohibit scouts from smoking, but not from drooling. Eric has 23 goals and 29 assists in 14 games for an undefeated team.
It's as if he's a man playing against boys. He can take the puck to the net anytime he desires, but for the sake of variety, of sharpening his playmaking and of keeping his teammates happy, he often passes it off. He goes from backhand to forehand with ease, flicks sharp diagonal passes to cutting teammates and zings hard, accurate wrist shots with an impressively quick release. He's too big to make dazzling pivots, but he starts well, reaches a long stride quickly and finishes plays with the power of the superstar he almost certainly will become. He is a tireless worker whose reach extends almost as far as Lemieux's.
Eric appears to see the ice with the all-encompassing view of a Gretzky. He will never be considered a finesse player, however, for he has an obvious love of body contact. He'll probably spend too much time in the penalty box to mount a challenge on a 200-point season, but it's easy to see him becoming a 150-point version of the Edmonton Oilers' skilled and brawny Mark Messier, a three-time NHL All-Star.
The one unsavory aspect of Eric's play is also one that delights the scouts: He has a mean streak that he demonstrates by frequently whacking and jabbing his opponents and by cruising the ice at times in search of somebody to wallop. He embellishes bodychecks by pushing kids 50 pounds lighter and six inches smaller face-first into the glass. Already this season he has served three automatic one-game suspensions for fighting, which is prohibited in his league.
Eric would gladly pick on somebody his own size, but there's simply no one as big. "When he started to play last year [for a junior B league team with 17- to 20-year-olds in Toronto], I was worried about him getting hurt," says Bonnie. "Now I worry about the other kids."
On Nov. 22, Compuware (the team is named for its sponsor, a software maker) had the Detroit Junior Red Wings behind 7-0 after 17 minutes. The game was chippy from the start, and as the rout led to frustration and boredom, the sticks came up even higher. Eric, who played every second shift in the first period, took some additional turns on defense in the second and third periods. He had five assists by the time a double roughing minor earned him a game disqualification with seven minutes remaining in the final period.
"It's stupid getting thrown out," he said after Compuware's 10-2 victory, "but the guy speared me in the head. If they spear you, you just give them the free-trade agreement back, that's all. They start something by saying something and then pray the referee gets there before I do."
Messier is Eric's idol. "I think he's a complete player, the most feared in hockey, and if you look at his Porsches, that can't be bad," says Eric. "I'd like to reach his status or go even higher. It would be great for me and great for hockey."
The reason Eric left Toronto for Farmington is that he could play only junior hockey in Canada for Sault Ste. Marie, an outpost of the Ontario Hockey League (OHL) that made him the first pick in the midget draft (for 15- and 16-year-olds) last May. The OHL is one level above the North American Junior Hockey League, but Eric's parents felt that his education would suffer if he lost school days riding buses to and from Sault Ste. Marie's games, so they arranged for his move to Compuware and Farmington High, from which he will graduate on Jan. 15.
Eric might have accepted a scholarship at the University of Michigan next semester if the OHL, hoping to woo him home, had not passed the so-called Lindros Rule last month that allows teams to trade their first-round draft choices between Jan. 1 and Jan. 10 each year. Sault Ste. Marie is widely expected to send its rights to Eric to a club closer to Toronto, and Eric has decided that the 66-game schedule of the OHL will be better for his development than playing half that many games at Michigan. He does plan to take college business classes while playing in Ontario.
In Farmington, Eric boards at the home of Judy and Frank Vellucci, whose son Mark is a member of Compuware's B team. Carl Lindros, an accountant with Peat Marwick Thorne, and Bonnie, a registered nurse, found the Velluccis through Rick Curran, an NHL player agent who has been informally advising the Lindroses. Carl and Bonnie, who have stressed independence and achievement for their children (they have a second son, Brett, 14, and a daughter, Robin, 10), have also sought advice from such famous fathers as Doug Orr, Bobby's dad, on how best to develop Eric's talents while still making hockey fun.
When the Lindroses moved to Toronto six years ago following Carl's job transfer from London, Ont., among the sacrifices they made for Eric and Brett, also an aspiring player, was buying a house with enough property in the backyard to accommodate a nearly full-size hockey rink. It so happened that the home they liked had a swimming pool, so they filled in the pool and built the rink. "It has no boards, but there is a killer hedge," says Eric. "On the other side is a rosebush—with thorns."
There is a perception in some quarters that the Lindroses have unduly pushed their prodigy. They insist this is not true. Carl has discussed burnout with Olympic swim coaches and has never allowed Eric to play organized hockey in the summer. And the Lindroses insist, as does Eric, that he answer only to his own dreams. "He pushes us—we don't push him," says Carl, who learned about motivation as a Chicago Blackhawk farmhand before turning to football at Western Ontario University.
"Had he insisted on going to Sault Ste. Marie, he could have," Carl adds. "We have tried to keep things in perspective, but Eric is very confident, and that's part of his perspective. You have to understand how dedicated he is. He works for hours on his backhand and does it all on his own.
"He has the chance of a lifetime. Would any parent's advice be not to go for it? The worst-case scenario isn't that he doesn't make it in hockey. I can think of far worse scenarios than that. As long as he's done his best, he hasn't let anybody down."
When he's asked if he could live with becoming a good NHL player but not a superstar, Eric says, "I don't even want to think about that." The reply makes one wonder how well he'll be able to cope with the inevitable disappointments of life. But Carl says, "He's had setbacks. He's hit growth spurts and struggled at times. There's been a lot of pressure on him for several years now. Nothing anyone says or does is going to faze him."
Eric knows that the New Jersey Devils have made a deal with those perennial cellar-dwellers, the Toronto Maple Leafs, which could well land them the No. 1 pick in the 1991 draft. But he has only a broad preference as to where he would like to play, favoring "an American team...because of the Canadian taxes," which are higher than those in the U.S. Spoken like a young man growing up quickly—or at least like the son of a successful accountant.
Every so often Eric does talk—and act—like a 16-year-old. For one thing, he says, "I drive like an idiot." And his room at the Velluccis', with the mattress on the floor ("I like a hard bed," he says) and clothes strewn about, is a common enough adolescent setting.
But Eric has an intensity beyond his years. "I get so wound up that even in practice, if I'm missing the net consistently, I get mad," he says. "If I'm not scoring, I start to get bitter." This is a lad whose idea of Halloween fun was to make trick-or-treaters at the Velluccis' perform special exertions for additional candy. "I called it my extra-candy clause," he says with relish. "I must have had 50 kids doing pushups."
As for his shortlived adolescence, Eric says, "I can't control that. If I grew up the same as everybody else, I'd have a job after school. I don't want a job. I'm happy just to go to the rink."
Of course, Eric is not like everyone else. When he was just 14, he was already precocious enough to be invited to play in a celebrity golf tournament with many of the Maple Leafs. "Eric hasn't golfed three times in his life, and he couldn't have cared less about how he played," says Bonnie. "He went and had a great time. Later the Leaf players invited him to scrimmage with them. Before Eric went in, he was so nervous he got sick in the parking lot. But when he got on the ice, he didn't look out of place at all."