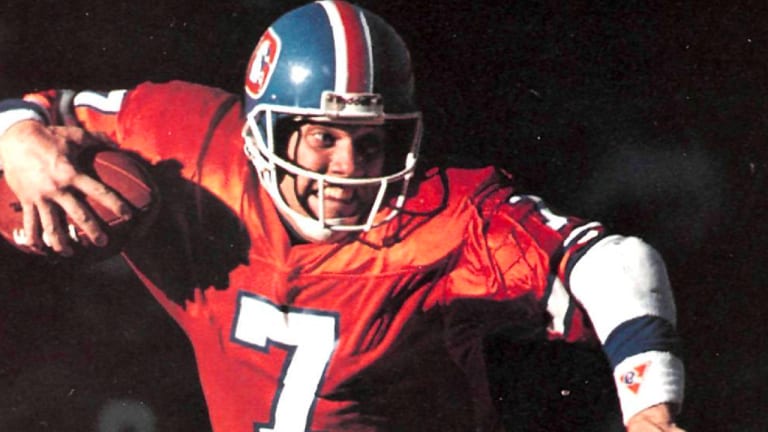 Once More...With Feeling
The Denver Broncos, 0 for 3 in the Super Bowl, earned the chance to try again after beating the Cleveland Browns 37-21 for the AFC crown
Okay, we'll soon be starting construction on the Joe Montana wing of the Pro Football Hall of Fame. But while we're at it, maybe somebody should start dusting off a shelf back near the broom closet for Denver Bronco quarterback John Elway. What else are we going to do with Elway? He continues doing his impression of the Energizer bunny. He keeps going and going and going....
He especially keeps going to Super Bowls. In fact, Elway will be going to his third in four years, thanks to his jaw-dropping performance Sunday at Denver's Mile High Stadium, where he beat the Cleveland Browns with a contortionist's throws and a cat burglar's feet, 37–21, to win the AFC title.
All known methods of burying this guy have failed, and the Browns know it better than anyone. You can't do it with statistics. Elway was ranked ninth among AFC passers this season, but first in wins. You can't do it with pressure. Elway said he felt "suffocated" this year by the expectations of Denver's fans and media, then went out and exceeded those expectations. You can't do it with blitzes and shoots and stunting defensive ends. He will only dance away from them and then carve the defense into an armchair doily.
Maybe all that now stands between Elway and a display case in Canton is his oft-clobbered dream, his long-pined-for Super Bowl victory. Of course, what stands between him and that are the San Francisco 49ers, which is why a grinning Denver coach Dan Reeves told CBS's Brent Musburger after beating Cleveland, "All I can say is we'll show up." Meanwhile, many Denver fans are already picking out something black to wear on Super Bowl Sunday.
Two serious Super Bowl whippings in 1987 and '88 left some Bronco fans hoping that their team would lose against the Browns and save them the angst. "Why don't those people go hide in their closets?" Elway said before the game. "They're taking the easy way out. If we lose, we lose, but I'd hate to be stuck in a closet."
And that was only one of the juicy tidbits that preceded the latest renewal of what has become a wonderfully testy rivalry. Forget the game—people were talking about The Box, The Sox and, of course, The Ox.
The Ox was Cleveland coach Bud Carson's and owner Art Modell's worry that there wasn't enough oxygen at Mile High Stadium. Team doctors had advised that the less exposure the Browns had to Denver's thin air, the better it would be for them. So new NFL commissioner Paul Tagliabue agreed to let the Browns arrive one day before the game instead of the required two. The Browns also hoped to avoid the kind of Dawg-hounding the Broncos got at their Cleveland hotel from rabid fans three years ago. "They tried to take advantage of a rookie commissioner," said a ticked-off Reeves, "and he fell for it."
Modell decided to further tweak his hosts by refusing to sit in Denver's visiting owner's luxury box, calling it a "disgrace" and choosing to pay $5,000 to rent a different luxury box. Then there was the dispute about the game program. At the AFC title game at Mile High two years ago, Modell complained when Reeves appeared alone on the cover of what was supposed to be an unbiased publication. So this year the Broncos made up an unbiased cover—and put Reeves on the program cover holding the unbiased cover. Gotcha!
Then came The Sox. Denver receiver Vance Johnson painted a Frank-buster symbol on his practice hose—the jersey number 31, worn by Browns cornerback Frank Minnifield, with a slash through it. Elway isn't fond of Minnifield either. "He walks around and acts cool before the game," said Elway. "He's like a bad rash," said Denver receiver Michael Young, who would have a career day, with two catches for 123 yards and a touchdown. "He holds more than any defensive back in the league."
Sadly, Sunday came and a game had to be played. Sadly, Cleveland quarterback Bernie Kosar had to play in it. Kosar wasn't ready for a game; Kosar was ready for a gurney. He had a sore throwing elbow, a rubber brace on the index finger of his throwing hand, a sore throwing shoulder and a staph infection in his throwing arm. Other than that, he was 100%.
Remember, this is a guy whose passes don't look too good With five fingers. Kosar started 1 for 8 for three yards in the first 18 minutes. He had tried to patch together a throwing motion out of his Blue Cross bag of tricks, but nothing was working. "He said he was all right," said Carson, "but, hell, Bernie always says he's all right."
Denver took a 3–0 lead late in the first quarter, on David Treadwell's 29-yard field goal, and should have had more. On the Broncos' first possession of the game, they looked at a first-and-goal from the two and came away with zilch when tailback Bobby Humphrey fumbled Elway's broken-play pitch after having been stopped twice on plunges up the middle.
But then came Elway's revenge on Minnifield. Minnifield tried to jam Young at the line and got jammed himself, stumbling and falling flat on his face. Elway rolled right, with linebacker Clay Matthews on his heels, and heaved the ball off the wrong foot, sidearm, from here to Colorado Springs, for a 70-yard touchdown. "I guess Frank was pretty quiet today, wasn't he?" said Elway afterward.
At halftime, Denver led 10–0, but even one-armed, Kosar can be a bandit. He opened the second half by finding wide receiver Brian Brennan on a zigzag pattern. 27-yard touchdown to make the score 10–7. Why should the Broncos have covered Brennan? He hadn't scored in his last 30 games.
Elway answered Kosar's strike with a touchdown of his own, a perfect spiral as soft as a baby's blanket to tight end Orson Mobley, who was in for the injured Pat Kelly, who had been in for the injured Clarence Kay. "Can you believe it, a touch pass!" said Elway, making fun of writers who say he possesses no such thing.
After Denver got the ball back less than a minute later, forgotten halfback Sammy Winder (two touchdowns after replacing Humphrey, who left with broken ribs) scored on a seven-yard, USC-style sweep, and Denver led 24-7. You could hear Denverites thinking up excuses not to go to Super Bowl parties all over town.
But the Browns chose not to go away quietly. Two minutes and seven seconds later, Kosar hit Mr. Touchdown, Brennan, who made a marvelous diving catch in the end zone. Barely two minutes after that, Cleveland scored again, off a fumble by Denver running back Melvin Bratton and a two-yard touchdown run around left end by Tim Manoa. Uh-oh, 24-21.
"I could just see it," said Elway, conjuring up a twist on past meetings between these two teams. "The Drive. The Fumble. The Comeback."
Wrong. Meet The Throw. On third-and-10 from his own 43, in the most important Denver drive of the day, with the momentum seeping out of the stadium, Elway spun away from the relentless Cleveland rush—if Montana had Elway's offensive line, he would be a life insurance salesman by now—fled to his left, chose not to visit with Browns defensive end Al (Bubba) Baker, who was eager to speak with him, saw only one receiver even remotely lonely and threw the ball on the run, across his body at least 25 yards east-to-west and another 20 north-to-south, over the hungry digits of—guess who?—Minnifield and into the hands of Johnson. Two plays later, Elway connected with Winder for a 39-yard touchdown, on which Winder eluded two tacklers, one of whom was—you guessed it—Minnifield.
Kosar was intercepted on each of the Browns' next two possessions, Tread-well added two more field goals, of 34 and 31 yards, and the Broncos started to think about making their dinner reservations at Antoine's in New Orleans.
"You tell me how he does it," said Denver quarterbacks coach Mike Shanahan of Elway's performance. "How can he be running left, his toe pointed the wrong way, and still throw it the opposite direction and drop it with perfect touch? That's coaching."
Baker couldn't quite believe Elway, either. "I was all over him, and he throws an out-of-the-shoulder-socket pass all the way across the field! All day he was outrunning guys with 4.4 and 4.5 speed! If he keeps this up, I'm going to have to be a John Elway fan."
Stand in line. "What a magnificent performance," said Modell. "It's equal to Unitas, Namath, Graham—anyone over the years."
People say he doesn't win the big ones, but if Mr. and Mrs. Montana had never had Little Joe, wouldn't Elway have been the quarterback of the 1980s? Even Elway admitted this was his best game of the season—he completed 20 of 36 for 385 yards and three TDs—perhaps because, as he had said earlier in the week, "this is the biggest game of my life."
To inspire his troops, several weeks ago Reeves placed Denver's two Lamar Hunt trophies, awarded to the AFC champions, in a team meeting room. But to the Broncos a Lamar Hunt trophy meant about as much as, well, Lamar Hunt. "I need one of those big ones with the football on top," said Elway with a grin.
Across the way, after five straight playoffs without advancing to the Super Bowl, the Browns were thinking that a Lamar Hunt trophy might look just fine in their glass case. "We're Avis," said Modell. "We've gotta try harder."
What killed the Browns this time was six dropped balls, many of them while receivers were staring into the sun; a Bud Carson defense that had turned Bud light in the last three weeks; and a travel agent who keeps sending them to Denver for AFC title games.
As the Broncos ran off the field after their victory, they were surprised to find Reeves standing in the hallway leading to the locker room, beaming and yelling at them to turn around. "Let's go back out and say thank you to the fans," he said.
And so, just as the multitudes were trying to remember where they had parked their cars, out came their heroes again, all of them, in a frolicking Don't Worry, Be Happy lap that featured thrown footballs, Arsenio Hall whoop-fists and semi-strip shows.
Elway, for his part, took off his two wristbands and two elbow pads and, one by one, threw them into the stands.
Save'em, Bronco fans. This guy is going to be famous.