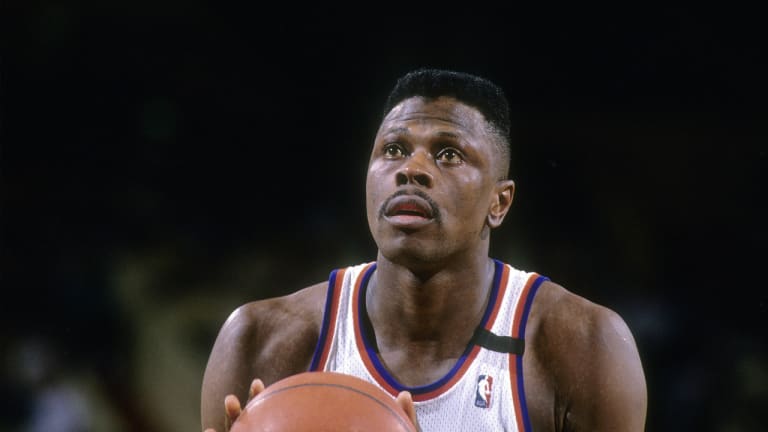 The Big Man Gets Bigger
Patrick Ewing has added finesse to his intimidating presence and made New York an NBA force
Patrick Ewing seems to be outfitted for rollerball as his long, no-nonsense strides carry him toward the midcourt circle at Madison Square Garden. Around both knees he wears large, black supports over which conventional white kneepads are fitted. A pair of white elastic compression tights extend from below his New York Knicks shorts almost to the knee supports. Nasty-looking scratches dot his upper arms—"battle scars," Ewing calls them.
He is 255 pounds of muscle hardened by five-times-a-week weight-training sessions, even during the season. He is seven feet tall, a huge man, a presence every bit as imposing as the Utah Jazz's Mr. America candidate, Karl Malone. To most of his teammates Ewing is known as Boomer, in recognition of his booming one-handed dunks that finish many a Knick fast break. To family, friends and acquaintances he is invariably Patrick, never Pat. This man couldn't be a Pat.
Affixed to Ewing's face is a scowl, which—like his pads—is securely in place whenever he takes the court. The whole effect is that of a man prepared for combat rather than basketball. And doesn't that jibe with the first image we had of Ewing, back in 1981, when he strode defiantly onto the court as a Georgetown freshman and began claiming much of the air space around Washington, D.C.? "Patrick's a warrior," Hoya coach John Thompson said of him, and to one degree or another, that's what most observers still expect to see when Patrick Aloysius Ewing takes—nay, takes over—the floor.
But what the NBA is seeing these days, and is likely to be seeing through a good bit of the next decade, is much, much more. Some of the old images of Ewing are dated. He has buried them under an avalanche of soft, turnaround jump shots. "The book on him always was, Make him shoot over you, make him earn it," says Boston's backup center, Joe Kleine. "Well, now he's earning it." The power, the intimidation, the fearlessness are still there, but so are grace and finesse and economy of movement, terms previously associated with Houston's Akeem Olajuwon, Ewing's yardstick through most of the '80s, and San Antonio rookie David Robinson, the only other NBA center currently mentioned in the same breath with Ewing and Olajuwon.
The old off-the-court images of Ewing must be sent to the trash compactor, too. Oh, he still has a knack for keeping the curious at arm's length, much as he has learned to hold off his opponent in the pivot with one hand, while calling for the ball with the other. But he's a genuinely likable man, quick to joke and smile, and, most significantly, he's a teammate. He is clearly the only superstar among the talented Knicks, but in his mind at least, there is no difference between him and everyone else. Padding around the team practice facility at the State University of New York at Purchase in his slippers recently, Ewing greeted 12th man Greg Butler—"Yo, Big But!"—with the same enthusiasm with which he would greet a starter. He has a fierce sense of loyalty to his teammates, and if that loyalty at one time translated into Hoya Paranoia, it now comes across as plain friendliness.
There's no doubt that Ewing's steady, egalitarian leadership is a big reason that the Knicks (25-10) had the third-best record in the NBA behind the Lakers (25-8) and the Spurs (23-9).
Ewing's play has been an even more important component of New York's success. "He might be the best in the game right now," Los Angeles's Mychal Thompson told the New York Daily News after Ewing scored 29 points in a 115-104 loss on Dec. 3. "He and Magic [Johnson] are shoulder to shoulder."
NBA observers started talking about Ewing in those terms last season, when he finished fourth in the MVP balloting behind Johnson, Michael Jordan and Malone, though such talk was as much for his indomitable presence at the back of Rick Pitino's full-court press as anything else. (Not that that role was insignificant.) It wasn't until Pitino left for Kentucky—taking with him his concepts of democratic ball distribution and quick-trigger three-point shooting—and was replaced by Stu Jackson, a man of more orthodox views, that the NBA finally discovered exactly what Ewing is capable of when he has the ball.
"We made a conscious decision to make Patrick the focal point of the offense," says Jackson. "We wanted to get him the ball more often and in better spots on the floor. But, frankly, we didn't know what to expect any more than anyone else."
What they got was a scoring machine that, as of Sunday, was averaging 27.5 points, third in the NBA behind Jordan and Malone. That's 4.8 points a game more than Ewing scored in his best NBA season (last year's 22.7), and—need it be mentioned?—9.8 more than he averaged in his most prolific season at Georgetown (17.7 as a sophomore in 1982-83). Ewing is attempting four more shots per game (20) than last season and is still shooting .531 from the floor, which puts him among the top 15 in the league.
"I know what people are saying now," says Jazz coach Jerry Sloan, "but when he came out of college, I don't recall anybody thinking he would score like this."
Ewing entered the NBA prepared to be the kind of player he had been at Georgetown—an intimidator and a big man who would run the floor and pick up most of his points in transition and off offensive rebounds. "Everybody keeps telling me how surprised they are with what I've done," he says. "But I'm telling you honestly that it doesn't surprise me. I knew I could do it.
"I worked on some things this summer, just like I always do. I wanted to get better on coming into the lane with my left hand, and I've done that. I'm getting to the foul line more [his eight attempts per game are about two more than last season], and that's helped my scoring. But I haven't changed my jump shot. It just got better.
"I always had the ability to score like this, but it's tough for a big man to score in college. College is for outside shooters." Ewing points a finger at teammate Trent Tucker, who has wandered into the SUNY-Purchase training room. "Chumps like him." Ewing smiles, and they exchange hand slaps.
Now that Ewing has become a true shooter-scorer—Jackson goes so far as to call him a "pure shooter"—there has been a predictable rush to castigate Thompson for holding him back at Georgetown. Well, it's not Thompson's job to get one player a lot of points. It's his job to win games, and that he did, with a lot of help from Ewing. The Hoyas played in three NCAA championship games during Ewing's tenure and won the title in 1984, his junior year. Furthermore, no one seems to notice that Olajuwon, under Guy Lewis at the University of Houston, averaged only 13.9 and 16.8 points in his junior and senior years (1982-83 and '83-84). Perhaps no one noticed because, unlike Thompson, the now-retired Lewis was never taken that seriously as a coach.
It's odd that Ewing, five years after leaving Georgetown, is still so inextricably bound to Thompson that he seems destined to remain forever "John's player." In the summer Ewing lives outside of Washington in Potomac, Md., and works out at Georgetown with former Hoyas (John Duren and Michael Jackson) and current ones (Alonzo Mourning and Dikembe Mutombo). He will marry a Georgetown law student named Rita Williams in July. And he remains close to Thompson, though, Ewing says, Thompson "does not run my life." But Ewing is 27 now and earned his diploma, as a fine arts major, five years ago.
"I don't know why people talk about us so much together, but it's a fact," says Ewing. "We had a lot of success there, and some people didn't like it. People were always trying to knock him through me or me through him, and I guess they're still trying. The only thing that bothers me, really, is when people say he sheltered me. I never thought he did anything to me that he didn't do to any other player. And if he hadn't protected me a little bit, I never would've graduated. He helped me grow as a person, and nothing could replace that."
It is indisputable, however, that Thompson's style of non-public relations left Ewing thoroughly unprepared for the mental grind of being a No. 1 pick in the media capital of the world, as he was in 1985.
In New York, far from the safety of Thompson Harbor, Ewing had to deal with almost unreasonable expectations, a bad team, an irascible, impatient coach named Hubie Brown—who put Ewing at the unfamiliar power forward position so that Bill Cartwright could stay at center—and frequent injuries. Ewing missed 51 games in his first two seasons, which is four more games than the Knicks won in those two years. His numbers in those seasons (20.8 points and 8.9 rebounds a game) weren't bad, but he really wasn't a forceful inside player—and he certainly was not earning his 10-year, $30 million contract. (At $4 million, Ewing is the NBA's highest-paid player this season.)
Ewing gradually improved under Pitino, but only recently has the whole package been unwrapped. It reveals an agile seven-footer whose turnaround jumper is accurate up to 20 feet; a heady player who discourages double-teaming with canny passes; an outstanding athlete who has somehow figured out the exotic fast-break passing strategies of point guards Mark Jackson and Rod Strickland, both of whom never make a simple move when 13 complicated ones will do; and a defensive intimidator whose 3.7 blocks per game at week's end were second only to Olajuwon's league-leading 4.2.
What the package doesn't reveal, mysteriously, is a dominant rebounder. "It's the one part of his game that's missing," says the Boston Celtics' Larry Bird. Ewing has the size, hands, jumping ability and aggressive on-the-court personality associated with accomplished rebounders, yet he has never finished in the top 10 in that category, although this finally may be the season: He is ninth in the league (10.2).
"Patrick talks about it a lot more than we do," says Knick assistant Paul Silas, one of the NBA's best rebounders during his playing days. "With all the other things he does, we're not particularly worried about it."
Ewing is, though. "It's something I'm conscious of every day," he says, "and I will improve." Don't bet against Ewing's becoming a monster rebounder.
Away from the court, Ewing hardly lights up New York. He spends a lot of time in the off-season with his five-year-old son, Patrick Ewing Jr., but the youngster lives in Boston with his mother, and it's hard for Ewing to see him during the season. Ewing lives in Fort Lee, N.J., and can usually be found with teammate Kenny Walker, arguing about music (Ewing likes the music of his native Jamaica, Walker prefers rap) or food (Walker admits he enjoys a few Jamaican staples, such as curried goat) or the relative merits of Georgetown and Kentucky, Walker's alma mater. They are both serious shoppers, but won't be found on Fifth Avenue.
"Patrick doesn't like the crowds," says Walker, "so most of the time we just hit the malls in Paramus [another suburban New Jersey town]."
Hmm, Paramus Pat. Doesn't have much of a ring to it. But to Ewing, a lunchpail superstar, it probably sounds just right.
PHOTO
ANDREW
BERNSTEIN/NBA
PHOTOS
Stand back! Ewing here keeps the hordes at bay as he awaits a rebound against LA.
PHOTO
ANDREW BERNSTEIN/NBA
PHOTOS
Ewing knew he had the drive to be an MVP candidate in the NBA...
PHOTO
LOUIS CAPOZZOLA
...and now he goes motoring in his own brand of shoes.
PHOTO
NATHANIEL BUTLER/NBA
PHOTOS
Ewing, here rejecting a shot by Miami's Tellis Frank, is second to Olajuwon in blocks.