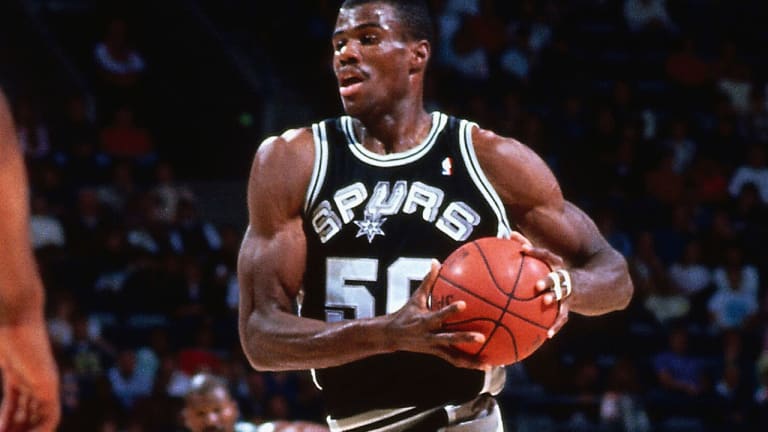 Publish date:
Hands On
Rookie David Robinson of the San Antonio Spurs is turning a lot of heads in the NBA with his extraordinary quickness and strength.
As he relaxed in a Miami hotel room a few hours before his San Antonio Spurs took on the Heat not long ago, center David Robinson pulled out a portable keyboard, placed it on the bed and said, "I think I have the second movement of the Pathètique down pretty well." That would be Beethoven's Sonata No. 8—Opus 13, if you're scoring. When the word movement is mentioned around the NBA, the subject is usually offense, but Robinson knows of what he speaks. He proceeded to play the Pathètique quite well, his long fingers gliding over the keyboard as expertly as they glide over the basketball while he's sizing up a free throw.
"I've been memorizing it for four months," said Robinson, who learned the basics of piano from his father, Ambrose, but has never had a formal lesson. "Still, I've got a lot more work to do."
Opposing NBA teams would be overjoyed if Robinson, a rookie of 24 out of the U.S. Naval Academy, spent all his time polishing the Pathètique, for he has needed precious little of it to establish himself as one of the league's dominant forces, someone to challenge the New York Knicks' Patrick Ewing and the Houston Rockets' Akeem Olajuwon, both of whom are 27, for pivotman supremacy in the '90s. "There's no 'gonna be' about it." said Orlando Magic center-forward Mark Acres after Robinson went for 32 points and 10 rebounds in a 111-102 Spur loss at Orlando on Jan. 8. "He's a great player right now."
Said New Jersey rookie guard Mookie Blaylock after Robinson scored 26 points in a 109-92 victory over the Nets on Dec. 9, "If he's still learning the game, I'd hate to see him when he knows it cold." Veteran Caldwell Jones, Robinson's teammate and defensive mentor, puts it this way: "He has the talent all us big guys only hope and dream for." In other words, as Beethoven might say, the kid can flat-out play.
No, David Delirium is not as big as Michael Mania was during Jordan's rookie season of 1984-85, but Robinson is certainly the most talked-about player in the league right now. And San Antonio is the most-talked-about team. With a 25-11 record through last weekend, fourth-best in the NBA, the Spurs have already won four more games than they did all of last season, and they're on course to become the NBA's most-improved team of all time over one season. (Boston, with a 32-game turnaround in 1979-80, Larry Bird's rookie year, holds that distinction now.) Preseason talk that Spur owner Red McCombs might move the franchise has been put on hold because of San Antonio's quick start and a 3,136 increase in attendance per game over last season at this time (14,196 versus 11,060).
Of course, Robinson is not the only reason San Antonio has gotten better. The off-season trades that brought veterans Terry Cummings and Maurice Cheeks, both of whom are playing as well as they ever did; the maturation of versatile second-year players Willie Anderson and Vernon Maxwell; and the leadership of Jones are major factors as well.
Clearly, though, Robinson is what makes the Spurs special, even sexy. There is no buzz in arenas around the league when Cummings or Cheeks emerges from the Spur locker room, as there is when the 7'1", 235-pound Robinson appears. Reporters don't crowd around the locker of another heralded San Antonio rookie. Sean Elliott, after every game, as they do around Robinson's. His teammates are already on his case for holding up the bus—because of demands from the media—after road games, and, like Jordan. Robinson frequently must find alternate transportation back to the hotel. His manner, like Jordan's, is open and accessible, so people are drawn to him. What's more, like Jordan he is a world-class talker when he gets on a roll.
Through Sunday, Robinson was scoring 23.0 points per game (to go with a .540 shooting percentage), and he was getting his baskets in a variety of ways, which is not typical of today's centers. His turnaround jumper off the glass is as delicate as his one-handed slam is vicious. He gets out on the break, and thanks to an edict set down early in the season by Cheeks—if the big man runs with you, then you get him the ball—he is scoring in the transition game, too. Robinson is not as skilled as Ewing at carving out his position on the blocks, but he doesn't have to be: His quickness, which is preternatural for a man his size, invariably enables him to get to the spot he wants.
"No other big guy I've ever seen is anywhere as quick and fast as him," says Jones, who has seen a lot of big men in his 17 years in the ABA and NBA. "That's what sets David apart." All that, and he's lefthanded to boot, which gives him a slight advantage against defenders who are used to playing righties.
His defensive instincts are—there's no other way to put it—Russell-esque. With 2.75 blocked shots per game, he trails Olajuwon (4.21), Ewing (4.0), Benoit Benjamin of the L.A. Clippers (2.80) and Manute Bol (2.77) of the Golden State Warriors, and he would surely lead the league in another category—big men who catch up to the break and knock the ball from a guard—if the NBA kept such a statistic. Teammates estimate that he has done it at least a dozen times this season. Robinson has left no doubt that in an era when a team's leading rebounder is often a power forward, he will take care of that department, too, thank you very much. At week's end he was averaging 11.4 rebounds—third in the league behind Olajuwon (13.4) and New York forward Charles Oakley (11.8)—and was well ahead of the Spurs' second-leading re-bounder, Cummings, who was averaging 8.1. Centers should rebound like that.
Finally, Robinson has shown a strength and physical presence that many NBA observers thought he lacked. While Robinson is lean—he has thin legs and a 33-inch waist—his biceps are huge, almost to the point of being grotesque on one so slim. And though he has not displayed the counterproductive hair-trigger temper that Ewing evinced when he was a rookie, Robinson's demeanor on the court suggests that he will not back down from a challenge.
"My fouls used to be ticky-tacky, but I learned real fast to make them count," he says. "Up here, you've got to protect your own. I expected physical play, but nothing this bad—guys hanging on you every play, doing anything to stop your shot. Sometimes I feel like hitting somebody. You look at the refs and they say, 'We'll take care of it.' I think, Yeah? You won't take care of it the way I'd like to take care of it." One day, perhaps, he will, and someone will find out if those boxing classes Robinson took at the Naval Academy did him any good.
After pondering the total package—brains and brawn, moves and moxie—one should pause and recall that not too long ago there were gnawing doubts about Robinson. They grew out of his less-than-scintillating performances in the international and armed-services competitions in which he participated during two years of active duty after his graduation from the academy and his selection by the Spurs as No. 1 in the 1987 draft. Exhibit A was the 1988 Olympics, in which he averaged 12.8 points and 6.8 rebounds—passable numbers, perhaps, had the U.S. won gold instead of bronze. Out of his sometimes uninspired play grew the belief that he lacked the dedication to become an extraordinary pro. Because he does so many things on the court so well and with such apparent effortlessness, Robinson has always been considered an underachiever despite the fact that he has achieved so much.
"I guess it's true to a certain extent," says Robinson with a sigh. "I was always curious. I wanted to learn a little about a lot of things, and I really had to get pushed to achieve. My mother [Freda] did the pushing. Where I'd be without her, I don't want to think about.
"But, gradually, ever since I went to the academy, I have felt my motivation growing. I'm a student at heart, and right now I'm studying players like Terry [Cummings], Jordan and Ewing, guys who play hard every night and have the heart to go with the talent. I want to be like them."
He seems sincere. The only rap on Robinson is that at certain points of certain games, he does not get involved. In the Jan. 8 game against Orlando, for example, he remained at the defensive end on at least 10 San Antonio possessions, none of them a fast break, like a soldier (sorry, David) on solitary guard duty. Acres, not exactly a feared pivotman, burned him for 14 points and 15 rebounds. In a 107-102 victory over Miami the next evening, the Heat's center, Rony Seikaly, had 21 points and 18 rebounds while Robinson finished with 20 and 12. Robinson insists that his sometimes lackadaisical play is the result of rookie immaturity and mental lapses rather than poor conditioning or lack of will. "Sometimes I just find myself watching, kind of spacing out, not forcing myself to go down and get in the action," he says. "Don't worry. Coach [Larry] Brown lets me know about it."
Robinson concedes, however, that he's much more likely to space out against an Acres than against a Ewing or an Olajuwon. As with many talented players, the best way to get his motor running is to turn on a spotlight. In two games against Ewing and one against Olajuwon, Robinson has held his own. In the most recent Spurs-Knicks game, on Jan. 17 in San Antonio, Ewing outshone Robinson statistically, finishing with 27 points. 12 rebounds and four blocks to Robinson's 20, six and three, but Robinson made three big plays down the stretch to steal a 101-97 win for the Spurs. First, he made a fall-away jumper over Ewing with 1:27 left, to put San Antonio ahead 92-90. Then, at the other end. he stepped in front of an entry pass intended for Ewing, stole the ball and started a fast break, which resulted in two Anderson free throws and a 94-90 lead. Finally, with 19 seconds to go and San Antonio in front 97-92, Robinson rejected a Ewing shot off a drive to seal the victory.
As he started off the court after the game, Robinson suddenly stopped, trotted after Ewing and slapped him on the back. Ewing turned, and they shook hands. It was a gesture of respect by Robinson, but it also may have been a reminder: "Hey, Patrick, I'm here now. And I'm not going anywhere."
The one lesson Robinson can learn from Ewing is perseverance. Ewing's first two years with bad Knick teams were frustrating, yet he kept his head up and his ears open, always adding something new to improve his game. Robinson is infinitely more fortunate in his first season than Ewing was. First, he is getting foul calls that most rookies only dream about, probably because his finesse-oriented game is appreciated, subconsciously or otherwise, by the zebras. Only perennial All-Star Karl Malone of the Utah Jazz has shot more free throws than Robinson has this season. Second, Robinson is on an excellent team that blends youth and experience. Ewing, and Olajuwon for that matter, have had to take all the tough shots ever since they entered the league. Robinson gets help from Cummings, Cheeks and, sometimes, Anderson.
Cummings has been immensely helpful to Robinson off the court, too. They frequently get together in San Antonio and on the road to work on musical arrangements. Cummings's musicality and excellent voice serve as a good counterpoint to Robinson's classical background and his unpolished though on-key bass. On a recent trip to a San Antonio recording studio, Robinson sat at the keyboard and picked out the Charlie Brown theme and What a Wonderful World (popularized by Louis Armstrong). Cummings sat down and played True Love, a ballad he composed, and a Whitney Houston tune. Each helped the other with chords and lyrics. Cummings, who has sung background vocals on several gospel albums, is the leader of the improvisational duo, but Robinson is coming along. "David's got a good ear," says Cummings.
But, then, doesn't it seem that David has a good everything? He's the kid who added up his mom's grocery bill before she put the stuff on the counter, the high schooler who got 1,320 on his college boards. He's the college All-America who could walk across the gym floor on his hands, a result of competing in gymnastics in high school. Robinson bowls 190 without much practice, shoots in the low 80s in golf, has taken taekwondo classes and plays mean games of tennis and. for heaven's sake, Nintendo. Yo, Mr. Robinson, what don't you do well?
"I'm not a great reader, believe it or not." he says after some thought. "It's not the vocabulary—my father made me read the dictionary when I was little—but my attention span is poor. Takes me months to read one book."
That doesn't stop him from reading. Four science fiction novels tumbled out of his traveling bag on a recent road trip, not to mention two volumes of logic puzzles. "I skip the easy ones in the front and go right to the back," he says.
Oh, yes, Lieutenant (j.g.) Robinson has one more weakness. "I never had a good sense of humor," he says. "I'm getting better, but I always took things so literally, and I never knew how to come back at somebody with a retort."
Well, the NBA has lots of comedians but only a few uncommon men, men who make beautiful music on and off the court. Robinson is clearly one of them.