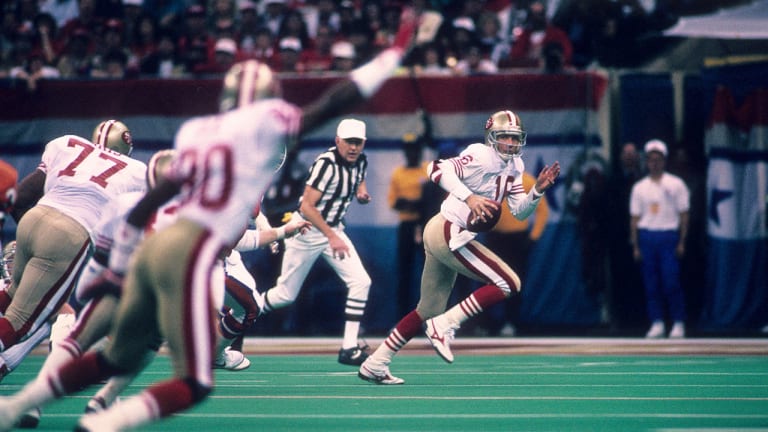 The Calm and the Storm
Before they took the field against the Denver Broncos, the San Francisco 49ers prepared for the Super Bowl the best way they knew how. Some of them, like Bubba Paris, geared up for the trenches. Others, like Joe Montana, thought about their families. Then the 49ers went out and answered the call to glory
Room 5072—Joe Montana's room—Hilton Riverside and Towers, New Orleans, Super Bowl Sunday, 10:15 p.m. Bob Woolf, Montana's agent, puts through a call to another of his clients, Larry Bird. After two rings, Bird picks up the phone and says, "55–10, Joe Montana."
"Wait a minute," says Woolf, laughing. "I'll let you speak to Joe."
Montana, who threw for a Super Bowl-record five touchdowns in the San Francisco 49ers' shellacking of the Denver Broncos in Super Bowl XXIV and collected the MVP award, gets on the line. "Hey man, how's the foot doing?" says Montana.
"Looks like you're moving a lot better. Yeah, I know, we're homing in on five championships. One more, man. Hey, I'll be watching you. You, too. Take care."
Montana hangs up and dials the hotel operator—again. He has been trying to get through to room service. This is his party. Downstairs, the official 49er affair is in full swing, but that's not his scene: wall-to-wall backslappers, many of whom wrote him off three years ago, two years ago, last year.
Montana is getting ready for his own people—his uncle and aunt from Monongahela, Pa., friends of relatives—maybe 40, all told. He has put on a white shirt and a tie. On a couch his dad, Joe Sr., is changing his grandson Nathaniel's diaper. Next to him Joe's wife, Jennifer, is pouring '82 Dom Perignon into a water glass and apologizing because room service hasn't brought up champagne glasses yet. Montana finally gets through to room service: eight pizzas, four orders of Cajun wings—wait, better make it six—champagne glasses, like 30 of them.
The TV in the corner is playing a tape of the game. Montana watches his 38-yard touchdown pass to wideout Jerry Rice with 40 seconds left in the first half, the play that made the score 27–3 and essentially put the game away. As running back Roger Craig goes in motion, left to right, Bronco nickelback Mark Haynes switches off Rice and picks up Craig. Rice then bends inside on a post pattern and loses strong safety Dennis Smith, who gets no inside help. Rice is all alone as he crosses the goal line. It's like stealing.
"Haynes was supposed to bump Rice before he switched coverage," says Montana. "He didn't. He gave him a clean release. I faked a slant pattern to John Taylor on the other side, and that froze the free safety, Steve Atwater. That's the thing about them. They kept following my eyes. Every time I looked somewhere, they overplayed. They showed that on film, and they never changed. Actually, they never changed anything they showed on film."
Smith is one of the Broncos' big hitters. So is Atwater, the 217-pound rookie. But they were whiffing as much as they were hitting, and on some of the hits the Niner receivers simply refused to go down. For example, on the first of Rice's three touchdown catches—a 20-yarder that capped San Francisco's first series—he bounced off Atwater at the Denver eight-yard line. "Rice was made to be a receiver, and Taylor's not far behind," said Craig in the locker room after the game. "They're not intimidated by the big safeties in this league. They're as good as running backs."
"Hey, Joe, you didn't even get wounded today," says Jim Bell, a friend of Montana's father.
"If I didn't get so tired, I could have played three games," says Montana. "I only got touched twice—once when I scrambled out of bounds—and I didn't get sacked at all."
Uh, make that one sack. The scramble was for no yards, technically a sack. "Is that right?" says Montana. "I should have dove for the yard. Those guys on the offensive line are going to kill me."
Let's hear it for the offensive line, left to right: tackle Bubba Paris, splitting time with Steve Wallace; guard Guy McIntyre; center Jesse Sapolu; guard Bruce Collie, splitting time with Terry Tausch; and Harris Barton, the mobile tackle who pulled and led the counter plays. At times Montana got as many as three looks to spot his receivers. On one of the rare occasions when Denver came with an all-out blitz, the Niners' front wall cut the rushers down like a firing squad. After that the Broncos stopped blitzing and played their same old layback zone.
With things neatly in place up front, the rest of the offense was merrily efficient, as it had been in the 49ers' first two playoff games. Rice, who finished with seven receptions for 148 yards, and Taylor, who had three catches for 49 yards, including a 35-yard score, flitted through the Denver zone like hummingbirds. Craig bounced off tackles for 103 yards running and receiving. Fullback Tom Rathman, who banged the left side for three short-yardage first downs, pulled off the most remarkable play of the day, corkscrewing his 232-pound body to make a one-handed reach-back catch at the Bronco 10 to set up the 49ers' third touchdown—a one-yard Rathman plunge three plays later. And of course, Montana was the master architect, completing 22 of 29 passes for 297 yards.
"People talk about our great offensive scheme," said inside linebacker Matt Millen. "Yeah, it's brilliant in its conception, but with lesser talent, it's nowhere. I mean how many teams have a Montana and Taylor and Rice and Craig and Rathman? I'll tell you, man, it's talent."
"I think this is the best offensive team I've ever seen," someone says as Montana watches himself being interviewed on TV.
"A lot of weapons," says Montana. "An awful lot of weapons."
Last Friday former 49er coach Bill Walsh, who created the monster that devoured the Broncos on Sunday, wrote a guest column for the San Francisco Chronicle in which he predicted a 35–17 Niner victory. Walsh went so far as to predict some final stats, including 460 total yards for the 49ers (they gained 461) and 24 completions in 32 attempts for 320 yards for Montana. Montana's numbers might have been right on target if he hadn't given way to sub Steve Young with 11 minutes to go.
After Friday's practice Mike Holmgren, new coach George Seifert's offensive coordinator, read Walsh's story and smiled. "I hope what I've been watching on film is what we'll see Sunday," said Holmgren. "What scares me is that it looks too easy."
On Jan. 17, the Wednesday after the NFC Championship game against the Los Angeles Rams, Holmgren studied the Bronco films with Montana for the first time. "How many of their games have you looked at?" Montana asked him.
"Ten," Holmgren said.
"And they've run this defense every time?"
Holmgren nodded. Montana's eyes lit up. "I can't wait," he said.
"Overconfidence, that's what scares me," Holmgren said last Friday. "Our guys have all looked at films. They're dying to get out there. Denver plays that old-style 3–4, Cover Three, which is a three-deep zone, or the Cover Two, which is two-deep, and they don't change.
"That's the defense that Bill Walsh designed his whole offensive scheme for when he first came to San Francisco, the static base 3–4. Then along came Buddy Ryan [as defensive coordinator of the Chicago Bears in the mid-1980s] and the 46 defense, and then people started copying our own guy, George Seifert, and the way he gave so many defensive looks before the snap. I remember Bill saying one day, 'Doesn't anybody play the old-style 3–4 anymore?' Well, these guys do.
"I kept thinking, No, they'll change for us. They'll blitz more. They'll do weird things. I was very concerned about Montana getting hit. He hadn't been hit at all in the playoffs. I was nervous about all those drug stories that broke on Wednesday. They upset him more than he let on."
O.K., assuming the Broncos stay with their 3-4 defense, what will you do? Holmgren got out a pencil and fined paper. "First of all, you read Smith, the strong safety," he said. "Ninety-eight percent of the time his alignment will dictate their coverage. Then there's Atwater. Very aggressive. The more you go for the hit, the more you miss.
"I think we can get a touchdown out of our tight end, Brent Jones. Pittsburgh should have had one [in the AFC Championship game], but Bubby Brister threw the ball late. We line up Rice and Taylor on the left side, and motion Craig right, toward Jones's side. If Atwater doesn't go with Craig [and the corner-back picks him up], we can get Brent down the seam. If Atwater does take Craig, we can get something up on top to Rice or Taylor."
In the first quarter, as diagrammed, Atwater stayed put, Jones beat the jam of linebacker Michael Brooks and split the zone for a seven-yard TD. "Just what they'd shown on film," Jones said later.
In the third quarter the Niners did the same thing, only this time Atwater went with the motion man. Rice broke over the middle for a 28-yard touchdown. "Give us two weeks to prepare for someone, and they're in trouble," said Rice.
"Here's another one," Holmgren had said on Friday. "We motion Craig left to right and hope the cornerback goes with him. If he does, we've got Rice on the post. It's a college coverage, figuring wider hash marks and a narrower side of the field to work with—in the pros the hash marks are in tighter and you've got a bigger area on the short side—but Denver plays it."
That was the play that produced Rice's 38-yarder right before halftime. Holmgren draws it up, the line blocks, Montana throws, Rice spikes. Textbook football. "They were rushing only three guys a lot of the time," said Collie. "Yeah, good luck. We realized at half-time that the only way they could get to Joe was to come in off the corners, to blitz more. They tried it once, and we blocked it and got a big gain, so they went back to the old stuff. But they seemed unsure, like they'd had too much to drink or were hung over."
While Montana and the textbook were dismantling Denver's defense, John Elway and the Broncos' offense were unraveling. Denver got a field goal on its second possession, but even that drive was weird. Elway tossed a shovel pass to running back Bobby Humphrey, who picked up 27 yards. On the next play Elway tried another shovel pass, but the ball hit Humphrey in the back. When Elway tried a third shovel pass, outside linebacker Charles Haley tipped the ball and the 49ers almost intercepted. "We expected them to go deep early," said Millen, "but this was strange, like they were setting us up for something that never came."
Elway was subjected to constant pressure, especially by right end Kevin Fagan, who was charging in like a maniac. Fagan played himself into exhaustion and spent half an hour in the trainer's room after the game. A couple of Elway's passes were batted away by nickelback Tim McKyer, who made the kind of plays Denver's defense didn't. Another Elway pass was deflected by free safety Ronnie Lott. Then Elway started pressing and misfiring, and the interceptions came—two of them, both in the second half.
Elway completed only 10 passes in all, for 108 yards. The Bronco running game picked up 64 yards. Put it together and you've got the worst Super Bowl blowout ever. A couple of hours after the game, Elway walked hand in hand with his wife, Janet, across the Superdome field, surrounded by photographers and autograph hounds. Finally, he said wearily, "Can't you let a guy sulk in peace?" They couldn't.
Before he stepped on the team bus, he answered a last question. "This is going to live with me," he said. "I know that."
For the Niners the victory completed an unparalleled run of postseason excellence. The historians will be spending the off-season trying to assign them a place in history. Greatest team ever? Well, offensively, yes. San Francisco has the perfect scheme and the perfect cast to execute it. Defensively? Sorry, we still like the Steel Curtain bunch in Pittsburgh, even though the Steelers played in the era of the head slap and the extended downfield bump. Greatest overall team? Let's put it this way. No other team has been as hot over three games—against top-caliber competition—as these Niners.
How about Montana, who answered each query regarding his stature among the game's alltime best quarterbacks in the same manner: "I don't want to be judged that way until I retire." Maybe the greatest quarterback ever is not one guy but a composite. On crossing patterns and quick slants—Montana. No one has delivered these babies with such sustained accuracy. Short squareouts—Joe Namath. Intermediate-range outs—Terry Bradshaw. Timed patterns to one receiver—John Unitas to Ray Berry. Seam patterns on rhythm—Dan Fouts, or maybe Montana. Fade patterns—Dan Marino. Deep posts—Otto Graham. Deep fly patterns—Norm Van Brocklin.
"I guess that's as good a way to rate 'em as any," says Montana. "Yeah, I kinda like that."
And into the off-season he goes—not to Honolulu and the Pro Bowl ("Elbow's too sore," he says) but to some other sunny isle with Jennifer and the three kids—the Caribbean, maybe. "I hear that in Aruba there's a beach where you can go out 80 yards and the water's only up to your waist," he says. "Perfect for the kids, plus I won't be known there."
Don't be too sure.