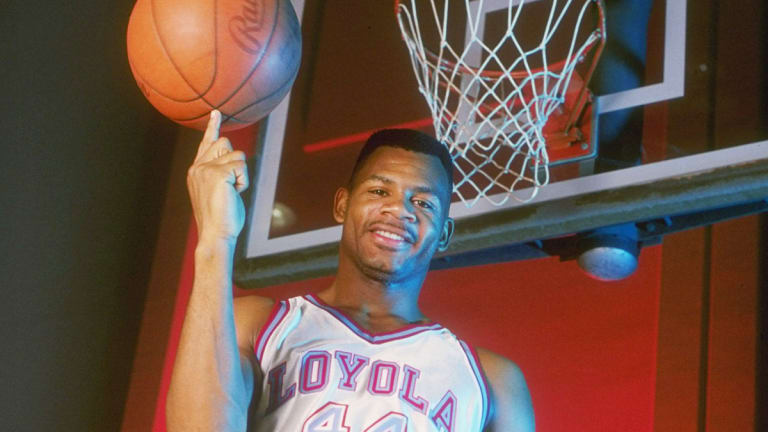 DEATH ON THE COURT
Loyola Marymount's Hank Gathers was at the top one minute. The next, he collapsed and lay dying as his mother stood mournfully by him
The pass was a rocket, a line drive from the left side of the floor. Loyola Marymount's Hank Gathers, one of the country's premier college basketball players, leapt up to the right side of the basket to meet it. The meeting of man and ball was dazzling, the two-handed alley-oop slam dunk spectacular. It was the kind of moment for which Gathers, who last season led the NCAA in both scoring and rebounding, lived.
"He turned back from the dunk and was smiling," said Don Ott, assistant commissioner of the West Coast Conference. "It was typical Hank Gathers."
But seconds later, with 13:34 remaining in the first half of Loyola's game against Portland in the semifinals of the WCC tournament late Sunday afternoon in Los Angeles, Gathers, a 6'7", 210-pound senior, collapsed near midcourt. He then struggled to his knees and was apparently trying to stand when his body went into seizure and he slumped back onto the floor, his body convulsing in spasms. Portland coach Larry Steele, who has been treated himself for a heart condition, was one of the first people to reach Gathers. "From my experience I knew right then it wasn't good," said Steele later.
Loyola trainer Robert Schaefer ran onto the court and was immediately joined by a doctor from the school, Dan Hyslop, who had been standing in line at the will-call ticket window at Gersten Pavilion, Loyola's home arena. Along with another doctor, Benjamin Schaffer, they began administering cardiopulmonary resuscitation as a stunned audience of about 3,000, including Gathers's mother, Lucille, an aunt, Carol Livingston, and two of his three brothers, Derrick and Charles, looked on. When the doctors failed to find a heartbeat, Gathers was placed on a stretcher and taken outside. Paramedics, having just arrived in an ambulance, administered electric shock stimulation and then took Gathers to Daniel Freeman Marina Hospital in Marina del Rey, five miles away.
"He was gone by then," said Ken Kennedy, a friend of Gathers's who is a senior partner with First Round Inc., a New Jersey sports management company. "He wasn't moving at all. I looked at Bo Kimble [Gathers's teammate, fellow Philadelphian and best friend], who was standing there [outside the gym], just staring at Hank. Bo looked back, and his face was so blank. So helpless."
At 6:55 p.m., an hour and 41 minutes after his spectacular dunk, Gathers was pronounced dead.
"He's died. He's died. What are we going to do? What are we going to do?" wailed Gathers's aunt Carol, who collapsed outside the emergency room after Hyslop informed the family. Inside, Lucille and some of Hank's teammates, including Kimble, sobbed and screamed.
"Words are hard right now," said Loyola coach Paul Westhead in a written statement. "This is the hardest thing I've experienced. To be so close to a player and see him fall and for it to be over. I feel a deep hurt for his family."
As of Monday, the cause of death had not been determined, but questions immediately arose about whether Gathers should have been playing basketball. After he fainted on the court during a Dec. 9 game against UC Santa Barbara, he was diagnosed as having an abnormal heartbeat. Gathers missed two regular-season games and one exhibition game while Vernon Hattori, a cardiologist at Daniel Freeman Hospital, administered a battery of tests on him. Then Hattori placed Gathers on an antiarrhythmic drug, and according to the school, the player was pronounced fit to return to the court. (Hattori was still unavailable for comment as SI went to press.)
"His condition was closely checked, and he was cleared," said Mason Weiss, the cardiologist who treated Gathers at the hospital Sunday. "As far as we knew, it was safe for him to play.... He was taking his medication."
However, according to several of his friends, Gathers had not been happy about taking the drug that Hattori had first prescribed for him. He said it made him sluggish, moody and fatigued and adversely affected his play. Gathers persuaded Hattori to reduce the dosage, and gradually he began feeling stronger. He would end up averaging 29.0 points and 10.8 rebounds a game this season.
"He started practicing really well," said Minnesota Timberwolves rookie guard Pooh Richardson, who grew up with Gathers in Philly and was preparing to play against the Lakers at the Forum on Sunday night when Gathers died. "He said he was ready to be MVP in the [WCC] tournament."
Gathers and Richardson had planned to have dinner together after the Laker game, along with Gathers's mother and aunt, who had flown in from Philadelphia for the tournament. "He wanted me to come to his game, but I went to see UCLA [against Washington earlier in the day]," said Richardson, who once played for the Bruins. "I found out before our game that he had collapsed. I knew at halftime he died."
La Salle's Lionel Simmons and Doug Overton, two close friends of Gathers's from his high school days, were told of his death in the waning moments of the Explorers' game against Siena in the Metro Atlantic Athletic Conference tournament in Albany, N.Y. Simmons began to weep on the court and had to leave the game. Overton, who was on the bench, wrapped a towel over his head and cried. Back in Philadelphia, Richard Yankowitz, Gathers's coach at Dobbins Tech High, said, "At least he died doing the thing he loved best."
Gathers did love basketball. He often said that without hoops, he would never have escaped the drug-and gang-ridden section of Philadelphia where he was raised. He and Kimble, who leads the nation in scoring this season, signed with Southern Cal, where they played one season, 1985-86, before coach Stan Morrison was forced out and George Raveling took over. Unhappy with Raveling, Gathers and Kimble took the recommendation of Father Dave Hagan, an adviser back in Philadelphia, and transferred to Loyola.
After sitting out a year, Gathers became a star in his first season, leading the Lions in scoring with a 22.5 average and rebounding with a 8.7 average. But that was a mere prelude to 1988-89, when Gathers averaged 32.7 points and 13.7 rebounds to join Xavier McDaniel, who played at Wichita State from 1981 to '85, as the only Division I players ever to lead the country in both categories in the same season.
Even after the Dec. 9 incident, NBA scouts still thought Gathers would be a first-round draft pick. They compared him with Terry Cummings of the San Antonio Spurs, who was diagnosed with an irregular heartbeat in 1983. Cummings even spoke to Gathers shortly after his collapse in December.
Gathers dreamed of playing in the NBA, but he wasn't shortsighted. He knew that athletes don't play forever, so he pursued sportscasting with the same ardor that he played basketball. A communications major who was on schedule to graduate this spring, Gathers interned at a Los Angeles TV station, and last summer he attended Roy Englebrecht's sports-casters camp in L.A.
Gathers was also known around campus for his sense of humor and his impressions, especially of Howard Cosell. Friends often urged him to try to put together a comedy act, but he admitted to suffering from stage fright. Still, when he called a press conference last year to announce that he would not turn professional after his junior season, he began by saying he had decided to retire from basketball to fight Mike Tyson.
WCC officials suspended Sunday's game after Gathers collapsed. The league then canceled the remainder of the tournament. Because Loyola had won the WCC regular-season championship, the conference selected the Lions to represent it in the NCAA tournament, which begins on March 15. At a Monday press conference, Westhead said that the Lions had not yet decided if they would participate in the tournament. But afterward, as reporters were leaving the conference, Kimble said, "We'll play. We'll play it for Hank."