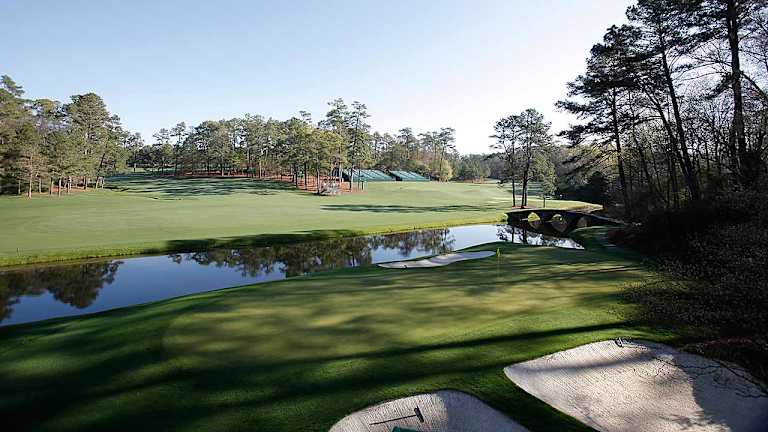 The 12th
The jewel of Augusta National's back nine is all a par-3 should be, and more
Don't give me the 18th at Pebble Beach. Or the 8th at Pine Valley. The 17th at Sawgrass? Pleeeeease. Don't tell me about No. 1 at Merion. O.K., the pins have baskets instead of flags. Call the weavers' union. You can keep the 16th at Cypress Point, too. I don't know anybody who has made a par at the 16th at Cypress Point in my lifetime, and I won't in the next one, so why discuss it? If that hole is a par-3, how come you have to hit a driver?
No, the best hole in the country is a hellacious, wonderful, terrifying, simple, treacherous, impossible, perfect molar-knocker of a par-3. It's a hole you play with a seven-iron, a sand wedge and eight weeks of scuba lessons. The best hole in the country is the 12th at Augusta National. Everything else is the front nine at the Sturgeon Bay Night Links.
Lloyd Mangrum called the 12th "the meanest little hole in the world." Jack Nicklaus calls it "the hardest tournament hole in golf." Fuzzy Zoeller calls it "the spookiest little par-3 we play."
More green jackets have been lost at the 12th than at the Augusta City Dry Cleaners. When the Masters comes to shove next Sunday, you can bet somebody is going to walk away from 12 looking as though he had just heard from the IRS. Or 60 Minutes. Tom Weiskopf made a 13 there once. He bounced back the next day with a 7. That was the last time anybody saw him with hair.
Sam Snead once made an 8 there and withdrew. Toney Penna hit the flagstick and still made 5. Gary Player putted off the green twice—on consecutive days. Twelve could drive a Baptist to drink.
Don't come to the 12th tee with a little fear hidden in your sock. Or a loop at the top. Or the Sunday Masters lead. You'll end up with a wadded acceptance speech and a wet Foot-Joy.
In 1973, J.C. Snead doubled it in the final round and lost by a shot to Tommy Aaron. In 1977, Hubert Green was four under par through 11 holes on Friday when he buried his tee shot in a back bunker, beat his bunker blast across the green and into the creek, dropped another ball in the bunker, chipped out to 20 feet and made it for double bogey. He took himself out of the tournament on that hole, but it was a hell of a nice putt.
Jack Nicklaus might have a green coat for every day of the week right now if he hadn't double-bogeyed 12 on Saturday in 1981. He lost by two shots to Tom Watson. You'll recall that when Nicklaus did win again (1986), his drop-dead 30 on the back nine Sunday included a bogey on 12. If he just makes a par there, he shoots 29 and is immediately given the southeastern quadrant of the United States.
Gary Player had the Masters won in 1962 until he bogeyed 12 on Sunday and fell into a three-way tie. In the 18-hole playoff the next day, he came to 12 with a three-shot lead and bogeyed it again. Bye. In 1964, Dave Marr was three back and on a run when he skipped one off the water, onto the bank and back in the water. Glory has a funny way of going glug, glug at 12.
In 1982, Seve Ballesteros bogeyed it Sunday and lost by one. On the last day in 1984, Larry Nelson came to the 12th nipping at Ben Crenshaw's spikes. Nelson was within one shot, but couldn't decide between a six-iron and a seven-iron. He should've chosen a waffle iron. "I hit it so bad I didn't know whether to tell it to get up or get down," says Nelson. It bisected the creek perfectly. Nelson made a 5 and finished fourth. In 1987, Jodie Mudd bogeyed the hole twice and doubled it once and lost by a shot.
This is a hole that proves you don't need 230 yards, six miles of railroad ties and an island green surrounded by alligator purses to be great. "If holes were cars," says Peter Jacobsen, "the 12th would be a Cadillac and the 17th at Sawgrass would be a Yugo." Says Robert Trent Jones Jr., a golf course architect, "It's the perfect example of less architecture, more golf."
The funny thing is, from the tee it looks like a Twinkie. It's just a friendly little 155-yard par-3 with a babbling brook running in front of the green and a happy grove of pine trees swaying behind it. And it'll rip your lips off. It has broken more men than bad whiskey and the over-under put together.
It's a pampered little par-3. It even has a thermostat. Since its green gets very little sunlight, it can be ruined by a frost. In 1981, they meticulously dug it up, installed water pipes 10 inches underneath the surface and put it back together. Now, if it gets too cold, they run 60-degree to 80-degree water through the pipes.
What they ought to do is bronze it. The 12th hole has more history behind it than Helen Hayes. For one thing, the bridge that crosses Rae's Creek is known as the Hogan bridge. A plaque there commemorates Ben Hogan's thrilling 274 in the Masters in 1953. Just try to walk across that thing without getting goose bumps the size of Pinnacles. It was on the tee at the 12th in 1964 that a nervous Nicklaus cold-shanked an eight-iron. Bobby Jones, his idol, was watching.
The green is about as big as the Des Moines phone book—only nine yards deep in some places, and 35 yards wide. There are three bunkers guarding it: two in back and one in front. Better to have died as a young boy than to get stuck in one of those back bunkers. You'll be faced with a downhill blast to a downhill green that is only slightly faster than the roof of the Transamerica building.
Jones, who designed the course with the Scottish architect Alister MacKenzie, once wrote about the 12th, "Here the distance must be gauged very accurately, and the wind sweeping down along Rae's Creek is often deceptive to the player standing on the tee about to hit.... Once the tee shot has been played into the creek, the short pitch to the shallow green is terrifying indeed."
What's even more terrifying, indeed, is that it's all tucked back into a nook of pines that makes the wind swirl in, out and around the hole. As such, it tortures the best golfers in the world. There are more theories about how to play the wind at 12 than Ping has lawyers. Hogan once said, "Never hit on 12 until you feel the wind on your cheek." Ken Venturi says to look at the flags on 11 and 12, because they're never up at the same time. Don't hit when the flag is down at 12, he says. Player says, "If the flag on 11 is blowing left to right and the flag on 12 is blowing right to left, pay no attention to what's happening at 11." Zoeller watches the trees on the far side of the 13th tee to see where the wind is coming from. Jacobsen says he looks at everything, including the fans behind him. Curtis Strange looks at the water and at the flags. And then there's Green: "They say if the dogwood tree on the right of the 13th tee is moving, then the wind is blowing over the 12th green, and when the dogwood stops moving, there's no wind. I don't believe it."
Bob Rosburg, in the days before he had an antenna growing out of his ear, came to the hole on a windy day and hit a four-iron. Now, Rosburg was never known as the Arnold Schwarzenegger of golf. In fact, it was said that nobody hit more frog hairs in regulation than Rosburg. But on this particular hole, the wind died just as he hit, and Rosburg's ball didn't just clear the water, it cleared the green, the back bunkers, the terraces behind the green and the fence behind the terraces. It ended up on the 9th hole of the bordering Augusta Country Club. You got a line on that, Rossi?
So Rosburg had to re-tee. The wind came up again. What to do? Rosburg swallowed hard and kept the very same club in his hand. This time, his ball landed 15 feet from the pin and he made the most maddening 5 in the history of golf.
Playing with Rosburg that day was Arnold Palmer, who could sympathize. The wind at 12 probably cost him the 1959 Masters. Leading the tournament the last day, Palmer hit a shot that the wind knocked into the creek. He dropped, pitched over the creek and the green, chipped back again and two-putted for a 6. Palmer finished third, two shots behind the winner, Art Wall Jr. Cold-blooded little hole, isn't it?
Nicklaus has a rule for the 12th: Don't go for the pin if it's on the right. Hit for the middle of the green, make your par and get out while you can. There is not enough room, and too much wind, sand and water to go for it. "It comes down to whether you want to keep it in play, or go for a 2 and come away with a 5," Nicklaus says. He must know what he's doing. Until he turned 40, his cumulative score on 12 was even par.
Only three men have made a hole-in-one at 12 in the Masters—probably because everybody is so scared of it—and each ace comes with a story.
In 1947, Claude Harmon was playing with Hogan. Now, to find two more opposite personalities would have taken six engineers and three computers. It would be sort of like pairing Gary McCord with J.C. Snead. On the golf course Hogan had all the personality of magnesium. Harmon, on the other hand, was a prince among club professionals and was renowned as a charming teacher. He taught four presidents—Eisenhower, Kennedy, Nixon and Ford—not to mention King Hassan II of Morocco.
Anyway, Harmon was your basic hail-fellow-well-met. Hogan was not. On that day Harmon had the honor at 12. He stepped up and knocked the ball into the hole for the first-ever ace there during the Masters. Hogan didn't say a word. Not a shake of the hand, not a "well done," zip. Instead, he took one last puff of his unfiltered cigarette, stepped up to the ball and hit it a few feet past the cup.
As the crowd continued to roar for Harmon, Hogan's eyes never wavered. Harmon retrieved his ball from the hole, accepted the plaudits due him, then moved out of the way. Hogan paced around his putt, stared it down, then stroked it in for a birdie.
As the two made their way to the 13th tee, Hogan finally spoke up.
"You know, Claude," Hogan said. "That's the first 2 I've ever made on that hole."
Oddly, the two were close friends.
In 1959, William Hyndman III, an amateur, made the second ace at 12, thanks to the help of his caddie, who went by the name of First Baseman.
"What's it going to take. First Baseman?"
"Six-iron," said the caddie.
"Six-iron? That's too much," said Hyndman.
"Nope. Got to step up and get it all."
And that's exactly what Hyndman did. The ball took one hop past the pin and spun back into the hole. Touch 'em all.
When Curtis Strange came to the tee in 1988, he was a lousy bet to make 1. He had four-putted the unforgivably slick 9th green and was heard to say as he left, "And you people are paying good money to watch this—." The pin on 12 that day was in the one place where you're not supposed to make a hole-in-one—far right. But Strange was going so badly he needed to make some birdies just to make the cut. He aimed slightly left of the pin—still a dicey idea at best—and let fly. "I pushed it perfectly," Strange remembers. It hit the green and rolled six or seven feet into the hole for an ace.
But that's when Curtis did something strange. He picked up the ball and threw it in the creek. "I don't know why I did it," Strange says. "I just thought, This'll do something for the people. It was spontaneous. I didn't think about it. It had nothing to do with what I'd done the rest of the day."
Some sportswriters thought Strange impudent. "He could've given it to his grandchildren," they said. Says Strange, "I hope I have something better to leave my grandchildren than a golf ball."
Some people think it made perfect sense. "All the gods of golf are down there in that corner anyway," says Zoeller. "If you beat that hole, you better give them something."
It was such an odd thing to do—to throw away a museum piece—that people got suspicious. One rumor went that when Strange got the ball out of the hole, he realized he'd been playing the wrong one. That's why he threw it in the water. So nobody could tell on him. There was also the story that Strange didn't want the standard golfer-kisses-golf-ball picture in the papers the next day, because he wasn't playing the brand of ball he was paid to play. Bull pucky, says Strange. Go find it yourself, and you'll see.
If you ever get a wild hair and an oxygen tank and decide to go looking for Strange's ball—a Maxfli DDH, he thinks—pick up half a dozen or so of Tom Weiskopf's while you're at it, will you?
The 12th was to Weiskopf what the Exxon Valdez was to shrimp. Weiskopf loved the Masters. "Every year, after I open my Christmas presents, I start thinking about the Masters," he used to say. On Thursday in 1980, the pin was, typically, front left, the easiest of all pin placements because you can shoot for it. Better yet, there was no wind. Weiskopf took an eight-iron and sailed it to the front fringe, where it hit, took a little skip-hop forward toward the pin, then spun rapidly and cruelly back into Rae's Creek.
Bad break. Time to drop a ball on the far side of the water and try again, hitting 3. Only Weiskopf didn't lay up next to the creek, he went farther back—about 60 yards from the hole. "I didn't want a little wedge. I wanted a half or three-quarter wedge."
He hit the exact same shot. Fringe. Skip-hop. Spin back into Rae's Creek. Hitting 5. "Now I'm pissed," he recalls.
Weiskopf decided to drop again in the same place—60 yards back. Even Weiskopf is not sure why. "You're embarrassed," he says. "You're in a fog. You're standing in front of the world, and it's like you're playing the hole naked."
This time his drop rolled into a barren spot and his wedge shot did a little Greg Louganis dead into the water. Hitting 7.
Weiskopf wasn't moving an inch. He was determined to drop in the same place, 60 yards from the hole. Who knows what happens to the mind in situations such as these? My theory is that some madness chemical fires in the brain and reason gets cleat marks in its head.
Madness: We are going to prove to the world that this was the place to drop! I don't care if we blow the tournament and the next six tournaments after this and we have to go back to frying burgers at the Dairy Queen!#!&!
Reason: This is crazy. Let's go up and drop right next to the creek like we should have the first time. Whaddya say, fellas?
Madness: (Cleatstomp.)
Another drop. Another terrible shot. Another sinking feeling. Hitting 9.
There was absolute and funereal silence now. It's quiet at Amen Corner, anyway. The fans are kept about 20 yards behind the 12th tee. But now there was nothing. No groans, no tears, no muttering, no go-get-'ems—just dead, cold silence, the kind you would get in the car for about three miles after your dad blew up.
Weiskopf's forehead was so hot you could stir-fry on it. Drop again. Same spot again. Splash again. Hitting 11.
One person in the crowd began crying. It was Weiskopf's wife, Jeanne. You make big plans, rent a house, bring the kids, hire a nanny, fly to Augusta, go to all the pre-tournament parties, and then, in one two-minute span of golf, it all goes splerch. Standing next to Jeanne was their close friend Tom Culver. Culver hugged her and said, tenderly. "Jeanne..."
"Yes, Tom?" she said, choking on the heartache.
"You don't suppose he's using new balls, do you?"
Finally, Weiskopf hit his sixth ball to the back edge of the green, where, somehow, it stayed, and he two-putted for a 13, the highest score ever taken on any par-3, or par-4, in the history of the Masters. Tommy Nakajima had a 13 on No. 13 in 1978, but at least that hole is a par-5.
If I were Weiskopf, here is how I would handle the obvious question the rest of my days. It's the way Palmer explained a 12 he made in the 1961 L.A. Open.
Q: "Thirteen? How the hell did you make 13 on a par-3?"
A: "Missed a 20-footer for 12."
When Weiskopf came to the hole the next day, he was mostly killing time until his plane left town. He had no choice but to go for the pin and try to make an eagle. He hit his first shot off the bank and into the water, and he chose not even to walk anywhere near the creek. He simply put another tee in the ground and hit again. "I thought my chances were better."
Reason: "Look, this is...."
Madness: "Just shut the hell up."
He hit another one in the creek, his seventh surly contribution to the Augusta waterway system in two days. He teed it up again. This was now becoming a scientific quest: Could a lofted metal club send a spheroid over an active body of water? This one he knocked on and two-putted for a 7. He finished with a 79. His two-day average for the 12th: 10. If they ever build a memorial to Weiskopf, it had better be waterproof.
If there was one man who allowed himself a slight grin at Weiskopf's 13, it was Dow Finsterwald, who made 11 there in 1951 and has been walking around having to answer for it ever since. Finsterwald was 21 when he washed four balls in Rae's Creek. His playing partner that day, the late Denny Shute, made a birdie 2. As they were walking off the green, Shute said to Finsterwald, "Well, son, we had a good best ball, anyway."
What's to be ashamed of? This hole has taken a mouthful out of some of the most famous hindquarters in golf. Consider: Deane Beman (two 7s), Billy Casper (8), Ray Floyd (two 7s), Bob Murphy (8), Sam Snead (8), Royal and Ancient secretary Michael Bonallack (a 6 and a 7), David Graham (7), Charles Coody (two 7s), Bruce Crampton (7), Ben Crenshaw (7), Lon Hinkle (7), Craig Wood (8), Al Mengert (8), David Edwards (8) and Graham Marsh (8). And you thought you would never see a snowman in Georgia.
Payne Stewart is the latest famous notch 12 has cut in the Hogan bridge. It was 1985, the final round, and Stewart was in contention to win the tournament. He hit an eight-iron on nothing but the sweet spot, and the ball flew into the right back bunker. His bunker shot rolled just past the pin. And just past the green. And just past the fringe, just past the rough, just past the bank and down into Weiskopf's Creek.
Having dropped another ball on the tee side of the creek, Stewart hit a pitch that landed right next to the hole, then spun back into a liquid home. Now he was hitting 6. It was not a good time to ask him if he still felt he had a chance to win the tournament.
"All I could see was that green jacket getting ripped right out of my closet," Stewart remembers. What to do but try it again? This time Stewart was too conscious of the water, and he hit the ball right back to square one—the bunker. He chopped it out of there like a man might chop at a radioactive weed, with more fear than hope. The ball trickled onto the green and stayed, and he two-putted for a 9, more than enough to cost him the championship.
A chip out of that bunker can give you a facial tic. If you don't hit it just tenderly enough, you can easily watch your Titleist do a little 23 skiddoo over the green and into the water. In 1966, Player hit a Thursday tee shot that slammed down so deep into the bank behind the back bunkers that you could barely see the ball. Player considered taking a drop and hitting 3, and he probably should have, but he was no doubt overcome by the madness secretions. He decided to try to slap it out, let it run feebly into the bunker below and hit it again. But Player goofed. He hit too hard, and the ball scooted across the bunker, over the fringe, onto the green and into the cup for a 2. "One hundred percent luck," says Player.
But there have been a whole lot more tears at 12 than laughs. Take what happened to Bobby Mitchell. He lost more than a few balls and a tournament at 12. He might have lost a career.
It was 1972, and Mitchell was a promising 29-year-old on the Tour. He played brilliantly at Augusta that week—17 holes a day. His week at 12 only Stephen King could love: 5-5-5-4, seven over par. Yet he lost the tournament to Nicklaus by only three shots. "I made double bogey every way you could think of," says Mitchell, who is aiming toward a comeback on the senior tour. "I got stuck up in the honeysuckle one day, hit it into the water the next and got buried in the bunker another day. That dang hole cost me the tournament." He won the Tournament of Champions two weeks later and finished 11th on the money list that year, but after that he never won another tournament and never finished in the top 60 on the money list again.
Twelve has been a thorn in golfers' Sansabelts since the first Masters, in 1934, when Ed Dudley made four 4s there and lost the tournament by three shots. Three years later, Ralph Guldahl was running away with it when he came to 12, plunked his shot into the creek, chipped too far and carded a little 5. That left Byron Nelson to go on such a tear—a 2 on 12 and a 3 on 13—that he not only won the tournament, but also they put up a bridge in honor of his run. It spans Rae's Creek between the 13th tee and the fairway.
Sam Snead never lost a tournament at 12, but he almost did. In 1952, he and Hogan were tied starting the final round. Snead led by one as he came to 12. His tee shot, though, flew dead into the creek. Unluckily, the ball he dropped on the tee side of the creek landed in a depression. He flailed at it and plopped it barely over the water onto the grassy slope short of the green. He was lying 3, and still he wasn't on the green.
In those days, Snead had a caddie named O'Brien, nothing else, just O'Brien. O'Brien caddied for Snead in the Masters he won in 1949 and would again when he won in 1954. But this time victory looked impossible. Snead would make 6 at the 12th, sure as azaleas bloom in March. But that's when O'Brien looked at him and said, "We ain't out of this tournament yet, Sam." At which Snead chipped the ball, only to discover it had a lump of mud on it. Nevertheless, the ball wobbled across the green, mud and all, right into the cup. He went on to birdie 13 and 16, and beat Jackie Burke Jr. by four shots. "That was the best 4 I ever made in my life," Snead says.
But nobody lost and won more at 12 in one year than Venturi and Palmer in 1958. You could say entire careers were at stake.
Venturi was the talk of the Tour. Two years earlier, playing as an amateur in his first Masters, he had led until the final day, when he shot 80 and finished second to Burke. In a lot of ways, Venturi was like Palmer himself—handsome, rugged and preposterously talented. In fact, sportswriters considered Venturi more likely than Palmer to win that year.
On Sunday, Venturi was one shot down to Palmer. His tee shot on 12 landed in the middle of the green and stayed there for what looked like an easy par. Palmer's ball, though, sailed over the green, hit in the grass between the right back bunker and the green and plugged.
When Palmer got to the ball, he told the rules official there, the late Arthur Lacey, that he would be playing the embedded-ball rule and would take a free drop. It had rained the night before and again early in the morning, making the grounds sodden and squishy. A local rule at Augusta National allowed relief from an embedded ball "through the green," which means damn near anywhere you want except the tee, the green and the hazards.
Lacey, wrongheadedly, was having none of it.
"Not at Augusta you don't," Lacey is supposed to have said. Lacey was a fine British golfer from Buckinghamshire who had played on two British Ryder Cup teams.
"I will too," said Palmer from Latrobeshire, getting his fur up. "It's my right."
The two argued a bit more, but neither was to be swayed. Now, here's where things got cloudy. Palmer says he announced then and there to Lacey and anybody else around that he was going to play a second ball and record both scores, to be figured out by somebody bigger than Lacey as the day went on.
Palmer slapped at the embedded ball and moved it only about a foot and a half. Palmer chipped it close but missed the putt and took a 5. Venturi took 3.
Palmer then went back to the scene of the crime—the site of the original embedded ball—and dropped a new ball. Across the green, Venturi sat on his golf bag and whispered to his caddie, "We're going to win this tournament."
This time Palmer chipped it dead stony and made the putt for a 3. So which was it, a 3 or a 5?
Palmer must have thought it was going to be ruled a 5, because he nearly came out of his shoes with his drive on the par-5 13th. In fact, he hit it so far that he was in a position to go for the green in 2. Venturi recalls that as the two walked along the 13th fairway, Palmer said. "I know they're going to give me a 5."
In fact, Venturi says that's why Palmer went for the green with his second shot on 13—to make up ground. He hit a gorgeous three-wood that checked up nicely on the green, and he sank the 18-foot putt for an eagle 3. Venturi made a birdie 4.
As they were playing the 14th, there suddenly were war whoops from the crowd—Armyish whoops. The scoreboard showed that Palmer's 5 on the 12th had been changed to a 3. Now, instead of the two being tied, Palmer led by two. Venturi was so rattled that he three-putted the 14th green, and after Palmer was given official word of the ruling on the 15th fairway, Venturi also three-putted the 15th and 16th. Palmer won by two, 284-286.
Venturi agrees that Lacey blew the call—Palmer was allowed a drop there—but he says the balls should have been played concurrently. "Suppose you sink the first ball," says Venturi. "You're not going to go back and play a provisional then, are you? You declare and then you finish with the farthest ball out and work in. If you were on a par-5 and decided to declare a provisional, you wouldn't finish out with the first ball and then walk 350 yards back and play the next one, would you?"
The rule book for 1958 seems to support Venturi. For one thing, you definitely do have to declare before playing either ball, as Palmer did. For another, it reads. "When a competitor is doubtful of his rights or procedure, he may play out the hole with the ball in play and, at the same time, complete the play of the hole with a second ball." Oops. Palmer, who seldom involves himself in controversy, didn't want to touch this one with a 40-foot two-iron. He insists that he played everything exactly by the book.
Palmer eventually won eight majors. Venturi never did win the Masters, and his only major victory was the 1964 U.S. Open. Who knows how different things might have been if Palmer had been stuck with 5 at number 12 instead of 3?
Venturi isn't stewing about it. "I like my position in life now," he says, currently in his 23rd year as a CBS golf analyst. "There were a lot of guys who wanted to beat me back then. And now there are even more guys who want my job."
And Palmer isn't exactly destitute, either.
Here's one last story about the 12th. It was 1963, and the late Champagne Tony Lema was having a rocky Sunday. He had missed a short putt on the 10th hole and three-putted the 11th. Now on 12 he hit a good shot, which left him eight feet from the cup, but his putt just missed. Lema couldn't stand it. He let go a string of oaths that would make a Jersey longshoreman blush. Just then he realized that his playing partner, a Nationalist Chinese named Chen Ching-po, was looking at him curiously.
Embarrassed, Lema apologized for using such language "in front of a visitor to our country."
"Is all right," said Chen. "If I knew those words I would use them myself."