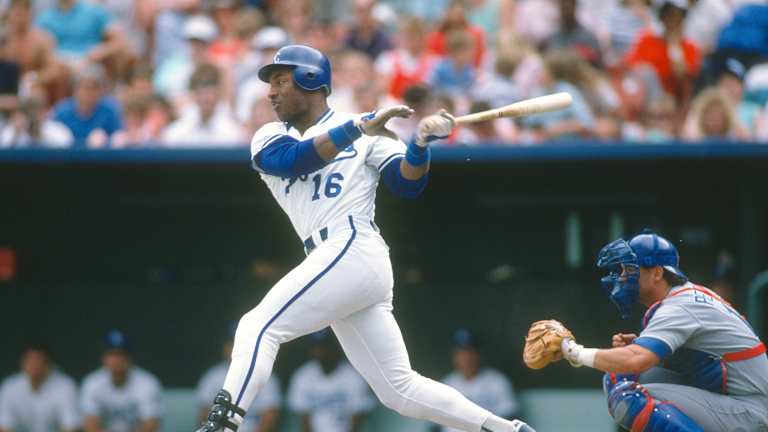 A Tale of Two Eras
Today's players are bigger and stronger, and they make more money. But is the game Bo knows really better than its distant cousin of 40 years ago, when a Duke ruled in Flatbush and Ted Williams was still the king of Swing?
Last October, before the second game of the World Series, Oakland hitting coach Merv Rettenmund and I were watching the Athletics take batting practice and discussing one of Rettenmund's favorite topics, the science of hitting. Suddenly, Jose Canseco stepped into the batting cage and flicked a towering fly ball deep into the seats of Oakland Coliseum, at least 50 feet beyond the 375-foot mark. Then he hit another moon shot. And another.
"Imagine what Jose would have done if he'd played in those tiny ballparks of the '50s," said Rettenmund, watching Canseco twitch his shoulders and get set to hit again. The idea fascinated Rettenmund. "What if Ted Williams came up today, especially in the National League with its huge parks?" he said. "Do you think his philosophy of hitting would be any different?"
It was an intriguing question. My guess was that Williams would try to hit the other way more, to take advantage of the roomier outfields. Yet, a few months later, I asked Williams if he would hit differently now than he did in 1950, and he replied, "Never."
Maybe so. As San Francisco Giants general manager Al Rosen says, "Ted was a hybrid hitter. He wouldn't change if he came up in 1910 or 2010." But Rosen adds, "Almost everyone else would have to make adjustments going from one era to another."
What a difference a few decades can make. Though the rules are basically the same, today's game is a distant cousin of the one played in 1950, just as that version was far removed from its counterpart in 1910, the heart of the dead-ball era. In 1950, baseball was a slow, plodding affair, featuring sluggers like Gus Zernial and Walt Dropo, who could hit the long ball but not much else, and "speedsters" like Dom DiMaggio, who led the American League that year with 15 stolen bases. But, in some respects, particularly in catching and depth, the game in those days was far superior to the often slipshod Hollywood model played in 1990.
Perhaps that's why otherwise highly opinionated observers have a difficult time deciding which of the two versions is better baseball. "The best teams today are better than the best teams then," says St. Louis Cardinals manager Whitey Herzog, who was a player in the Yankee farm system in 1950. "But the worst teams now are worse than the worst teams then."
Rosen, who was a rookie third baseman for the Cleveland Indians that year, is noncommittal. "Players are bigger, faster, stronger and better conditioned," he says, "so it stands to reason the great players should be greater today, just as they are in other sports. But I would have to stop before I go any farther. I just can't say which game is better."
In most sports, such a comparison would be ridiculous. Almost no one would argue that 1950's football and basketball players were superior to those of today. But baseball is different. While other sports have been radically revamped over the last 40 years, the structure of baseball has remained essentially unchanged. In addition, baseball's past is so well documented, it's easy to make comparisons from one era to the next. Looking back at baseball in 1950 is like peering into a distant mirror. The more you look, the more you discover about today's game: its strengths, its weaknesses, its bond—however tenuous—to those glorious days gone by.
In many ways this decade of fast-paced, big-money baseball bears scant resemblance to the relaxed and baggy game of 40 years ago. Connie Mack was still managing the Philadelphia Athletics in 1950, as he had since 1901. The newest park was Cleveland's Municipal Stadium, which had opened in 1932; all the others, except Yankee Stadium, had been built before 1915. All 16 major league teams had been rooted in their respective cities since the turn of the century, and every team—except the Browns and Cardinals in St. Louis—was based east of the Mississippi. The center of the baseball universe was New York City, where the Yankees had won 16 pennants in 30 years and the Giants and Dodgers were in the midst of their 10-year reign in the National League, during which they would win all but two flags.
Baseball was, more than anything, a game then, far different from the big business it is today. The highest-paid player in 1950—Williams—earned a salary of $125,000, which, when adjusted for inflation, comes to $643,125, or $56,000 less than Phillie reserve outfielder Carmelo Martinez. In 1950, the Philadelphia Athletics were sold for $2.9 million ($14.9 million in 1990 dollars)—a steal compared with the $77 million the Seattle Mariners fetched last year. Television was still in its infancy 40 years ago, and as a result gate receipts represented 74% of all baseball revenues. Now TV and radio rights account for 47% of revenues, and ticket sales only 37%. And major league baseball's combined operating profits have climbed an astounding 3,500%, from $765,000 ($3.9 million in today's dollars) in 1950 to $140 million last year (chart, page 42).
Baseball in 1950 stood at the end of the era built by Babe Ruth. It was still something people saw on news-reels in flickering black and white—though there were precious few black faces on the field. Jackie Robinson was in his fourth season with the Brooklyn Dodgers, and there were only eight other blacks and nine Latins in the majors, compared with 159 blacks and 107 Latins last season. Such black superstars as Willie Mays, Henry Aaron and Ernie Banks had yet to arrive at the recently unlocked gates of the big leagues.
Some old-timers, among them Cub manager Don Zimmer, who was a hot minor league prospect in 1950, insist that the differences between then and now are not important. "The game is the same," says Zimmer. "Ninety feet. Four balls, three strikes, three outs, 60 feet, six inches. Society changes. The game's the same."
But many former players who mastered baseball in that era will tell you that the game is not the same, that quality has been watered down by expansion. Gordon Goldsberry, a first baseman for the Chicago White Sox in 1950 and currently a special assistant for the Baltimore Orioles, says, "My contemporaries believe that with nearly 40 percent more major league teams today, nearly 40 percent of the players active now couldn't have made the majors in 1950. Where there were 12 or 13 quality players on each team then, now there are eight or 10. You don't see the depth in the starting rotations you saw then. If Cleveland came in, you got Bob Lemon, Bob Feller, Early Wynn and Mike Garcia. Detroit? Hal Newhouser, Virgil Trucks, Fred Hutchinson, Dizzy Trout, Art Houtteman. New York? Vic Raschi, Allie Reynolds, Eddie Lopat, Whitey Ford."
Los Angeles Dodger manager Tom Lasorda was coming up through the Brooklyn farm system in 1950, and to him, the game was measurably superior back then. "The caliber of ball isn't as strong now," he says. "There were only 16 teams then. You could hit.380 in the minors and get sent back. The Dodgers had 24 farm clubs. Players were standing in line, waiting."
Indeed, in 1950, there were about 27 minor league jobs for every major league job; today, the ratio is 6 to 1. "Players often didn't make the majors until they were 25 or 26," says Goldsberry. "Some players rushed to the big leagues today might have gotten lost along the wayside, trying to make it up the ladder then. Players today get promoted after hitting .238."
True enough. On this year's 40-man rosters, there were 53 players who hit under .250 in the minors last season. Boston promoted a 29-year-old pitcher, Steve Ellsworth, who was 1-8 with a 5.02 ERA in Triple A; Texas brought Bobby Witt to the majors in '86 with an 0-6 minor league record. In 1949 shortstop Bobby Morgan batted .337 with 112 RBIs and scored 109 runs for the Dodgers' Triple A club in Montreal, but he couldn't crack Brooklyn's starting lineup the next season and had to settle for a role as a backup third baseman. Like Zimmer and Rocky Bridges. Morgan was stuck behind a future Hall of Famer: Pee Wee Reese.
In those days, most teams subscribed to the Darwinian model of player development. Now they hire psychologists and motivational specialists to help prospects survive. Yet it doesn't seem to have made much difference on the field. In 1950, there were seven 20-game winners and nine hitters with 30 home runs in Triple A alone. Last year, there were no 20-game winners in all the minors, and only one minor leaguer has hit 30 homers in the last two seasons—Eric Anthony in the Houston Astro system.
"The best thing about going from a 25-to 24-man roster is that now we don't have to watch that 25th man play," says Cub outfield instructor Jimmy Piersall, then a Red Sox minor league prospect. "That's how watered-down the game is today."
You would think that population growth alone would have provided more big league-caliber players. The U.S. has grown 65% since 1950. Not only that, but California has nearly tripled in size and Florida has more than quadrupled, and those two states provided 36% of the players selected in the top five rounds of last June's draft. Likewise, two other hotbeds of talent—Venezuela and the Dominican Republic—have at least tripled in population. Don't these figures mean anything?
In a word, no. True, there are more kids playing organized baseball now, but that's not what really matters. Says Montreal scouting director Gary Hughes, ''In 1950. kids went to the park or to a field and played baseball all day. Today there are so many rules at the parks, who can play? Everything is so rigidly organized. Little League is played after six o'clock or on Saturdays, period. Urban congestion has spread so far, there aren't that many open spaces to play in anyway. The open space today is the driveway, where you put up a basketball hoop. One thing everyone agrees on is that there are fewer good outfield arms today, and one reason is that kids don't have the chance to throw enough. You probably have more kids playing today, but I don't think they are actually playing more baseball."
Worse, many of the young players with the best potential aren't choosing to play baseball. In the '50s, baseball consistently attracted the cream of America's jocks, no matter what their best sport was. Why? Simply because no other team sport came close to offering the cash and the prestige that baseball did. As White Sox general manager Larry Himes says, "Granted, all athletes in all of society are much better today, but back then anyone who wanted to make money in sports pretty much had to play baseball. Things have changed now. The great progress made by the NFL and NBA, plus the emphasis on football and basketball in high school and college, makes baseball recruiting very difficult." Case in point: Of the five top-rated high school position players in this June's baseball draft, four have signed letters of intent to play either football or basketball in college.
One argument for the superiority of the current game is that players today are on average bigger, faster and much better conditioned than those of 40 years ago. In 1950 there were scarcely a dozen every-day players who weighed 200 pounds. "I was 5 foot 10 and weighed 170 pounds," recalls Rosen, "and they referred to me as 'big' and 'burly.' " Last season, in contrast, the A's fielded a lineup that had half a dozen 200-pounders.
And consider the superb shape these contemporary behemoths are in. As Williams notes, "One of the biggest differences between now and then is off-season conditioning. I didn't touch a bat in the off-season. Looking back, I wish I had. But it just wasn't done."
Williams hunted and fished when he wasn't playing ball, but other ballplayers in those low-pay days didn't have the time to pursue a full-time schedule of conditioning. "Most of us had to work at off-season jobs to make ends meet," says Goldsberry. Even if there had been the time to spend in weight rooms, those old-timers wouldn't have done it. They didn't believe in such guff. "We were told that loose muscles were better, and that's what we believed," says Red Schoendienst, a coach with the Cardinals now and an All-Star second baseman in 1950.
Loose-muscle conditioning may have been the answer to day-to-day play, but it certainly didn't add years to a player's career. In 1950, a grand total of three players who appeared in more than 100 games were 35 or older. Today there are at least 25 who have done it, and some of them, like Dwight Evans, Carlton Fisk, Dave Winfield and Ozzie Smith, look even better today than they did 10 years ago. So chalk up a plus for longevity in 1990.
But what about strategy then and now? Which version of the game is superior? For one thing, catchers were indisputably better then. On the other hand, players are indisputably faster now. And how has the combination of weak arms behind the plate and fleet feet on the bases changed the game? "Base stealing has dramatically altered things," says Oriole general manager Roland Hemond. "Pee Wee Reese probably could have stolen 50 bases if he'd tried, but in 1950 you never ran when you were behind. Today, teams get back into games by stealing bases and forcing mistakes."
Many old-timers tend to discount speed as an important factor in the difference between the two eras. And to be sure, stolen bases do not an offense make. (It is worth noting that the Red Sox finished last in the American League in stolen bases in 1988 and 1989, yet in both seasons they led the league in runs scored.) However, speed puts a pressure on the defense—especially on the pitcher—that didn't exist 40 years ago. Speed has also changed outfield defense. Last year the Orioles showed how dominant a swift outfield can be. No 1950 outfield could have touched the Orioles' hard-charging glove men—or any of the three other outfields that rank as the best in the last 20 years: the 1980 A's (Rickey Henderson, Dwayne Murphy, Tony Armas); the 1975 Red Sox (Jim Rice, Fred Lynn, Evans); and the 1985 Cardinals (Vince Coleman, Willie McGee, Andy Van Slyke).
So raw speed is a big plus in 1990. And what about pitching? Here we are dealing not so much with the improved physical prowess of individual players, but with a major change in strategy: namely, the development of the multipurpose bullpen. In 1950, Jim Konstanty won the National League MVP award for pitching the Phillies to a pennant, with 22 saves. Last season, 21 pitchers had that many saves or more, and the San Diego Padres' Mark Davis led the majors, with 44. Similarly, in 1950, 41% of the starts turned into complete games; last season only 12% did. "What pitchers started in those days, they wanted to finish, and you had to fight them to get them out of the game," says Oriole scout Birdie Tebbetts, then a catcher for the Red Sox. "Now a $2 million starter is replaced by a $1 million middle man who is followed by another $1 million setup man to finally get to the $3 million guy who finishes the game."
Herzog says, "In 1950, there were Konstanty and Joe Page, but relievers were usually guys who couldn't start. Now we build entire staffs from the top starter to the 10th or 11th spot on your staff, and sometimes we build them from the back forward."
All of this has made the game of the '90s more exacting—both on the mound and at the plate. As Cub general manager Jim Frey says, "I don't think there's any question that today's great relievers have made hitting more difficult." Former Phillie star Mike Schmidt adds. "It usually takes a hitter two or three at bats to gauge a pitcher. Now you probably get no more than two looks at a starter. The next at bat, you get another guy, usually with one outstanding pitch. And for your final at bat, you get the closer with the one great pitch."
Nowadays, with expansion, teams play one another less frequently—from 12 to 18 games a season, depending on the league—so hitters see the same pitchers far fewer times than they did when teams played one another 22 times. This makes it much tougher to hit well in 1990. Still, Ray Boone, the Indians' .301-hitting shortstop in 1950 and now a Red Sox scout, says, "There were more hard throwers then and the quality of the starters was much higher."
Whether that is true or not, one statistic seems to belie the claims that hitting in 1950 was as tough as it is now: In the National League in 1950, there were 9.3 runs scored per game, while last year there were only 7.9. The gap is even greater in the American League, despite the addition of the designated hitter. Likewise, the ERA for both leagues went down from 4.36 in 1950 to 3.70 last year.
Of course, much of this is the result of overwhelming bullpen power. But not all of it. Pitchers have gotten trickier and more talented every decade. Goldsberry says, "It was more of a macho, power game in 1950 than it is now." Former Yankee and Phillie manager Dallas Green says, "It is harder to hit now because all those trick pitches came into play in the last 35 years. In the '40s and up until right around 1950, it was basically a fastball-curveball game."
Then the slider started to become popular. "That changed hitting entirely," says Williams. By 1950, most of the best pitchers had mastered the slider, but as Mets scout Buddy Kerr, then a shortstop with the Braves, recalls, "Preacher Roe and Eddie Lopat were special back then because they threw great changeups. Today, you've got split-fingers, sliders, curves...and they don't even settle for straight changes. Everyone has to have a changeup that moves."
Pitchers racked up more walks than strikeouts in 1950. Indeed, no fewer than six of the 15 ERA leaders in the American League gave up more walks than strikeouts that season. Last year none of the top 15 did. In 1950, the strikeout-to-walk ratio was 4 to 5 in that league; in '89, it was 8 to 5. Tebbetts says, "It was more of a power, sinkerball game then." Gene Mauch, an in-fielder for the Boston Braves, says, "If you struck out more than you walked in 1950, you were considered a terrible hitter. Guys like Williams, Musial and Joe DiMaggio didn't strike out. Hitters had a much better idea of the strike zone. Most used bigger bats. Today, you see those 33-inch, 31-ounce jobs that Jack Clark and Dwight Evans use to generate such bat speed."
In 1950, there were only two hitters in the majors who struck out 100 times: Roy Smalley (114) and Zernial (110). Last year 42 players had 100 or more whiffs. Says Mauch, "Compare the eras, and it makes you really appreciate Feller's 348 strikeouts in 1946. A power pitcher had to have control, too. Some of these wilder pitchers today—like Nolan Ryan—wouldn't get hitters to swing at as many bad pitches."
Not everyone agrees hitting was all that much easier then. "Fear is a big part of baseball, and not only did they not have helmets then, but pitchers pitched inside," says former pitcher and manager George Bamberger. "Today if you use the inside corner, hitters start out towards the mound. There are warnings and suspensions." Hitters who are gun-shy can survive easier today than they could when they faced such jaw-shaving vigilantes as Early Wynn and Sal (the Barber) Maglie.
Yet, as much as pitching has changed, perhaps the biggest factor in the evolution of hitting styles is the layout of the ballparks. Most of the stadiums in the '50s were tight little islands built to fit into the confines of an urban neighborhood. As a result, they had asymmetrical fences and short porches down the lines. "They were almost all parks for pull hitters then," says Mauch. Ebbets Field in Brooklyn was 297 feet to right. Braves Field in Boston had the Jury Box, 319 feet away in right. The Polo Grounds in New York was 483 to dead center, 279 feet to left and 257 to right, with overhanging decks. Forbes Field in Pittsburgh was 300 feet to right. Sportsman's Park in St. Louis was 310 down the rightfield line. Herzog. who grew up 35 miles from St. Louis, recalls, "I don't want to make it sound like it was an easy target, but when I was 15, I took batting practice there and hit that wall a dozen straight times."
Small as those parks were, Herzog doubts that they made hitting any easier. "I don't think batting averages have changed much between eras," he says. "Matter of fact, a lot of hitters in those days would hit higher today because of the artificial turf. But the power numbers of some of those guys definitely would have been different in these parks today."
One thing that was less taxing in the early '50s was playing the outfield. In places like Forbes or Wrigley, an outfielder had to cover no more than a few square yards. "Anyone can play centerfield in Wrigley," says Mauch. "It's 24 walking steps from the centerfield's normal position to the left-or rightfielder. I walked it off. In '54, they had an outfield of Ralph Kiner, Dale Talbot and Hank Sauer. None of those guys could go out there today."
The outfields of that era were by no means entirely patrolled by waltzing walruses. "There were a lot of great outfielders in 1950 that could play in any park," says Goldsberry. "Duke Snider was great under any conditions. So were Jackie Jensen, Joe DiMaggio, Larry Doby, to name a few."
Nevertheless, former Giants in-fielder Bill Rigney says that defense is better today—not only because of swifter, more agile fielders, but also because of the gobble-it-all modern gloves and the streamlined uniforms. "We used to look like boats under full sail," says Piersall.
And then there is the artificial turf, which makes everything different—especially fielding. Says Detroit general manager Bill La-joie, "The turf is worse to play on because it leads to so many injuries. But it has also changed the kind of players you need, in the infield as well as the outfield. Lou Boudreau was a fine shortstop in his era, but he was slow. Today's game would have been very tough for him."
Boudreau and 1950 MVP Phil Rizzuto played a very shallow shortstop, not much more than a step behind the baseline, to make up for their lack of arm strength. As Rizzuto admits, "I couldn't have played the short leftfield some guys do-today."
However, for 1950 infielders who did have the arm and the quickness, the move to turf might have produced amazing results. Those players grew up playing on rocky, tilted, matted fields, and as Rigney says, "If some of the great-handed infielders like Buddy Kerr, Pee Wee Reese or Marty Marion played on turf, they might have gone an entire season without an error."
Consider this: The Minnesota Twins' highest fielding percentage in 21 years on the grass of Metropolitan Stadium was .980; their lowest after eight years in the Metrodome is .980.
Though turf makes it easier, the fielders today are tangibly superior to their counterparts of 40 years ago. Sorry, traditionalists, but in 1950 there was no one close to Ozzie Smith and no Kirby Puckett leaping over the centerfield fence and no Bo Jackson flipping a throw from the leftfield wall to home plate. Likewise, no second-short-third combination in 1950 could cover the ground that Jose Oquendo, Smith and Terry Pendleton cover for the Cardinals in Busch Stadium. So for infielders and outfielders, 1990 wins going away.
But let's take a look at something that 1990 also has in spades over 1950: the hot-dog mentality. This includes Kirk Gibson's machine-gun trot and the Henderson Steps—Rickey and Dave's Oscar-winning home run performances. Lately, even managers have been getting into the act. The Texas Rangers' Bobby Valentine managed a game in Kansas City last year bedecked in wristbands, eyeblack and shades. Some players wear almost indecently tight uniforms and blow-dry their hair between batting practice and the start of a game. Says Tebbetts, with a tinge of distaste in his voice, "The game has become showtime. In 1950, players played for one another, with one thought only: winning. Now you see one-handed catches, overthrown cutoff men and mindless stolen bases. Henderson and Coleman don't need to steal third with two out; it's a show. But in 1990, baseball is big bucks television entertainment. The word entertainment in 1950 pertained to the movies or theater or a band concert in a city park."
Rosen says philosophically, "It's really better for the fans today. I'd like to say the game I played was more entertaining, but let's be realistic. These are different times, and people are used to flamboyance. As great as those Celtics teams were with Bill Russell and Bob Cousy, most fans would rather watch Michael Jordan."
It is true. Bo Jackson is nowhere near the all-around player that Snider was at a comparable age. But who would most fans pay to see? No contest.
Still, the entertainment factor probably decreases the quality of play. Tebbetts says, "It detracts from the finer aspects of the game. One-handed catchers are not good catchers, for instance. Showboat baserunning is not necessarily good baseball. In 1950, players sacrificed themselves more for their teammates or for the game. They naturally gave themselves up to advance the runner." Schoendienst, for example, would sometimes stop at first instead of taking a sure double, just to guarantee that the opposing pitcher didn't walk the Cards' next batter, Stan Musial.
The players had a subtler understanding of the game then. Mauch recalls, "Players who played when I did would watch the opposing managers during a game and ask, 'What could he be thinking about when he did that?' It was the way you learned to play. Those 1950 Dodgers had three guys in the infield—Reese, Robinson and Gil Hodges—who effectively were player-managers. The Giants had two [Alvin Dark and Eddie Stanky]. Outfielders moved on counts. Now, you see some guy wave at a 2-and-oh fastball over his head or throw to the wrong base or steal a base that takes the bat out of a hitter's hands. Players knew the game better back then. Managers didn't have to do as much."
The professorial style of A's manager Tony La Russa would have been as foreign in 1950 as MTV. Players mastered more of the intricacies of baseball. "You had to learn the basics in the minors," says Herzog. "And the train rides gave players more time to talk the game. Today talent—and the overall lack of it—rushes kids to the majors before they know the game. And sometimes talent is enough to carry them through."
Still, of all the changes that have come to baseball in the last 40 years—scientific, strategic, architectural, theatrical—none has been so influential as the money bonanza. It has changed the very values of the game. "Salaries are a lot higher," says Frank Robinson, "but so are expectations and the public's perceived right to intrude into a player's private life."
Players today are subject to the same scrutiny by the tabloids as Ivana and The Donald. Wade Boggs's affair with Margo Adams was a front-page scandal last year. Canseco's every move was chronicled by the press. And Bob Knepper's negative comments about women drew pickets. "There's a lot more pressure on the players today with all that attention, and the fact that everyone knows what every player makes," says Zimmer.
Former Dodger, Padres and Angel general manager Buzzy Bavasi says, "Branch Rickey said, 'Once money becomes a motivating factor, the game's in trouble." Once a player makes a million dollars, he doesn't want to risk getting hurt."
Yet, as Tebbetts says, "Why should a player give himself up and hit behind the runner if it's going to cost him $5,000 in arbitration? Everything today is statistics, individual numbers. Guys with computers make judgments based on raw numbers. With the money that stats can earn a player, I can't blame them for worrying about stats first."
During this year's labor negotiations, Player Relations Committee chairman Bud Selig was criticized for proposing a statistics-based, pay-for-performance salary scale. But he replied, "What's so different? My older players tell me that's what the younger players play for, anyway."
For all sorts of reasons, the game is no longer what it was in 1950. Is it better? Is it worse? Well, we asked a dozen of the people who were quoted in this story to pick an All-Star team of players who were active in 1950 or today. Our judges were old-timers, yes, but they are as close to the heroes of today as they were to those of 40 years ago. The team they picked is listed above on the left, next to my selections.
Notice anything about the old-timers' list? Eight of the players are from 1950, just three from today. Is this fair? Certainly not. Well, maybe we can ease the inequity of it all by telling you that the salaries of the eight old guys totaled $2.2 million when adjusted for inflation, while today's trio will be paid a combined $5.5 million this year. Puckett alone will make almost five times as much as the Splendid Splinter and almost 10 times as much as Stan the Man. Is this fair?