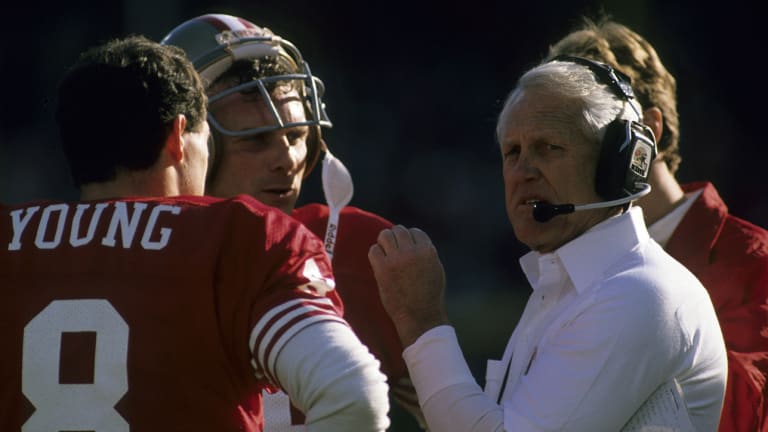 THE GENIUS AT WORK
BILL WALSH BUILT THE SAN FRANCISCO 49ERS THROUGH BRILLIANT TRADING AND DRAFTING, AND THE 1986 DRAFT WAS HIS MASTERPIECE
To the coaches and scouts gathered in the San Francisco 49er draft headquarters on the evening of April 29, 1986, it must have seemed that Bill Walsh had lost his marbles. At around 8 p.m., Walsh, the president and coach of the 49ers, let a 56-year-old character actor, Bradford Dillman, make the team's final pick in the National Football League draft.
An inveterate NFL draft groupie, Dillman first talked his way into the 49er draft room, in Redwood City, Calif., back in 1979, and he sat as still as a statue, observing the selection process and jotting notes in a large loose-leaf notebook. Every year since, Dillman, who played Robert Redford's best friend in The Way We Were and Clint Eastwood's cop pal in The Enforcer, the third Dirty Harry film, would show up on draft day and pass around a sheet of paper outlining his "sleeper pick." Dillman's witty evaluation of some little-known prospect usually got a big laugh from everyone present—except that Dillman's sleeper pick in 1984 was tight end Ed West, and in 1985 it was safety Mark Kelso, both of whom wound up starting in the NFL, though not for San Francisco.
In the '86 draft, the 49ers' last pick came in the 10th round because they had traded their 11th-and 12th-round selections. So, near the middle of the 10th round, Walsh, who was feeling quite pleased with his team's selections, turned to Dillman with a mischievous grin and said,' O.K., Brad, who's your guy?"
The character actor was getting a chance to play a lead. "Harold Hallman," Dillman said. "Nose-tackle at Auburn, but I think he'd project to linebacker here. Fierce guy. Tenacious. He'd be a special-teams killer, if nothing else."
San Francisco's pick was at hand. "O.K., let's take your guy," Walsh said.
Victorious in four Super Bowls since 1982—including the last two—the 49ers stand atop the world of pro football. Walsh, who retired to the broadcasting booth last July after 10 years in San Francisco, will be remembered for coaching three of those Super Bowl winners (1982, '85 and '89), for grooming Joe Montana into one of the finest quarterbacks of all time and for making some important offensive innovations. What will not be engraved on his Hall of Fame bust is how he built the Niners through masterly drafting and trading.
San Francisco's 1986 draft was one of the best any team ever had. From the college ranks Walsh and his staff selected five players who became starters: fullback Tom Rathman and wide receiver John Taylor, who had 133 catches between them in 1989; Kevin Fagan, the 49ers' best defensive end; Charles Haley, their best linebacker; and Don Griffin, their best cornerback. They also chose three sterling subs: cornerback Tim McKyer, tackle Steve Wallace and defensive end Larry Roberts.
The 49ers entered that draft with an aging defensive line, a battered and inexperienced secondary and a one-man (Roger Craig) offensive backfield. The team needed a big, blocking fullback, a pass rusher for the nickel defense, a quick wideout and a couple of cornerbacks. Walsh had tried to trade for two first-round picks, hoping to get Auburn running back Bo Jackson or Purdue quarterback Jim Everett. But Walsh struck out on both, and he made no trades before the draft. He couldn't see paying a ransom for any other '86 collegian.
There are two approaches to the draft, and they both will be evident at this weekend's player auction. Most teams take the best available player on their list, making minor adjustments for needy positions. Other teams target players they want and then maneuver into position during the draft to take them. Under Walsh, the 49ers were one of the latter.
Walsh believed if he saw a college player display tremendous athleticism on one play, he and his staff could get that level of output from him consistently in the pros. Most scouts insist that many college players can look good on a few plays. Scouts like consistency, and Walsh, to be sure, liked it too. But inconsistency didn't scare him.
"I didn't have to see Joe Montana play 10 games at Notre Dame in 1978 to know I wanted him," Walsh says. "The argument against Montana was he was inconsistent. Maybe it was my impetuous ego, but I felt if I saw him succeed once, he could do it again."
For that reason, Walsh was sold on Rathman, a tough customer from Nebraska, and Haley, a pass rusher from Division I-AA James Madison. Walsh had watched only a single film of each. "I saw Rathman take a screen pass, break two or three tackles physically and run 60 yards," Walsh says. "He was an absolutely terrific blocker, and the thing we'd never had was the massive blocking fullback. I knew Rathman could be that player."
And Haley? Says Walsh, "I saw a film of him, against Georgia Southern, where he broke through the line on an option play, stopped the quarterback, forced him to pitch the ball, and tackled the running back for a three-yard loss."
None of Walsh's 1986 target players was projected as a first-round pick, and only Roberts, a part-timer at Alabama, figured to go in the second round. That was good for the 49ers, who wouldn't select until the 18th pick of the first round. They had one pick in each of the next three rounds and none in the fifth.
Walsh learned his draft technique from Paul Brown in Cincinnati, where Walsh had served as an assistant for eight years, and from Al Davis in Oakland, where he was an assistant in 1966. The key, Walsh had learned, was to have one person who, though he would delegate responsibility and listen to advice, would be the unquestioned boss and final decision maker. For the 49ers, Walsh was that person.
Manning the phones at the team's draft headquarters was 49er general manager John McVay. Picking by committee, McVay believes, is the major reason many teams fail to improve themselves in the draft. "A lot of teams are virtually unable to make a trade," says McVay. "They've invested so much time and money in the draft that they don't want to make a spur-of-the-moment decision. They need to justify all their efforts. If they trade, they might be wrong—and so they don't trade, even though it might be the right thing to do. And there are other factors. Some owners like to dabble in the draft. Some personnel guys are making big money, and they've got to have input. You can almost go into a stupor deciding things on teams like that."
Draft Day '86 began calmly at the 49ers' former offices, which are 30 minutes south of Candlestick Park. Walsh sat at a long wooden desk at the front of a large meeting room, his back to a 16-foot-wide blackboard. To his left, down the length of the wall, were the offensive draft charts, assembled by position. To Walsh's right were the defensive charts. On the back wall, opposite Walsh, was space for a team-by-team draft list. In front of that wall sat 11 assistant coaches.
In front and to the right of Walsh sat the team's six scouts. At the table to Walsh's left was McVay and personnel directors Tony Razzano and Allan Webb. In the middle of the room was a telephone, linked to draft headquarters in New York City, and a computer containing all player and draft information, linked to team owner Edward DeBartolo's corporate headquarters in Youngstown, Ohio. In one corner of the room was a speaker phone, the line open all day to the Youngstown office. Dillman sat quietly at a desk next to the computer operator.
Ten picks into the first round, Walsh asked area scout Mike Lombardi, who is now pro personnel director of the Cleveland Browns, to go to the blackboard behind him and write down the names of the three players the 49ers would like to choose from for their first pick. Lombardi wrote in chalk:
JOHN L. WILLIAMS, FB, FLORIDA RONNIE HARMON, RB, IOWA GERALD ROBINSON, DE, AUBURN
All three players were still available as the Minnesota Vikings prepared to make the 14th pick of the first round; it seemed likely that Walsh would get at least one of them. Minnesota took Robinson. The next team up, the Seattle Sea-hawks, chose Williams. The Buffalo Bills made it a clean sweep, taking Harmon with the 16th pick.
"We were like an NBA team late in a game, up by 15, confident we'd win," says Lombardi. "Then they get 10 unanswered points in a minute and it's a game again."
Several minutes passed. During the first round, a team must make its selection within 15 minutes of the previous pick (a team gets only five minutes in the following rounds). The phone on McVay's desk rang. It was Gil Brandt of the Dallas Cowboys. Brandt wanted to use the 49ers' pick to take UCLA wide receiver Mike Sherrard. Dallas was choosing 20th, and Brandt feared that the New York Giants, 19th, would take Sherrard. Brandt offered McVay the Cowboys' first-and fifth-round picks. "Take it," Walsh said to McVay. He was buying time. The next available player the 49ers wanted was Roberts, but Walsh did not want to waste a first-round pick on a part-time starter.
Dallas grabbed Sherrard. The 49ers had had Dallas's No. 1 pick for about 27 minutes when McVay answered the phone again. Buffalo was calling. The Bills desperately wanted Vanderbilt tackle Will Wolford, so Buffalo general manager Bill Polian and McVay, after consulting with Walsh, struck another deal. The 49ers traded the pick they had just received from Dallas to Buffalo, along with a 10th-round pick in 1987, for Buffalo's second-and third-round picks.
Now San Francisco had two selections in each of the next two rounds—including, from Buffalo, the second pick in the second round, No. 29 overall. Still too high for Roberts, Walsh thought. He wanted to keep dealing. Near the end of the first round, three desirable running backs remained unclaimed: Reggie Dupard of SMU, Neal Anderson of Florida and Garry James of LSU. With the 26th pick of the draft, the New England Patriots took Dupard. With the 27th and final choice of the opening round (there was no 28th pick because the Browns had forfeited a first-round selection by taking quarterback Bernie Kosar in a supplementary draft), the Chicago Bears picked Anderson.
It was 9 a.m. in Redwood City, and the phones began ringing off the hook. Five teams wanted James. The best offer: the Detroit Lions' second-and third-round picks for the 49ers' first second-round pick—the one they had just received from the Bills. "Take it," Walsh told McVay.
DeBartolo was on the phone.
"Hey," said the owner to his coach, "when are you going to pick somebody? Give me a name! My phone bills are going to be bigger than our signing bonuses!"
Walsh chuckled and told DeBartolo that the 49ers were about to get a bargain. The guy they might have picked in the middle of the first round, Roberts, was the guy they were going to pick in the second round. DeBartolo liked that; the difference between first-and second-round signing-bonus money is about $350,000. The 49ers landed Roberts with the 12th pick of the second round—No. 39 overall—which was the selection they had received from Detroit.
San Francisco's scouts grade college prospects on a 1-to-10 scale—1 being a clear reject, and 10 being a perfect player—with pluses and minuses added for more precise grading. Not a single college prospect of the '80s earned a 10. A grade of +5 means the player has the ability to make the team. A -5 means he could challenge for a roster spot but would probably fail. There is no grade of 5; that's the border.
"We want our scouts to make a decision on every guy they see," says Razzano. "We want to know if the guy can help our team or not." The scouts give 6's to prospects they judge to be solid NFL players. A 7 indicates a starter well above the norm at his position. An 8, a regular Pro Bowler.
Roberts had earned grades of 6, 6, -6, -6, +4, +5 and 6 from Niner scouts. Respectable, but nothing terrific. He was a nice player who would contend for a starting job on an aging line.
Less than a minute after the selection of Roberts, McVay's phone rang. It was Washington Redskins general manager Bobby Beathard. He had already used a second-round pick, and now he wanted San Diego State wideout Webster Slaughter. The 49ers held the 18th choice of the second round, 45th overall. Beathard offered McVay the Redskins' first-round pick in 1987. McVay looked at Walsh. Walsh shook his head; he wanted more.
The rest of the 49er staff thought Walsh was pushing it. A two in the middle of the round for a one next year? Take it!
Walsh stood his ground. "The Redskins historically had made trades that only they could appreciate or understand," he says. "They'd almost had a disdain for the draft. I thought that we could get a little more."
Beathard tried everyone with a pick before the 49ers'—New England, Cleveland, the Giants, the Tampa Bay Bucs and the Green Bay Packers. All wanted to keep their picks. Cleveland took Slaughter. Walsh, it seemed, had gambled and lost. Washington had lost the guy it really wanted, and the 49ers had missed out on a first-round choice the following year.
But Walsh knew that Beathard always had a backup. This time it was Walter Murray, a wideout from Hawaii. Sure enough, Beathard called Walsh again. "Bobby," Walsh said, "you've got to give us something to fill out our draft, because we're losing a pick this year."
"Look, take a 10," said Beathard.
For an extra 10th-round pick, Walsh made the deal.
Now it was the Philadelphia Eagles' turn to woo Walsh. Twice they had called before the draft, trying to get 49er backup quarterback Matt Cavanaugh. The standing offer from Eagle coach Buddy Ryan was Philadelphia's third-round pick for Cavanaugh. Walsh was certain that he could get more from Ryan. He was right. Philadelphia added a 1987 second-round pick. The 49ers gobbled up the package. Now they had four third-round selections in '86.
With Cavanaugh gone, the Niners were left with Mike Moroski as Montana's main backup. Walsh made note of a couple of quarterbacks he would try to pursue either during the draft or afterward. However, with the third round beginning, it was time to make some selections. With the pick the 49ers had received from Buffalo, the 56th overall, they took Rathman, even though his four scouting grades were -4, +4, +5 and -5.
Why Rathman? He had carried the ball 220 times and caught five passes in four Nebraska seasons. Razzano had gone to see him and in his report had written, "Would fight hard for a position but wouldn't make our squad."
Three things, besides the game film, persuaded Walsh to pick Rathman: 1) He knew Al Davis liked Rathman, and Walsh respected Davis's opinion on everything; 2) Rathman was a devastating and unselfish blocker; and 3) Rathman was an athlete—he had been the Nebraska high school high-jump champion with a 6'8" leap in 1981.
Walsh, of course, was right. Since signing, Rathman has rushed for more than four yards per carry and has 158 receptions for 1,448 yards.
Next, using the pick obtained from the Eagles, the 49ers selected McKyer, a cornerback from Texas-Arlington, which had discontinued football after the 1985 season. "I knew one thing going into that draft," assistant coach Ray Rhodes says. "Tim McKyer was the guy I wanted." Superb at man-to-man coverage, McKyer had a reputation as a mediocre hitter. "Don't worry," Rhodes told Walsh. "I'll make him play the run."
Another good choice. McKyer started every game, including playoffs, for the 49ers for the next three years.
Now the Los Angeles Rams were calling. They wanted the third-round pick, No. 66 in the draft, that the Niners had gotten from Detroit. Walsh saw a chance to obtain the quarterback he needed, and a deal was quickly completed. The Rams gave the 49ers two fourth-round choices and backup quarterback Jeff Kemp. There was only one problem: Teams cannot trade unsigned players, and Kemp was unsigned. It took the NFL office 20 minutes to straighten out the wording of the deal—the 49ers would be trading for the rights to Kemp—but during that time, the Rams were not able to make the third-round pick they had just acquired, and they missed out on the quarterback they wanted, Bubby Brister of Northeast Louisiana, who was selected by the Pittsburgh Steelers.
"After the Rams trade," says Walsh, "it was over. We had acquired what we wanted in picks. Now we had to make them work."
Walsh made Taylor, from Delaware State, his next choice. The college film on Taylor, Walsh recalls, "was primitive. You couldn't tell much by it." But aside from a plodding off-the-line start, Taylor was a gem. He was a terrific leaper and quick in the open field.
Taylor had a horrible training camp that summer, and McVay started checking to see if he had market value. He found no takers, but late in the preseason, someone in the 49ers organization quietly advised Taylor that it would be best for him if he suddenly developed a bad back. He reported to the training room complaining of pain, and he spent the season on injured reserve. Yet he continued to practice, and by December, Walsh thought he might turn into quite a player. Now, Jerry Rice and Taylor are the best one-two receiving threat in the game.
Walsh used the first fourth-round pick from the Rams to grab Haley. After Walsh had spotted Haley in the film of the Georgia Southern game, he sent coaches Bill McPherson and Tommy Hart to Virginia. Hart, a former 49er lineman, played tackle on the James Madison practice field. Haley rushed at him for 20 minutes.
"Come the same way every time," Hart told Haley. "I'm going to do different things, but I just want you to come at me and react."
Haley kept beating Hart with a quick change of direction. "Holy moly, this guy could go," McPherson says now. "He was flying around, and he had some shake to him. I knew Bill would like him. I left there just hoping I'd be right about the guy."
He was. Haley has collected 25½ sacks over the past two seasons.
Wallace of Auburn was the Niners' next selection, with the second fourth-round pick obtained from the Rams. In 1988, Wallace beat out Bubba Paris for the starting left tackle job. He broke his leg in that season's Super Bowl win over Cincinnati, and now, fully recovered, he shares left tackle with Paris.
With their own pick in the fourth round, the 49ers chose Fagan, from Miami. He had gone from a clear first-round pick in the fall of his final season with the Hurricanes to a late-round prospect at best, after he blew out his right knee in the 1986 Sugar Bowl. Fagan had dragged his reconstructed knee around the country, failing one NFL team physical after another.
But the 49ers' physician, Michael Dillingham, told Walsh that Fagan's knee could be rehabilitated. That was all Walsh needed to know; even if he had to wait until 1987 to use him, Fagan was worth the risk. "Kevin was a special athlete," says Walsh. "If he ever got back near 100 percent, we'd have the equivalent of first-round talent. He turned out to be one of the best defensive linemen in football."
It took awhile, though. During the spring of 1986, Fagan came to Redwood City to work on the knee. On the first day that he was permitted to sprint, Fagan turned to backpedal. Pop! went the knee. "Like a rifle shot," Fagan says.
The kneecap had fractured. Dillingham used bone from Fagan's pelvis to graft the kneecap back together, and he used metal screws to secure the knee and promote a clean bonding of the bone. During that fall, when Fagan went to work out, the protruding screw heads caused him a good deal of pain. Performing arthroscopic surgery, Dillingham tried to unscrew them. He got one out, but the threads of the other screw were stripped.
So Dillingham opened up the knee again and chiseled out the screw. Two operations later, Fagan took the field at the 49ers' 1987 training camp. He became the starting right end in 1988, and in January was awarded a game ball for his six-tackle, one-sack game in Super Bowl XXIII.
The fifth-round '86 pick—one from the Cowboys—brought the Niners Pat Miller, a linebacker from Florida. A good college player with exceptional speed and hitting ability, Miller failed to make the team because he could not learn the defensive schemes quickly enough.
During a draft, Walsh would occasionally take a walk around the room, looking at the boards to see if he had missed anyone. After choosing Miller, Walsh asked for recommendations for the next pick. Razzano suggested Vai Sikahema, a running back-kick returner from BYU. No one else said anything. This frustrated Walsh. He wanted names. So he made his first lap of the day around the room. He had no idea whom he wanted. Finally, under the player group headed FS (for free safety), he spotted, written on a card, a number he liked. The card was that of Don Griffin of Middle Tennessee State. The number was 4.56, Griffin's speed in the 40-yard dash.
"What about this guy?" Walsh asked Rhodes. "Seen him?"
"No, but he does have the speed," Rhodes said. The 49ers hadn't scouted or had any contact with Griffin in seven months. Two area scouts, Ernie Plank and Neil Schmidt, had given him lukewarm reviews, but Plank had also given Griffin a make-it grade, so Walsh called for the reports. As he had done with McKyer, Walsh wondered if Griffin could be physical enough to play corner. Again. Walsh knew Griffin would have an excellent teacher in Rhodes. The 49ers picked Griffin.
Until he signed with San Francisco, Griffin had played only one game at cornerback in his life. He started all but one game at right corner as a rookie, and he has been a fixture at the position ever since.
Walsh had started the first day of the 1986 draft with eight picks, four of them in the first five rounds. He finished the day with 13 picks, eight in the first live rounds. Walsh had also collected additional first-and second-round picks for 1987. The next year, he would use his two first-round picks for tackle Harris Barton and running back Terrence Flagler; he would use the initial second-round pick on guard Jeff Bregel. Flagler is the main backup to Craig; Barton and Bregel have been regulars. Walsh would trade the other second-rounder and a fourth-round pick to Tampa Bay for quarterback Steve Young, who is waiting impatiently for Montana to retire.
One other thing: Hallman, Dillman's sleeper pick on day two of the draft, did not make the team. But he made the Calgary Stampeders of the Canadian Football League. As a matter of fact, he was the CFL's Most Outstanding Rookie in 1986. For the 49ers, and for their best supporting actor, it was that kind of year.
TWO PHOTOS
PETER READ MILLER
PHOTO
MICHAEL ZAGARIS
LARRY ROBERTS
PHOTO
MICHAEL ZAGARIS
TOM RATHMAN
PHOTO
MICHAEL ZAGARIS
TIM McKYER
PHOTO
MICHAEL ZAGARIS
JOHN TAYLOR
PHOTO
JOHN BIEVER
PHOTO
MICHAEL ZAGARIS
KEVIN FAGAN
PHOTO
MICHAEL ZAGARIS
PAT MILLER
PHOTO
UNIVERSITY OF FLORIDA
DON GRIFFIN
PHOTO
CHUCK SOLOMON
PHOTO
JOHN W. MCDONOUGH
PHOTO
MOVIE STAR NEWS
PHOTO
AUBURN UNIVERSITY
FOUR PHOTOS
ILLUSTRATION
BILL WALSH BUILT THE SAN FRANCISCO 49ERS THROUGH BRILLIANT TRADING AND DRAFTING,
AND THE 1986 DRAFT WAS HIS MASTERPIECE
•WALSH AND THE 49ERS BEGIN DAY ONE OF THE DRAFT WITH THE 18TH PICK OF THE FIRST ROUND
•THE 49ERS TRADE DALLAS'S FIRST-ROUND PICK FOR BUFFALO'S SECOND-AND THIRD-ROUND PICKS
•HAVING LOST OUT ON JACKSON AND EVERETT, WALSH DEALS NO. 18 TO DALLAS FOR TWO LATER PICKS
•AFTER TRADING ONE BUFFALO PICK TO THE LIONS FOR TWO LATER PICKS, WALSH DRAFTS ROBERTS
•BEATHARD PHONES TO OFFER A FIRST-ROUND PICK IN '87 FOR THE NLNERS' SECOND-ROUND PICK
•WALSH TRADES CAVANAUGH TO PHILADELPHIA FOR THE EAGLES' THIRD-ROUND PICK AND AN '87 PICK
•WALSH TURNS THE SKINS DOWN, BUT WHEN BEATHARD SWEETENS THE DEAL, WALSH GRABS IT
3rd ROUND
Walsh deals the Rams a third-rounder for two fourth-rounders.
All told, San Francisco pulled off deals with six teams.
With the first of the fourth-round picks acquired in the LA trade, San Francisco selected Haley (above), who has since developed into the team's best linebacker.
4th ROUND
Rathman had caught five passes in his Nebraska career.
The fourth round also brought the 49ers Wallace (left), who has become a key substitute, and Fagan, who made a heroic comeback from knee surgery.
Miller, Walsh's fifth-round pick via Dallas, was a bust, but Fagan and Griffin, who was taken in the sixth, have become starters.
WALSH ALSO USED THE '86 DRAFT TO OBTAIN ADDITIONAL EARLY-ROUND PICKS IN '87; THEY YIELDED FLAGLER, BARTON AND BREGEL
In'87, the 49ers traded two high draft choices to the Buccaneers in order to land Young.
After waiting patiently in the wings, Dillman (above) recommended Hallman, who did not make the Niners but became the CFL's top rookie.