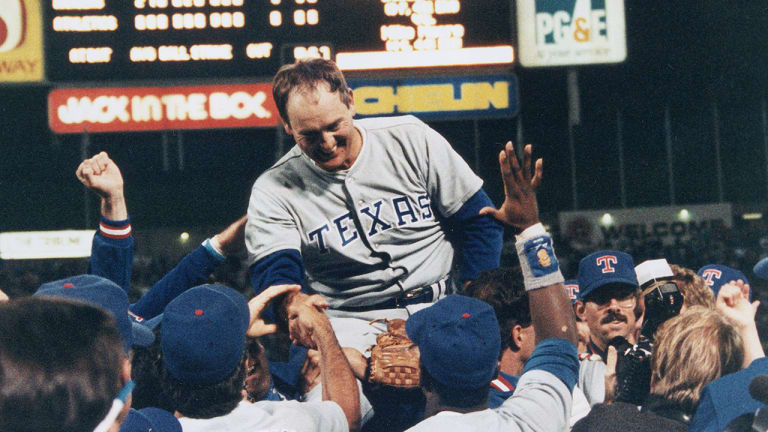 ONE FOR THE MIDDLE AGES
Nolan Ryan's no-hitter was tonic for the over-40's
He looks like he is 43 years old. That is the best thing about Nolan Ryan. He does not have the designer hair of Donald Trump, who just turned 44, or the preserved fraternity-house good looks of 43-year-old Dan Quayle. No, Nolan Ryan takes off his Texas Rangers baseball cap, and his hair is thinner than it used to be, and those little cracks have begun to appear around his eyes. His is just another face from the 25th high school reunion.
"Nolan?" you would say, squinting through bifocals at his name tag during the festivities in the old school gym. "Is that you? Nolan Ryan?"
He could own that corner filling station, bought in '72 when the previous owner passed away. He could be with the state police, joined after coming back from 'Nam. He could be just about anything. There is a next-door normalcy about him. He has painted a picket fence, changed a spark plug, worried late at night about what time that son of his would be home with the family car. No preservatives have been added. He looks natural. Another guy.
"So what are you doing these days, Nolan? I remember you were thinking about selling insurance....
"Baseball? I didn't think you had the temperament to be a coach....
"You play? Baseball? For money?"
He is not Kareem Abdul-Jabbar, who was still playing basketball at 42, a genetic marvel, often taller than anyone else on the floor. He is not even Gordie Howe, who was playing hockey at 52. Howe, old as he was, would remove his game jersey and reveal muscles that made you think of Popeye. No, Nolan Ryan's gifts are inside a normal package. That makes them seem even better.
In Oakland last week, when he became the oldest man in history to throw a no-hitter, the sixth no-hitter of his 23-year major league career, he was an inspiration to every middle-aged-and-over man who stares into a mirror in the morning and, well, just doesn't like the image he sees. Too old? Over the hill? Not if a 43-year-old guy with the same face could be powering his way through the lineup of the world champions of baseball. Uh-uh. The can may be dented and the label may have faded, but the contents are just as good as they ever were. Isn't that right, honey?
There have been other old, successful pitchers in this game—Phil Niekro at 48 and Tommy John at 46 both recently left the mound—but they mostly played a con man's game, pulling strings and presenting illusions.
Ryan threw 93 fastballs out of 132 pitches in Oakland. He struck out 14 batters. He was Don Ameche break-dancing in Cocoon. Take a look at this, boys. Think you can do any better? The radar gun timed his fastball at 94 mph in the ninth inning. Ninety-four miles per hour. He was pitching the same way he did in 1969, when he was a curious phenom from Alvin, Texas, who stuck his fingers in pickle juice to cure blisters.
Did it matter that guys far younger than Ryan had appeared the day before on the same Oakland Coliseum field in an old-timers' game? Did it matter that at least nine present or former teammates had named children after him? Did it matter that he was pitching in his fourth decade in the major leagues and that he was the first pitcher to throw no-hitters in three decades? It mattered that the baseball traveled faster than a good rumor. Eyes and mind and hands did not have time to coordinate a simple swing of a bat. There was no chance.
"He was throwing absolute gas to spots," Texas Rangers manager Bobby Valentine reported after watching the no-hitter. "He was mixing that with a changeup. Who could hit him?"
Absolute gas. Forty-three years old.
Two days later he would fly to Los Angeles to have an examination for lower back pains. Lower back pains! ("What do you do for your back, Nolan?" you would ask at the reunion. "You know, I have the same thing.") During the no-hitter, Ryan's 14-year-old son, Reese, rubbed his back in the dugout between innings. Rubbed his back in the dugout! He celebrated his big night by ordering a pizza and eating it in his hotel room with his wife, son and daughter. Pizza!
"Only thing that was open," he said.
There have been and will be bigger and more dramatic stories during the 1990 sports year—championships won and lost, other records established—but for a large part of America there will not be any better story. For one day, the Fountain of Youth was found in the morning newspaper and on the evening news. A man who remembers exactly where he was on the day John F. Kennedy was shot was able to show these kids what exactly was what. He not only was better, he was also untouchable. He still had his fastball.
"You know what Nolan said?" you would mention on the way home. "Not only does he still play baseball, he said he pitched a no-hitter just the other night against the Oakland A's."
The radio would be tuned to an oldies station. The night would be clear. It would be fine, just fine, to sing along with the music.
PHOTO
DAMIAN STROHMEYER