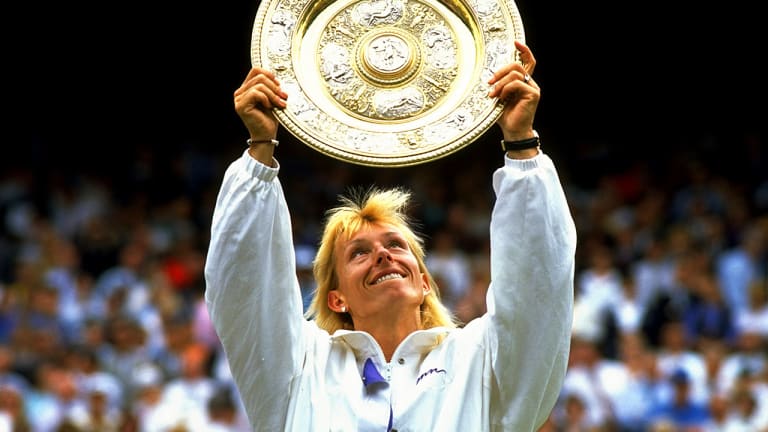 Nine's So Fine
Martina Navratilova made Centre Court hers alone by winning a record ninth championship at Wimbledon
Talk about a cat with nine lives. If there is anything more remarkable than Martina Navratilova,that grandest of tabbies, winning her record 99th match at the All England Club and still another record ninth Wimbledon championship last week, it is the identities of the women she didn't have to beat to reach those plateaus.
Navratilova didn't play Chris Evert, NBC's own, although she did have to curtsy before her old rival, who happened to be sitting in the Royal Box one day when Navratilova strode onto the greensward. She didn't play Monica Seles, the hottest player in the game, who had arrived in London with 32 straight match victories. She didn't play Steffi Graf, the No. 1 player not only in the world but also in the gutter of Fleet Street journalism—THIS TART IS RUINING MY GAME SAYS STEFFI, screamed The Sun. And she didn't even have to play Helen Wills Moody Roark, who couldn't be bothered to leave her Carmel, Calif., home and defend the record of eight titles she shared with Navratilova.
Ms. Roark is 84.
Picky, picky.
"Nine? I can't even comprehend one [Wimbledon title]. That's amazing...unrealistic," said Zina Garrison, who pulled off a semi-amazing stunt of her own by upsetting both Seles and Graf to reach the finals, where the newly industrious Lady Z was finally put to rest, 6-4, 6-1, zzzzzz.
The octogenarian Roark might have been heavier traffic than some of Navratilova's early-round patsies, among them Katerina Maleeva, who won two games in a match that lasted barely the time it took to figure out which of the three Maleeva sisters entered at Wimbledon she was, and Karin Kschwendt, who won another two games before admitting, "It was so strange to see Martina live [rather than on TV]. My heart was booming. I was maybe too impressed." Maybe.
Moreover, in the last two rounds Navratilova had only to go through the motions against two opponents—Gabriela Sabatini, who was experiencing her own tragedy (a former boyfriend calling her "a fat duck," according to the ever-vigilant Sun) and Garrison—against whom she now has a combined 41–4 career record. Even Navratilova acknowledged it would have been "more fitting" if two-time defending champion Graf, her tennis suddenly patchy, her thoughts obviously scrambled over her father's alleged dalliance with a Playboy model, had joined her in the final. But, said Navritilova, "I had prepared for Wimbledon. The event overtakes any single person. I didn't care if I scraped and scratched to get this. They don't put an asterisk next to your name saying you won but didn't play that well." In fact, Navratilova played like a dream.
In contrast to the men's competition, which proceeded rather predictably right down to the third consecutive meeting in the finals between Boris Becker and Stefan Edberg—Edberg winning 6-2, 6-2, 3-6, 3-6, 6-4—the women's draw again provided the more scintillating drama, both on and off the court.
But this should now be expected when Edberg, who also beat Becker to win Wimbledon in 1988,dominates a tournament. Edberg, an otherwise kind, pleasant fellow, evinces all the personality of one of those "unattended packages" left about the grounds that kept interrupting the All England matches.
"I don't think I'm playing worse than I did in '88," Edberg said early in the tournament, which was his way of mounting a soapbox and screaming that he was ready to win again.
In the final he did so most courageously only after matching Becker's comeback from two sets behind with one of his own—from 1-3 down in the fifth. At that point the Centre Court crowd finally recovered from the catatonia that a pair of serve-and-volley thumpers, on a grass court, will induce—if they're men. Which is why Wimbledon should always bless the distaff beast (which Navratilova was as she absolutely annihilated the field) and the children.
The somewhat chauvinistic Wimbledon program called the proliferation of female teeners "the nappy and teat brigade" and it wasn't referring only to Seles, 16,and Jennifer Capriati, 14. Sashaying out of Coronado, Calif. came a dazzling Mexican-American 16-year-old named Angelica Gavaldon, wearing deep cherry lipstick, enormous hoop earrings and an alluring style out of the gospel according to Cher. "You guys really want to hear about my superstitions?" Gavaldon breathily murmured to a stunned press corps."Well, every night my mom's friend and I kneel in the bathtub together...." Alas, the pro from Twin Peaks peaked in the first round, survived the second and was gone in the third.
As for Capriati, the bubbling Jen concluded her fantasy pre-ninth grade European vacation by experiencing her first play (Les Misèrables), rock concert (Prince) and date against Graf, who dispatched her from the fourth round, 2 and 4, with that renowned forehand Capriati called "a bullet."
"Steffi's so nice," said Capriati. "And she's not an old person. She wears an MTV shirt."
Funny thing, though. Graf had to cut the pace and confuse Capriati. "It's strange," said Graf, barely 21. "I don't feel old. But this girl on grass...she seems already great."
Seles, who had shocked Graf in both the German and French Opens, was considered the next hurdle for the defending champion. But as if coping with rampaging pubescents was not enough, Graf was battling a serious sinus ailment, as well as the media gone wild over allegations by West German model Nicole Meissner that Peter Graf had fathered her child, and a scandal that has linked Peter to blackmail. "Did you go shopping with Nicole Meissner?" a British reporter demanded of Steffi. Mid-fortnight, Graf flew home to Hamburg in retreat.
"Of course Steffi is hurt. How can she not be devastated?" said tour veteran Elise Burgin. "I played her in doubles, and she's not the same. This has made her more human, and when you're that, you're vulnerable."
The tabloids meanwhile were also keeping track of Seles's infernal noise-making, which was threatening to wilt all the strawberries in the British Isles. The Sun confirmed that its Grunt-o-meter recorded Seles at 82 decibels—"between apneumatic drill and a diesel train." This was ridiculous. A caboose, maybe. But Wimbledon was put out of its misery when in the quarters Garrison, trailing 6-7 in the third set, match point against her, slugged a brave forehand into the corner, won 10 of the next 12 points and hustled Seles off to her first defeat since March, 3-6, 6-3, 9-7, in the tournament's best match.
Garrison, 26, was a revelation. A supposed choke artist, infamous as the villain who ended Evert's career at last year's U.S. Open, she had in the past two years recovered from bulimia, married Willard Jackson, part-owner of a refuse business in her hometown of Houston, and taken readily to the stringent organization and tactical wizardry of a new coach, doubles specialist Sherwood Stewart.
All the same,Garrison had blown several matches this year, despaired and figured she was over the hill. "She was playing mind games," said Stewart. "She just needed somebody to believe in her."
Stewart fiddled with Garrison's serve, firmed up her volleys and provided detailed game plans,one of which she took into her semifinals with Graf. As Garrison kept attacking Graf with penetrating approach shots and uncannily picked off the replies with crisp volleys, Graf seemed to get anxious and frustrated.
With the match tied at a set apiece, Garrison received serve as always with that little shimmy reminiscent of Ronnie Lott challenging a receiver just before the snap. She broke serve in the third game of the third set and kept holding on. The crunch came with Garrison serving for the match at 5-4, 15-all. She fired away and approached the net one last time. Graf pulled the trigger on the forehand. Splat...net. Garrison finished with an ace at match point. "It's just a simple loss," snapped Graf. "What else you think? A tragedy? A disaster?"
For Graf, the tragedy was that her doting father, for whom Steffi's feelings border on worship, had dishonored her by apparently causing such distress.
In the championship round a calm, relaxed Navratilova simply carved up Garrison, who had been wearing Navratilova's own signature line of clothes—and who had been getting the outfits laundered at Navratilova's rented house in London—until signing a six-figure deal with Reebok the day before the finals. (All told, Garrison's trip to the championship match created five new endorsement deals potentially worth more than $1 million.)
After fighting off one break point in the second game of the finals, Navratilova won 24 of 28 service points in an overwhelming display of grass-court aggression. Afterward she knelt in prayer, climbed into the guest box and kissed everyone in sight save The Duchess of Fergie. Then the old—"I'm not a dinosaur," she said, but she is almost 34, fully 20 years older than Capriati—and new champ paid tribute to the coaching of Billie Jean King, with whom she formed an alliance in May of last year. "She got my head straight last year when I didn't even know I was burnt out," Navratilova said. She also said, referring to her prolonged, single-minded pursuit of title No. 9, that she had looked up the word "obsession" and found it meant irrational reverence."I prefer to consider my love for Wimbledon a rational reverence," she said.
Without reference books, the men's No. 1 seed, Ivan Lendl, described his own search for the Holy Grail at the All England with a Czech term: "zazrany—very much into it, almost stubborn." Lendl, who had never won Wimbledon, practiced most of the spring on grass in Australia against the likes of John Newcombe, Ken Rosewall and his coach, Tony Roche. He had also skipped the French Open to continue to focus on Wimbledon. And he had dominated the pre-All England warmup tournament at Queen's, crushing Becker in the finals.
Still, as the tournament proceeded, Lendl became increasingly antsy. He lost a set to each off our unseeded players, and in a rain-delayed quarterfinal against No. 83-ranked Brad Pearce from Provo, Utah, he complained long and loud about the slippery conditions.
In truth, the Lendl who met Edberg in the semis was the same old intractable Ivan: tentative afoot, shaky on the volley, approaching the net as a golfer might wade into a sand trap. Maybe Lendl could beat Lee Trevino on a grass court, but Edberg slaughtered him, 6-1, 7-6, 6-3. Lendl has now lost seven of nine semifinal and final matches at Wimbledon.
But did this Wimbledon finally produce a new star on the men's side, or was GoranIvanisevic, the splendid Split-er who had smacked 82 aces before meeting Beckerin the other semifinal, simply a mirage? Ivanisevic, a lefthander from Split, Yugoslavia, is only 18; where did he get his cool? He's 6'4", 160 pounds of stick figure; where did he get his power?
Teeing off on everything, Ivanisevic led Becker 6-4, 6-5 and serving. "Was little bit afraid," Ivanisevic said later. "Was maybe thinking too much."
At deuce Ivanisevic took a full-swing, monster topspin swipe at a waist-high volley and caught a let cord that dribbled back on his side. "Nice shot, eh? Was pretty stupid," he was to say, a wonderful grin on his face. And that was that. Ivanisevic lost the game, lost a 3–0 lead in the tiebreaker and lost the match, 4-6, 7-6, 6-0, 7-6, even as he sprawled about the turf, feigned eating the ball and created other boyish touches. Ivanisevic scared the daylights out of Becker, who after the match soul-shaked with Ivanisevic and then nestled his head onto the kid's shoulder.
"I was thinking about somebody else who was once 17 out there," said Becker with a wink [back to 1985 when a tall redhead from Leimen became the youngest Wimbledon champion]. He serves harder than anybody I ever play."
Another champion, East Germany's Olympic skater Katarina Witt, showed up as Becker's guest on Sunday. Reunification redux? "I know her? I have seen her skating," Boris said slyly, denying a romance. Witt was just in time to see her host nearly surrender his title inside an hour. It took Edberg only 56 minutes to win the first two sets, and he had a break point in the first game of the third as well.
Suddenly, however, Becker found his rhythm and took control. In the fourth game of the final set after Edberg double-faulted twice and erred on a backhand volley—his hole card—to lose serve, Becker led 3-1 and needed to hold three times to become the first man to win a Wimbledon finals from two sets down since Henri Cochet defeated Jean Borotra in 1927.
But Edberg had repelled Becker in the same situation in Paris in the semis last spring, and he was the only player to have beaten Becker on Wimbledon's Centre Court." Stefan's tougher than most guys, he always tries," Becker said in tribute.
"I was mad at myself," Edberg said. "I had to break back immediately. I went to my strength, my fighting spirit."
He also was fortunate that Becker picked that juncture to play perhaps the most miserable clutch game of his still-young career. A double fault, a blooped overhead of a probable out ball, which allowed Edberg an easy forehand winner, and two loose volleys gave Edberg the game that put the match back on serve.
With Becker serving again at 4-all, 15-30, Edberg tantalized him with a chipped backhand return that forced a Becker volley error, and a glorious top-spin lob that left Becker trapped at the tape.
When Edberg served out the next game, he had won a second Wimbledon trophy to match his two Australian Open cups tucked away at the flat he shares in London's South Kensington with Annette Olsen. Olsen is Edberg's longtime sambo—a Swedish word loosely defined as the "person I live with but am not married to"—a woman who in her teens was Mats Wilander's sambo when that other Swede won his first French Open.
So, in Grand Slams, Olsen is ahead of Edberg. Guys-wise, the sambo beat the skater, too. At Wimbledon this summer it was a woman's world all around.