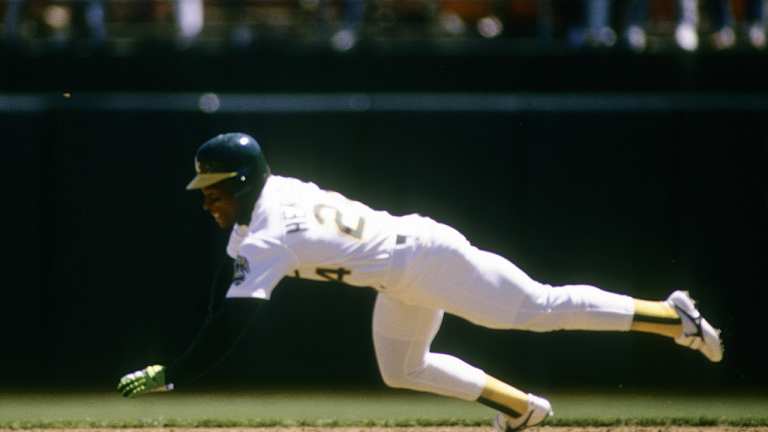 Man of Steal
In a brilliant MVP season, the indomitable Rickey Henderson is racing for the career stolen-base record
What do we have here?" says Rickey Henderson as he looks around for a clock on the clubhouse wall in the cramped visitors' quarters in Boston's Fenway Park. It is 5:25 p.m., still two hours until the game. Two hours until the next show.
"Check this," Henderson says, turning to examine the dense crowd of media people who have already jammed into the locker room. "This must be big time. Heh, heh, heh." His laugh is hoarse and scratchy, a kind of dirty-old-man's laugh.
"This is like the World Series," a reporter tells him.
"Is that right?" Henderson replies. "Heh, heh, heh."
It is the first night of a late-season three-game series between Henderson's Oakland Athletics and the Boston Red Sox. The Red Sox, winners of 10 games in a row, lead the American League East by 6½ games, and the Boston newspapers today have speculated on an A's-Red Sox league championship series. Ten feet from Henderson's locker, pitcher Dave Stewart is surrounded as he answers questions about his scheduled duel the next night with Red Sox ace Roger Clemens.
Henderson has an ice pack on one thigh. "It's been the hamstring, the groin," he says as he fiddles with his socks. "I haven't been right for more than a month. The season takes its toll. I'm not as young as I once was. Pulls don't go away as quickly. The grind really kicks in for a base stealer at this time of year: My wrists are sore, a couple of fingers are jammed, my hips ache, my shoulder's stiff, my knees are banged up.
"You want to do this, you pay the price. Some year I'd love to forget the basestealing and just go out and hit. Let my fingers and wrists and shoulders and knees have a year off, and I think I could hit .330, .340, with 30, maybe 35 home runs. But Rickey Henderson is expected to steal."
Two hours later Henderson stepped into the batter's box to begin the series. He hit a line drive off the Green Monster to start a five-run rally that would set the tone for an Oakland sweep and signal the beginning of a painful slump for the Red Sox. Later that evening Henderson stole a base, his 55th of the season and the 926th of his career, and hit his first Fenway Park home run. In the three games he reached base a total of nine times.
"How can anyone else even be considered for Most Valuable Player?" pitching coach Dave Duncan asked a writer. "Has anyone ever been at the top in so many categories?"
As of Sunday, Henderson was among the American League leaders in eight departments: batting (third), on-base percentage (first), runs (first), walks (third), home runs (sixth), slugging percentage (second), extra-base hits (fourth) and stolen bases (first). "And he's easily the best defensive leftfielder in the game," continued Duncan. "It's unbelievable what this man goes through, night after night, day after day. People don't appreciate the beating he takes running and diving and crashing into bases. It's amazing that he can produce the way he does. Then there's the mental part of it. Every night he's got the other team looking to get him. He's like the old gunfighter: He knows it, he loves it and he does it."
Yet somehow Henderson has been the sidebar in a season of front-page stories. Teammate Jose Canseco, baseball's Madonna, has made more news with his new monster contract. So has Stewart with his no-Cy Young saga, Nolan Ryan with his 300th win and Cecil Fielder with his home runs. All the while, Henderson has been grinding away toward Lou Brock's major league career stolen-base record. At week's end he had 933, five shy of Brock's mark.
"Maybe only another base stealer can appreciate what Rickey is doing and what the man is," says Montreal Expo baserunning coach Tommy Harper, who stoic 408 bases in his major league career. "Once in a while we'll get the Oakland game on the clubhouse TV, and I'll tell [rookies] Delino [DeShields] and Marquis [Grissom], That's the greatest leadoff man who ever lived. Watch him. He's been doing this every day for 12 years, and he's still the best.' Guys coming up don't go at it that hard.
"That gunfighter thing is really true when it comes to base stealers. Ninety-nine point nine nine percent of base stealers lose their desire to be a great base stealer after a while. They're different from hitters. They tire of every part of their body hurting every day. They tire of all, the things the opposition does these days to beat the base stealer—pitchouts, slide steps, watered-down dirt. That's 99.99 percent. Then there's Rickey.
"A reporter asked me how come Rickey is going to be the alltime steal leader and [Montreal's Tim] Raines is the [stolen-base] percentage leader. This is no knock at Raines, but he doesn't want to think about running all the time. He's a great hitter. Like most everyone else, he lost a little of that base stealer's mentality. But Rickey's the one guy who never lost it. Get a game on the line, Rickey gets on, everyone in the park knows he's going, and he goes. It's not the money; he's got millions. He's 31 years old, rich, famous, great—and he's never lost the thrill of competing."
Willie Wilson, who stole 83 bases in 1979 for the Kansas City Royals, admits that he grew weary "of the base-stealer routine, of everyone trying to get you every day, of taking the beating. After all these years, Rickey's still out there, diving headlong into bases. What he does is the equivalent of jumping out of a car that's going 20 miles an hour. And he's done it every day for a dozen years."
Says Harper, "Watch all the things that happen to a base runner like Henderson—the knees to the head, the number of times the infielders' spikes come down on the hands. You see some little guys who steal lots of bases initially, but if they played every day, they'd wear down. All the injuries would kill their offense."
"It's not only the offensive part of it," says Oakland hitting coach Merv Rettenmund. "How about the defense? Rickey goes to the line and to the alley and charges balls harder and better than any leftfielder I've ever seen, even while he's doing all the rest. I was with the Reds in '75 and said the year Joe Morgan had was the most amazing I'd ever seen. That's until this year, and Rickey."
In Raines's rookie season, 1981, Brock opined that Raines could be the best base stealer of all time. "That is, if he doesn't get fear," Brock said. Asked to elaborate, Brock said, "There are two basic fears for the base stealer. The first is fear of the bag, which for a runner is every bit as great—maybe greater—than a hitter's fear of a 90-mile-an-hour fastball. To be a great base stealer, you have to accelerate into your slide and into the bag. Hit the bag wrong and you can tear up your ankle, separate your shoulder, smash your fingers. The other fear is that of being thrown out. You can't steal bases if you're worried about being out."
After years of watching Henderson's inexorable march toward his record, Brock now says, "Rickey has never known fear."
"Fear?" says Henderson. "Nah, never. Heh, heh, heh. I've never thought about what might happen. I was in Triple A [in 1979] when I started the head-first slide. A teammate named Michael Rodriguez did it. I thought it would be good. He told me it was like diving into the water. The first time I tried it, I bounced all over the place. Nearly killed myself. Heh, heh, heh. But I practiced and got used to it. I've gotten better at it over the years. I try to stay low so I won't be falling from as great a height.
"I used to accelerate and dive wildly every time I went in, and I was always over-sliding the bag, trying to hold on with anything—sometimes even my toes. When I stole 130 [the major league single-season record] in '82, I was called out six or seven times for oversliding. I was safe each time; I just couldn't stop. A lot of times when I was flying by the bag, I'd grab hold and feel my shoulder snap out. The last week in '82, I couldn't throw at all. I'd catch a fly and have to flip the ball to Murph [centerfielder Dwayne Murphy] so he could throw for me.
"When I was in the minor leagues and first starting to steal bases with [the A's Class A team in] Modesto under Tom Trebelhorn, they showed us some films of great base stealers. The man who had the impact on me was Ty Cobb. He went into those bases hard every time. That man did it right. I've never forgotten." (Upon breaking Cobb's American League record in May, Henderson sent the base he stole to Trebelhorn, who now manages the Milwaukee Brewers.)
What Harper describes in Henderson as the "joy of competition," others call arrogance. Says Henderson, "I hope this doesn't make me sound like a jerk, but every time I'm thrown out, I think it was a mistake. I figure I got a bad jump, the dirt was bad or maybe it was a one-in-a-thou-sand play by the pitcher or catcher. I've never hit a stretch when I've lost confidence in my ability to steal. I never think about failure."
The quickest pitchers get the ball to the plate in 1.2 to 1.3 seconds; the average for all pitchers is around 1.4. The best catchers get the ball to second base in 1.9 seconds; the average is about 2.1, and these numbers presume an accurate throw by the catcher. Henderson goes from his standing lead off first base to second base in 3.2 or 3.3 seconds. However, basestealing is not simply a matter of split seconds.
"People think basestealing is speed, period," says Harper. "There's so much more to it. There's feel. There's knowledge. Rickey'll give the opposition a lot of different starting positions—straight up, one leg back, all sorts of things—just to confuse it."
Says former St. Louis Cardinals manager Whitey Herzog, "No one will challenge Henderson's 130-steal record for a long time, because people have gotten so good at stopping the steal." Harper agrees: "It's much harder today. Pitchers all have some kind of illegal move bending their knees. They have slide steps [i.e., the pitcher steps quickly toward the plate rather than lifting his leg as in his normal delivery]. Everyone's pitching out. Some pitchers throw over to first, time after time after time. They have stopwatches, videotape."
These things don't faze Henderson. "If some pitcher throws over 20 times in a row," he says, "I say to the first baseman, "Tell your friend I don't care if he throws over 100 times, I'll dive back safe every time. And when he finally throws to the plate, I'll steal on him. He'll never beat me. And when he does throw to the plate, he'll have wasted the equivalent of 100 pitches.' I've seen just about everything over the years. They've watered down the dirt, especially in Chicago. Eddie Murray once grabbed my back pocket to hold me up. George Brett was the one guy who used to get me once in a while. He'd get me to talking, and I'd lose my concentration. A lot of first basemen have tried to get me talking, but only one has done it, George Brett. Heh, heh, heh."
Oakland's pitchers say Henderson always seems to know when the opposing pitcher is going to throw a breaking ball—and it is a freak of nature when Henderson is thrown out on a breaking pitch. "When you run all the time, you have to study all the time," Henderson says. "You have to know all of a pitcher's shoulder and knee moves. You have to know the way certain catchers move on pitchouts. You get to sense certain pitches."
Does he actually know when a breaking ball is coming? "No," he says. "But I've got a pretty good idea. Heh, heh, heh."
Some opposing players and managers do not readily acknowledge Henderson's skills. That is partly attributable to the fact that he is the consummate hot dog: fluorescent wristbands, snatch catches, finger-twirling home run trot. When he takes the field, he is Mick Jagger. Please allow me to introduce myself....
"Heh, heh, heh. I know," says Henderson. "I'm just having fun. Not enough people have fun playing baseball. Guys like Hendu [Oakland outfielder Dave Henderson] and I have a lot of fun. Sure, I know everyone wants to get me sometimes, but that's part of the fun."
"He used to infuriate me," says A's reliever Dennis Eckersley, who has pitched against Henderson at various times in his career. "I'd shout at him, call him every name; then he'd get on base, steal and beat me. Afterward, I'd curse him again—'bleeping little hot dog'—which is exactly what he wants you to do. He infuriates, distracts, disrupts and manipulates."
Henderson's approach to the plate is ritualistic and maddeningly slow. "It takes him less time to drive to the ballpark," says Seattle Mariners pitcher Keith Corn-stock. One leg in the batter's box, one leg out, hand up to call time, pull the left sleeve up, tug the pants over the right thigh. Even when Henderson is finally ready, in his deep crouch, a pitcher must deal with his strike zone, which opponents claim is about six inches from top to bottom. "What makes it worse is that he bitches so much that umpires give him everything," says California Angel pitching coach Marcel Lachemann.
"Not so," says Rettenmund. "Rickey has such a precise knowledge of his strike zone—like a Ted Williams or a Wade Boggs—that umpires bear down even harder with him. They don't like it when he disagrees, so they work harder. And he can turn an 0-2 count into a walk/stolen base/error-catcher/runner-on-third faster than anyone who ever played."
"He gives you that what-are-you-going-to-do-about-it? look," says Stewart. "And what do you do? Whatever you try, Rickey'll beat you. Hit him? He'll be on third in one or two pitches, grinning. Throw at him? You're behind in the count—and anyway, no one's ever intimidated Rickey. Throw the ball over? He hits it. In the playoffs last year, the Blue Jays worried so much about Rickey that they lost their composure."
In that series, which the A's won in five games, Toronto catcher Ernie Whitt charged that Henderson "showed me up" by not sliding on a steal. On a key play in Game 1, a Henderson slide took out Blue Jay second baseman Nelson Liriano. That slide broke up a double play and forced a wild throw, which produced the tie-breaking runs in the A's victory. "He did what he wanted, and we let it get to us," said Blue Jay manager Cito Gaston. "That isn't hotdogging, it's winning. Most players are afraid of the notoriety. Rickey flourishes with it."
Henderson has also flourished simply by being in Oakland, his hometown. The June 1989 trade that sent him from the Yankees back to Oakland to join his old schoolyard teammate Stewart was the best thing that could have happened to him. "First, there is the ring," he says. "Some people thought I hotdogged in the World Series. Heck, I was just having a ball. I'd played 10 years and never been there. I wasn't about to have anyone take away the fun of doing something I'd always wanted to do.
"Just as important, it was time to get out of New York. I never really felt appreciated there. Oh, I liked the city. I liked the players. I'd have loved to have brought a world championship to Yankee Stadium, and I'm sorry I didn't. But in New York there was always something in the back of everyone's mind: 'Rickey isn't hustling,' or 'Rickey isn't really hurt, he's jakin' it.' Everything was a crisis. Here in Oakland, there's more of a feeling of self-dignity. A person can be himself."
Henderson likes to tell this Yankee story. It was 1987. Lou Piniella was the manager. Henderson had pulled a hamstring muscle. "What good am I if I get a serious pull and can't run?" he says. "I know my body. I know what's potentially serious and what isn't. After a couple of days, Lou told me he needed me in there. 'It aches when I drive home; it's hurt,' I told him. I needed to rest to get it right. He told me, 'You're as good limping as anyone I have.' So I thought, O.K., I'll go out there. Maybe then they'll believe I care. I get a knock first time up, and I get the must-steal sign. I go and Willie [Randolph] fouls the ball off. I figure, Now they know I'm trying. Enough's enough. But I get the must-steal sign again.
"I took off and—bayahhh!—I popped it bad. They tell me I pulled something. 'No, popped,' I told them. They wouldn't acknowledge that. I was on the 15-day DL, and when the 15 days were up, I was told I was ready. I wasn't. Now George [Steinbrenner] gets mad and orders that I undergo some tests. He spent $25,000 or $30,000 for me to have some special tests to prove I was hurt. The machine showed there was a tear. George said, 'O.K., you are hurt.' After a while, you don't need to put up with that indignity day after day. In Oakland, I have always been treated with respect, from the front office to the fans. It makes it easier to play."
"He's a great player, one of the greatest ever," says Athletics vice president Sandy Alderson. "Why shouldn't he be treated the way he deserves? There's no conscious effort to treat Rickey Henderson any special way. My only gripe is that people around the game don't appreciate what a great player he is."
In Oakland, when Henderson says he's hurt, he's hurt. "The important thing isn't the number of games Rickey plays," says A's manager Tony La Russa. "It's how Rickey plays when he's in there. What did Don Mattingly say last year when Rickey was traded? [Mattingly said, "No one's played harder on this team all season than Rickey Henderson."] That's the way it's been here. He's flat out all the time. He wants to be out there every day. He loves it. He's a physical superman, and he knows when something is wrong with that incredible body of his. We want him at 100 percent. Why force him to play when he's hurt, then risk his being 70 percent in September and October?"
Despite hamstring pulls in July and August, Henderson is third on the A's this season in games played, after first baseman Mark McGwire and infielder Mike Gallego. "Tony cares," says Henderson. "He understands the long season."
As an example, Henderson recounts an episode from last year. The A's were playing a hot Saturday afternoon game in Anaheim in mid-August. The next day, they were to face the Angels' Bert Blyleven, who has always been tough on most of the Oakland hitters but whom Henderson hits well. La Russa approached Henderson in the dugout in the top of the ninth inning. "What are you doing tonight?" asked La Russa.
"I'm bushed," said Henderson. "I'll be in bed by seven. Stew goes tomorrow. I always play for Stew."
La Russa showed Henderson a list of Cleveland's pitching rotation for the A's upcoming series. "Who would you like the day off against?" asked La Russa. Henderson pointed to the Thursday afternoon starter, John Farrell. Says Henderson, "We were off Monday, so he was giving me two days off in advance."
When October arrived, the carefully rested Henderson was the best player on mother earth. Says Rettenmund, "The bigger the game, the bigger the at bat, the bigger the challenge, the better he is."
In the first two games of the 1989 playoffs, Henderson got on base seven times in nine plate appearances. After Toronto won Game 3, all Henderson did the next afternoon was hit two in-your-face home runs. Over the five-game series, he stole eight bases; hit two homers, a double, a triple and two singles; and scored eight runs and knocked in five. Along came the San Francisco Giants, who fell in four straight games in the World Series. Henderson was on base five times in the first two games. A couple of weeks later, after play had resumed following the Bay Area earthquake, Henderson, leading off in Game 4, hit Don Robinson's third pitch over Candlestick's leftfield wall. "I didn't want to wait for the ring," says Henderson now. "Heh, heh, heh."
And while he takes aim at a second ring, there is also the small matter of Brock's record. "It's going to come," says Henderson, showing little sense of urgency. "I'm going to have the record. This isn't Rickey Henderson's final season. And I want to make sure I'm 100 per cent healthy for the playoffs and World Series. That's where it's really important to do my thing. To be honest, winning the batting title would be the individual thing I'd like most. I'd like that. The MVP? I have no control over that. I don't vote. I can hit, so I'd like to catch George Brett and win that batting crown. I might not get another shot at a world championship or a batting title. I will break the steal record, sooner or later."
And when the dust clears, Henderson may at last get his due. Says Rettenmund, "The stolen-base record and his postseason play will finally bring Rickey the appreciation he's long deserved but, for various reasons, hasn't gotten. Sure, he's cocky, but he's good. He knows it and he isn't afraid to let everyone know he knows it. Not many players want that pressure. By the end of this season, when he has broken the record, won the MVP and, I hope, had another great postseason, almost everyone will say, 'Rickey Henderson is one of the greatest players who ever lived.' And it'll be about time."
"Heh, heh, heh. That would be nice," says Henderson. "But I can't worry about that stuff. I got a couple of fingers that are jammed, my shoulder's aching, I got a huge raspberry on my hip—and I've got another ring to get."
FIVE PHOTOS
V.J. LOVERO
"NINETY-NINE PERCENT OF BASE STEALERS LOSE THEIR DESIRE AFTER A WHILE. NOT RICKEY"
"WHAT HE DOES IS THE EQUIVALENT OF JUMPING OUT OF A CAR THAT'S GOING 20 MILES AN HOUR"
"HE'D GET ON BASE, STEAL AND BEAT ME. THEN I'D URSE HIM AGAIN. HE INFURIATES, DISRUPTS AND MANIPULATES"