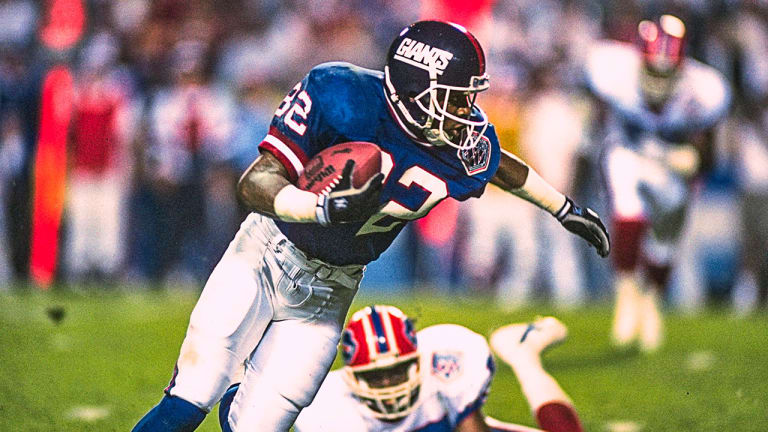 High And Mighty
In one of the best-played Super Bowls in 25 years, the New York Giants used their power game to wear down the Buffalo Bills, who fought back but fell one point short.
Win one super bowl and you're a winning Super Bowl coach. Win two and you're a genius, a man with a system—an approach to the game that must be studied and copied. So it is with Bill Parcells, whose New York Giants beat the Buffalo Bills 20–19 in a heart-stopper Super Bowl XXV on Sunday, four years after New York had defeated the Denver Broncos 39–20 in Super Bowl XXI.
"Power wins football games," Parcells repeated endlessly amidst the postgame locker room turmoil. "Power wins football games."
That philosophy has permeated his approach to the game: Draft big, powerful people to play on both sides of the ball, grind out a rushing game behind a hog-type line (fortified by three tight ends when necessary), stuff the run on defense and, when the other team passes, make sure the routes are short and the receivers are funneled to the linebackers. Big people attacking little people. It's a rather brutal concept, and on Sunday it resulted in a whopping advantage in possession time—40:33 to 19:27—that left the Bills' defenders groggy and rubber-legged in the Florida humidity at Tampa Stadium.
The Parcells approach is an answer to the new trends, the blue plate specials of 1990, like the run-and-shoot and Buffalo's three-wideout, no-huddle offense. It's a rather quaint reversion to the days before sock 'em gave way to slick 'em. Someone asked Parcells if Super Bowl XXV had vindicated his system. "It's always been vindicated," he said. "It's the new stuff that had something to prove."
This is not meant to take anything away from the Bills, who played with courage and resiliency but were simply worn down by the Giants' meat-grinder attack. New York drives of 11 and 10 plays in the first half and a pair of 14-play possessions in the second, one of which lasted 9:29, sapped the strength of the Buffalo defense. However, as the game moved on to the two-minute warning, the Bills pulled themselves together and forced the Giants to punt from the Buffalo 48. The Bills took over on their own 10 with 2:16 left, and with eight seconds remaining they were on the New York 30, their Scott Norwood was lining up a 47-yard field goal attempt and prayers were being offered on both sidelines.
The kick never had a chance. It started right, but "it wasn't moving, it wasn't being drawn in," said a disconsolate Norwood afterward. The Giants' one-point lead was preserved, but if the kick had been good, well, we would all be writing about Buffalo's no-huddle offense. It was that kind of a game.
"It came down to the last kick, and the Super Bowl is supposed to be played that way," said Bills quarterback Jim Kelly. "If you want to write a Super Bowl script, this is probably what you have to write. It came down to the last kick."
The last-minute, come-from-behind victories by the Baltimore Colts and San Francisco 49ers in the 1971 and '89 Super Bowls, respectively, were tops for thrills. The New York Jets' defeat of the Colts in Super Bowl III in '69 was historic, and the Pittsburgh Steelers' win over the Los Angeles Rams in the '80 game, with its wild swings of momentum, always has been a personal favorite. This one was a game for purists, for people who aren't seduced by cheap scores, for those who like their football served up in rough slabs.
Super Bowl XXV had few penalties (66 yards all told) and no turnovers, despite all the vicious hitting. Only one play could be considered a slight fluke—Kelly's 61-yard first-quarter completion to wide-out James Lofton, who caught the ball after cornerback Perry Williams tipped it. The game highlighted two power runners, New York's O.J. Anderson, who was voted MVP for his 102 yards on 21 carries, and Buffalo's Thurman Thomas, who should have won the award on the strength of his 135 yards on 15 carries, plus five catches for 55 more yards. Kelly showed great tenacity in bringing the Bills back in the waning moments, but if there had been an MVP award for courage, it would have gone to the Giants' quarterback, Jeff Hostetler, who was whacked unmercifully by Buffalo pass rushers in the first half. The worst hit was a straight-up shot by 270-pound end Leon Seals, and on the next series Hostetler was sacked for a safety by All-Pro end Bruce Smith. However, he bounced back to throw a 14-yard touchdown pass to wide-out Stephen Baker on a post-corner route at the end of the second quarter.
After Seals leveled Hostetler, the Giants warmed up reserve quarterback Matt Cavanaugh and gave Hostetler an ammonia cap to sniff. He later admitted that much of the first half was "kind of a blur." Hostetler's older (by six years) brother, Ron, a former Penn State linebacker, said in the postgame locker room, "If the three-knockdown rule had been in effect, they would have stopped the fight. He still isn't sure where he is."
An ugly purple welt ran almost the entire length of Jeff Hostetler's left side, and his right temple bore bruise marks from the Seals hit. Now Hostetler was moving in slow motion as he tried to put on his shoes.
"How do you feel?" Ron asked him.
"Still a little woozy," said Jeff. "Pretty bad headache right now."
"I knew that if he hangs in there, we're O.K.," said Ron. "It's like we were home again, back in the yard when we were kids. He'd get knocked down, get up, go into the house crying and then come back out, ready to go again."
The downside to the Giants' offense is that hog-type, area-blocking interior linemen aren't always the niftiest of pass blockers, especially when confronted by rushers as talented as those of the Bills. By the way, Seals is the man who knocked New York's first-string quarterback, Phil Simms, out of action with a sprained arch in Buffalo's 17-13 victory at the Meadowlands on Dec. 15.
In Parcells' system, wideouts are almost an afterthought. He has a thing about little guys. He doesn't like too many of them on his team. He went into the NFC divisional playoff against the Chicago Bears with only three wideouts on the active roster. If one had gotten hurt, poof, that would have been the end of the third-and-long formations.
"You just have to keep alert and keep ready," said the Giants' 160-pound Stephen Baker after the game. "It's a hard system to get used to, especially when you come from a pass-oriented offense like we had at Fresno State. You've got to believe that sooner or later your time will come." Which it did for Baker and his fellow wideout 188-pound Mark Ingram (box, page 21), who on a third-and-13 pass play faked out or ran over four defenders for a 14-yard gain that kept alive the 9½-minute touchdown drive that opened the third quarter.
"I've never been so tired in a football game in my life," said Buffalo linebacker Shane Conlan. "I was even tired in the first quarter. They keep pounding with guys like Anderson, and that wears you out. Then they run a play-fake off that, and Hostetler bootlegs and throws that drag pattern to a tight end coming across. You should be on to it, but you're not.
"I broke my face mask on Anderson in the first half. It just snapped and turned all the way around to the right side of my helmet. I mean, jeez, it's the first time I ever broke a face mask."
"You could see them sagging, tiring out," said New York fullback Maurice Carthon. "Our left side was really coming off the ball-right at Smith-and any time you see a great player like Bruce Smith just barely getting down in his stance, you know he's tired."
Parcells couldn't have designed his offense any better. The grinding attack, much of the time operating out of the three-tight-end set, ate up the clock and not so much kept the Bills' no-huddle offense off the field—you never keep an offense off the field—but delayed its entry and gave it a sense of urgency, a feeling that it had to score right away. "Two drives, that's all it takes, two of those long, time-consuming drives," Simms had said I two days before the game. "That's all it takes to screw up the other team's offense, to foul up the tempo of their game. You see them on the sidelines, getting all antsy: 'God, we've got to get something going.' It's all part of Coach Parcells' master plan, and it's taken me a while to understand that."
If one aspect of the Parcells system is predictable, it's the run-pass ratio. Against teams that are soft against the rush, New York will come out pounding and not let up until stopped. But against teams like the Bears, 49ers and Bills, which have success against the ground game, the Giants use the pass to set up the run. On Sunday, their ratio of running plays to passing plays on first down was eight to eight in the first half. In the second half it was 11 to four.
Parcells knew New York would move the ball against Buffalo. The major difficulty would be slowing down a Bills attack that had put up 95 points in two playoff games. The defense that Parcells, an old linebacker coach, teaches is linebacker-oriented. While other teams go into a nickel or dime defense and remove all but one linebacker, Parcells keeps at least three linebackers on the field at all times. He feels comfortable with them. He collects them.
He surprised a few people when he made Carl Banks his top draft pick in 1984, when the Giants were loaded with linebackers. Banks's brilliant All-Pro performance of 1986 was a big reason that New York went all the way that season. That was also the year in which Parcells drafted a rollicking 248-pound linebacker named Pepper Johnson in the second round. Johnson is an All-Pro this year.
"I want size on my entire defense," says Parcells, "not only on my front seven, but in my secondary. [Five of his nine defensive backs weigh 200 pounds or more, and no defender weighs less than 190.] The defensive backs have to be physical on the receivers, jam them. Sure, they'll get their share of catches, but they're going to pay for them."
That was the heart of the defensive scheme New York threw at Buffalo. Parcells was in charge of the overall concept, but the implementation was left to Bill Belichick, the brilliant, 38-year-old defensive coordinator who has head coach written all over him. Four Bills offensive players presented the most serious challenges: Lofton, who at 34 was enjoying a renaissance as a deep threat; the slot receiver, Andre Reed; Thomas; and, foremost, Kelly.
Lofton, who usually lines up on the left side, would be the responsibility of Williams, who comes in when the Giants go with five or six defensive backs, as they did on Sunday. Everson Walls, the right cornerback in the base defense, would use his ball-hawking skills at a deep safety position. "I told Perry to play off Lofton, to give him a little cushion," said Belichick. "The Raiders played right up in his face, and he killed them. He's so physical, and he has those long arms that get him by the initial bump. Then [Lofton and the cover man] get into a speed-quickness thing, and it's all over."
The first pass Kelly threw to Lofton was that 61-yarder deep down the left side that Williams tipped and Lofton caught. It set up a first-quarter field goal that tied the score at 3-3. The second one, in the second quarter, was another fly pattern, but Williams and Walls smothered it. That was the last time Kelly threw Lofton's way.
The primary responsibility for covering Reed, whose specialty is crossing routes over the middle and whose greatest talent is making the first defender miss him after he makes a catch, fell to Reyna Thompson, a cornerback by trade but a special-teams demon and a sure tackier. He took over for safetyman Greg Jackson, who for this game became what amounted to a linebacker on tight end Keith McKeller's side. Thompson's job was to keep Reed in a shallow route and steer him to the other side, where Banks was waiting.
Kelly worked Reed to death, aiming 11 of his 21 first-half passes his way, six of them on crossing routes in which Reed got hammered. Reed caught seven balls, but by intermission he was dropping passes. In the second half he was a non-factor, catching the one pass Kelly threw him, a five-yarder. "No other team ever hit me this hard," said Reed afterward. "You can't even compare this to anything I've ever been through. They bruised up my whole body."
As for Thomas, he kept the Bills in the game through individual brilliance. He put Buffalo's final points on the board early in the fourth quarter with a 31-yard run in which he bounced free of safety Myron Guyton's head-on tackle.
Finally, there was Kelly, who was having a career season. "There comes a time when things just open up for you as a quarterback, when you just see things," said Simms before the Super Bowl. "You see all the soft parts of a defense, the things you can attack, instead of the bad things. It happened for me in '85, and right now it's happening for Kelly."
Kelly's numbers on Sunday were presentable—18 completions in 30 attempts for 212 yards—but not inspiring. Belichick could deal with Kelly in one of two ways. He could come up with an exotic blitzing scheme, hoping that the rush would reach Kelly before he could find a receiver. Or he could play coverages—rush three or four people, drop the rest of the defenders back and give up the underneath stuff, though making sure the receivers got jolted. Belichick chose the latter. He went with two down linemen, usually nosetackle Erik Howard and end Leonard Marshall, all day, but one of two linebackers, Johnson or Lawrence Taylor, would line up in a rush position, sometimes coming, sometimes dropping back.
That was the initial package, but there were variations, with linebacker Gary Reasons and occasionally safety Dave Duerson coming in for Jackson, or Jackson sliding over to relieve Thompson on the slot coverage. Belichick used all these wrinkles, and the result was a Buffalo offense that didn't convert a third-down play until less than two minutes remained, that was hammered and often frustrated but that remained game to the end.
"We made them work hard for everything they got," said Banks, who delivered the most serious hits on Reed and Thomas. "Guys wanted to come across the middle? O.K., we had people waiting for them. They did things they had to do. I mean, they played hard. This was classic football. Our defense was sound. There were no blown assignments. I missed one call, but we covered for it.
"The type of defense we play—well, you need a lot of veterans. The hardest thing about it is not to allow yourself to feel rushed. They're running a no-huddle, but there's still time to line up the way you want to without rushing. I've seen them hit a long play on film, then all of a sudden the defense is scrambling around when it should have had its composure. I could sense that happening to us at one point, so I got everyone together on the sidelines between series and said, 'Let's be relaxed. Let's not let them rush us into anything.' The big thing is we played as a team—t-e-a-m—I can't emphasize it enough. We did things as a team this year."
After Thomas's fourth-quarter touchdown gave Buffalo a 19-17 lead, the Giants embarked on their game-winning drive—14 plays, 74 yards, 7:32—which ended with Matt Bahr's 21-yard field goal. Hostetler completed four of six passes against a pass rush that had lost its zip. Anderson still fought for yards.
"They were sagging," said Bob Mrosko, New York's third tight end. "They weren't pursuing as hard. In practice we had told ourselves that no matter what happened, we'd play our style of football. Now it was winning for us."
So the Giants wound up with 16 wins in 19 games and a second Super Bowl trophy. Along the way they beat each of the three teams that defeated them-the Philadelphia Eagles, the 49ers and the Bills.
A game played under the shadow of war in the Mideast, in a stadium with the tightest security of any Super Bowl game, became a classic. It was Parcells' kind of football, Giants football, the fruition of a dream that began eight seasons ago when he became New York's coach. If a legacy is attached to this game, it will be that it was played the way Super Bowls are supposed to be played.