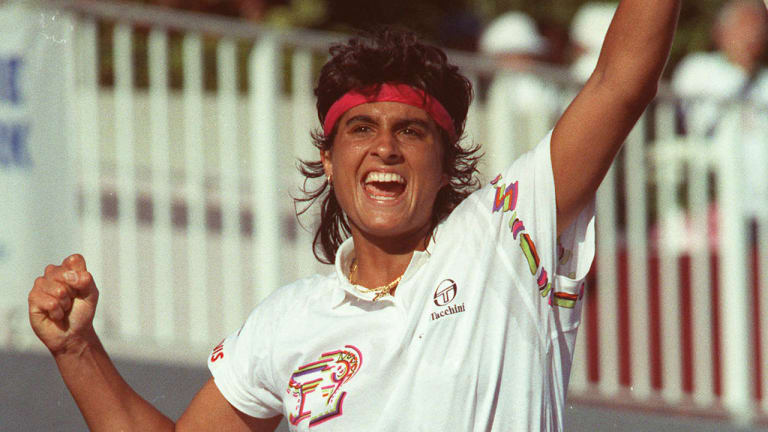 Publish date:
A New World Order
Gabriela Sabatini's win in Florida ended Steffi Graf's run as the No. 1 superpower
Jennifer Capriati's coming out last March was one of the more adorable events of 1990 in women's tennis. A year later the tournament where she made her pro debut, the Virginia Slims of Florida, in Boca Raton, was less charming but equally significant. While Capriati proved to be a continuing sensation by reaching the semifinals, Steffi Graf's reign as the world's No. 1 player came to an end. What's more, in winning the tournament Gabriela Sabatini emphatically demonstrated that she is ready to make a serious run at No. 1.
Suddenly, it's not easy to keep up with the changes in this once static sport. Graf ruled the computer rankings for 186 weeks, longer than anyone else—male or female—ever. But on Monday, Monica Seles, who did not play at Boca Raton, replaced her. At 17 years and three months, Seles, the reigning French Open and Australian Open champion, is the youngest No. 1 ever—again, male or female.
Graf was pained by her 6-4, 7-6 loss to Sabatini in Sunday's final. She now has dropped four of her last six meetings with Sabatini, including the last three, and has not won a tournament since November.
Even if Graf had won in Boca, Seles, who spent last week at home across the state in Sarasota, still would have overtaken her. In fact, Graf was fortunate not to have already dropped to No. 2. She got a reprieve, thanks to Martina Navratilova, who upset Seles in the final of the Virginia Slims of Palm Springs on March 3.
So Graf, 21, now has rivals in three separate age groups: Seles and the 14-year-old Capriati among the teen set, Sabatini, 20, among her contemporaries, and the indomitable 34-year-old Navratilova among the thirtysomethings. Graf is struggling to collect both her thoughts and her game after more than a year of physical and emotional distress. In 1990 she chipped a bone in the thumb on her playing hand and had surgery to correct a sinus condition. Then, after a Playboy model brought a paternity suit against Graf's father, Peter, Steffi endured months of persecution by German tabloids. The tabs didn't get off her case until two weeks ago, when a German newspaper reported that a blood test proved Peter was not the father of the model's child. All this caused her to express some ambivalence about being No. 1. "I think it's sad I didn't feel more like No. 1 than I did," said Graf in Boca Raton. "The matches were easy and the wins were easy, but I didn't feel happy about them. Not as much as I enjoy them now."
Capriati, on the other hand, has clearly enjoyed being on the tour. Unseeded at the 1990 Virginia Slims of Florida—laughingly referred to at the time as the Virginia Slims of Capriati—she rode a swell of hysteria into the final before losing 6-4, 7-5 to Sabatini. Capriati went on to reach the semifinals of the French Open, win one pro title and crash the Top 10. In short, she has fufilled every extravagant prediction made for her.
Capriati's progress has been eclipsed somewhat by the ascension of both Seles and Sabatini. Capriati is aware that sophomore seasons can be notoriously difficult, particularly if you have to take your homework into the locker room. Sixth-ranked Mary Joe Fernandez, who got her high school diploma in 1989, occasionally helps Capriati, a ninth-grader, with her geometry. How Capriati bears up under the weight of growing up and amid the increased expectations in tennis will be one of the most interesting questions in 1991.
"People think all the pressure is really big on me. But I really don't think so," says Capriati, who has never defeated Seles, Graf, Navratilova or Sabatini. "It's only a game, and I'm doing it for myself. It's only a game; it's not life and death."
In her 7-5, 6-2 loss to Sabatini in one of last Saturday's semis, Capriati showed a substantially improved game, compared with the one she displayed against Sabatini in the same setting a year ago. She seemed more self-assured. She took more time between points. And she was a touch less reluctant to approach the net.
However, she got two fewer games than she did against Sabatini in 1990. That's because Sabatini, who's ranked fourth in the world, has improved even more than Capriati. Once a stubborn baseliner, she has become an adroit serve-and-volley player without compromising her looping ground strokes. What's more, she is playing with the confidence she displayed at last year's U.S. Open, where she defeated Graf to win her first Grand Slam title. In the wind-plagued final in Boca Raton, Sabatini jabbed volleys, slugged winners from the baseline and caught Graf unaware with a delicate touch.
"It's going to be an exciting year, but I'm not thinking so much about the ranking," said Sabatini after the match. "I'm just trying to show everything I have, and keep finding things in my tennis. I think I'm starting to have everything. I'm probably the most complete player."
Until the final, Graf had played some of her most forceful tennis in months. "It's a relief just to play this way," she had said after routing Nathalie Tauziat of France 6-1, 6-2 in their semifinal. But against Sabatini, Graf tightened up and committed 43 unforced errors, a typical Graf statistic of late.
Even more worrisome for Graf is that her courage and judgment desert her at crucial moments. Indeed, on Sunday, she converted only two of 12 break points. "She knows she's losing the No. 1, and she's losing confidence," Sabatini said of Graf, who has won 20 of their 27 matches. "It's different when you are No. 1 and you feel it. I don't think she's feeling it."
Graf vividly remembers how she felt on Aug. 17, 1987, the day she defeated Chris Evert in the final of the Virginia Slims of Los Angeles to reach No. 1 for the first time. At the end of the match, Peter gave Steffi a thumbs-up sign that at first she didn't understand. Then she realized what he was telling her: She was No. 1. Steffi turned to her father and said, "It's time to go to the beach." Peter, Steffi and her brother, Michael, found a stretch of sand in nearby Manhattan Beach, where she suddenly broke into a joyous sprint.
"I'll never forget that feeling," said Steffi last week. "I told my father, 'Now I should stop and start something different. This should be it.' But I never had that feeling again. Never even close."
In Sarasota, Seles somehow understood what Graf had felt on that afternoon 187 weeks earlier. "I never planned it," said Seles of reaching No. 1. "This feeling will only happen once. It will only happen for the first time once. I guess the good part is no one is going to ask mc when I'm going to do it. But I think people are never going to be satisfied. Already life has changed."